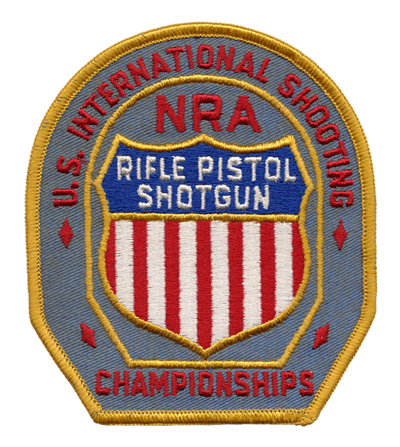 U.S. Olympic Shooting Previews at Ft. Benning
WASHINGTON, D.C. - A preview of U.S. chances of winning the Olympic shooting events will unfold at Fort Benning, Ga., from June 29 through July 14, when the final tryout for the U.S. Shooting Team will be held.
Organized by the National Rifle Association - the governing body of the sport of rifle and pistol shooting in the U.S., and a member of the U.S. Olympic Committee - and conducted by the U.S. Army Infantry Center, the tryouts will bring the nation's top rifle, pistol and shotgun shooters to the international shooting ranges at Fort Benning.
The U.S. Olympic Shooting Squad will consist of 10 shooters, one team captain and one adjutant. Two shooters will be selected for the Clay Pigeon event, two for rapid fire pistol, two for free pistol, two for free rifle, and two for small bore rifle.
While striving for a place on the U.S. Olympic Shooting Team, the competitors will participate in a series of postal matches with other nations and, also, in the International Shooting Championships.
Olympic rules limit shooting teams to men, However, if the NRA is encouraging women to participate in the matches to gain experience and training in international-type shooting for future participation in the World Shooting Championships of the International Shooting Union.
Captain William McMillan, USMC, Quantico, Va., winner of the gold medal in the rapid fire pistol match in the 1960 Olympic Games and Gary Anderson, a divinity student of Axtell, Neb., the world rifle shooting champion, will try out for places on the U.S. squad.
Detailed information on the tryouts may be obtained from the Program Division, National Rifle Association, Scott Circle, Washington 6, D.C.
Bennington Banner, June 17, 1964
'Top Guns Battle for Positions
On '64 U.S. Olympic Delegation
By Dave Braun
Tension mounts more and more each day in the U.S. International Shooting Championship here as 125 marksmen vie for berths on the 1964 Olympic Team.
Five Events
The Olympic trials are being conducted simultaneously with the International in five events including clay pigeon, free pistol, rapid fire pistol, free rifle and three-position rifle.
The top two shooters from each of the five matches, along with one team captain and one team adjutant, will be selected to comprise the Olympic squad which will represent the United States later this year in Tokyo.
Selection of the Olympic team will be based primarily on the scores fired in the International Match aggregates. All times will be resolved by shoot-offs.
Duplicate Winners
In the event of duplicate winners (one person placing first and second in more than one event), selection will be made by International Committee members to give the best team possible in their judgment.
Pistol Matches
In connection with the International Championships, three International Pistol Team Matches also will be fired.
They are the free pistol and three-position small-bore rifle (teams of 10), sponsored by the National Rifle Association (NRA), and free rifle (team of five), sponsored by the Swiss Shooting Federation. Membership on these teams will be decided according to the high scoring competitors in each respective event upon the completion of two days firing (two record courses).
Scores fired by designated team members on the third day will constitute the Postal Match score.
Record Firing
A day of International free pistol and Running Deer practice got underway Monday, with record firing in the two events ending today.
Shooters will concentrate on practice in rapid fire pistol and free rifle tomorrow and then spend the next three days in record competition in the two matches.
Center fire pistol, three-position smallbore rifle and clay pigeon action will begin with a practice session next Tuesday with competitors slated to fire for record in the three affairs Wednesday through Saturday.
Match Climax
The International comes to a climax with a practice session in smallbore rifle prone and skeet on next Sunday, followed by three days of record firing July 12 through 14.
To the champion, second and third place winners will go a distinctive plaque, while NRA sterling silver tableware will be awarded the fourth and fifth place finishers.
The Bayonet, Friday, July 2, 1964
Sport Slants
Capt. McMillan Tops Makes Olympic Team
A NATIVE of Borden Shaft, Allegany County, is the United States International Rapid Fire Pistol Champion and is among the marksmen who have won positions on the U.S. 1964 Olympic team.
Marine Capt. William McMillan, who was born at Borden Shaft, [Correction: Frostburg] about 40 years ago, and is now a resident of Turtle Creek, Pa., earned the Olympic berth Monday at Fort Benning, Ga., when he paced the field with a score of 1766 out of a possible 1800.
Runner-up was Air Force Sgt. Edwin Teague, of Chandler Ariz., with 1757.
Capt. McMillan was a standout pistol shooter for the U.S. in the 1960 Olympic Games in Rome.
Capt. McMillan's parents are Mr. and Mrs. Willard McMillan, of Turtle Creek. The father is employed at the Westinghouse plant there. The captain was a grandson of the late Billy Davis, who operated a general store at Borden Shaft, according to J. Walker Chapman, a resident of that community.
Cumberland News, July 9, 1964
Anderson and McMillan Win Berths on Olympic Team
During International Championship Competition
By Dave Braun
Second Lt. Gary Anderson of the Army Marksmanship Training Unit and Capt. William McMillan of the Marine Corps, earned berths on the 1964 Olympic Shooting Team Monday here, notching wins in the Free Rifle and Rapid Fire Pistol competition of the U.S. International championships.
Monday's Action
Tied with SFC Aubrey Smith of the USAMTU at the start of Monday's action with identical 1,173 scores, McMillan caught fire in smashing out an outstanding 593 total out of a possible 600 to wrap up the match with a three-day aggregate score of 1,776 out of 1,800.
SSgt. Edwin Teague of the Air Force moved into the runner-up spot in the event with an aggregate score of 1,757 as Smith fell by the wayside.
Teague's second place finish also won him a trip to the Olympics this October in Tokyo.
Anderson, a winner of three Gold Medals at the World Championships in Cairo in 1962, had things going all his way in picking up the Free Rifle title as the southpaw shooter compiled an 1,153 score Monday in the three positions for a three-day aggregate total score of 3,440 out of a possible 3,600.
Second Spot
The battle for the second spot and another placed on the rifle squad was a nip and tuck affair with several riflemen going at it right up until the final few shots.
Emerging as the runner-up in the event was Sgt. Martin of (USAMTU) with an aggregate total of 3,404, clinching the position with a 385 score out of a possible 400 in the prone position.
Gunnarsson had trailed 1st Lt. Lones Wigger (USAMTU) who was in second place at the start of Monday's firing by six points. He proceeded to erase the deficit in the off-hand portion of the match, then dropped back a point in the kneeling portion and came on like a champion in the prone position of the event.
First Lt. Gail Liberty of the Air Force captured the women's Rapid Fire Pistol crown with an aggregate score over three days of 1,717, edging out Trude Schlernitzauer who recorded a 1,642 score out of the possible 1,800.
Sunday's Wrapup
A two-way tie developed following Sunday's Rapid Fire Pistol competition and Smith raced to identical 1173 scores.
Teague was Sunday's individual winner in the event, blasting out a 587 score out of a possible 600.
Teague's performance gave him a two-day total of 1169 and moved him to within four points of the leaders.
Smith grabbed individual runner-up honors in the Rapid Fire meet Sunday, cracking out a 586 total.
Meanwhile on nearby Parks International Range Anderson (USAMTU) maintained his Free Rifle competition lead with a 2287 score after two days of record fire.
His nearest rival, Wigger, picked up individual top honors Sunday with an 1145, giving him a two-day record total of 2274.
Liberty recorded the highest score among the women in the Rapid Fire Pistol event with a 571, giving her a two-way of 1141.
Saturday's Wrapup
World Free Rifle champion Anderson showed his heels to the rest of the field Saturday as he raced to a seven point lead in the Free Rifle Championships.
McMillan, the winner of the National Trophy Individual Pistol title at the National Championships at Camp Perry, Ohio, in 1963, cracked out a 591 out of a possible 600 to top all competitors in the Rapid Fire competition.
Thursday's Wrapup
Army and Air Force shooters shared top honors last Thursday at Fort Benning, as the first two events of the International Shooting competition came to a halt.
In the Free Pistol competition it was Capt. Franklin Green and Capt. Thomas D. Smith of the U.S. Air Force placing first and second respectively.
Green blasted out a three-day aggregate score of 1,664 and Smith a 1,663 out of a possible 1,800 to grab the top two slots, edging out USAMTU's Sgt. Hershel Anderson, who was on back in the No. 3 position with a 1,662 score.
Anderson and Green had been deadlocked at 1,110 at the completion of Wednesday's (July 1) record firing with Thursday's shooting schedule calling for a 60-shot series in the Free Pistol event.
Running Deer
On the nearby Running Deer Range, Capt. Richard Wentworth of the U.S. Army Marksmanship Training Unit won the singles competition of the Running Deer event with a three-day record total of 670 out of a possible 750.
Sgt. John Kingeter of USAMTU grabbed the runner-up spot with a 664 score.
First Lt. Weldon Griggs of USAMTU came away as the doubles champion in the Running Deer event, nosing out SFC Chester Hamilton 658 to 654.
Griggs overcame a rocky first day of firing to record the best combined total for the match with a 1,317 out of a possible 1,500, two points better than Hamilton.
The Bayonet, Friday, July 10, 1964
U.S. Int'l Shooting Championships
The 4th U.S. International Shooting Championships, held at Ft. Benning, Ga., between June 29 and July 14, had the largest number of competitors ever to attend the annual tournament. One hundred and eighty-five individuals, including 63 civilians, entered one or more of the 9 Championship events.
Five of these matches were used as Final Tryouts for the 1964 Olympic Shooting Team. The Final Tryouts were in free-pistol, rapid-fire pistol, free-rifle, 3-position small-bore rifle, and clay pigeon.
The strong spirit of competition and the exceptionally good weather resulted in record-breaking performances in every event. Over 50 National records were tied or broken in the 12 days of record firing.
During this period, shooters also competed for positions on the U.S. Postal Teams for free-pistol, free-rifle, and 3-position small-bore rifle.
Col. Thomas J. Sharpe, USA, Olympic Team Captain, will have a strong shooting team. All rifle and pistol team members are highly versatile, being capable of shooting well in other events related to those in which they qualified. This may prove to be a valuable asset if a team member becomes ill at the Olympics or is in a slump and not performing up to standard.
Alternates (those who ranked third in the Final Tryouts) are not permitted to accompany the team since the number of shooters has been limited to 10, but may be substituted in case a team is unable to make the trip.
The U.S. Shooting Team will assemble at Ft. Benning on Sept. 15 for about 10 days of practice before departing for Los Angeles, Calif. At Los Angeles they will check in with the U. S. Olympic Committee Representatives and be under their jurisdiction until they return to the U.S. after the Olympics. The Olympic Shooting Events are scheduled in Tokyo, Japan, Oct. 15-20.
American Rifleman, Vol. 112, No. 9, September 1964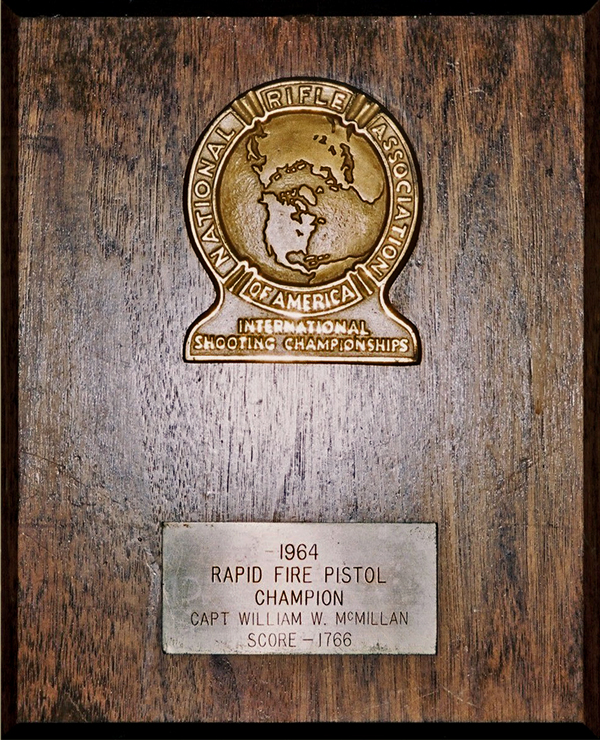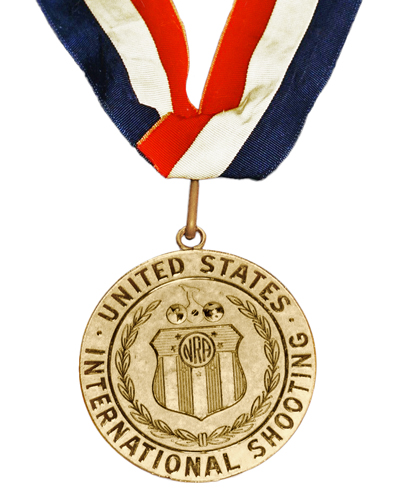 Rapid-Fire Pistol
Rank
Name
Service Branch/Agency
1st Day
2nd Day
3rd Day
Total
1
Wm McMillan, Jr.
U.S. Marine Corps
591
582
593
1766
2
Edwin Teague
U.S. Air Force
582
587
588
1757
3
Wm Blankenship, Jr.
U.S. Army
-
-
-
1754
4
Aubrey Smith
U.S. Army
587
586
578
1751
High
Civilian
John Hurst
Los Angeles Police
-
-
-
1729
High
Woman
Gail Liberty
U.S. Air Force
-
-
-
1717
(Source: American Rifleman, Vol. 112, No. 9, September 1964)
Smith lost in U.S. title competition because of pistol malfunction, but was entitled to refire for the Olympic Tryouts. Refire gave him a third-place tie with SFC William B. Blankenship, Jr., USA, and Smith went to win the shoot-off. Blankenship was third in U.S. Int'l with 1754.