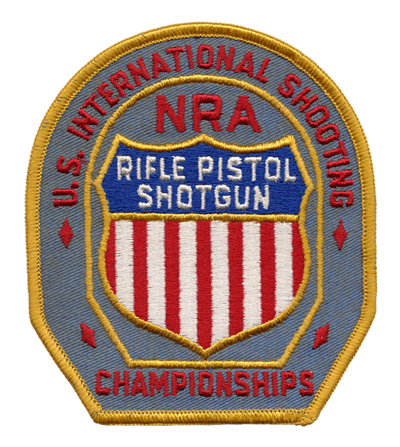 Army Sweeps International Shoot
19 New Records Set in 23 Wins
Out of 26 individual and team matches, Army representatives swept 23, posting 19 new match records, to easily walk away with first laurels in the Second Annual Armed Forces International Shooting Competition.
Of the 19 new records, 10 scores were higher than last year's marks with the other nine being new matches which had not been fired last year.
On the rifle scene 2nd Lt. Lones W. Wigger Jr. kicked off the record-setting by blasting a 371 out of a possible 400 score in the 50-meter Standing Position Smallbore Rifle Championship, to add five points to the old record.
Cpl. Gary L. Anderson set the second individual rifle record in the Free Rifle 300-meter Championship with an 1154 score out of a possible 1200. The old record was 1129.
Running Deer Records
On the Running Deer Range, records were set in both the singles and doubles championship. Sgt. Norman L. Skarpness banged out a 221 score out of a possible 250 adding 14 points to the last year mark.
SFC Loyd G. Crow Jr. pasted his doubles targets for a 217 out of a possible 250 score going over the old record by 16 points.
The only individual pistol record to fall was toppled by SFC William B. Blankenship who "maxed" the centerfire course for a 600 score and tacked an unbeatable 13 points to last year's record.
Team matches records fell profusely to Army shooters as Marksmanship Training Unit firers blasted the very first team event for a landslide record. Adding 43 points to last year's mark in the Smallbore rifle — prone championship. Capts. Daniel B. Puckel and Tommy G. Pool, 1st Lt. Presley Kindall and Cpl. Anderson blasted a 2352 out of a possible 2400 score.
In the next record — setting match, Capts. Puckel and Pool, Lt. Wigger and Cpl. Anderson fired a composite 4570 out of a possible 4800 score. The previous mark was 4480.
The Running Deer Championships also saw enormous advances as Sgt. Skarpness, the individual singles champion, anchored 1st. Lt. Willes L. Powell and John W. Torbush Jr., and Sgt. Crow to an 859 score out of a possible 1,000 score, betting the first year mark by 73 points.
In the double runs team championship the same team pasted 109 points to the previous year's mark with an 843 score out of a possible 1,000.
Last Record
The last record — setting match, saw individual Trap Champion 1st Lt. James R. Clark team up with 2nd Lt. William A. Brauer, Sgt. Maj. Harold A. Grewe, and SP4 Charles T. Fisher to post a score to beat the old record by nine clay pigeons.
In matches not previously fired, Cpl. Anderson set three marks in the 300-meter Free Rifle prone, kneeling and standing position matches. His scores were 397, 388 and 369 respectively, all out of possible 400 scores.
First Lt. Robert B. Trew posted a 594 out of a possible 600 score in the Individual Smallbore Rifle Prone Championship to set a worthy mark for next year's shooters to aim at.
In the Smallbore Rifle prone, kneeling and standing position team championships, Army firers set initial records of 1,576 and 1,527 and 1, 449, all out of possible 1600 scores.
The only other records set went to Air Force and the Marine Corps.
In the Center Fire Team Championship Air Force pistoleers added 20 points to the old mark of 2,332.
Marine Corps GySgt. Jaames E. Hill set the lone leatherneck record in the 50-meter Smallbore Rifle Kneeling Championship with a 391 out of a possible 400 score. His score added five points to the old record.
Air Force Victory
The Air Force was triumphant when four of her fires blasted out 2,165 points out of a possible 2,400 to take honors in the Free Pistol Team Championship on the final day of competition.
Captains Franklin C. Green and Thomas D. Smith along with SSgt. Robert C. Meagher and Sgt. Thomas M. Hardgrave, were the team members responsible for the Air Force second win.
The Army team took second place with a 2,157 score followed by the Marine Corps with a 2,145 score.
Army SFC Lloyd Burchett, MTU, took individual laurels with a 554 out of a possible 600 score.
Air Force Capt. Green took second place with a 553 score followed by SFC Samuel W. Hunter, MTU, with a 552 score.
The Bayonet, Friday, September 14, 1962
The Second U.S. International Shooting Championships were held at the Army Infantry Center, Ft. Benning, Ga., and at the Air Force Marksmanship Training Center, Lackland Air Force Base, Tex. These matches were held Sept. 12-20 in conjunction with the Final Tryouts for the U.S. Team for the 38th ISU World Championships in October.
Lackland Air Force Base hosted the rifle and shotgun events. Col. George Van Deusen, USAF, acted as Tournament Director, and Mr. Carl Kastner as the NRA Official Referee. Entries were: Clay pigeon, 32; skeet, 28; free-rifle, 24; and small bore , 36. There were also 2 women in each of the clay pigeon and skeet events.
Lt. Col. Edward S. Burroughs, Jr., acted as Tournament Director at Ft. Benning and Col. Perry D. Swindler, USA (Ret'd), as NRA Official Referee. The men's events fired at Ft. Benning were free-pistol, silhouette rapid-fire pistol, and running deer. There were 32 entries in the free-pistol event, 35 in the rapid-fire silhouette, and 7 in the running deer.
The women's rifle and pistol events fired at Ft. Benning consisted of the small bore prone and the so-called "center-fire" pistol fired with .22's over the center-fire course.
Eleven women entered the small bore rifle matches, and 4 entered the center-fire pistol match.
The LeMay Trophy was placed in competition in 1961. It was presented to the NRA by the USAF to honor the Air Force Chief of Staff, Gen. Curtis E. LeMay, and is awarded to the Int'l Clay Pigeon winner.
The Meister Trophy was presented to the NRA by Roy Meister of Seattle, Wash., in 1952. It is awarded to the Free-Rifle winner.
Excerpt from the American Rifleman, Vol. 110, No. 12, December 1962.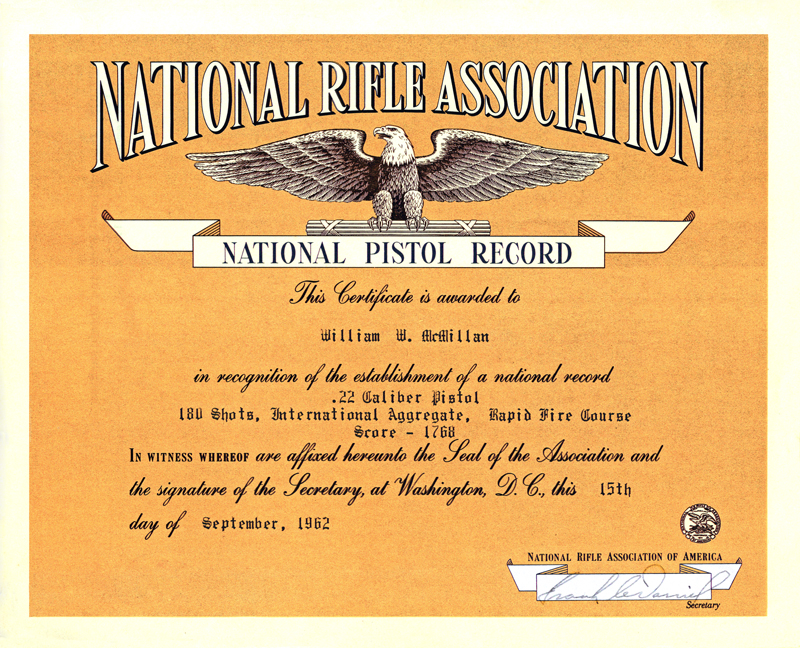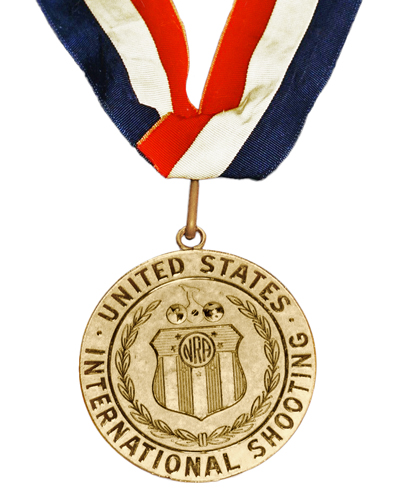 Rapid-Fire Pistol
Rank
Name
Service Branch/Agency
1st Day
2nd Day
3rd Day
Total
1
Wm McMillan, Jr.
U.S. Marine Corps
Quantico, Va.
589
591
588
1768
2
Wm Blankenship, Jr.
U.S. Army
584
576
584
1744
3
James McNally
U.S. Army
581
588
573
1742
(Source: American Rifleman, Vol. 110, No. 12, December 1962)