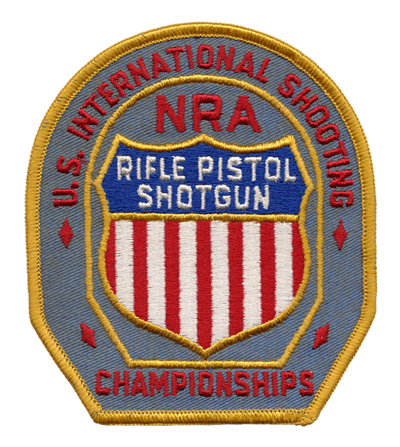 McMillan Tops Pistol Mark At International Matches
FT. BENNING, Ga. - Capt. William W. McMillan, USMC, surpassed the world mark for the international rapid fire pistol course when he fired a score of 594 out of 600 in the International Shooting Championship Competition here.
McMillan fired a match total of 1768 out of a possible 1800 to take the match title. His daily scores were 587-594-587.
In the International Skeet event, first place went to Lt. James R. Clark, U.S. Army. Second place was won by Sgt. Maj. Harold A. Grewe of the Army team who had to win a shoot-off with Kenneth Sedlecky, seaman, USN, when both fired totals of 294 out of 300.
The Marine Corps accounted for the rapid fire team match with a four-man score of 2327 out of a possible 2400. The Air Force took second honors and the Army third in the three-entry event.
The Army marksmen won two of the last three events in the matches when they took top honors in the 300-meter international free rifle shoot and the center fire pistol match.
CAPTAIN DANIEL PUCKEL, Marion, Ohio, took the free rifle title by posting a 3425 out of a possible 3600 points. High Marine shooter in the event was Col. Emmet O. Swanson, USMCR, Minneapolis, Minn., with a 3273 score.
Sfc. William B. Blankenship of the Army Marksmanship Unit, annexed the center fire pistol crown for the second Army team victory. Capt. McMillan finished second place with a 1766 score. High Navy shooter was Gasper P. DeFino, Memphis, Tenn., with a 1747.
In the International clay target event, the title was taken by Dr. Gordon C. McLaughlin fired a 293 out of a possible 300 score, followed by Sgt. Maj. H. A. Grewe of the Army.
Highest Marine shooter was GySgt. William D. Abbott of St. Louis, Mo., and high Navy shooter was Kenneth Sedlecky of Baldwin, Mich.
Navy Times, November 18, 1961
McMillan Sets New Record: MC Team Wins Pistol Event
Shattering his old Rapid Fire Pistol Match record by one point, Capt. W. W. McMillan of MTU, WTBn, shot his way to new honors during the United States International Shooting Championships at Ft. Benning, Ga., and established a new Rapid Fire Pistol record.
The Olympic Gold Medal winner's 1768x1800 over the three-round course gave him the International Championship, 15 points ahead of his second-place Army competitor.
Competing in the International Matches, held Oct. 22 to Nov. 6 at the U.S. Army's Ft. Benning, were some fo the nation's top military marksmen.
Against the stiff armed service competition the four-man U.S. Marine Pistol Team fired a team total of 2327 out of a possible 2400 points to take the top spot in the Rapid Fire Pistol Team Championships over the second-place Air Force team. Led by Capt. McMillan's 587x600, the Marine team finished 15-points ahead of the second-place Air Force squad.
Firing on the winning rapid fire team were Capt. McMillan and SSgt. Charles F. McConnel of Camp Matthew's MTU, SgtMaj R. O. Jones of 29 Palms, and MSgt Frederick W. Filkins of Barstow, both formerly of MTU shooters.
WO W. E. Eubank, also of MTU, came home with third place in the tough International Free Pistol Matches with a total 1645x1800 score, only 12 points behind the International Champion.
Capt. McMillan led all shooters during the three days of Rapid Fire Pistol shooting, posting daily scores of 597, 594 and 587 out of possible 600's.
Unknown newspaper, November 1961
Army, Marine Corps Dominate International Shooting Matches
By M-Sgt. Charlie Quinn
Five national shooting crowns fell here last Wednesday when the Army and Marine Corps marksmen dominated U. S. International Shooting Championships.
First of the three national championships to fall to the Army was the International skeet crown won by 1st Lt. James R. Clark, Army Advanced Marksmanship Unit, who posted a three-stage aggregate of 297x300. In the final stage, the Olympic gunner smashed 98 out of 100 targets to add to previous strings of 99x100 and take the national laurels for the event.
Second place was won by SMaj. Harold A. Grewe, AAMU, who had to win a shoot-off with Navy Seaman Kenneth D. Sedlecky when both showed final totals of 294x300.
High Marine Corps competitor was 1st Sgt. Herschel Quesenberry, with 290x300 while Air Force Major Frank Knapp took Air Force honors with 291. High civilian was Gene S. Stalcup of Columbus, with 286.
The rapid fire pistol event was won by Marine Corps Capt. William W. McMillan with a match total of 1,768 out of a possible 1,800 points. The 1960 Olympic champion posted daily scores of 587-594-587 for the win.
Army 1st Lt. Cecil L. Wallis of Columbus, USAAMU, took second award with 1,763 while Marine marksman MSgt. Frederick W. Filkins listed 1,748 for third place.
Air Force Capt. Franklin Green, scored 1,740 and civilian entry John R. Hurst, Los Angeles Police, complied high civilian total of 1,732.
Three Army riflemen placed in the International smallbore rifle three position event with Cpl. Gary L. Anderson winning the title with a three-day tally of 3,402 out of a possible 3,600 points, over 40 competitors.
Capt. Daniel B. Puckel placed second with 3,386 and 1st Lt. Tommy G. Pool, third with 3,378.
High Marine entry was Gunnery Sgt. Charles B. Ainscoe with 3.322 while T. Y. Wu turned in high civilian effort of 3,262. Airman David W. Barker listed high Air Force score of 3,247.
The Army's four-man International skeet team took national honors for the event called for 600 targets per team. The Army posted 776x800 to win over three other service teams entered.
The Bayonet, Friday, November 9, 1961
The 1961 U.S. International Championships were held at Ft. Benning, Ga., from Oct. 22 through Nov. 6. Organized by the NRA and conducted by the U.S. Army Infantry Center, these Championships mark the first time an independent International type shooting championship has be held in the U.S. All 9 events fired in the International Shooting Union's (ISU) World Championships were staged at Ft. Benning. They attracted 251 civilian and Armed Service entries.
The number of competitors had to be limited to the capacity of the various ranges. Preference was given to members of the past 2 years' International teams and to those who had competed in Final Tryouts for these teams. All spaces not filled by priority holders were opened on a first-come, first-served basis. In nearly all events, range capacities were filled or were close to being filled. The smallest entry was in running deer, which had been anticipated due to the absence of training ranges of this type in the U.S.
Competitors in each event were required to fire the International course 3 times to decide the championship. No over-all rifle, pistol, or shotgun champion was selected.
Weather throughout the 2 weeks of firing was excellent, and several new National records were established. Some scores even exceeded World records; however there was no ISU sanction and no world marks can be claimed.
Four shooters fired outstanding scores. Capt. Daniel B. Puckel, USA, shot a 1151 in free-rifle, Capt. William W. McMillan, Jr., USMC, posted a 594 in rapid-fire pistol, and SFC William B. Blankenship, Jr., USA, the present National pistol titleholder, and SFC Samuel W. Hunter, USA, both fired scores in the center-fire pistol.
The present world records are 1149 in free-rifle, 592 in rapid-fire pistol, and 591 in center-fire pistol. Puckel is the record holder in free-rifle, having shot 1149 at the 1959 Pan American Games. A. Kropotin, USSR, holds the rapid-fire record of 592, fired at the 1958 World Championships, and V. Kudrna, Czechoslovakia, shot the present 591 center-fire record at the 1959 European Championships.
Six shooters set new National marks during the Championships. Sgt. Norman L. Skarpness, USA, had a 219 in running deer (50 single shots), while SFC Loyd G. Crow, Jr., USA, got 210 in running deer (50 double shots) and 423 in the running deer aggregate of 100 shots. Lt. Tommy G. Pool, USA, set a mark of 590 in small bore rifle prone; Lt. James R. Clark, USA, a 297 in International skeet, and Dr. Gordon C. McLaughlin 293 in International clay pigeon. Puckel also set a new record in the prone phase of the free-rifle match with 398.
A new trophy was put into competition during the matches, the LeMay Trophy presented to the NRA by the USAF in honor of the present Chief-of-Staff, Gen. Curtis E. LeMay. Each year it will be awarded to the winner of the International clay pigeon event. This year it was won by Dr. McLaughlin.
Scores fired in these Championships were used in 3 annual International postal matches. Two of these, the International Free-Pistol Team Postal Match (team of 10) and the Small bore Rifle 3-Position Postal Team Match (team of 10) are sponsored by NRA. The Swiss Shooting Ass'n instituted this year a Free-Rifle Postal Team Match (4 firers, one alternate). For each team, members were selected on the basis of scores fired in the first 2 times over the course of the Championship firing. The score fired the third time over the course served 2 purposes - in the postal matches and the aggregate. U.S. Team Championships were also held in Free-Pistol, Rapid-Fire Pistol, Center-Fire Pistol, and Skeet.
Looking toward the selection of a U.S. team to compete in the ISU World Championships in Cairo, Egypt, this coming October, the 1961 Championships were considered a preliminary tryout for the team. Other tryouts will be held later this year.
The NRA and its member-shooters are indebted to Maj. Gen. Ben Harrell, Commanding General at Ft. Benning, and to his Infantry Training Center there. The Championships were splendidly conducted on the Gen. Floyd L. Parks range facilities. Lt. Col. Burton C. Boatright, Match Executive Officer, and his efficient staff made all necessary arrangements for competitors and did an outstanding statistical job. Maj. Edgar S. Burroughs was Statistical Director and Capt. Lester W. Tucker was Range Director. Col. Perry D. Swindler, Claude Harris, Ben Curtis, E. G. Lancaster, Gene Stalcup, and Dave Dunsmoor were the Official Referees.
American Rifleman, Vol. 110, No. 1, January 1962
TOP SHOTS - Capt. W. W. McMillan Jr., WO William E. Eubank and SSgt. Charles F. McConnel, all of MTU, WTBn., Camp Matthews, recently shot their way to top positions in the U.S. International Shooting Championships at Fort Benning, Ga. Capt. McMillan established a new Rapid Fire Pistol record with a 1768x1800 score, topping his old record by one point. WO Eubank took third place in the International Free Pistol Matches and SSgt. McConnel, along with Capt. McMillan, fired on the four-man Marine team which won the International Rapid Fire Team Pistol Match.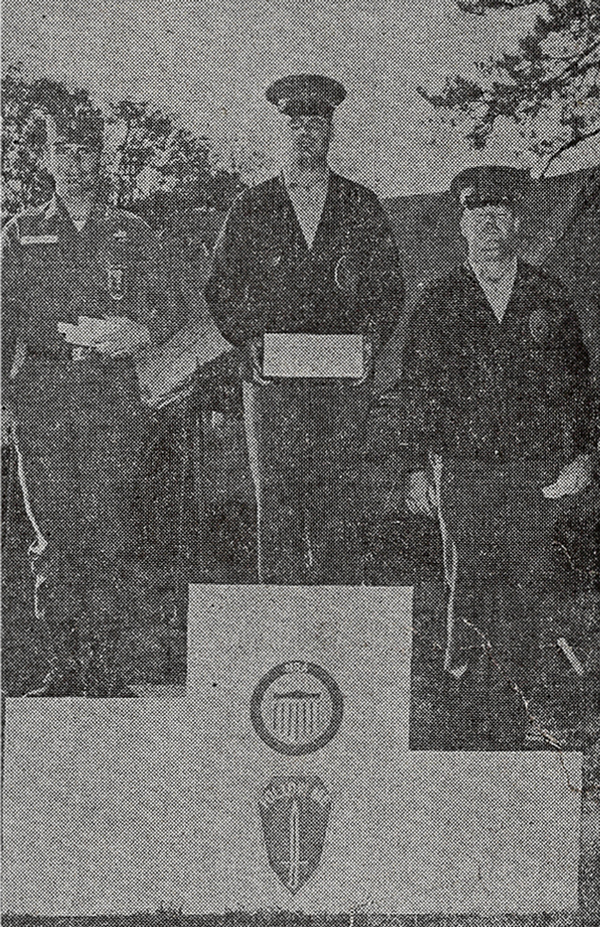 INTERNATIONAL TROPHY WINNER . . . Capt. William W. McMillan, center, of Turtle Creek, U.S. Marine Corps, holds the championship trophy for the International rapid fire event recently fired during the U.S. International Shooting Championships at Fort Benning. At left is U.S. Army 1st Lt. Cecil L. Wallis of Columbus, Ga., who won second award. U. S. Marine M/Sgt. Frederick W. Filkins, right, of Barstow, Calif., took third award.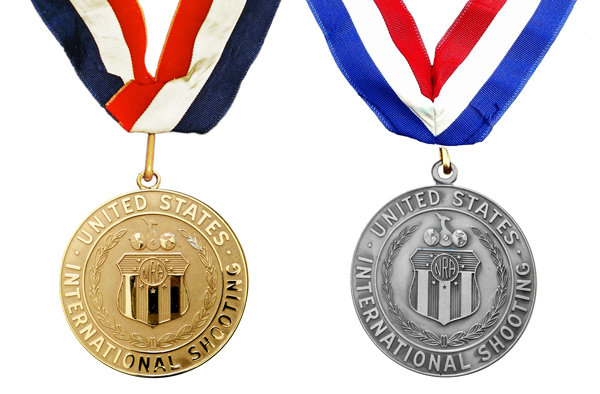 Rapid-Fire Pistol Team
Rank
Service Branch/Agency
Total
1
U.S. Marine Corps


W. W. McMillan, Jr., R. O. Jones, F. W. Filkins and C. F. McConnel

2327
2
U.S. Army
2312
(Source: American Rifleman, Vol. 110, No. 1, January 1962)
Center-Fire Pistol Team

| Rank | Service Branch/Agency | Total |
| --- | --- | --- |
| 1 | U.S. Army | 2347 |
| 2 | U.S. Air Force | 2326 |
(Source: American Rifleman, Vol. 110, No. 1, January 1962)
Free-Pistol Team

| Rank | Service Branch/Agency | Total |
| --- | --- | --- |
| 1 | U.S. Air Force | 2177 |
| 2 | U.S. Army | 2173 |
(Source: American Rifleman, Vol. 110, No. 1, January 1962)
Rapid-Fire Pistol
Rank
Name
Service Branch/Agency
1st Day
2nd Day
3rd Day
Total
1
Wm McMillan, Jr.
U.S. Marine Corps
Camp Matthews, Ca.
587
594
587
1768
2
Cecil Wallis
U.S. Army
Columbus, Ga.
583
586
584
1753
3
Frederick Filkins
U.S. Marine Corps
Barstow, Ca.
583
584
581
1748
4
Franklin Green
U.S. Air Force
-
-
-
1740
High
Civilian
John R. Hurst
Los Angeles Police
-
-
-
1732
(Source: American Rifleman, Vol. 110, No. 1, January 1962)
Center-Fire Pistol
Rank
Name
Service Branch/Agency
1st Day
2nd Day
3rd Day
Total
1
Wm Blankenship, Jr.
U.S. Army
593
590
591
1774
2
Wm McMillan, Jr.
U.S. Marine Corps
Camp Matthews, Ca.
590
592
584
1766
3
Samuel Hunter
U.S. Army
593
586
586
1765
High
Air Force
Franklin Green
U.S. Air Force
Lackland AFB, Tex.
-
-
-
1763
High
Navy
Gasper P. DeFino
U.S. Navy
-
-
-
1,747
High
Civilian
John R. Hurst
Los Angeles Police
-
-
-
1,726
(Source: American Rifleman, Vol. 110, No. 1, January 1962)
Free-Pistol
Rank
Name
Service Branch/Agency
1st Day
2nd Day
3rd Day
Total
1
Samuel Hunter
U.S. Army
565
545
547
1657
2
Franklin C. Green
U.S. Air Force
553
542
554
1649
3
William E. Eubank
U.S. Marine Corps
Camp Matthews, Ca.
552
547
546
1645
(Source: American Rifleman, Vol. 110, No. 1, January 1962)