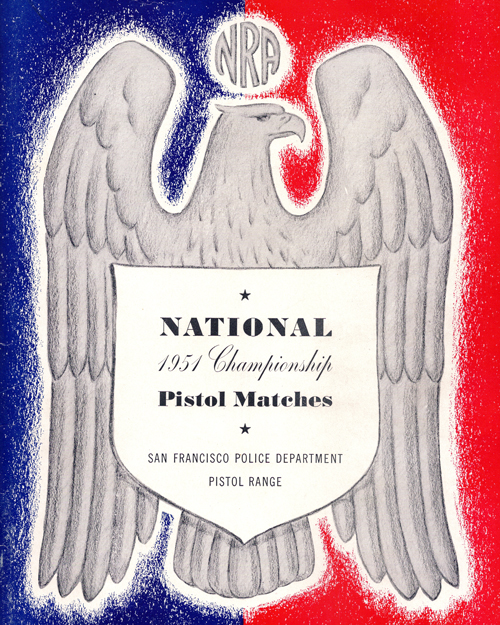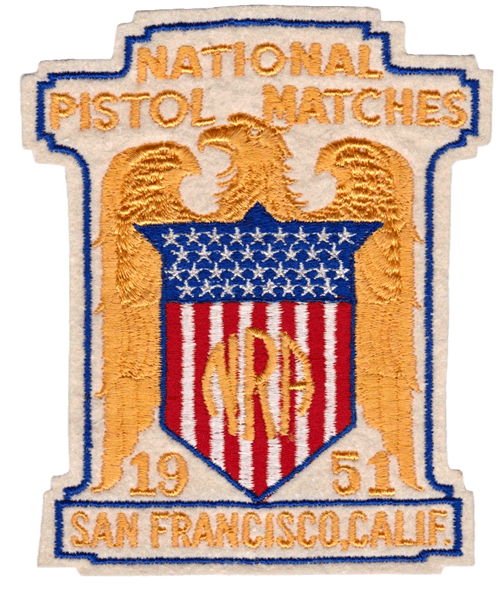 United States Marine Corps Pistol Team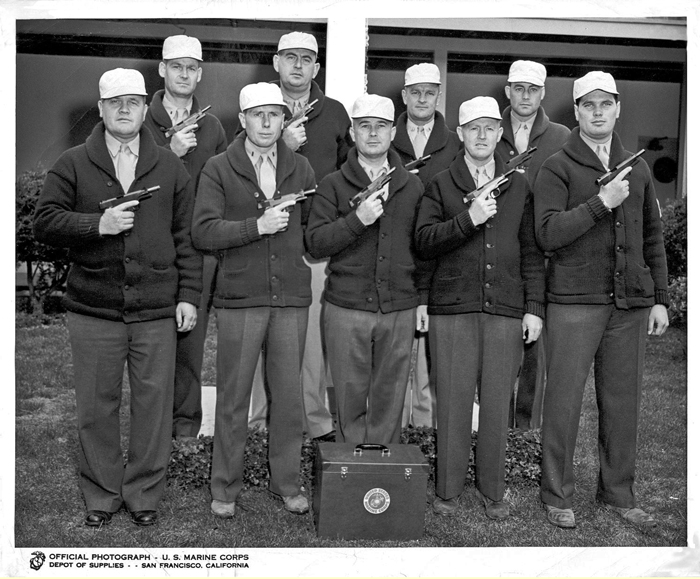 San Francisco, Calif. – Pictured above are the members of the 1951 Marine Corps Pistol Team during their recent San Francisco visit. First row (left to right) are: MSgt W. Fletcher, 13th Marine Corps Reserve District, Seattle, Wash.; CWO M. W. Billing, Marine Corps Schools, Quantico, Va.; LtCol W. R. Walsh, Headquarters, USMC, Washington, D.C.; TSgt W. Devine, Marine Corps Recruit Depot, Parris Island, S.C.; Sgt W. McMillan, Marine Corps Schools, Quantico, Va.
In the second row are (left to right): Lt T. R. Mitchell, Marine C rps Schools, Quantico, Va.; Major T. E. Barrier, Headquarters, USMC, Washington, D.C.; Captain J. M. Jagoda, Marine Corps Schools, Quantico, Va.; and MSgt J. Fowler, Marine Corps Recruit Depot, Parris Island, S.C.
Scioto Outdoors
By PAUL L. DOYLE
National Rifle And Pistol Championships
Rifle and pistol shooters all over the country are oiling up their pet shooting irons and making last-minute adjustments on triggers and sights, preparing for the first National Rifle and Pistol Championships ever held on the Pacific Coast.
From Sept. 26 to Oct. 6 over 2,500 of the country's best civilian and military marksmen will fire for the three championships at stake, the national .30-caliber rifle championship, (Sept. 27-30), the national small-bore championship, .22-caliber rifles, (Oct. 3-6) and the national pistol championship (Sept. 30-Oct 6).
The .30-caliber title race will be held at Camp Mathews, Calif., under the sponsorship of the U.S. Marine Corps, and the small-bore rifle and pistol classes in San Francisco. It will mark the 66th renewal of the National Rifle Association events, which outdate the World Series by 30 years, and the Kentucky Derby by two.
While the national small-bore and pistol championships have been held in several sections of the country since World War II, the .30 caliber shooting returns to the American shooting scene for the first time since 1940. It is expected that more than 1,000 marine, army, navy and civilian shooters will compete in the revived matches that were last held on the world-famous Camp Perry, O., Ranges.
In the pistol championship race, Sgt. Huelet Benner of the Armored School, Fort Knox, Ky., will defend the title he won from Harry Reeves of Detroit, Mich., in 1949 at Ft. Sheridan, Ill. No championships were staged last year because of the outbreak of the Korean War. Benner and Reeves are the outstanding pistol shooters in the United States
Since 1946 they have met four times in the national championships and have shared the title twice each, Benner winning in 1947 and 1949. If the pattern set in 1946 is followed in San Francisco Reeves should again become the United States champion.
There is a chance that an outsider will upset the pair in the October shooting classic, but neither man has been beaten by anyone else in the last five years.
If a new champion is to come from the field of 750 who will compete for the crown, the men most likely to pull the upset will be Maj. Thurman Barrier, U.S.M.C., and Lt. Col. Walter, Walsh, U.S.M.C., both of Washington, D.C.; Charles Logie of Lansing, Mich.; W. T. Toney of El Paso, Tex., or Earle Farrant of Los Angeles. However, like golf's Ben Hogan, Huelet Benner and Harry Reeves dominate the pistol-shooting sport.
Portsmouth Times, September 1, 1951
Local Shooters Enter National Pistol Matches
SAN FRANCISCO, Calif. (Oct. 2) - The NRA National Pistol Championship matches got under way here at the San Francisco Police Range today. The nation's top pistol shooters are vieing for both individual and team honors and among them are the Marine Corps' 'cream of the crop' captained by Lieutenant Colonel Walter R. Walsh of Washington, D. C., one of the country's top pistol shots.
Of the team Major Thurman Barrier of Washington, D. C., won this year's Southeastern Regional matches at Jacksonville, Fla.; and Second Lieutenant T. R. Mitchell of Quantico, Va., winner of the Eastern Regional at Harrisburg, Penna.
These three are expected to give Army Sgt. First Class Huelet Benner of Fort Knox, Ky., present holder of the title, a good run for the championship. Benner won in 1947 and 1949. Detroit Policeman Harry Reeves, a Reserve Marine Major, took it in 1946 and 1948. It is expected Reeves will also shoot in the matches.
Benner and Reeves, it is said, are in a class by themselves in the pistol field.
Other members of the Marines' team are Captain J. M. Jagoda, Quantico, Va.; Commissioned Warrant Officer Mark Billing, Quantico, Va.; Master Sergeant J. Fowler, Parris Island, S. C.; Master Sergeant W. Fietcher, Seattle, Wash.; Technical Sergeant W. Devine, Parris Island, S.C., and Sgt. W. McMillan, Quantico, Va.
San Francisco Marines of the Department of the Pacific and the Marine Corps Depot of Supplies along with Marines from Cherry Point, N.C., are also entered.
Quantico Sentry, October 4, 1951
Marine Major Wins; El Pasoan Has 276
SAN FRANCISCO, Oct. 3 - U.S. Marine Major Thurman E. Barrier, of Statesville, N.C., and Washington, D.C., today won the Department of Defense national pistol match with a score of 285 out of a possible 300. His score broke the old record set in 1949.
National Pistol Champion Huelet Benner of Fort Knox, Ky., was second with 284, and Oscar Weinmeister, also of Fort Knox, shooting 279, took third.
Top individual winners in the Defense Department match:
Barrier, 285; Benner, 284; Weinmeister, 279; Walter Walsh, Arlington, Va., 279; W. W. McMillan, Quantico, Va., 277; Horace J. Brown, Hollywood, 277; Jeff Fell, Derby Line, Vt., 277; Mark Billing, Quantico, Va., 277; William J. Toney, El Paso, 276; Jewell C. Palmer, San Francisco, 275.
El Paseo Herald Post, October 1, 1951
Marines Win Top Honors In Matches
WASHINGTON, D. C. - The Marine Corps has made a clean sweep of first place honors in the 1951 National Rifle and Pistol matches.
Major Thurman E. Barrier of Marine Corps Headquarters, coach for the Corps' pistol team, won the National Individual Pistol Championship at San Francisco with a new world record with the .45 caliber service pistol and service ammunition. He beat the 12-year record of former champion Joe Ward of the Los Angeles Police Department by scoring 285 out of a possible 300.
Major Barrier's team also won the National Pistol Team Match at San Francisco with a total score of 1087, surpassing the previous score of 1085 held by the Marine Corps Schools team, set in 1949. Major Barrier led his team with an individual score of 279 and was followed by Technical Sergeant Walter Devine, Parris Island, with 277; Lieutenant Colonel Walter Walsh, Marine Corps Headquarters, 266; and Master Sergeant John Fowler, Parris Island, 265.
Rifle Matches
In the NRA National High Power Rifle Championship held September 27-30 at the Camp Matthews Rifle Range near San Diego, Marines swept all matches in the Service Rifle Class.
First place honors went to Second Lieutenant Remes E. De LaHunt, Parris Island, (The NRA Service Rifle National Championship). Technical Sergeant Russell J. Beilfuss, Camp Lejeune, (Members Trophy Match); Master Sergeant Maxin R. Beabe, Camp Pendleton, (The Navy Cup Match); Technical Sergeant Frank S. Hoffman, Camp Lejeune, (Wimbledon Cup Match); Private First Class Gay H. Lambert, Camp Lejeune, (Marine Corps Cup Match); First Lieutenant Robert M. Winter, Marine Barracks, Naval Air Station, Moffet Field, (Scott Trophy Match); and Technical Sergeant Morris C. Owens, Camp Pendleton, (President's Match.)
The 1951 matches at Camp Matthews, sponsored by the National Rifle Association and conducted by the Marine Corps, saw the revival of high power rifle matches on a national scale for the first time since the program was discontinued in 1940.
Quantico Sentry, October 11, 1951
National Pistol Champsionship Match No. 1
"Harrison Cup Trophy"


Aggregate of Matches 25, 30 and 35

Rank
Name
Service Branch/Agency
.22 Caliber
Center-Fire
.45 Caliber
Total
Winner
Huelet L. Benner
U.S. Army
Fort Knox, Ky.
887
874
868
2629
2nd
Harry W. Reeves
Detroit, Mich.
Police Department
880
871
863
2614
3rd
Walter L. Devine
U.S. Marine Corps
Parris Island, S.C.
867
870
862
2599
4th
Wm W. McMillan, Jr.
U.S. Marine Corps
Quantico, Va.
877
860
851
2588
5th
Thomas R. Mitchell
U.S. Marine Corps
Quantico, Va.
874
859
853
2586
6th
Alfred W. Hemming
Detroit, Mich.
Police Department
874
863
849
2586
7th
Walter R. Walsh
U.S. Marine Corps
Washington, D.C.
870
868
846
2584
8th
Leonard O. Rizzolla
U.S. Navy
Anacostia, D.C.
858
870
852
2580
9th
Offutt Pinion
U.S. Navy
Whidbey Island, Wash.
877
868
834
2579
10th
Buck Fisher
El Paso, Tex.
Pistol Club
858
867
851
2576
1st
High Civilian
John H. Holt
Southern California Civilians
El Centro, Calif.
876
850
825
2551
2nd
High Civilian
Thomas D. Park
Dallas, Tex.
869
850
830
2549
3rd
High Civilian
Frank Borneman
Quincy, Calif.
843
847
841
2531
1st
High Lady
Gloria Norton
San Francisco Revolver Club
Woodland, Calif.
853
863
781
2497
1st
Sharpshooter
Daniel H. Forsythe
11th Naval District
Chula Vista, Calif.
808
822
820
2450
2nd
Sharpshooter
Robert R. Parish
Great Barrington, Mass.
842
815
788
2445
3rd
Sharpshooter
Fred R. Rakow
U.S. Air Force
Sacramento, Calif.
845
837
752
2434
4th
Sharpshooter
Thomas Z. Abercrombie
Corpus Christie, Tex.
838
811
777
2426
5th
Sharpshooter
John B. Fulling
Fort Lee, N.J.
839
789
797
2425
6th
Sharpshooter
Herbert E. Hotchkiss
Oceanside, Calif.
811
814
790
2415
High Civilian Sharpshooter
James D. Rivet
Denver, Colo.
833
807
771
2411
High Lady
Sharpshooter
Lucille M. Pollard
Los Angeles, Calif.
782
762
765
2309
1st
Marksman
Reynold C. Heau
Honolulu, Hawaii
840
793
760
2393
2nd
Marksman
Sherman C. Sawtelle, Jr.
U.S. Army
Camp Stoneman, Calif.
829
791
759
2379
3rd
Marksman
John W. Steele
Seattle, Wash.
Police Department
832
788
742
2362
4th
Marksman
Harry L. Stumbaugh
Taft, Calif.
807
791
754
2352
5th
Marksman
John J. Delaney
San Diego, Calif.
804
780
765
2349
6th
Marksman
Francis T. Bradley
Albuquerque, N.M.
834
780
734
2348
7th
Marksman
John C. Whiteside
San Diego, Calif.
789
780
777
2346
High Civilian
Marksman
Dr. Paul H. Laurence
Oxnard, Calif.
784
775
764
2323
High Lady
Marksman
Lois McElhanon
"Hellcats" NAS
Alameda, Calif.
762
730
730
2222
(Source: American Rifleman, Vol. 99, No. 11, November 1951 & Official Bulletin & Official Bulletin)
*Matches 2 through 18 were designated for
Sharpshooter and Marksman classifications
National Trophy Individual Pistol Match No. 19
"General Custer Trophy"


National Match Course

Rank
Name
Service Branch/Agency
Total
Winner
Thurman E. Barrier
U.S. Marine Corps
Washington, D.C.
285
2
Huelet L. Benner
U.S. Army
Fort Knox, Ky.
284
3
Oscar K. Weinmeister
U.S. Army
Fort Knox, Ky.
279
4
Walter R. Walsh
U.S. Marine Corps
Washington, D.C.
279
5
Wm W. McMillan, Jr.
U.S. Marine Corps
Quantico, Va.
277
6
Horace J. Brown, Jr.
Southern California Citizens
Hollywood, Calif.
277
7
Jefferson J. Fell
U.S. Border Patrol
277
8
Mark W. Billing
U.S. Marine Corps
Quantico, Va.
277
9
William T. Toney, Jr.
U.S. Border Patrol
El Paso, Tex.
276
10
Jewell C. Palmer
U.S. Marine Corps
FMF Pacific
275
(Source: American Rifleman, Vol. 99, No. 11, November 1951 & Official Bulletin)
National Trophy Pistol Team Match No. 20
"Gold Cup Trophy"


National Match Course

| Rank | Team | Competitors | Score |
| --- | --- | --- | --- |
| Winner | U.S. Marine Corps No. 1 | T. E. Barrier (279), W. L. Devine (277), W. R. Walsh (267) & J. A. Fowler (265) | 1088 |
| 2 | U.S. Army | - | 1075 |
| 3 | - | - | - |
(Source: American Rifleman, Vol. 99, No. 11, November 1951 & Official Bulletin)
.22 Caliber Slow Fire Match No. 21


20 shots, slow fire, 50 yds.

Rank
Name
Service Branch/Agency
1st Stage
2nd Stage
Score
Winner
Huelet L. Benner
U.S. Army
Fort Knox, Ky.
94
98
192
2
Basil L. Starkey
Los Angeles, Calif.
Police Department
92
98
190
3
Thomas J. Sharpe
U.S. Army
Fort Sill, Okla.
94
96
190
4
Offutt Pinion
U.S. Navy
Whidbey Island, Wash.
94
96
190
5
Harry Reeves
Detroit, Mich.
Police Department
93
96
189
6
Wm W. McMillan, Jr.
U.S. Marine Corps
Quantico, Va.
94
95
189
7
Everett R. Ferris
Los Angeles, Calif.
Police Department
97
92
189
8
Frank D. Graham
U.S. Army
Camp Stoneman, Calif.
94
95
189
9
Walter Morgan
Los Angeles, Calif.
98
91
189
10
Jefferson J. Fell
U.S. Border Patrol
Derby Line, Vt.
94
94
188
(Source: American Rifleman, Vol. 99, No. 11, November 1951 & Official Bulletin)
.22 Caliber Timed Fire Match No. 22


20 shots, timed fire, 25 yds.

Rank
Name
Service Branch/Agency
1st Stage
2nd Stage
Score
Winner
Horrace J. Brown, Jr.
Southern California Citizens
Hollywood, Calif.
100
100
200
2
John F. Dodds
U.S. Army
Camp Polk, La.
100
100
200
3
William E. Hurlbert
Jacksonville, Fla.
Police Department
100
100
200
4
Roy Chancey
11th Naval District
San Diego, Calif.
99
100
199
5
Jefferson J. Fell
U.S. Border Patrol
Derby Lane, Vt.
99
100
199
6
Jack F. Dodson
Kern County Pistol Club
Kingsburg, Calif.
99
100
199
7
Malcolm O. Dailey
Kern County Pistol Club
Burbank, Calif.
99
100
199
8
Donald L. Nowka
Los Angeles, Calif.
Police Department
99
100
199
9
Walter R. Walsh
U.S. Marine Corps
Washington, D.C.
100
99
199
10
James E. Clark
U.S. Marine Corps
Oceanside, Calif.
100
99
199
32
Wm W. McMillan, Jr.
U.S. Marine Corps
Quantico, Va.
100
98
198
(Source: American Rifleman, Vol. 99, No. 11, November 1951 & Official Bulletin)
.22 Caliber Rapid Fire Match No. 23


20 shots, rapid fire, 25 yds.

Rank
Name
Service Branch/Agency
1st Stage
2nd Stage
Score
Winner
Donald L. Nowka
Los Angeles, Calif.
Police Department
100
100
200
2
Thomas J. Sharpe
U.S. Army
Fort Sill, Okla.
99
100
199
3
Edward Walmsley
Seattle, Wash.
Police Department
99
100
199
4
Harry W. Reeves
Detroit, Mich.
Police Department
100
99
199
5
William C. Deyl
Olympic Club
San Francisco, Calif.
98
100
198
6
John H. Holt
Southern California Civilians
El Centro, Calif.
98
100
198
7
Earle M. Farrant
Los Angeles, Calif.
Police Department
98
100
198
8
George E. Irwin
Los Alamos, N.M.
98
100
198
9
Bob F. Chow
U.S. Navy
San Diego, Calif.
98
100
198
10
David H. Thomas
U.S. Army
Atlanta, Ga.
98
100
198
26
Wm W. McMillan, Jr.
U.S. Marine Corps
Quantico, Va.
99
98
197
(Source: American Rifleman, Vol. 99, No. 11, November 1951 & Official Bulletin)
.22 Caliber National Match Course Match No. 24


National Match Course

Rank
Name
Service Branch/Agency
Slow
Timed
Rapid
Score
Winner
Huelet L. Benner
U.S. Army
Fort Knox, Ky.
98
100
100
298
2
Thomas J. Sharpe
U.S. Army
Fort Sill, Okla.
98
100
100
298
3
Walter E. Fletcher
Seattle, Wash.
96
99
100
295
4
John H. Holt
Southern California Civilians
El Centro, Calif.
96
100
99
295
5
Alfred W. Hemming
Detroit, Mich.
Police Department
96
99
99
294
6
John F. Dodds
U.S. Army
Camp Polk, La.
96
100
98
294
7
Harry W. Reeves
Detroit, Mich.
Police Department
96
100
98
294
8
Ralph Kline
San Francisco Revolver Club
Richmond, Calif.
97
100
97
294
9
Presley A. O'Gren
U.S. Border Patrol
International Falls, Minn.
95
98
100
293
10
Edward Walmsley
Seattle, Wash.
Police Department
94
100
99
293
11
Wm W. McMillan, Jr.
U.S. Marine Corps
Quantico, Va.
95
100
98
293
(Source: American Rifleman, Vol. 99, No. 11, November 1951 & Official Bulletin)
.22 Caliber Aggregate Championship Match No. 25


Aggregate of Matches 21, 22, 23 and 24

Rank
Name
Service Branch/Agency
Total
Winner
Huelet L. Benner
U.S. Army
Fort Knox, Ky.
887
2
Thomas J. Sharpe
U.S. Army
Fort Sill, Okla.
885
3
Harry W. Reeves
Detroit, Mich.
Police Department
880
4
Offutt Pinion
U.S. Navy
Whidbey Island, Wash.
877
5
Wm W. McMillan, Jr.
U.S. Marine Corps
Quantico, Va.
877
6
John H. Holt
Southern California Civilians
El Centro, Calif.
876
7
Presley A. O'Gren
U.S. Border Patrol
International Falls, Minn.
874
8
Thomas R. Mitchell
U.S. Marine Corps
Quantico, Va
874
9
Alfred W. Hemming
Detroit, Mich.
Police Department
874
10
Edward Walmsley
Seattle, Wash.
Police Department
873
(Source: American Rifleman, Vol. 99, No. 11, November 1951 & Official Bulletin)
.38 Caliber Slow Fire Match No. 26


20 shots, slow fire, 50 yds.

Rank
Name
Service Branch/Agency
1st Stage
2nd Stage
Score
Winner
Huelet L. Benner
U.S. Army
Fort Knox, Ky.
100
98
198
2
Gloria Norton
San Francisco Revolver Club
Woodland, Calif.
95
98
193
3
Harry Reeves
Detroit, Mich.
Police Department
94
97
191
4
Wm W. McMillan, Jr.
U.S. Marine Corps
Quantico, Va.
94
96
190
5
Frank Borneman
Quincy, Calif.
94
95
189
6
Donald Millican
California Highway Patrol
Manhattan Beach, Calif.
94
95
189
7
Offutt Pinion
U.S. Navy
Whidbey Island, Wash.
95
93
188
8
Gordon F. Schmidt
Great Falls, Mt.
95
93
188
9
Ralph Kline
San Francisco Revolver Club
Richmond, Calif.
94
94
188
10
Buck Fisher
El Paso, Tex.
Pistol Club
94
93
187
(Source: American Rifleman, Vol. 99, No. 11, November 1951 & Official Bulletin)
.38 Caliber Timed Fire Match No. 27


20 shots, timed fire, 25 yds.

Rank
Name
Service Branch/Agency
1st Stage
2nd Stage
Score
Winner
Leonard O. Rizzolla
U.S. Navy
Anacostia, D.C.
100
100
200
2
Alfred W. Hemming
Detroit, Mich.
Police Department
100
99
199
3
Walter L. Devine
U.S. Marine Corps
Parris Island, S.C.
100
99
199
4
Mark W. Billing
U.S. Marine Corps
98
100
198
5
John C. Forman
U.S. Navy
Grosse Ile, Mich.
99
99
198
6
John M. Jagoda
U.S. Marine Corps
Quantico, Va.
99
99
198
7
Wm W. McMillan, Jr.
U.S. Marine Corps
Quantico, Va.
99
99
198
8
Thomas D. Elton
"Hellscats" NAS Alameda
100
98
198
9
Thomas R. Mitchell
U.S. Marine Corps
Quantico, Va
99
99
198
10
Offutt Pinion
U.S. Navy
Whidbey Island, Wash.
100
98
198
(Source: American Rifleman, Vol. 99, No. 11, November 1951 & Official Bulletin)
.38 Caliber Rapid Fire Match No. 28


20 shots, rapid fire, 25 yds.

Rank
Name
Service Branch/Agency
1st Stage
2nd Stage
Score
Winner
Walter R. Walsh
U.S. Marine Corps
Washington, D.C.
98
100
198
2
Ellis Lea
U.S. Army
Fort Ord, Calif.
97
99
196
3
John C. Forman
U.S. Navy
Grosse Ile, Mich.
96
99
195
4
George E. Irwin
Los Alamos, N.M.
97
98
195
5
Roy Chancey
11th Naval District
San Diego, Calif.
97
98
195
6
Oscar K. Weinmeister
U.S. Army
Fort Knox, Ky.
98
97
195
7
Leonard O. Rizzolla
U.S. Navy
Anacostia, D.C.
98
97
195
8
Walter E. Fletcher
Seattle, Wash.
98
97
195
9
Karl Schaugaard
San Francisco, Calif.
Police Department
98
97
195
10
John H. Holt
Southern California Civilians
El Centro, Calif.
98
96
194
32
Wm W. McMillan, Jr.
U.S. Marine Corps
Quantico, Va.
94
97
191
(Source: American Rifleman, Vol. 99, No. 11, November 1951 & Official Bulletin)
.38 Caliber National Match Course Match No. 29


National Match Course

Rank
Name
Service Branch/Agency
Slow
Timed
Rapid
Score
Winner
Buck Fisher
El Paso, Tex.
Pistol Club
94
99
100
293
2
Harry W. Reeves
Detroit, Mich.
Police Department
97
99
96
292
3
Walter L. Devine
U.S. Marine Corps
Parris Island, S.C.
94
99
98
291
4
Ralph Kline
San Francisco Revolver Club
Richmond, Calif.
90
100
100
290
5
John M. Jagoda
U.S. Marine Corps
Quantico, Va.
91
100
99
290
6
James L. Wade
Alexandria, Va.
95
96
99
290
7
Offutt Pinion
U.S. Navy
Whidbey Island, Wash.
95
96
99
290
8
Leonard O. Rizzolla
U.S. Navy
Anacostia, D.C.
94
98
98
290
9
Luther W. Yocum
U.S. Navy
Albuquerque, N.M.
93
100
97
290
10
Walter E. Fletcher
Seattle, Wash.
93
100
97
290
60
Wm W. McMillan, Jr.
U.S. Marine Corps
Quantico, Va.
85
97
99
281
(Source: American Rifleman, Vol. 99, No. 11, November 1951 & Official Bulletin)
.38 Caliber Aggregate Championship Match No. 30


Aggregate of Matches 26, 27, 28 and 29

Rank
Name
Service Branch/Agency
Total
Winner
Huelet L. Benner
U.S. Army
Fort Knox, Ky.
874
2
Harry W. Reeves
Detroit, Mich.
Police Department
871
3
Leonard O. Rizzolla
U.S. Navy
Anacostia, D.C.
870
4
Walter L. Devine
U.S. Marine Corps
Parris Island, Calif.
870
5
Walter R. Walsh
U.S. Marine Corps
Washington, D.C.
868
6
Offutt Pinion
U.S. Navy
Whidbey Island, Wash.
868
7
Buck Fisher
El Paso, Tex.
Pistol Club
867
8
John M. Jagoda
U.S. Marine Corps
Quantico, Va.
864
9
Walter E. Fletcher
Seattle, Wash.
864
10
Alfred W. Hemming
Detroit, Mich.
Police Department
863
15
Wm W. McMillan, Jr.
U.S. Marine Corps
Quantico, Va.
860
(Source: American Rifleman, Vol. 99, No. 11, November 1951 & Official Bulletin)
.45 Caliber Slow Fire Match No. 31


20 shots, slow fire, 50 yds.

Rank
Name
Service Branch/Agency
1st Stage
2nd Stage
Score
Winner
Emmett E. Jones
Los Angeles, Calif.
Police Department
93
95
188
2
Walter L. Devine
U.S. Marine Corps
Parris Island, Calif.
96
92
188
3
Huelet L. Benner
U.S. Army
Fort Knox, Ky.
91
95
186
4
Harry W. Reeves
Detroit, Mich.
Police Department
93
91
184
5
Jewell C. Palmer
U.S. Marine Corps
FMF Pacific
92
91
183
6
Thomas R. Mitchell
U.S. Marine Corps
Quantico, Va
92
91
183
7
Donald L. Nowka
Los Angeles, Calif.
Police Department
89
94
183
8
Bob F. Chow
U.S. Navy
San Diego, Ca.
92
90
182
9
Jack T. McCabe
California Highway Patrol
Bakersfield, Calif.
91
91
182
10
Frank Borneman
Quincy, Ca.
94
88
182
46
Wm W. McMillan, Jr.
U.S. Marine Corps
Quantico, Va.
90
86
176
(Source: American Rifleman, Vol. 99, No. 11, November 1951 & Official Bulletin)
.45 Caliber Timed Fire Match No. 32


20 shots, timed fire, 25 yds.

Rank
Name
Service Branch/Agency
1st Stage
2nd Stage
Score
Winner
Emmett E. Jones
Los Angeles, Calif.
Police Department
98
100
198
2
Huelet L. Benner
U.S. Army
Fort Knox, Ky.
98
100
198
3
Leonard O. Rizzolla
U.S. Navy
Anacostia, D.C.
97
100
197
4
Thomas D. Park
Dallas, Tex.
98
99
197
5
Thurman E. Barrier
U.S. Marine Corps
Washington, D.C.
98
99
197
6
Walter R. Stark
Los Angeles, Calif.
Police Department
99
98
197
7
John M. Jagoda
U.S. Marine Corps
Quantico, Va.
100
97
197
8
Harry W. Reeves
Detroit, Mich.
Police Department
100
97
197
9
Thomas D. Elton
"Hellscats" NAS Alameda
98
98
196
10
Frank Borneman
Quincy, Calif.
98
98
196
14
Wm W. McMillan, Jr.
U.S. Marine Corps
Quantico, Va.
96
99
195
(Source: American Rifleman, Vol. 99, No. 11, November 1951 & Official Bulletin)
.45 Caliber Rapid Fire Match No. 33


20 shots, rapid fire, 25 yds.

Rank
Name
Service Branch/Agency
1st Stage
2nd Stage
Score
Winner
Huelet L. Benner
U.S. Army
Fort Knox, Ky.
100
97
197
2
Walter L. Devine
U.S. Marine Corps
Parris Island, Cailf.
96
99
195
3
Leonard A. Rizzolla
U.S. Navy
Anacostia, D.C.
97
98
195
4
David H. Thomas
U.S. Army
Atlanta, Ga.
97
97
194
5
Alfred W. Hemming
Detroit, Mich.
Police Department
98
96
194
6
Erland E. Hedblom
U.S. Navy
Milton, Fla.
95
99
194
7
William T. Toney, Jr.
U.S. Border Patrol
El Paso, Tex.
96
97
193
8
Wm W. McMillan, Jr.
U.S. Marine Corps
Quantico, Va.
95
97
192
9
Buck Fisher
El Paso, Tex.
Pistol Club
98
94
192
10
Earle M. Farrant
Los Angeles, Calif.
Police Department
94
98
192
(Source: American Rifleman, Vol. 99, No. 11, November 1951 & Official Bulletin)
.45 Caliber National Match Course Match No. 34


National Match Course

Rank
Name
Service Branch/Agency
Slow
Timed
Rapid
Score
Winner
John M. Jagoda
U.S. Marine Corps
Quantico, Va.
95
98
100
293
2
Harry W. Reeves
Detroit, Mich.
Police Department
95
100
96
291
3
Jack T. McCabe
California Highway Patrol
Bakersfield, Calif.
93
98
99
290
4
Bob F. Chow
U.S. Navy
San Diego, Cailf.
95
99
96
290
5
Thurman E. Barrier
U.S. Marine Corps
Washington, D.C.
95
100
95
290
6
Donald Millican
California Highway Patrol
Manhattan Beach, Calif.
93
99
97
289
7
Wm W. McMillan, Jr.
U.S. Marine Corps
Quantico, Va.
92
100
96
288
8
William T. Toney, Jr.
U.S. Border Patrol
El Paso, Tex.
90
97
100
287
9
Buck Fisher
El Paso, Tex.
Pistol Club
92
98
97
287
10
Walter E. Fletcher
Seattle, Wash.
93
98
96
287
(Source: American Rifleman, Vol. 99, No. 11, November 1951 & Official Bulletin)
.45 Caliber Aggregate Championship Match No. 35


Aggregate of Matches 31, 32, 33 and 34

Rank
Name
Service Branch/Agency
Total
Winner
Huelet L. Benner
U.S. Army
Fort Knox, Ky.
868
2
Harry W. Reeves
Detroit, Mich.
Police Department
863
3
Walter L. Devine
U.S. Marine Corps
Parris Island, Calif.
862
4
William T. Toney, Jr.
U.S. Border Patrol
El Paso, Tex.
853
5
Thomas R. Mitchell
U.S. Marine Corps
Quantico, Va.
853
6
Leonard O. Rizzolla
U.S. Navy
Anacostia, D.C.
852
7
Earle M. Farrant
Los Angeles, Calif.
Police Department
852
8
Buck Fisher
El Paso, Tex.
Pistol Club
851
9
Wm W. McMillan, Jr.
U.S. Marine Corps
Quantico, Va.
851
10
Alfred W. Hemming
Detroit, Mich.
Police Department
849
(Source: American Rifleman, Vol. 99, No. 11, November 1951 & Official Bulletin)
National .22 Caliber Team Championship Match No. 36
"High Standard Trophy"


National Match Course

Rank
Team
Competitors
Score
Winner
U. S. Army 'Blue'
O. K. Weinmeister (289), B. C. Curtis (290)
T. J. Sharpe (290) & H. L. Benner (295)
1164
2
U. S. Navy No. 1
F. R. Chow (292), J. Forman (284)
O. Pinion (293) & L. M. Rizzolla (293)
1162
3
U. S. Marine Corps No. 1
W. W. McMillan (296), W. R. Walsh (287)
W. L. Devine (290) & J. M. Jagoda (288)
1161
(Source: American Rifleman, Vol. 99, No. 11, November 1951 & Official Bulletin)
National .38 Caliber Team Championship Match No. 37
"Smith & Wesson Trophy"


National Match Course

Rank
Team
Competitors
Score
Winner
U.S. Army 'Blue'
D. H. Thomas (282), L. G. Vause (293)
F. D. Graham (285) & H. L. Benner (289)
1149
2
Detroit Police Dept. Pistol Team
J. Porter (284), A. Hemming (283)
J. Horian (284) & H. Reeves (293)
1144
3
Los Angeles Police Dept. No. 1
E. Farrant (282), W. R. Stark (287)
T. C. Blackford (282) & E. E. Jones (290)
1141
4
U.S. Marine Corps No. 2
W. W. McMillan (281), M. W. Billing (290)
T. R. Mitchel (281) & T. E. Barrier (288)
1140
(Source: American Rifleman, Vol. 99, No. 11, November 1951 & Official Bulletin)
National .45 Caliber Team Championships Match No. 39
"Colt Trophy"


National Match Course

Rank
Team
Competitors
Score
Winner
U.S. Navy No. 1
R. F. Chow (285), L. W. Yocum (284)
O. Pinion (286) & L. M. Rizzolla (291)
1146
2
U.S. Marine Corps No. 1
W. W. McMillan (282), W. R. Walsh (282)
W. L. Devine (288) & J. M. Jagoda (286)
1138
3
U.S. Army 'Blue'
D. H. Thomas (277), L. B. Moore (276)
T. J. Sharpe (291) & H. L. Benner (289)
1133
(Source: American Rifleman, Vol. 99, No. 11, November 1951 & Official Bulletin)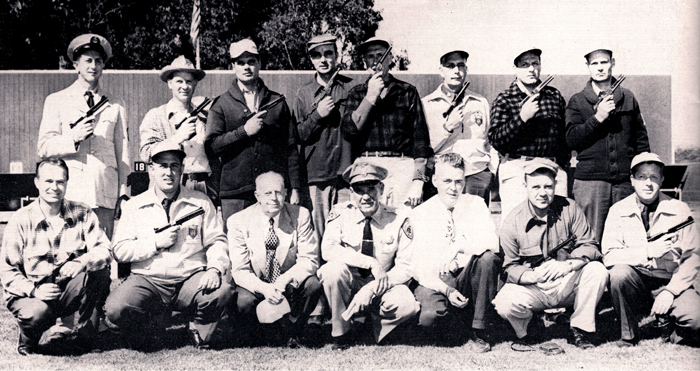 United States Mayleigh Team Members: Huelet L. Benner, Basil L. Starkey, Thomas J. Sharpe, Harry W. Reeves, William W. McMillan Jr., Everett R. Ferris, Frank D. Graham, Offutt Pinion, Jefferson J. Fell, Thomas R. Mitchell, Henry R. Jacobs (Team Captain), Malcom B. Edwards (Team Adjutant) and General Merritt A. Edson (Official Witness)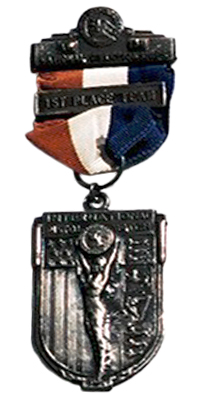 Mayleigh Cup International Medal
Mayleigh Cup International
Pistol Team Match No. 39


20 shots, slow fire, 20 yds., .22 caliber

No.
Name
Service Branch/Agency
Score
1
Huelet L. Benner
U.S. Army
Fort Knox, Ky.
191
2
Basil Starkey
Los Angeles, Calif.
Police Department
188
3
Thomas J. Sharpe
U.S. Army
Fort Sill, Okla.
189
4
Harry W. Reeves
Detroit, Mich.
Police Department
193
5
William W. McMillan, Jr.
U.S. Marine Corps
Quantico, Va.
185
6
Everett Ferris
Los Angeles, Calif.
Police Department
190
7
Frank D. Graham
U.S. Army
Camp Stoneman, Calif.
186
8
Offutt Pinion
U.S. Navy
Whidbey Island, Wash.
187
9
Jefferson J. Fell
U.S. Border Patrol
Derby Line, Vt.
182
10
Thomas Mitchell
U.S. Marine Corps
Quantico, Va.
184
(Source: American Rifleman, Vol. 99, No. 11, November 1951 & Official Bulletin)
Henry R. Jacobs (Team Captain), Malcome B. Edwards (Adjutant) and Gen. Merritt. A. Edson, Official Witness
Mayleigh Cup International
Pistol Team Match
Team Scores

| Rank | Country | Score |
| --- | --- | --- |
| Winner | United States | 1875 |
| 2 | Great Britian | 1744 |
| 3 | Canada | 1735 |
(Source: American Rifleman, Vol. 99, No. 11, November 1951 & Official Bulletin)