The 1964 National Matches were held at Camp Perry, Ohio, July 31 through Aug. 30. Among the activities were the National Trophy Individual and Team Matches for Service rife and Service pistol; the NRA National Championships - Pistol, Small-bore Rifle Prone and Position, High Power Service and Bolt Rifle; and the Small Arms Firing School for Service rifle and Service pistol, and the NRA Instructor-Junior School. Sponsored by the National Board for the Promotion of Rifle Practice in cooperation with the National Rifle Association of America, the Matches were conducted by a National Match Director with support personnel from all of the Armed Forces and selected civilian members of the National Rifle Association.
Excerpt from the American Rifle Magazine
Army NCO Wins Fifth National Pistol Crown
CAMP PERRY, Ohio (UPI) - Army SFC William B. Blankenship set two national match records as he blasted his way to an unprecedented fifth straight national pistol title at the National Rifle and Pistol Championships here.
Blankenship fired a 2,642-112 for all pistol events to beat out Air Force Capt. Thomas D. Smith of Lackland AFB, Tex., who was three points back with 2,639-132. In third place was Navy Petty Officer 1st Class Donald L. Hamilton, who fired 2,635-112.
Blankenship also won the national regular service championship.
The National Women's title was captured by Army Capt. Sallie L. E. Carroll, stationed in Orleans, France, and a member of the Army's European Region Pistol Team, who shot 2,517-061 to top defending champion, Air Force Capt. Gail N. Liberty.
Policeman E. W. Hilden of Oceanside, Calif., was the national police champion with a score of 2,586-090 score.
The National Reserve championship went to Sp4 Paul E. Boren of Norwalk, Calif., who fired 2,598-096. The National Guard title was won by Capt. Owen R. Helm Jr., Fresno, Calif., with 2,561-081.
The Senior championship went to Marine Col Walter R. Walsh, Quantico, Va., with 2,557-085; the civilian championship to Ramon Slupsky with 2,598-093; and the national collegiate title to Ronald D. Krelstein of Memphis, Ten., with 2,590-086.
Hamilton, the third place finisher in overall firing, also won the Navy title and was high among enlisted men of all services. Smith's second-place finish gave him the Air Force title.
Thursday the competition was in the slow, rapid, timed and national match courses for .45-cal pistols.
Huelet L. Benner postmaster from Corydon, Ind., won the timed fire match with a score of 200-15 with Air Force TSgt Alvin R. Merx, San Antonio, Tex., runner up, at 200-15, and Coast Guard Petty Officer 3rd Class Robert W. Parillo, a reservist, with 200-13, was third.
Marine SSgt Richard C. Van Cott, Quantico, Va., took the slow fire match with 196-06, followed by Marine Sgt Francis A. Higginson, also Quantico, 196-04, and Air Force Capt Thomas D. Smith, San Antonio, Tex.
Army Sgt. Robert E. Wilford, Ft. Benning, Ga., recorded 200-10 to win the rapid fire match. Army Sgt. Merriweather Jones, also Ft. Benning, had 199-12, and Army reserve SSgt Maurice G. Baum, Kirkland, Wash., 199-10.
Higher firer in the national match course was Capt. Thomas D. Smith, 295-18, with Army Sgt Paul S. McGiboney, from Sam Houston, Tex., second at 295-17 and Marine SSgt Van Cott rounding out the top three with 295-15.
Team championships in the .22-, .38- and .45-cal events will be decided Friday.
Stars & Stripes, August 9, 1964
Army Pistol Team Cops National Championships
BY SSGT LEE LA COMBE
Special to the Bayonet
The U.S. Army Pistol Team, paced by an outstanding effort by SFC William B. Blankenship, took Camp Perry and the National Pistol Championships by storm last week.
Blankenship became the only man in the history of the matches, dating back to 1903, to ever win five consecutive titles when he posted a three day aggregate score of 2642 out of a possible 2700.
Two days later he clinched his claim as best pistol shot in the country when he topped all competitors in the coveted National Trophy Individual Match with a 293-14X, only one point off the record set last year by Capt. William McMillan of the Marines.
Blankenship then returned to the firing line to anchor the Army Blue Team to victory in the National Trophy Team Match.
The four-man squad fought gusty winds and the challenge of a surprisingly strong Navy Team to take the match by three points, 1128 to 1125 for the sailors.
Firing on the team with Blankenship were Sgt. Emil Heugatter, SSgt. Charles Hubbard and SFC Robert Whitacre. MSgt. Mack Salmon was the team coach.
Blankenship is now within one victory of topping retired Army Sgt. Maj. Huelet "Joe" Benner and Harry Reeves, no retired from the Detroit Police Department, who were the only men to ever win six national titles.
Blankenship trailed by two points at the end of the first day of competition with the .22 cal. pistol, which was won by SFC Robert Whitacre with an 892.
The next day gusty winds up to 25 mph swept across Perry's famous range and when firing ceased Blankenship was in front of the pack by five points. His 876 total also gave him the Center Fire crown.
Capt. T. D. Smith of the U. S. Air Force made a strong run at Blankenship on the last day of the big shoot when he cracked out a record setting 889 out of 900 with the .45 cal. pistol, but he fell three points short and finished second with a 2539.
In the NRA Team Matches the Air Force successfully defended its title with a 3505 aggregate, one point short of the record which they set last year.
They also won the .22 match with an 1184, eight points more than the runnerup Army Blue squad, and the Center Fire match with an 1167, three points ahead of second place Navy.
The Marines took the .45 cal. event with an 1155, two points ahead of the Air Force.
The Army Blue was runner-up in the aggregate with a 3491.
The Bayonet, Fort Benning, Ga., August 14, 1964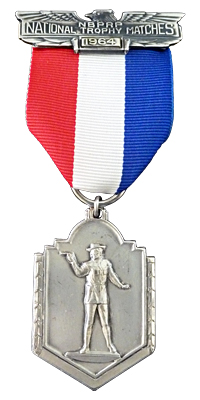 National Trophy Individual Pistol Medal
National Trophy Individual Pistol Match No. 100
"General Custer Trophy"


National Match Course

| Rank | Name | Service Branch/Agency | Slow Fire | Timed Fire | Rapid Fire | Total Points |
| --- | --- | --- | --- | --- | --- | --- |
| 1 | Wm B. Blankenship, Jr. | U.S. Army | 96-4X | 98-5X | 99-5X | 293-14X |
| 2 | Laurance K. Mosely | U.S. Army | 97-3X | 98-3X | 98-0X | 293-6X |
| 3 | Alvin R. Merx | U.S. Air Force | 93-1X | 100-5X | 99-6X | 292-12X |
| 4 | Robert E. Moats | U.S. Army | 96-0X | 97-4X | 99-4X | 292-8X |
| 5 | Franklin C. Green | U.S. Air Force | 94-2X | 100-1X | 98-1X | 292-4X |
| 6 | Edward L. Pentz | U.S. Army | 95-2X | 100-5X | 96-5X | 291-12X |
| 7 | Bernard F. Sousa, Sr. | U.S. Army | 97-4X | 98-4X | 95-4X | 290-12X |
| 8 | Hal T. Glaze | U.S. Air Force | 94-3X | 97-3X | 99-5X | 290-11X |
| 9 | Herman A. Crump | U.S. Air Force | 97-1X | 100-6X | 93-3X | 290-10X |
| 10 | Frank Kwas | U.S. Air Force | 93-0X | 100-6X | 97-3X | 290-9X |
| 182 | Wm W. McMillan, Jr. | U.S. Marine Corps | 83-0X | 98-4X | 97-4X | 278-8X |
(Source: American Rifleman, Vol. 112, No. 10, October 1964 & NBPRP Bulletin)
National Trophy Pistol Team Match No. 101
"Gold Cup Trophy"


National Match Course

Rank
Team
Competitors
Score
1
U.S. Army MTU 'Blue'
J. E. Watson (Captain), M. R. Salmon (Coach), C. M. Hubbard (278-3)
R. D. Whitacre (287-10), E. W. Heugatter (275-5)
& W. B. Blankenship (288-9)
1128-27X
2
U.S. Navy Atlantic
B. F. Preson (Captain), W. Geil (Coach), G. D. Carapellotti (276-7)
H. B. Delong (280-9), E. D. Cain (283-5) & J. J. Witherell (286-8)
1125-29X
3
U.S. Air Force 'Blue'
J. W. Carter (Captain), A. R. Merx (Coach), A. R. Merx (286-10)
E. L. Teague (285-11), F. A. Kwas (274-4) & H. H. Legg (279-5)
1124-30X
4
U.S. Navy
G. P. Defino (Captain), J. L. Ketzler (Coach), J. L. Galvao (283-9)
D. L. Hamilton (282-10), T. L. Keigley (274-5) & S. A. Baiocco (284-6)
1123-30X
5
U.S. Marine Corps
J. A. Getchell (Captain), W. E. Eubank (Coach), F. J. Rayford (287-7)
F. A. Wigmore (276-5), W. E. Eubank (285-13) & M. Pietroforte (269-7)
1117-32X
12
U.S. Marine Corps Eastern
W. W. McMillan (Captain), R. O. Jones (Coach)
L. E. Morrone (274-10), R. O. Jones (281-5), J. K. Maurer (275-7)
& W. K. Hayden (275-8)
1105-30X
(Source: American Rifleman, Vol. 112, No. 10, October 1964 & NBPRP Bulletin)
National Pistol Individual Championship Match No. 1
"Harrison Cup Trophy"


Aggregate of Matches 2, 3 & 4

Rank
Name
Service Branch/Agency
.22 Caliber
Center-Fire
.45 Caliber
Total
1
Wm B. Blankenship, Jr.
U.S. Army
-
876-32X
-
2642-112X
2
Thomas D. Smith, III
U.S. Air Force
-
-
889-42X
2636-132X
3
Donald L. Hamilton
U.S. Navy
-
-
-
2635-112X
High
Civilian
Ramon Slupsky
-
-
-
-
2598-93X
High
Woman
Sallie L. E. Carroll
U.S. Army
-
-
-
2517-61X
High
Police
Elden W. Hilden
U.S. Border Patrol
-
-
-
2586-90X
High
National Guard
Owen R. Helm, Jr.
U.S. National Guard
-
-
-
2561-81X
High
National
Air Force
Thomas D. Smith, III
U.S. Air Force
-
-
-
2639-132X
High
Reserve
Paul E. Boren
U.S. Army Reserve
-
-
-
2598-96X
High
Regular
Service
Wm B. Blankenship, Jr.
U.S. Army
-
-
-
2642-112X
High
Collegiate
Ronald D. Krelstein
-
-
-
-
2590-86X
High
Senior
Walter R. Walsh
U.S. Marine Corps
-
-
-
2557-85X
(Source: American Rifleman, Vol. 112, No. 10, October 1964)
National .22 Caliber Championship Match No. 2
"Walker Trophy"


Aggregate of Matches 9, 10, 11 and 12

Rank
Name
Service Branch/Agency
Total
1
Robert D. Whitacre
U.S. Army
892-50X
2
-
-
-
3
-
-
-
1st
Woman
Gertrude P. Schlernitzaueer
-
864-21X
(Source: American Rifleman, Vol. 112, No. 10, October 1964)
National Center-Fire Championship No. 3
"Colonel Gillard H. Clarke Memorial Trophy"


Aggregate of Matches 14, 15, 15 and 17

| Rank | Name | Service Branch/Agency | Total |
| --- | --- | --- | --- |
| 1 | Wm B. Blankenship, Jr. | U.S. Army | 876-32X |
| 2 | Harland V. Rennolds | U.S. Army | 875-25X |
| 3 | - | - | - |
| 1st Woman | Sallie L. E. Carroll | U.S. Army | 832-24X |
(Source: American Rifleman, Vol. 112, No. 10, October 1964)
National .45 Caliber Championship Match No. 4
"Orton Memorial Trophy"


Aggregate of Matches 18, 19, 20 and 21

Rank
Name
Service Branch/Agency
Total
1
Thomas D. Smith, III
U.S. Army
889-42X
2
-
-
-
3
-
-
-
1st
Woman
Gail N. Liberty
U.S. Air Force
842-28X
(Source: American Rifleman, Vol. 112, No. 10, October 1964)
Preliminary Aggregate Match No. 5


Aggregate of Matches 6, 7 and 8

| Rank | Name | Service Branch/Agency | .22-Cal | .38-Cal | .45-Cal | Total |
| --- | --- | --- | --- | --- | --- | --- |
| 1 | Wm B. Blankenship, Jr. | U.S. Army | - | 296-20X | - | 887-53X |
(Source: American Rifleman, Vol. 112, No. 10, October 1964)
.22 Caliber Preliminary Match No. 6


National Match Course

| Rank | Name | Service Branch/Agency | Score |
| --- | --- | --- | --- |
| 1 | Hershal L. Anderson | U.S. Army | 298-19X |
(Source: American Rifleman, Vol. 112, No. 10, October 1964)
.38 Caliber Preliminary Match No. 7


National Match Course

| Rank | Name | Service Branch/Agency | Score |
| --- | --- | --- | --- |
| 1 | Wm B. Blankenship, Jr. | U.S. Army | 296-20X |
(Source: American Rifleman, Vol. 112, No. 10, October 1964)
.45 Caliber Preliminary Match No. 8


National Match Course

| Rank | Name | Service Branch/Agency | Score |
| --- | --- | --- | --- |
| 1 | Wm W. McMillan, Jr. | U.S. Marine Corps | 298-14X |
(Source: American Rifleman, Vol. 112, No. 10, October 1964)
.22 Caliber Slow Fire Match No. 9


20 shots, slow fire, 50 yards

| Rank | Name | Service Branch/Agency | Score |
| --- | --- | --- | --- |
| 1 | Donald L. Hamilton | U.S. Navy | 197-7X |
(Source: American Rifleman, Vol. 112, No. 10, October 1964)
.22 Caliber Timed Fire Match No. 10


20 shots, timed fire, 25 yards

| Rank | Name | Service Branch/Agency | Score |
| --- | --- | --- | --- |
| 1 | Thomas D. Smith, III | U.S. Air Force | 200-17X |
(Source: American Rifleman, Vol. 112, No. 10, October 1964)
.22 Caliber Rapid Fire Match No .11


20 shots, rapid fire, 25 yards

| Rank | Name | Service Branch/Agency | Score |
| --- | --- | --- | --- |
| 1 | Ralph O. Thompson | U.S. Army | 200-17X |
(Source: American Rifleman, Vol. 112, No. 10, October 1964)
.22 Caliber National Match Course Match No. 12


National Match Course

| Rank | Name | Service Branch/Agency | Score |
| --- | --- | --- | --- |
| 1 | Bernard A. Stoltman | U.S. Air Force | 299-14X |
(Source: American Rifleman, Vol. 112, No. 10, October 1964)
.38 Caliber Slow Fire Match No. 14


20 shots, slow fire, 50 yards

| Rank | Name | Service Branch/Agency | Score |
| --- | --- | --- | --- |
| 1 | Alvin R. Merx | U.S. Air Force | 193-7X |
(Source: American Rifleman, Vol. 112, No. 10, October 1964)
.38 Caliber Timed Fire Match No. 15


20 shots, timed fire, 25 yards

| Rank | Name | Service Branch/Agency | Score |
| --- | --- | --- | --- |
| 1 | Harry E. Aitken | U.S. Border Patrol | 200-13X |
(Source: American Rifleman, Vol. 112, No. 10, October 1964)
.38 Caliber Rapid Fire Match No. 16


20 shots, rapid fire, 25 yards

| Rank | Name | Service Branch/Agency | Score |
| --- | --- | --- | --- |
| 1 | Alvin R. Merx | U.S. Air Force | 200-11X |
(Source: American Rifleman, Vol. 112, No. 10, October 1964)
.38 Caliber National Match Course Match No. 17


National Match Course

| Rank | Name | Service Branch/Agency | Score |
| --- | --- | --- | --- |
| 1 | Guingo D. Carapellotti | U.S. Navy | 291-13X |
(Source: American Rifleman, Vol. 112, No. 10, October 1964)
.45 Caliber Slow Fire Match No. 18


20 shots, slow fire, 50 yards

| Rank | Name | Service Branch/Agency | Score |
| --- | --- | --- | --- |
| 1 | Richard Van Cott | U.S. Marine Corps | 196-6X |
| 2 | Franics A. Higginson | U.S. Marine Corps | 196-4X |
| 3 | Thomas D. Smith, III | U.S. Air Force | - |
(Source: American Rifleman, Vol. 112, No. 10, October 1964)
.45 Caliber Timed Fire Match No. 19


20 shots, rapid fire, 25 yards

| Rank | Name | Service Branch/Agency | Score |
| --- | --- | --- | --- |
| 1 | Huelet L. Benner | - | 200-15X |
| 2 | TSgt Alvin R. Merx | U.S. Air Force | 200-15X |
| 3 | Robert W. Parillo | U.S. Coast Guard | 200-13X |
(Source: American Rifleman, Vol. 112, No. 10, October 1964)
.45 Caliber Rapid Fire Match No. 20


20 shots, rapid fire, 25 yards

| Rank | Name | Service Branch/Agency | Score |
| --- | --- | --- | --- |
| 1 | Robert. E. Wilford | U.S. Army | 200-10X |
| 2 | Merriweather Jones | U.S. Army | 199-12X |
| 3 | Maurice G. Baum | U.S. Army Reserve | 199-10X |
(Source: American Rifleman, Vol. 112, No. 10, October 1964)
.45 Caliber National Match Course Match No. 21


National Match Course

| Rank | Name | Service Branch/Agency | Score |
| --- | --- | --- | --- |
| 1 | Thomas D. Smith, III | U.S. Air Force | 295-18X |
| 2 | Paul McGiboney | U.S. Army | 295-17X |
| 3 | Richard Van Cott | U.S. Marine Corps | 295-15X |
(Source: American Rifleman, Vol. 112, No. 10, October 1964)
National .22 Caliber Team Championship Match No. 22
"High Standard Trophy"


National Match Course

Rank
Team
Competitors
Score
1
U.S. Air Force 'Blue'
J. L. Mahan (291-17X), A. R. Merx (299-14X)
T. D. Smith, III (297-16X) & F. C. Green (297-15X)
1184-62X
2
-
-
-
3
-
-
-
(Source: American Rifleman, Vol. 112, No. 10, October 1964)
National .38 Caliber Team Championship Match No. 23
"Smith & Wesson Trophy"


National Match Course

Rank
Team
Competitors
Score
1
U.S. Air Force 'Blue'
J. L. Mahan (291-13X), A. R. Merx (293-14X)
T. D. Smith, III (291-14X) & F. C. Green (293-12X)
1168-53X
2
-
-
-
3
-
-
-
(Source: American Rifleman, Vol. 112, No. 10, October 1964)
National .45 Caliber Team Championship Match No. 24
"Colt Trophy"


National Match Course

Rank
Team
Competitors
Score
1
U.S. Marine Corps 'Scarlet'
M. Pietroforte (284-11X), F. A. Wigmore (291-8X)
F. J. Rayford (289-11X) & R. C. Van Cott (291-12X)
1155-42X
2
-
-
-
3
-
-
-
(Source: American Rifleman, Vol. 112, No. 10, October 1964)
National Pistol Team Championship Match No. 25
Grand Aggregate


Aggregate of Matches 22, 23 and 24

Rank
Team
Competitors
.22 Caliber
.38 Caliber
.45 Caliber
Total
1
U.S. Air Force 'Blue'
J. L. Mahan, A. R. Merx
T. D. Smith, III & F. C. Green
1184-62X
-
-
3505-160X
2
-
-
-
-
-
-
3
-
-
-
-
-
-
(Source: American Rifleman, Vol. 112, No. 10, October 1964)