The National Rifle and Pistol Matches, conducted annually with the approval of the Secretary of the Army, are held under supervision of the National Board for the Promotion of Rifle Practice and in cooperation with the National Rifle Association.
The 1961 National Matches were held on the Ohio National Guard range at Camp Perry, Ohio, July 28 - Aug 27.
The dates of the various activities were:
July 28-30 - Small Arms Firing School, Pistol
July 31-Aug. 5 - Pistol Matches
Aug. 6-11 - Small-bore Rifle Matches
Aug. 7-10 - Junior and Tyro School
Aug. 13-16 - Small Arms Firing School, Rifle
Aug. 17-27 - High Power Rifle Matches
The National Matches are the pinnacle of rifle and pistol competition within the United States. Participants include not only the outstanding shooters of all military services, but also the best civilian and police shooters.
Competition includes events for NRA Championships with the 3 types of arms, and matches with Service rifle and Service pistol for National Team and Individual Trophies created by the Congress. The branches of the Armed Services usually conduct elimination competitions, starting with local stations and small units, and progressing up through the All-Service matches, to select their respective teams. Separate commands, in addition, enter teams. State civilian rifle and pistol associations may, upon proper authorization, conduct elimination events to select representative teams and send them at Government expense to complete in the Matches and to attend the Schools as a means of training interested persons in the use of military-type small arms.
National titles and match victories are open event. Competitors are, however, entered in various categories with each arm. After the match winner and place awards are determined in open competition, remaining shooters are ranked within the categories and category awards and class awards within the categories are made. In addition, special awards are made to ranking women, collegiate, and Senior (over 55 years) shooters in small-bore rile, pistol, and high power rifle; to Junior and National Guard in high power rifle, and to National Guard shooters in pistol.
Excerpt from the American Rifle Magazine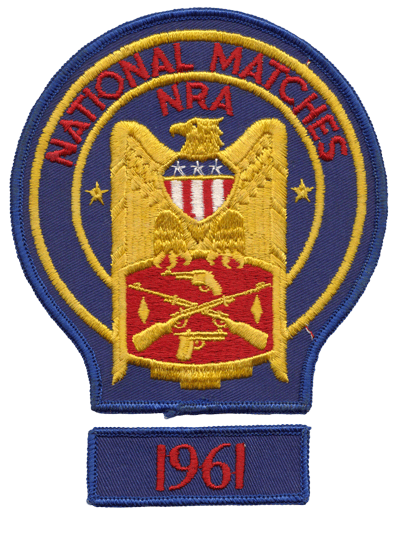 Perry Pistol Matches Underway; Marine Cops First
CAMP PERRY — The 1961 National Rifle and Pistol Matches got under way Monday on a rain and wind-swept range which neared shortly after 9 a.m. Marine Warrant Officer William E. Eubank of Hampton, Va., captured the first event of the day by winning the .22 caliber warm-up pistol match.
Eubank, a member of the 22-man Marine Corps Pistol Team, captured the match with a score of 287x300 with 14-X ring shots.
This is one X-ring shot short of the National Match Record now held by SFC William Blankenship, USA.
Sgt. Blankenship captured the second pistol match of the day, the .38 caliber warm-up center fire event with a score of 296-16X. Marine Sgt. Leslie M. Hunt of Alleghany, N. Y., was high Marine in this match with a score of 291-11X which placed him 10th in the overall standings.
The final event of the day, the .45 caliber warm-up match was won by Army SFC S. W. Hunter with a score of 295-6X. High Marine in the .45 shoot was GySgt. Donald W. McClure who shot a 291-300 which placed him 12th in the overall standings.
Tuesday the hand gun shooters got down to real competition with the opening of the NRA .22 caliber pistol events (slow fire, timed fire, rapid fire and National Match Course), all part of the matches leading to the NRA National Championships.
Quantico Sentry, August 4, 1961
Blankenship Repeats as National Pistol Champ
CAMP PERRY, Ohio (Special) — Army sharpshooter SFC William B. Blankenship, Jr. gunned his way to a second straight National pistol championship here Thursday.
Blankenship fired 2,631-119X out of a possible 2,700 points to beat out his teammate from the Army Advanced Marksmanship Unit (AAMU), SFC James W. Kurtz.
Kurtz finished with a total of 2,627-110X behind Blankenship whose winning total was five points off the National aggregate record he set last year.
Army Sgt. Emil W. Heugatter Jr. was third behind Kurtz with 2,625, followed by Marine Capt. William McMillan with 2,624 and Air Force Capt. Franklin C. Green with 2,622.
Blankenship is the third man in the 41-year history of the matches to successfully defend the pistol title.
The top civilian shooter was James Clark, the 1958 champ from Shreveport, La., with 2,603. John W. Hurst of Los Angeles took police honors with 2,607.
Another champion repeated as Lucille W. Chambliss of Winter Haven, Fla., scored 2,509-62X to edge out Lois Montgomery of San Francisco by one point for the women's title. Miss Montgomery totaled 2,508-68X
Two National records fell Thursday in .45-cal slow-fire, timed-fire, rapid-fire and National Match Course events.
The Army's SFC William G. Horton smashed the national slow-fire record of 193-7X with a 194-3X and H. R. Mitchell, a police officer from Falfurrias, Tex., fired 200-13X to break the timed fire match.
Army shooters also swept the other two .45-cal matches as Maj. Kenneth P. Dunn won the rapid fire with 199-11X and Sgt. James J. McNally won the National Match Course event with 295-14X.
The men's championship finished with a race to the wire between Blankenship and Kurtz.
The two AAMU shooters entered the final day Thursday with identical 1,766-point totals, but with Blankenship ahead with more hits in the X-ring, a small circle with in the bull's-eye used to break ties.
Blankenship had 83X - 10 more that Kurtz - before the defending champ took the edge in the .45-cal events, including a 294-12X in the National Match Course event.
Kurtz posted the top aggregate score of 882-36X in the center-fire match in which competitors used either a .38 or .45-cal weapon.
Match winners in center fire were Lt. Cmdr. William A. Probst of the Navy with 195-6X in timed fire; Air Force Capt Franklin C. Green with 200-13 in the rapid fire; Blankenship with 200-9X in the rapid fire and Police Officer Billie R. McElroy of Austin, Tex., with 297-9X in the National Match Course.
In winning the center-fire aggregate, Kurtz put together scores of 193-6X in slow fire, 190-8X in timed fire, 197-11X in rapid fire and 296-11X in the National Match Course.
First Lt Wesley L. Whatley of Longview, Tex., won the individual National Guardsman Award with a score of 2,574, topping some 300 other Guard competitors
Three team pistol matches were scheduled Friday - the .22-cal, the center-fire and .45-cal championships.
Stars & Stripes, August 5, 1961
Coast Guardsman, Army Team Win Perry Pistol Titles
CAMP PERRY, Ohio — A Coast Guard sharphooter and an Army team shared the spotlight in the National Trophy Matches - the final two events of the National pistol championships here Saturday.
Petty Officer First Class Standford H. Hulstrom of the Coast Guard Academy at New London, Conn., won the National Trophy Match Individual title while the Army Advanced Marksmanship Unit's "Blue" team won the team crown.
Hulstrom became the first Coast Guardsman to win the title after tying with the Army's SFC Harold R. Wilson of Ft. Campbell, Ky.
Hulstrom and Wilson each fired totals of 293-13X out of a possible 300 points, but Hulstrom was awarded the title because of a higher score in the rapid-fire phase of the match.
The AAMU's "Blue" team won its third team match in two days when it complied 1,132-35X out of a possible 1,200 points.
The Army team included SFC William B. Blankenship, Jr., who repeated as National Individual champ earlier last week; SFC Samuel W. Hunter, MSgt James J. Kurtz and SFC Robert L. Jones. The Army's Pacific team was second with 1,131-40X.
The top USAREUR shooter was SFC Ralph O. Thompson of the USAREUR Advanced Marksmanship Unit who placed 10th in the individual matches with 290-10X.
SSgt. Jackie R. Morris was the leading Air Force competitor with 293-12X for third place while Cpl. Everett R. Retford was the highest Marine Corps finisher with 291-13X for fifth place.
The National small-bore rifle competition was scheduled to open Monday.
Stars & Stripes, August 7, 1959
For National Championship
McMillan Cops Fourth At Perry Pistol Shoot
Quantico's Capt. William W. McMillan Jr. finished fourth in the 1961 NRA Pistol Championship which was captured by Army SFC William B. Blankenship Jr. last week at Camp Perry, Ohio.
McMillan, the top Marine contender, finished with an aggregate score of 2624-106X and Blankenship won with 2631-119X. Army MSgt. James W. Kurtz placed second while Sgt. Emil W. Heugatter Jr., USA, finished third.
The NRA National Pistol Championship was decided by an aggregate of competitor's total score in the .22 caliber, center fire, and the .45 caliber pistol matches.
Each shooter fired a total of 270 rounds, 90 with each type pistol divided between slow fire at 50 yards, timed fire at 25 yards and rapid fire at 25 yards, for a possible total score of 2,700 points.
During the shooting, the .45 caliber slow fire match was won by SFC William G. Horton, USA, who set a new National Match Record by firing a 194-3X. The former record of 193-7X was held by Capt. Thomas R. Mitchell, USMC. High Marine shooters in this event were: Capt. McMillan, SgtMaj. Robert O. Jones and Cpl. Glen Nissen with 190-4X.
In the .45 caliber timed fire match, H. R. Mitchell of the U.S. Border Patrol broke the record (200-11X) held jointly by Sgt. Larry L. Hausman, USMC, and Sgt. Santiago Machuca, USA, by firing 200-13X. Capt. McMillan topped Marine shooters with 199-13X.
MSgt. John A. Fowler's 198-9X was high for the Marine Corps in the .45 caliber rapid fire match won by Major Kenneth P. Dunn, USA, who set a new National Match record of 199-11X. The record 199-6X was formerly held by SSgt. Edmond S. Sarver, USMC.
The .45 National Match Course firing was won by Army Sgt. James McNally with 295-14X. SgtMaj. Jones fired 292-9X for the Marines.
Yesterday, LtCdr. William A. Brobst, USNR, of Forest Park, Ill., won the center fire slow fire match with a 195-6X. Capt. McMillan was high Marine with 192-5X. Air Force Capt. Franklin C. Green copped the center fire timed fire match with a score of 200-13X. Capt. McMillan was again high for the Marines with 199-13X.
In the center fire rapid fire match, Blankenship won with a 200-13X. GySgt. Albert Froede Jr., was high Marine with 198-4X.
John J. McElroy of Austin, Texas, won the center fire National Match Course shoot with a 297-9X. SgtMaj. Jones led the Marines with 293-14X.
Aggregate score winner in the center fire championship was MSgt. Kurtz with 882-36X. Capt. McMillan led the Marines with 875-36X.
In the .22 caliber championship matches Army SFC Ralph O. Thompson compiled an aggregate score of 889-44X. Top Marine was 1stLt. Paul J. Shank with 881-33X.
The .22 caliber slow fire match was won by Sgt. Floyd A. Thomson, USA, with 196-7X, a new National Match Record. Capt. McMillan topped Marine shooters with 192-4X. In time fire, TSgt. William H. Mellon, USAF, fired 200-15X to win the match. Sgt. Bobby F. Sherrill topped the Marine with 200-12X. SFC Blankenship Jr. won the rapid fire match with 200-15X. 1stLt. Shank was high Marine with 200-12X. SFC Thompson fired 298-20X to win the .22 caliber National Match Course. Sgt. Hausman was high Marine with 297-13X.
In the team matches, the Army Team won the National Trophy Pistol Team Match with a score of 1132-35X. The Marine Blue Team led Corps shooters with an aggregate of 1125-37X.
High Marine in the National Trophy Individual Pistol Match last Friday was Cpl. Everett R. Retford with 291-13X. The Match was won by PO1 Stanford H. Hulstrom, U.S. Coast Guard Academy, who fired 293-13X.
The Army Blue Team captured the .22 caliber Team Championship with 1175-54X. The top Marine Corps team tallied an aggregate of 1166-48X.
In the Center Fire Team Championship, the Marine Corps Eastern Team fired 1162-41X as the Army Blue Team won the event with 1167-50X.
The .45 Caliber Team Championship was not decided until the final string of fire, with the Army Blue Team coming out on top with a score of 1164-49X to the Marine Corps Blue Team's 1163-51X.
Smallbore rifle competition got underway at Camp Perry Sunday.
Quantico Sentry, August 11, 1964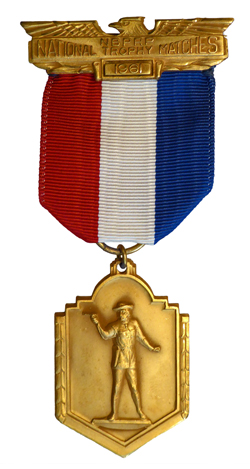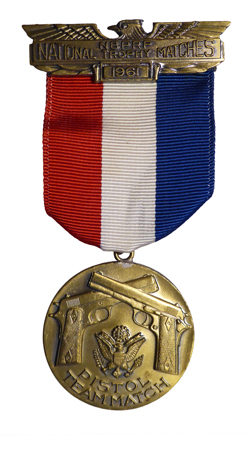 National Trophy Individual Pistol and
National Trophy Team Pistol Match medals
National Trophy Individual Pistol Match
"General Custer Trophy"

| Rank | Name | Service Branch/Agency | Total Points |
| --- | --- | --- | --- |
| 1 | Stanford H. Hulstrom | U.S. Coast Guard | 293-13X |
| 2 | Harold R. Wilson | U.S. Army | 293-13X |
| 3 | Jackie R. Morris | U.S. Air Force | 293-12X |
| 4 | James H. McNally | U.S. Army | 292-12X |
| 5 | Everett R. Retfords | U.S. Marine Corps | 291-13X |
| 6 | Samuel W. Hunter | U.S. Army | 291-12X |
| 7 | Jack O. Larned | U.S. Marine Corps Reserve | 291-11X |
| 8 | E. H. Worth | U.S. Air Force Reserve | 291-11X |
| 9 | John R. Sicinski | U.S. Army | 290-13X |
| 10 | Ralph O. Thompson | U.S. Army Europe | 290-10X |
| 19 | Wm W. McMillan, Jr. | U.S. Marine Corps | 289-9X |
(Source: American Rifleman, Vol. 109, No. 10, October 1961)
National Trophy Pistol Team Match
"Gold Cup Trophy"
Rank
Team
Competitors
Score
1
U.S. Army
J. W. Kurtz, W. B. Blankenship, Jr.
S. W. Hunter & R. L. Jones
1132-35X
2
-
-
-
3
-
-
-
4
U.S. Marine Corps 'Blue'
W. W. McMillan, Jr. & 3 members
1125-37X
(Source: American Rifleman, Vol. 109, No. 10, October 1961)
National Pistol Individual Champsionship
"Harrison Cup Trophy"
Rank
Name
Service Branch/Agency
.22 Caliber
Center-Fire
.45 Caliber
Total
1
Wm B. Blankenship, Jr.
U.S. Army
-
-
-
2631-119X
2
James W. Kurtz
U.S. Army
-
-
-
-
3
Emil W. Heugatter, Jr.
U.S. Army
-
-
-
-
4
Wm W. McMillan, Jr.
U.S. Marine Corps
-
-
-
2624-106X
High
Civilian
James E. Clark
Shreveport, La.
-
-
-
2603-116X
High
Woman
Lucile W. Chambliss
Winter Haven, Fla.
-
-
-
2509-62X
High
Police
John W. Hurst
Los Angeles Department
-
-
-
2607-99X
High
National Guard
Wesley L. Whatley
U.S. Nation Guard
-
-
-
2574-87X
High
National
Air Force
Franklin C. Green
U.S. Air Force
-
-
-
2617-112X
High
Reserve
Maurice G. Baum
U.S. Army Reserve
-
-
-
2622-106X
High
Regular Service
Wm B. Blankenship, Jr.
U.S. Army
-
-
-
2631-119X
High
Collegiate
Edward R. Schilke
-
-
-
-
2565-81X
High
Senior
Elmer H. Worth
U.S. Air Force Reserve
-
-
-
2566-73C
(Source: American Rifleman, Vol. 109, No. 10, October 1961)
.22 Caliber Warm-Up Match

| Rank | Name | Service Branch/Agency | Score |
| --- | --- | --- | --- |
| 1 | William E. Eubank | U.S. Marine Corps | 297-14X |
(Source: American Rifleman, Vol. 109, No. 10, October 1961)
.38 Caliber Warm-Up Match
Rank
Name
Service Branch/Agency
Score
1
Wm B. Blankenship, Jr.
U.S. Army
296-17X
10th High
Marine
Leslie M. Hunt
U.S. Marine Corps
291-11X
(Source: American Rifleman, Vol. 109, No. 10, October 1961)
.45 Caliber Warm-Up Match
Rank
Name
Service Branch/Agency
Score
1
Wm B. Blankenship, Jr.
U.S. Army
295-16X
12th High
Marine
Donald W. McClure
U.S. Marine Corps
291-?X
(Source: American Rifleman, Vol. 109, No. 10, October 1961)
Warm-Up Aggregate

| Rank | Name | Service Branch/Agency | .22-Cal | .38-Cal | .45-Cal | Total |
| --- | --- | --- | --- | --- | --- | --- |
| 1 | Wm B. Blankenship, Jr. | U.S. Army | 294-19X | 296-17X | 295-16X | 885-52X |
(Source: American Rifleman, Vol. 109, No. 10, October 1961)
.22 Caliber Slow Fire Match

| Rank | Name | Service Branch/Agency | Score |
| --- | --- | --- | --- |
| 1 | Floyd D. Thomson | U.S. Army | 196-7X |
(Source: American Rifleman, Vol. 109, No. 10, October 1961)
.22 Caliber Timed Fire Match

| Rank | Name | Service Branch/Agency | Score |
| --- | --- | --- | --- |
| 1 | William H. Mellon | U.S. Air Force | 200-15X |
(Source: American Rifleman, Vol. 109, No. 10, October 1961)
.22 Caliber Rapid Fire Match

| Rank | Name | Service Branch/Agency | Score |
| --- | --- | --- | --- |
| 1 | Wm B. Blankenship, Jr. | U.S. Army | 200-15X |
(Source: American Rifleman, Vol. 109, No. 10, October 1961)
.22 Caliber National Match Course

| Rank | Name | Service Branch/Agency | Score |
| --- | --- | --- | --- |
| 1 | Ralph O. Thompson | U.S. Army | 298-20X |
(Source: American Rifleman, Vol. 109, No. 10, October 1961)
National .22 Caliber Championship
"Walker Trophy"

| Rank | Name | Service Branch/Agency | Total |
| --- | --- | --- | --- |
| 1 | Ralph O. Thompson | U.S. Army | 889-44X |
| 2 | - | - | - |
| 3 | - | - | - |
(Source: American Rifleman, Vol. 109, No. 10, October 1961)
.38 Caliber Slow Fire Match

| Rank | Name | Service Branch/Agency | Score |
| --- | --- | --- | --- |
| 1 | William A. Brobst | U.S. Navy Reserve | 195-6X |
(Source: American Rifleman, Vol. 109, No. 10, October 1961)
.38 Caliber Timed Fire Match

| Rank | Name | Service Branch/Agency | Score |
| --- | --- | --- | --- |
| 1 | Franklin C. Green | U.S. Air Force | 200-13X |
(Source: American Rifleman, Vol. 109, No. 10, October 1961)
.38 Caliber Rapid Fire Match

| Rank | Name | Service Branch/Agency | Score |
| --- | --- | --- | --- |
| 1 | Wm B. Blankenship, Jr. | U.S. Army | 200-9X |
(Source: American Rifleman, Vol. 109, No. 10, October 1961)
.38 Caliber National Match Course

| Rank | Name | Service Branch/Agency | Score |
| --- | --- | --- | --- |
| 1 | Billie R. McElroy | - | 297-9X |
(Source: American Rifleman, Vol. 109, No. 10, October 1961)
National Center-Fire Championship
"Colonel Gillard H. Clarke Memorial Trophy"

| Rank | Name | Service Branch/Agency | Total |
| --- | --- | --- | --- |
| 1 | James W. Kurtz | U.S. Army | 882-36X |
| 2 | - | - | - |
| 3 | - | - | - |
(Source: American Rifleman, Vol. 109, No. 10, October 1961)
.45 Caliber Slow Fire Match

| Rank | Name | Service Branch/Agency | Score |
| --- | --- | --- | --- |
| 1 | William G. Horton | U.S. Army | 194-3X |
(Source: American Rifleman, Vol. 109, No. 10, October 1961)
.45 Caliber Timed Fire Match

| Rank | Name | Service Branch/Agency | Score |
| --- | --- | --- | --- |
| 1 | Antone P. Marks | U.S. Air Force | 200-13X |
(Source: American Rifleman, Vol. 109, No. 10, October 1961)
.45 Caliber Rapid Fire Match

| Rank | Name | Service Branch/Agency | Score |
| --- | --- | --- | --- |
| 1 | Kenneth P. Dunn | U.S. Army | 199-11X |
(Source: American Rifleman, Vol. 109, No. 10, October 1961)
.45 Caliber National Match Course

| Rank | Name | Service Branch/Agency | Score |
| --- | --- | --- | --- |
| 1 | James H. McNally | U.S. Army | 295-14X |
(Source: American Rifleman, Vol. 109, No. 10, October 1961)
National .45 Caliber Championship
"Orton Memorial Trophy"

| Rank | Name | Service Branch/Agency | Total |
| --- | --- | --- | --- |
| 1 | William G. Horton | U.S. Army | 876-38X |
| 2 | - | - | - |
| 3 | - | - | - |
(Source: American Rifleman, Vol. 109, No. 10, October 1961)
National .22 Caliber Team Championship
"High Standard Trophy"
Rank
Team
Competitors
Score
1
U.S. Army 'Blue'
W. B. Blankenship, Jr., F. D. Thomson
R. M. Stineman & S. W. Hunter
1175-54X
2
-
-
-
3
-
-
-
(Source: American Rifleman, Vol. 109, No. 10, October 1961)
National .38 Caliber Team Championship
"Smith & Wesson Trophy"
Rank
Team
Competitors
Score
1
U.S. Army 'Blue'
S. W. Hunter, F. D. Thomson
R. M. Stineman & W. B. Blankenship, Jr.
1167-50X
2
-
-
-
3
-
-
-
(Source: American Rifleman, Vol. 109, No. 10, October 1961)
National .45 Caliber Team Championship
"Colt Trophy"
Rank
Team
Competitors
Score
1
U.S. Army Western Region 'Blue'
M. Jones, J. H. McNally
E. W. Heugatter, Jr. & G. R. Snavely
1164-49X
2
-
-
-
3
-
-
-
(Source: American Rifleman, Vol. 109, No. 10, October 1961)