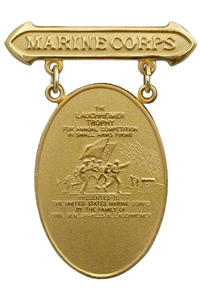 Lauchheimer Trophy Badge (Gold)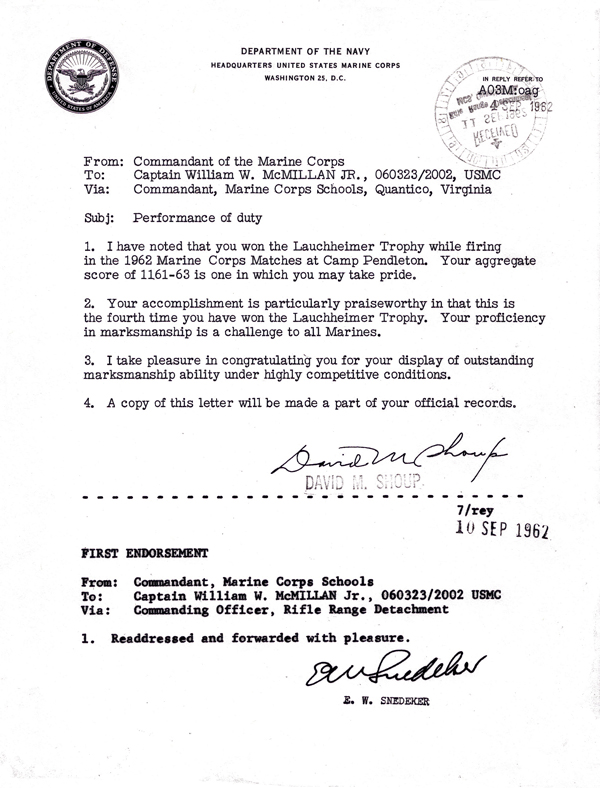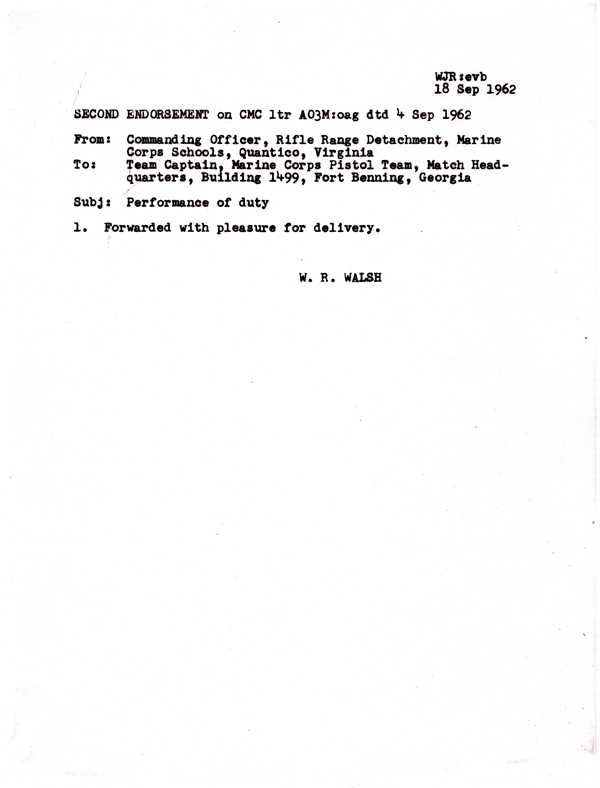 TOP MARKSMEN - The Marine Corps' top rifle and pistol shooters pose with their awards received during ceremonies held Saturday at Camp Pendleton. From right, is Sgt. Don Bartlett, MTU, winner of the McDougal Rifle Award, Capt. W. W. McMillan, MTU, winner of the Lauchheimer Trophy and MSgt. R. C. Cox, Camp Lejeune, winner of the pistol match.
Captain McMillan Wins 4th Lauchheimer Trophy
Captain William W. McMillan of Camp Matthew's Marksmanship Training Unit, established himself once more as the Marine Corps' top shooter at the Marine Corps Rifle and Pistol Matches held last week at Camp Pendleton.
Twelfth place finish in the rifle competition, combined with second place pistol match won Capt. McMillan the coveted Lauchheimer Trophy for the fourth time. He fired an aggregate score of 1161 with 63 V's.
The award was his third straight. Capt. McMillan won it in 1959, 1961 and 1962, but didn't fire in the matches in 1960 because of his participation in the Olympic Games.
The Lauchheimer is awarded annually to the Marine Corps' top shooter, determined by the aggregate score from the rifle and pistol competition during the matches.
Camp Pendleton's Chappo Flats was the site of the matches, which ended Saturday with the Fleet Marine Force Infantry Combat competition in the morning and an awards ceremony during the afternoon.
MCRD's Rifle and Pistol team finished second to a powerful First Marine Division in the Combat Trophy competition.
The locals fired an 802, just shy of the winning 829. The MCRD riflemen were leading the shooting until the 300 yard line, where the division team claimed the lead.
Sgt. W. B. Dobbie, WTBn., a distinguished marksman, came within one point of winning the Rifle Match with a 591 score. Cpl. E. E. Schultz, H&SBn., firing a 589 score, won a silver medal in the rifle match. This was his third medal, earning him a distinguished marksman badge.
Dobbie also showed his talent by firing a 249 final to contribute to the Western Division Blue Team victory. He earned his fifth gold medal of the season and second team medal.
In the Marine Corps Pistol Match, Capt. W. G. Ficere, Jr., WTBn., a distinguished pistol shot placed sixteenth in the match with a final 557. GySgt. J. A. Poloski H&SBn., also a distinguished shooter, placed in the awards bracket with a 554 score.
Sgt. Don Bartlett, MTU, was the high shooter in the rifle match held May 22 and 23. He fired a 592 to take the top honors.
MCRD Chevron, Friday, June 1, 1962
Bartlett, Cox, McMillan Win Shooting Titles
CAMP PENDLETON, Calif. - The All-Marine Rifle and Pistol Matches were held here in a tricky wind and overcast skies. Sgt. Don Bartlett, Marksmanship Training Unit, San Diego captured rifle honors and MSgt. R. C. Cox, Camp Lejeune, placed first in pistol.
Capt. W. W. McMillan, Marksmanship Training Unit, San Diego won the Lauchheimer Trophy for the fourth time with his aggregate of 1161x63v's. This trophy is awarded to the shooting who is the top aggregate scorer of both pistol and rifle.
First Marine Division's Gold Team won the combat trophy with a score of 829. Marine Corps Recruit Depot, San Diego, was second with 802, and 3d Marine Air Wing, El Toro, was third was 778.
Bartlett and five others fired a 592, but Bartlett's 54 tie-break-v's won out. He was followed by GySgt. Charles Ainscoe, Quantico; GySgt. V. D. Mitchell, Quantico; SSgt. Melvin Dunham, MTU; Sgt. Richard Baker, Kaneohe Bay, and Sgt. William Leach, Cherry Point.
Cox posted a score of 575x20v's, with McMillan second with 571x17v's. WO Anthony Mucci, Eastern Division was third with 568x13v's.
Second and third in the Lauchheimer went to Cox and Mucci respectively.
The Western Division Blue Team topped the rifle competition with 1761x134v's. The Sgt. Maj. R. O. Jones-coached team included Sgts. W. B. Doobie and C. A. Carlson; SSgt. J. A. Meador and W. K. Jones, MSgt. J. A. Davenport and Cpl. A. P. Miral.
The Eastern Division Red Team won pistol honors. The squad was composed of WO Mucci, MSgts. Cox and L. J. Creech, SSgt. J. D. Wilson, coach, and Sgt. W. P. Griffin.
Navy Times, June 9, 1962
Individual Rifle Match
David S. McDougal Trophy
Rank
Name
Station
Score
1
Sgt Donice R. Bartlett
MTU
Camp Matthews, Ca.
592
2
Sgt Charles Ainscoe
Quantico
592
3
GySgt V. D. Mitchell
Quantico
592
4
SSgt Melvin Dunahm
MTU
Camp Matthews, Ca.
592
5
Sgt Richard Baker
Kaneohe Bay
592
6
Sgt William Leach
Cherry Point, N.C.
592
7
Sgt William B. Dobbie
WTBn
591
8
Cpl Edward E. Schultz
H&SBn
589
9
-
-
-
10
-
-
-
12
Capt William W. McMillan, Jr.
MTU
Camp Matthews, Ca.
590-46V
Individual Pistol Match
Marine Corps Pistol Trophy
Rank
Name
Station
Score
1
MSgt Ralph C. Cox
Camp Lejeune, N.C.
575-20X
2
Capt William W. McMillan, Jr.
MTU
Camp Matthews, Ca.
571-17X
3
WO Anthony Mucci
-
568-13X
4
-
-
-
5
-
-
-
6
-
-
-
7
-
-
-
8
-
-
-
9
-
-
-
10
-
-
-
16
Capt. W. G. Ficere, Jr.
WTBn
557
?
GySgt. J. A. Poloski
H&SBn
554
Rifle & Pistol Aggregate
Lauchheimer Trophy
Rank
Name
Station
Rifle
Pistol
Score
1
Capt William W. McMillan, Jr.
MTU
Camp Matthews, Ca.
590-46V
571-17X
1161-63X
2
-
-
-
-
-
3
-
-
-
-
-
Rifle Team Match
Inter-Division Trophy
Rank
Service Branch/Agency
Score
1
Western Division 'Blue Team'
SgtMaj R. O. Jones (team coach), Sgt W. B. Dobbie
Sgt C. A. Carlson, SSgt J. A. Meador, SSgt W. K. Jones
MSgt J. A. Davenpoort and Cpl. A. P. Miral
1761-134X
2
-


-

-
Pistol Team Match
Inter-Division Trophy
Rank
Service Branch/Agency
Score
1
Eastern Division 'Red Team'
WO A. Mucci, MSgt R. C. Cox, MSgt L. J. Creech
SSgt J. D. Wilson (team coach) and Sgt W. P. Griffin
-
2
-


-

-