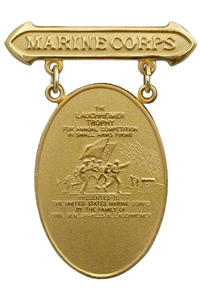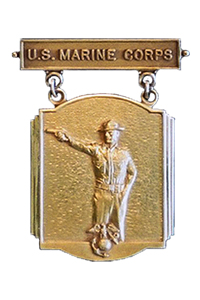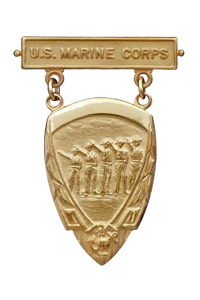 Laucheimer Trophy (Gold), Pistol Championship and Inter-Division
Pistol Team Trophy Badges
IT'S McMILLAN AGAIN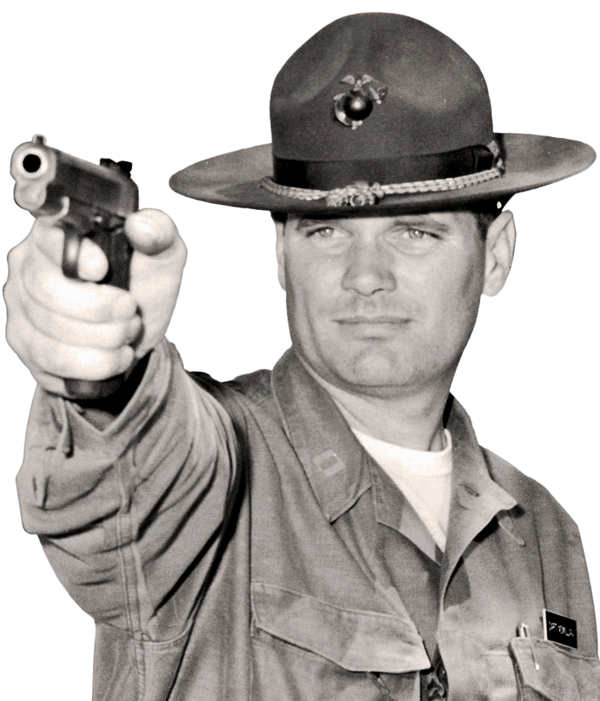 CAMP OF CHAMPIONS - Capt. William W. McMillan, Jr., 1960 Olympic Gold Medal winner, displays his winning form after firing a 581 on the Lejeune pistol range yesterday to better the Marine Corps Match record of 580 which he established in 1959. McMillan's pistol victory, coupled with a 587 rifle score fired Tuesday, gave him a grand aggregate of 1167 and the distinction of becoming the first triple winner fo the "champion-of-champions" trophy, the Lauchheimer
Photo by Sgt. R. J. Crabtree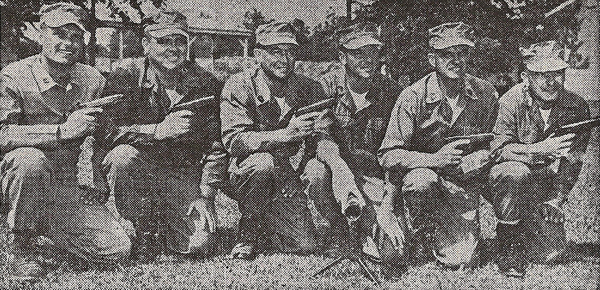 INTER-DIVISION PISTOL TEAM MATCH WINNERS - Winners of the 1961 Marine Corps Inter-Division pistol team match with a grand aggregate score of 1377x1500 are members of the Eastern Division, left to right, Capt. W. W. McMillan, Sgt. H. E. Newell, MSgt. J. A. Fowler, coach, Sgt. W. P. Griffin, GySgt. Robert Bowen and CWO Anthony Mucci.
Quantico Sentry, Friday, June 2, 1961
McMillan Shoots Way To 3d Lauchheimer
Champion of Champions, Capt. William W. McMillan, Jr., earned the title of the Marine Corps' Finest Pistol and Rifle shooter at the Camp Lejeune rifle range May 24 by winning the Marine Corps Pistol match with a 581 combined with his match rifle score of 586 to become the only triple holder of the coveted Lauchheimer trophy.
McMillan, facing more pressure than his 1960 Olympic Pistol medal feat, set a new Match Pistol record of one point over the existing record of 580 set by the "big gun" in the 1959 Marine Corps Rifle and Pistol Matches. The Quantico shooter fell two points behind his 1959 Lauchheimer trophy record of 1169 by firing a grand aggregate score of 1167 during last week's final individual All-Marine Competition.
Although Capt. McMillan was "aiming" for the Lauchheimer trophy from the very beginning of the individual shoot-offs, he stated his strongest competitor was Sgt. Larry Hausman of San Diego, one of the youngest rifle and pistol "distinguished" shooters of the Matches.
Hausman proved this threat by leading McMillan by three points during the first stage of the individual pistol match, but lost his chance for first place Lauchheimer when McMillan fired a 99 on the 50 yd. slow fire range compared to Hausman's 86. Second place Lauchheimer went to Hausman with an aggregate score of 1151x1200.
Placing second in the Individual Pistol Competition was 1stLt. James A. Getchell of Barstow, Calif., who fired a 569x600. Getchell, a member of the Western Division team, shot an individual rifle score of 568x600.
An eagle-eyed young Texan, Sgt. L. T. Scoggins of MCRD, San Diego, won both the coveted McDougal Rifle Trophy and 1961 Marine Corps Individual Rifle Championships the day before. He set a new Marine Corps Match Record with a blazing aggregate score of 593 in bad shooting weather. His score was four points above the old record set in 1959 by Capt. McMillan.
In second place was GySgt. Ben L. Harshman with another record-breaking score, 590x600. Warrant Officer Emmett D. Duncan tied the old Match record with 589 to take third place.
In the three team trophy clashes, the powerful 10-man team of the Western Division shot their way to victory with a grand aggregate score of 2916x3000 to win the 1961 Inter-Division Rifle Team Match. Last year's Inter-Division Rifle match record was 2883x3000, also set by the Western Division.
Winning the Inter-Division Pistol team match for the second consecutive year was the Quantico-hosted five-man team of the Eastern Division with a grand aggregate score of 1377x1500. The Eastern Division won the match last year with a score of 1413x1500.
The Combat Infantry Rifle Team Match was taken by the 3rd Marine Division with a score of 1025. The Combat Infantry Rifle Team Match was incorporated into the Marine Corps Competition-In-Arms Program last year iin order to further stimulate interest in combat-type firing and fire distribution of the infantry fire team.
With the conclusion of this year's All-Marine shooting competition, all shooters who placed in the Marine Corps match have received orders to Quantico to train with the "big" Marine Rifle and Pistol Team for further competition in the Inter-Service tournament at Camp Perry, Ohio, during July and August.
Colonel Ransom W. Wood, head of the Marksmanship branch at Marine Headquarters, who watched the matches, said, "The Marine Corps Rifle and Pistol Squads which have just been formed will become, I believe, the strongest teams we have had in many years."
The Corps big team shooters are expected at Quantico this week to train for the Inter-Service Rifle Matches and the Camp Perry, Ohio, National Matches this summer.
Quantico Sentry, Friday, June 2, 1961
McMillan, Scoggins Capture Marine Pistol-Rifle Events
CAMP LEJEUNE, N.C. - Capt. William W. McMillan, 1960 Olympic Gold Medalist, has captured the coveted Lauchheimer Trophy and becomes the first triple winner in the All-Marine Pistol and Rifle competitions here. McMillan bettered his own pistol record by one as he fired a 531. Combined with 586 in rifle for an aggregate of 1167, he won over second place Sgt. Larry Hausman of San Diego, who had an aggregate of 1151.
An eagle-eyed Texan, Sgt. Lewie T. Scoggins of the Recruit Depot, San Diego, won the McDougal Rifle Trophy and the Individual Rifle title with a new Marine Corps match record of 593x600 despite bad shooting weather.
Scoggins broke McMillan's rifle record, set in 1959, by four points as he beat out GySgt. Ben L. Harshman, 1st Marine Brigade, Kaneohe Bay, Hawaii, who was second with 590, WO Emmett D. Duncan, 3d Marine Air Wing, El Toro, Calif., who had 589. The first two broke the record of Capt. McMillan while Duncan tied it.
IN COMPETITION for the Lauchheimer Trophy, young Hausman gave McMillan a battle in the early firing before the veteran pulled away.
Second to McMillan in the Individual Pistol competition was 1st Lt. James A. Getchell, Barstow, Calif., who had 569. His rifle score was 568.
Winning three medals in the Individual Pistol and coming in for third-place honors was Sgt. Arnold Vitarbo of the 1st Marine Brigade, Kaneohe Bay, Hawaii, who fired 569x600.
Arnold won his third "leg" for "distinguished" pistol by taking third place honors, plus winning the first gold medal of the pistol match and finishing third for the Lauchheimer medal with an aggregate of 1148x1200.
Navy Times, June 3, 1961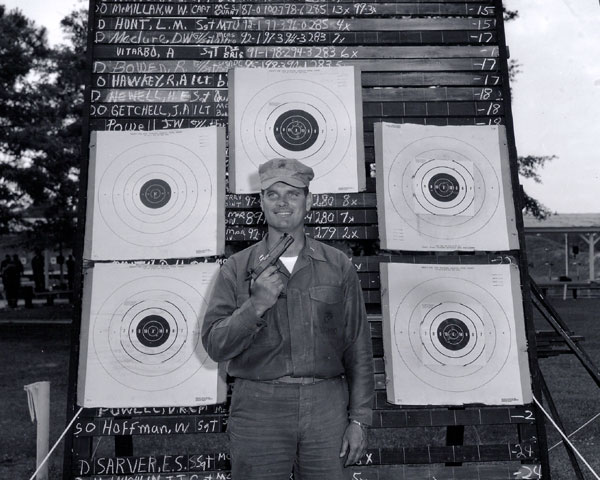 Captain William W. McMillan, Quantico, Virginia, winner of Lauchheimer Trophy. Winner of the trophy is determined by the highest aggregate scores fired with the Rifle and Pistol in Marine Corps Match.
Marine Corps Pistol Match Score Board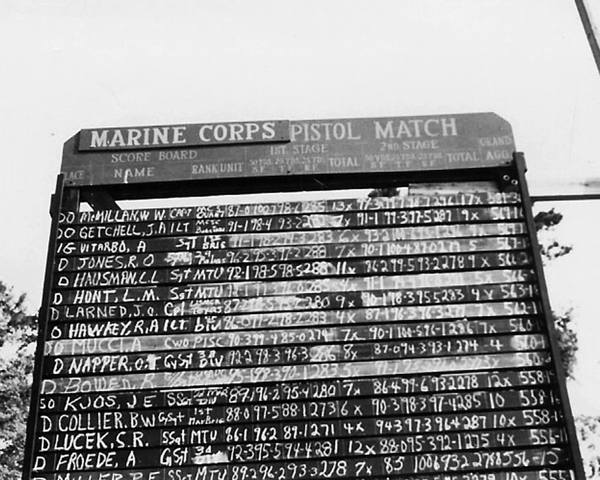 2nd Phase, Slow-Fire Stage - Score 99-3X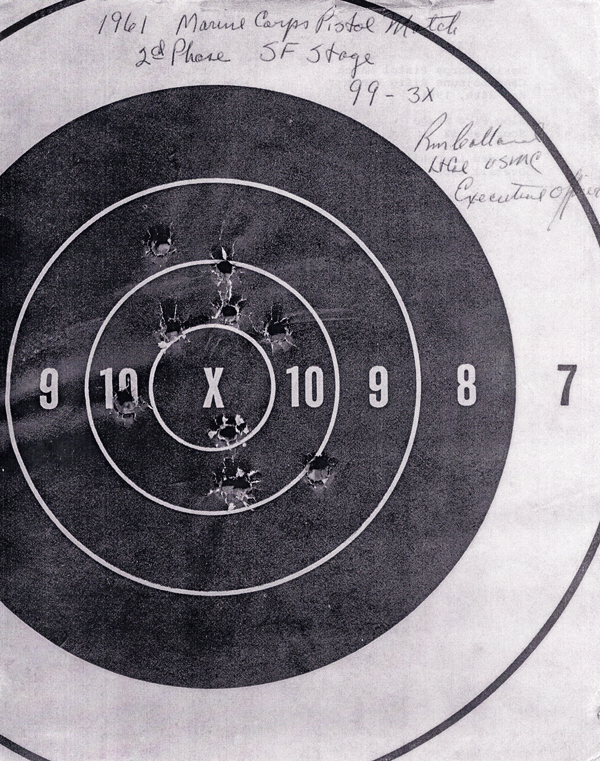 Individual Rifle Match
David S. McDougal Trophy
Rank
Name
Station
Score
1
Sgt. Lewis T. Scoggins
MCRD
San Diego, Ca.
593
2
GySgt Ben L. Harshman
1st Marine Brigade
Kaneohe Bay, Hawaii
590
3
WO Emmett D. Duncan
3d Marine Air Wing
El Toro, Calif.
589
4
-
-
-
5
-
-
-
6
-
-
-
7
-
-
-
8
-
-
-
9
-
-
-
10
-
-
-
12
Capt William W. McMillan, Jr.
MCS
Quantico, Va.
586-47V
Individual Pistol Match
Marine Corps Pistol Trophy
Rank
Name
Station
Score
1
Capt William W. McMillan, Jr.
MCS
Quantico, Va.
581-30X
2
1stLt James A. Getchell
MCSC
Barstow, Ca.
569-16X
3
Sgt Arnold Vitarbo
1st Marine Brigade
Kaneohe Bay, Hawaii
569-15X
4
SgtMaj Robert O. Jones
Twentynine Palms, Ca.
567-12X
5
Sgt Larry L. Hausman
MTU
Camp Matthews, Ca.
566-20X
6
Sgt Leslie M. Hunt
MTU
Camp Matthews, Ca.
566-9X
7
Cpl Jack O. Larned
USMCR
Texas
563-13X
8
1stLt Richard A. Hawkey
1st Marine Division
562-11X
9
CWO Anthony Mucci
MCRD
Parris Island, S.C.
560-14X
10
GySgt Odas T. Napper
3rd Marine Division
560-12X
Rifle & Pistol Aggregate
Lauchheimer Trophy
Rank
Name
Station
Rifle
Pistol
Score
1
Capt William W. McMillan, Jr.
MCS
Quantico, Va.
586
581
1167
2
Sgt. Larry L. Hausman
MTU
Camp Matthews, Ca.
585
566
1151
3
Sgt. Arnold Vitarbo
1st Marine Brigade
Kaneohe Bay, Hawaii
579
569
1148
Rifle Team Match
Inter-Division Trophy
Rank
Service Branch/Agency
Score
1
Western Division Team


J. Getchell & 3 Unknown

2916
2
-


-

-
Pistol Team Match
Inter-Division Trophy
Rank
Service Branch/Agency
Score
1
Eastern Division Team


W. W. McMillan, A. Mucci, R. Bowen & W. P. Griffin

1377
2
-


-

-