Island Shooting Team Heads For Eastern Division Matches
PI's top 40 rifle and pistol shooters leave today for Camp Lejeune and the Eastern Division, Elliott and Edson Trophy matches.
Matches will be held at the North Carolina Marine base May 14 - 19. Practice firing starts Monday.
PI Team Captain Norman D. Fournier said earlier this week Parris Island has "a good chance of taking both trophies. We're shooting better scores now than at this time last year.
PI, winner in 1954, lost the Elliott Trophy and Lejeune last year by one point. The match is rifle competition composed of four-man teams.
PI's pistol team, vieing for the new Edson Trophy, will be paced by ace pistol shot, 1stLt. William W. McMillan. He placed first in the Eastern Division pistol matches last year.
Nine of PI's 40 R&P team members held berths on the Marine Corps Rifle and Pistol Team last year. Capt. Fournier said he expects to place about half his men on the '56 team.
The All-Marine competition will again be held here June 4 - 9, the captain said.
East coast Marines will finish out this month at Lejeune prepping for the divisional and trophy matches. Rifle matches will be held May 15 - 16, and pistol matches the following afternoon.
Marine marksmen west of the Mississippi are competing in similar competition in preparation for the All-Marine meet here.
Competition will be climaxed at the end of the summer when the nation's best shooters — civilian and military — toss their shooting hats into the ring at Camp Perry, Ohio, site of the National Rifle and Pistol Matches.
The Parris Island BOOT, Friday, April 13, 1956
Shooters Prep For Matches
CAMP LEJEUNE — The sharp crack and accompanying whine split the air across Baker Range last week as more than 400 top Marine Corps shooters took their positions on the firing line to begin training for the Eastern Division Rifle and Pistol team and the Elliott, Wirgman and Edson Trophy Matches.
Representatives from all Marine Corps units east of the Mississippi River have arrived here and are sharpening up their shooting eyes for the big event which begins Monday, May 14, and ends with the presentation of awards May 19.
The annual matches here will be the vanguard of the All Marine Corps and national matches to be held later this spring and summer.
The match shooters will have their eyes set on the Elliott, Wirgman and Edson trophies as well. The Elliott trophy goes to top shooters form large Marine bases, while the Wirgman is restricted to those from organizations of less than 300 men.
The Edson Trophy, named for the late Major General Merritt A. Edson, executive director of the National Rifle Association before his death, will be awarded the top pistol team from all units firing here.
Leaving Lejeune, selected shooters will meet at Parris Island from June 4 - 7 for the 1956 Marine Corps Rifle and Pistol and Lauchheimer matches. The individual with the highest aggregate in rifle and pistol competition at the PI matches will win the coveted Lauchheimer Trophy.
Also at Parris Island, these top shooters will meet the Western Division's best to vie for the annual Inter-Division Rifle and Pistol shoots on June 8 and 9.
Outstanding shooters from throughout the Corps will wind up the year by meeting the best in the nation, both military and civilian, in the famous National Matches at Camp Perry, Ohio, from August 14 to September 18.
The Parris Island BOOT, Friday, May 4, 1956
Island Shooters Win Back Elliott Trophy
PI Team Captures Nine Of 30 Distinguished Medals In Matches
The coveted Elliott Trophy, highest award for Marine Corps Rifle Team marksmanship east of the Mississippi, was reclaimed by the Parris Island Rifle Team in the Eastern Division Matches at Camp Lejeune last week.
the Island Blue Team coached by TSgt. Walter Devine posted a 1129 first place score, outshooting their nearest rivals the Quantico Marines by 16 points. Parris Island lost the Elliott Trophy to the Albany, Ga., Supply Depot in 1954 by a one-point margin. The Georgia Marines has a match score of 2236 to PI's 2235.
Parris Island's winning team was composed of SSgt. A. A. Estes who shot a 288; Sgt. Ray A. Hutcheson, 286; Cpl. J. Decker, 282; and 1stLt. J. Milligan with a 273.
Camp Lejeune's 2nd Marine Division Team came in third with a 1109, and the Island Gold Team coached by PI's Rifle and Pistol Team Captain, Captain Norman D. Fournier, trailed by a mere two-points for fourth.
Members of the Gold Team were: SSgt. F. Wigmore, 285; Sgt. J. Wilson, 280; 1stLt. G. Stucker, 272; and TSgt. T. F. Easley with a 270.
Of thirty gold, silver and bronze medals awarded in the rifle matches, Island shooters accounted for nine. These medals are awarded as "legs" in distinguished Marine Corps Marksmen. The scores for awarding these medals are computed after a shooter has fired the National Match Course over twice.
Gold Medal winners for the Depot were Sgt. Hutcheson with a 564x600, and TSgt. T. F. Easley, Jr., who fired a 557x600. Both shooters are new members of the Depot rifle team.
Taking silver medals were: Sgt. F. A. Wigmore, SSgt. A. A. Estes, Sgt. T. D. Wilson, Cpl. J. D. Deckers, SSgt. R. C. Allison and SSgt. R. L. Ellington.
Capturing bronze medals were: MSgt. D. J. Prestwood, MSgt. F. D. Hafer, MSgt. E. L. Hayes, 1stLt. G. G. Stucker, TSgt. D. C. Pope and SSgt. A. F. Heintz.
Top pistoleer 1stLt. William W. McMillan made it two in a row as he bettered his last year score to win the individual pistol match. He shot a 567x600 for his first place, 12 points higher than his last year Eastern Division score.
Placing fifth in the pistol matches was his teammate TSgt. Walter Devine with a 543. Bronze medals in the pistol competition went to SSgt. John Price, 525x600, Sgt. Hutcheson, 522; and TSgt. J. W. Parrish, 521.
The Edson Trophy Pistol Award went to the Quantico team which posted the same score as the Island team, a 1075. PI was nosed out only in the rapid fire department where the Quantico had more bullseyes.
Shooters on the PI second place pistol team were: 1stLt. G. Stucker with a 273; MSgt. Hafer, 263; Sgt. Hutcheson, 266; and Sgt. Devine with a 273.
The Parris Island BOOT, Friday, May 25, 1956
Wagner Paces Eastern Shooters

By MSGT. J. H. Funk and SGT. F. H. Edwards
CAMP LEJEUNE, N.C. - The Marine Corps Recruit Depot won the Elliott trophy for best rifle team and Quantico took the Edson trophy pistol team trophy as the five-day Marine Corps Eastern Division Rifle and Pistol Matches wound up here.
Hundreds of Marine shooters gathered from East Coast and Mediterranean bases for the matches.
The Wirgman trophy, presented to the winning rifle team from post and stations with a strength of less than 300, went to the Marine Barracks, USNRC, Norfolk, Va.
SSgt. Donald S. Wagner, of Camp Lejeune, was the top rifle shooter with 570x600 score. Second was SSgt. A. W. Hauser, of the Albany, Ga., Supply Depot wit 565x600. Third was Sgt. R. A. Hutcheson, Parris Island, with 564x600.
Leading the pistol shooters was 1st Lt. William W. McMillan, Parris Island, with an aggregate total 567x600. Second was TSgt. N. A. Pratt, MAD, Jacksonville, Fla., with 553x600. Third was SSgt. M. W. Findsen, Camp Lejeune, with 549x600.
In all, there were four gold medals, nine silver medals and eleven bronze medals awarded out of 250 who fired in the pistol matches.
THE DISTRUBITION of medals is based on the number of enlisted men taking part in the match. If an officer or distinguished shooter qualifies for a medal it is added to the total number of medals allotted. Distinguished shooters are those Marines who have won three medals in competition.
In addition to the medals listed above, there was one officer and five distinguished shooters among the first ten in the pistol matches. Four distinguished shooters and three officers qualified for silver medals and two officers got bronze medals.
In the rifle matches, in which 400 took part, there were six gold medals awarded, in addition to four distinguished shooters and one officer. Ten men won silver medals and four distinguished shooters and seven officers qualified in this group. Three distinguished shooters and four officers joined fifteen men in the bronze medal class.
Here are the members of the Parris Island team that took the Elliott Trophy. They fired 1129 out of a possible 1200: Captain, 1st Lt. W. W. McMillan; coach, TSgt. W. L. Devine; alternate, TSgt. D. C. Pope; shooters, Cpl. J. B. Deckers, Sgt. R. A. Hutcheson, 1st Lt. J. Mulligan and Sgt. A. A. Estes.
IN WINNING THE Edson trophy, the Quantico team fired 1075 out of a possible 1200. Team members were Capt. H. J. Witkowski, MSgt. V. H. Woodworth, TSgt. G. Gomez and Sgt. E. R. Retford.
The Norfolk team that took the Wirgman trophy fired a 1078 out of a possible 1200. On the team were Captain, Maj. F. F. Eubanks, Jr.; coach, TSgt. P. Dudash; SSgt. J. C. Beal, TSgt. W. E. Pierce and PFC R. L. Tino.
The pistol course consists of 10 rounds slow-fire at the 50 yards range, then two strings (five rounds each) of timed fire at 25 yards with a time limit of 20 seconds each string. Completing the course, shooters fire from 25 yards with a 10-second time limit on each string.
With 100 points possible at each stage, firing the course twice gives the total possible 600.
ON THE Rifle course, with a possible 600 course, 20 rounds are fired from the 200 yard line using the off-hand position (standing), with a time limit of 20 minutes.
Navy Times, June 2, 1956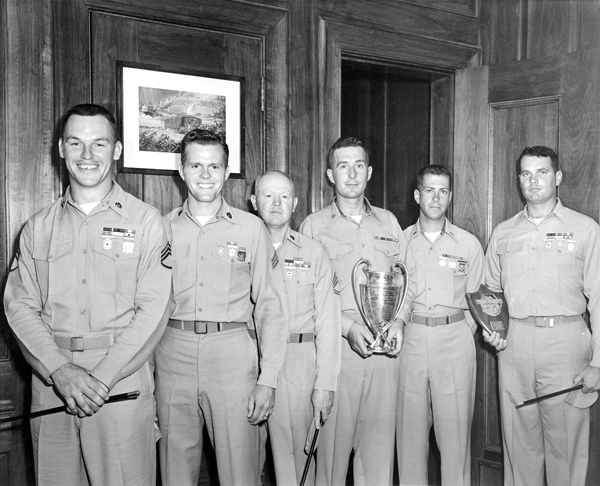 Parris Island Hot Shots Display Loot
HOLDING the Marine Corps' highest award for rifle marksmanship east of the Mississippi is Capt. Norman D. Fournier, captain of the Parris Island rifle and pistol team. The four-man team that took the Elliott Trophy in matches at Camp Lejeune are SSgt. A. A. Estes (left), Sgt. Ray A. Hutcheson (second from left), 1st Lt. J. Milligan (second from right) and Cpl. J. Decker (not shown). First Lt. William W. McMillan (right) holds a plaque won by the Parris Island pistol team in the National Mid-Winter pistol matches at Tampa, Fla., March 10. TSgt. Walter Devine (third from left) is a member of the pistol team.
Photo by Sgt. Rush Abry
Navy Times, June 9, 1956
Pistol Certificate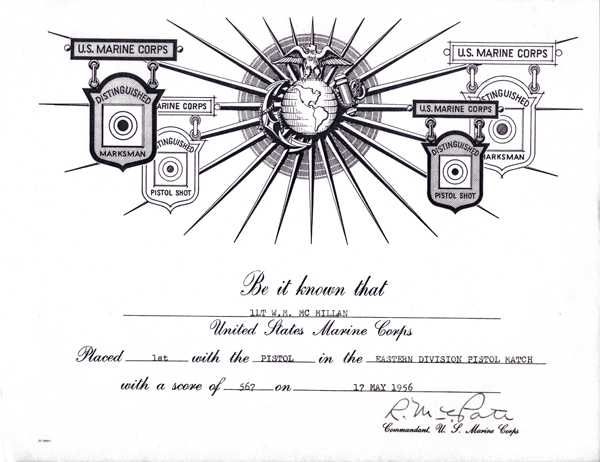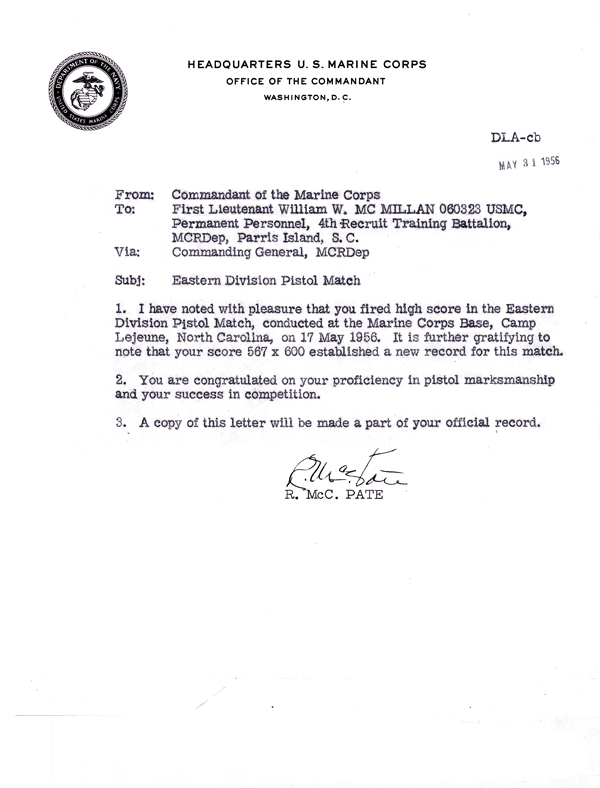 Individual Rifle Match

| Rank | Name | Station | Score |
| --- | --- | --- | --- |
| 1 | SSgt Donald S. Wagner | Camp Lejeune, N.C. | 579 |
| 2 | SSgt. Albert. W. Hauser, Jr. | Supply Depot, Albany, Ga. | 565 |
| 3 | Sgt Ray A. Hutcheson | MCRD, Parris Island, S.C. | 564 |
| 4 | - | - | - |
| 6 | - | - | - |
| 7 | - | - | - |
| 8 | - | - | - |
| 9 | - | - | - |
| 10 | - | - | - |
Individual Pistol Match
Rank
Name
Station
Score
1
1stLt William W. McMillan, Jr.
MCRD
Parris Island, S.C.
567
2
TSgt Nathaniel A. Pratt, Jr.
MAD, Jacksonville, Fla.
553
3
SSgt. Marlin W. Findsen
Camp Lejeune, N.C.
549
4
-
-
-
5
TSgt. Walter Devine
MCRD
Parris Island, S.C.
543
6
-
-
-
7
-
-
-
8
-
-
-
9
-
-
-
10
-
-
-
Rifle Team Match
Elliott Trophy
Rank
Service Branch/Agency
Score
1
MCRD, Parris Island 'Blue'


A. Estes (288), R. Hutcheson (286), J. Deckers (282) & J. Miligan (273), W. McMillan (Team Captain)

1129
2
MCS, Quantico


-

1113
3
2nd Marine Division, Camp Lejeune


-

1109
4
MCRD Parris Island 'Gold'


F. Wigmore (285), J. Wilson (280), G. Stucker (272) & T. Easley (270)

1107
Pistol Team Match
EdsonTrophy
75Rank
Service Branch/Agency
Score
1
Marine Corps Schools Quantico


J. Gomez (281), E. L. Retford (273), R. E. Barde (261) & V. H. Woodworth (260)

1075
2
MCRD Parris Island


G. Stucker (273), W. Devine (273), R. Hutcheson (266) & F. Hafer (263)

1075