Pistol Certificate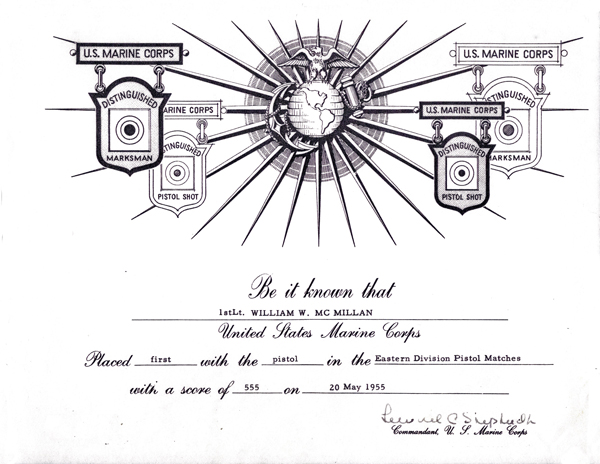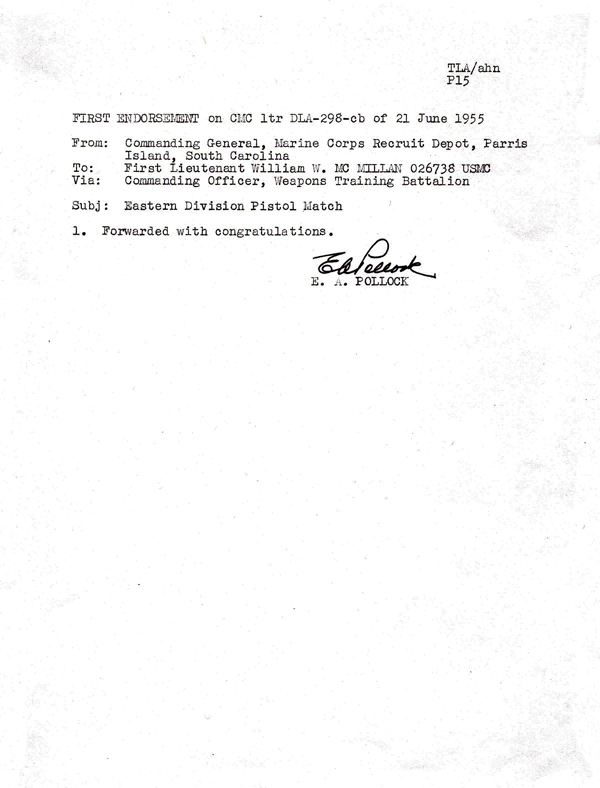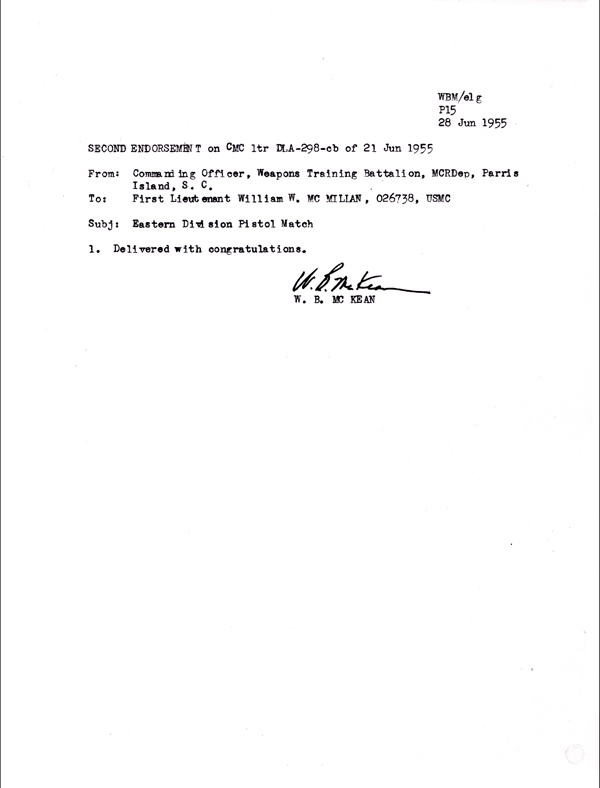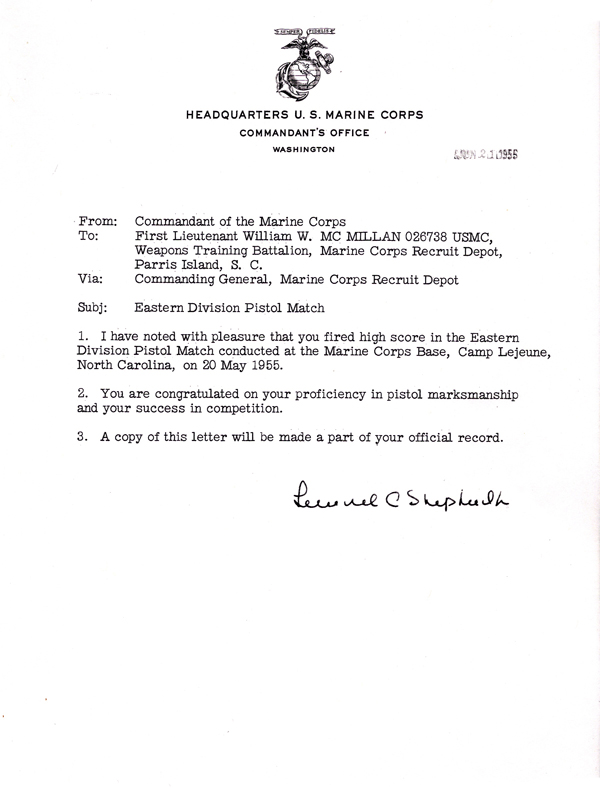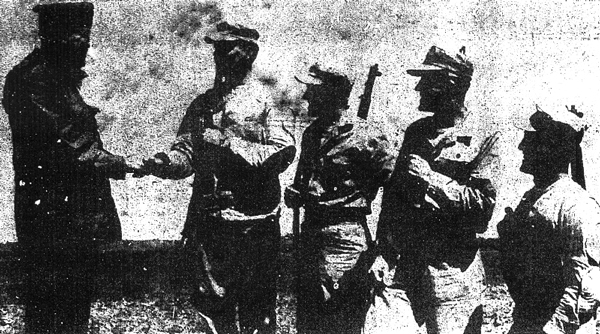 In order to gain more match experience, the Depot Rifle and Pistol Team has been broken down into four-man squads which in practice sessions are firing under Elliott Trophy Match conditions. One of the four-man squads (pictured above) receives commendation from Maj. James K. Young, Weapons Battalion executive officer. From left are, Maj. Young, 1stLt. W. W. McMillan, 1stLt. R. L. Hyland, TSgt. D. C. Pope and Cpl. A. J. DeLong.
Island Shooters Prep For Matches
Thirty-five officers and enlisted men representing Parris Island will leave May 5 for one week's conditioning at Camp Lejeune prior to the 1955 Eastern Division Rifle and Pistol Matches to be held there May 16 - 14.
This will be the Islander's first step toward a billet on the Marine Corps team participating in the National Rifle and Pistol Matches at Camp Perry, Ohio in August and September.
To give the Depot Rifle and Pistol team more match experience, Maj. James K. Young, Weapons Bn. Executive Officer and 1951 captain of the Marine Corps representatives at Camp Perry, has broken the 35-man squad down into four-man teams which are now firing under Elliott Trophy Match conditions.
Medalists in the individual division competition and Elliott and Wirgman Trophy Matches, held concurrently, will be eligible for the Marine Corps Rifle and Pistol Matches here in June 6 - 12. Contests for the Lauchheimer Trophy and the Inter Division Matches will be held here during that time also.
Ultimate marksmanship achievement in the Marine Corps, the Lauchheimer Trophy goes to the individual having the highest aggregate score in pistol - rifle competition.
In the Inter-Division Matches the best shooting Pacific Coast teams are pitted against the number one Eastern Division shooters.
Virtually all Marine Corps installations throughout the U.S. will have representatives participating.
At Camp Perry late this summer the top service shooters and many civilian teams will shoot it out for recognition at the National Rifle and Pistol Matches.
The Parris Island BOOT, Friday, April 15, 1955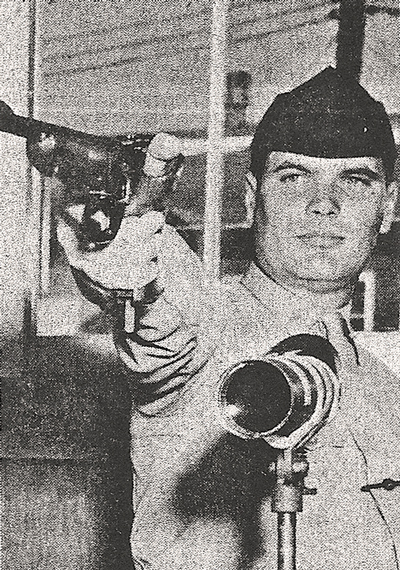 McMillan Tops Pistol Match
Parris Island's First Lieutenant William W. McMillan blistered the Camp Lejeune course last week with a 555 score out of a possible 600 to walk away with first place in the Eastern Division Pistol Matches.
Distinguished marksman McMillan finished six points ahead of his closest competitor Captain T. R. Mitchell of Albany, Ga., who has held the Lejeune pistol record for requalification for the past two years.
Of the 17 Parris Island entries, five shooters took places, in addition to McMillan, they were Maj. J. M. Jagoda, Cpl. R. A. Hutcheson, MSgt. F. D. Hafer, and TSgt. J. A. Davenport.
Earlier, PI's Corporal John DeLong took second place in the Eastern Division Rifle Matches when he fired 561, just two points off the pace of First Lieutenant Joseph Riggs of the second Marine Division who took first.
The Parris Island BOOT, Friday, May 27, 1955
Elliott Trophy To Albany In Dramatic 600-Yard Finish
Capt. Thomas R. Mitchell and Sgt. A. W. Hauser led the four-man Albany, Ga., rifle team to a dramatic one-point victory over Parris Island with a sensational finish from the 600-yard line to win the Elliott Trophy Match, while the Marine Detachment, U.S. Naval Retraining Command, Norfolk, Va., nailed won the Wirgman Trophy at the Lejeune range Tuesday afternoon.
The Georgians trailed the Parris Island Gray team by 14 points after the first day of firing and were five points down when the shooting moved to the 600-yard line for the 20 rounds. Hauser fired a sizzling 99 of a possible 100, while Mitchell added a 93, Capt. G. L. Armitage a 95 and SSgt. Sermons a 91.
Three PI shooters, led by Distinguished Pistol Shot Maj. John Jagoda fired 94's and one 91 as the Gray team was nosed out by a single point, 2,236-2,235. The 2nd Division Scarlet team, headed by Eastern Division Rifle Match Winner 1st Lt. Joseph E. Riggs, finished in third place with a 2,221 aggregate.
Fourth place went to the Parris Island Blue team with 2,220 total and MCAS, Cherry Point claimed fifth with 2,218.
Mitchell, one of the outstanding rifle and pistol shots in the Marine Corps, fired a 287 on the final day. Hauser posted the same total. The captain shot a 49 in 200-yard slow fire, a 48 in 200 rapid, 48 in 300 rapid, 49 in the 500 prone and a 93 at the 600-yard line slow fire.
Hauser was lower at all distances but the 500, where he had 49 and the 600, where he posted 99.
The Naval Retraining Command Marines won the Wirgman trophy, which is awarded to stations whose complement does not exceed 300, by an 11-point margin.
Capt. H. V. Hansen, TSgt. W. E. Pierce, Pfc R. C. Conklin and TSgt. T. Dudash fired a combined total of 2,179 to beat second place Marine Corps Clothing Depot, Philadelphia, who hit 2,168.
Leading in both days of competition, the Retraining Command fired a 1,084 in the final round with Dudash leading the way with a 92 from the 600 and a 280 total.
Marine Barracks, Annapolis, Md., captured third place with 2,154 and Marine Barracks, NAD, Earl N. J., finished fourth with a 2,146 aggregate. MB U.S. Naval Base, Charleston, S. C., took down fifth with 2,141.
Individual scores for the winners on the last day were: Hansen 266, Pierce 277, Conklin 261 and Dudash 280 for a 1,084 total. They led the first day by nine points with a 1,095 mark.
The Elliott Trophy is the older of the two forms of match competition. It was first placed in competition in 1910, while Wirgman Trophy Match shooting opened in 1926.
Trophies were presented Wednesday morning to the 43 pistol medalists, 50 rifle medalists and winners of the Trophy Matches who will go to Parris Island next month for the All-Marine Matches.
The presentations were made by Maj. Gen. Alfred H. Noble, Camp commanding general.
Camp Lejeune Globe, May 27, 1955
Individual Rifle Match
Rank
Name
Station
Score
1
1stLt. Joseph E. Riggs, Jr.
2nd Marine Division
Camp Lejeune, N.C.
563
2
Cpl. Arthur J. DeLong
MCRD
Parris Island, S.C.
561
3
-
-
-
4
-
-
-
6
-
-
-
7
-
-
-
8
-
-
-
9
-
-
-
10
-
-
-
65
1stLt William W. McMillan, Jr.
MCRD
Parris Island, S.C.
544
Individual Pistol Match
Rank
Name
Station
Score
1
1stLt William W. McMillan, Jr.
MCRD
Parris Island, S.C.
555
2
Captain Thomas R. Mitchell
MCSC
Albany, Ga.
549
3
-
-
-
4
-
-
-
5
-
-
-
6
-
-
-
7
-
-
-
8
-
-
-
9
-
-
-
10
-
-
-
Rifle Team Match
Elliott Trophy
Rank
Service Branch/Agency
Score
1
Marine Corps Supply Cener, Albany, Ga.


T. R. Mitchell, G. L. Armitage, G. D. Sermons & A. W. Hauser

2236
2
Parris Island 'Gray'


W. W. McMillan, G. C. O'Brien, A. E. Snyder, F. A. Wigmore & R. C. Maund (Alternate)

2235
3
2nd Marine Division 'Scarlet'


J. E. Riggs & Unknown

2221
4
Parris Island 'Blue'


N. D. Fournier, A. J. DeLong, A. A. Estes, J. A. Davenport & C. E. Lumley (Alternate)

2220
5
MCAS Cherry Point
2218