Rifle Certificate
Pistol Certificate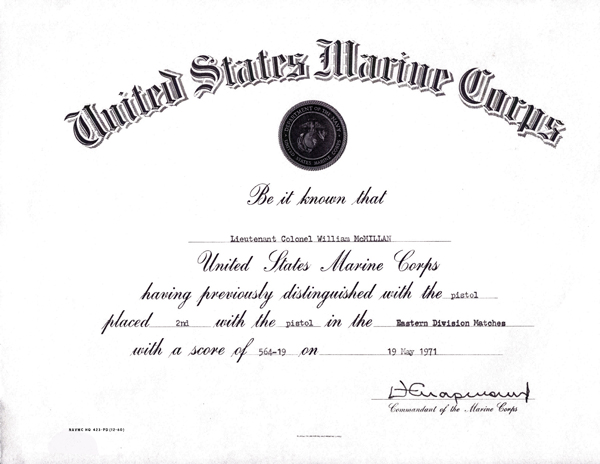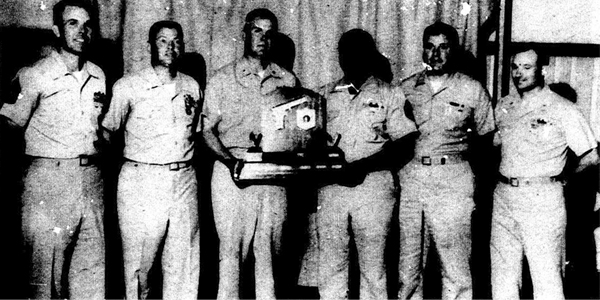 TOP PISTOLEERS - (left to right) GySgt. Lowell T. Cassity, MSgt. Frank Almeida, Maj. D. E. Wright, SSgt. John T. Fuqua, Sgt. D. Garcia and CWO L. J. LePage pose with the Edson Pistol Trophy, won by the MCB pistolmen in last week's Eastern Division Rifle and Pistol Championships.
Base pistoleers cop crown
What began last Monday at the rifle range here as a drizzle of rounds spattering the impact area, crescendoed into a deafening staccatto of men and weapons who gave a month of practice a chance to pay off during the final days of the Eastern Division Rifle and Pistol Matches.
The Eastern Division Matches ended Friday as the coveted trophies and badges were presented during candlelight ceremonies necessitated by a late spring storm knocking out electricity throughout the rifle range area.
The Camp Lejeune Marine Corps Base Pistol Team, walked off with top honors in the handgun division with a score of 1090-27 X's. Parris Island's Blue Team finished only 19 points shy of the Camp Lejeune high to secure second place.
Parris Island's Blue Team also took top honors with the long barrels with a score of 1181-89 V's. CWO Gilmer R. Murdock fired a perfect 300 during the matches.
Camp Lejeune's pistoleers earned the coveted Edson Trophy for their effort. Parris Island's victory netted them the Elliott Trophy for the rifle matches.
In the individual competition, CWO Gilmer R. Murdock of Parris Island was crowned "high dinger" with the rifle and SSgt. John E. Smith, also from Parris Island, took the First Gold Medal in rifle competition. SSgt. Douglas R. Oxford of the Marksmanship Training Unit, Quantico, was the Pistol Champion and SSgt. Bernard W. Eastwood of Parris Island took the First Gold Medal with the pistol.
Two-hundred nineteen rifleman and 126 pistol shooters will compete in the next step up, which is the Marine Corps Matches, scheduled to be held here during the first week of June. Thirty-two competitors have arrived from the West Coast to match skills with their East Coast comrades.
Winners of the Marine Corps Matches, distinguished shooters, and some selected exceptional marksmen will report to the Marksmanship Training Unit at Quantico to prepare for the 1971 National Matches at Camp Perry, Ohio, scheduled for August.
The drizzle of hot lead slowed only momentarily, so the best from the East and the best from the West could get their sights set on the soon-to-be fury of the All-Marine matches.
Photo by Sgt. David Ostrander
The Camp Lejeune Globe, Wednesday, May 26, 1971
Individual Rifle Match
Rank
Name
Station
Score
1
CWO Gilmer R. Murdock
MCRD
Parris Island, S.C.
-
2
-
-
-
3
-
-
-
4
-
-
-
5
-
-
-
6
LtCol William W. McMillan
WTBn, MTU
Quantico, Va.
587-45V
7
-
-
-
8
-
-
-
9
-
-
-
10
-
-
-
Individual Pistol Match
Rank
Name
Station
Score
1
SSgt Douglas R. Oxford
WTBn, MTU
Quantico, Va.
-
2
LtCol William W. McMillan
WTBn, MTU
Quantico, Va.
564-19X
3
-
-
-
4
-
-
-
5
-
-
-
6
-
-
-
7
-
-
-
8
-
-
-
9
-
-
-
10
-
-
-
Rifle Team Match
Elliott Trophy
Rank
Service Branch/Agency
Score
1
MCRD Parris Island 'Blue'


-

1189-89V
2
-


-

-
Pistol Team Match
Edson Trophy
Rank
Service Branch/Agency
Score
1
MCB Camp Lejeune 'Blue'


-

1090-27X
2
MCRD Parris Island 'Blue'


-

1071-