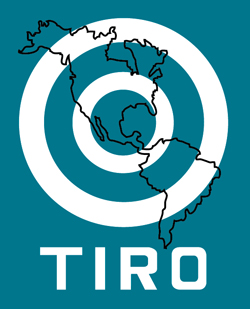 Shooting Confederation of the Americans emblem
Information
The II Confederation of the Americas Championships was held in Mexico City from November 6 to the 12 with 299 competitors from seventeen nations. The American Team won 29 gold, 20 silver and 6 bronze medals during the event.
The Shooting Confederation of the Americas (Confederaciòn Americana de Tiro - CAT) was founded and recognized by the International Shooting Sport Federation (ISSF) in 1973 as the Continental Confederation for the Shooting Sport for all countries of the American Continent. The Pan-American Sports Organization (ODEPA/PASO) recognizes the Shooting Confederation of the Americas as the continental sports federation responsible for the technical control of the Shooting Sport in the Pan-American Games.
The CAT encourages and sponsors the organization of competitions and regional championships in the Continent and organizes the Shooting Championships of the Americas every four years, in accordance with the regulations of the ISSF and CAT.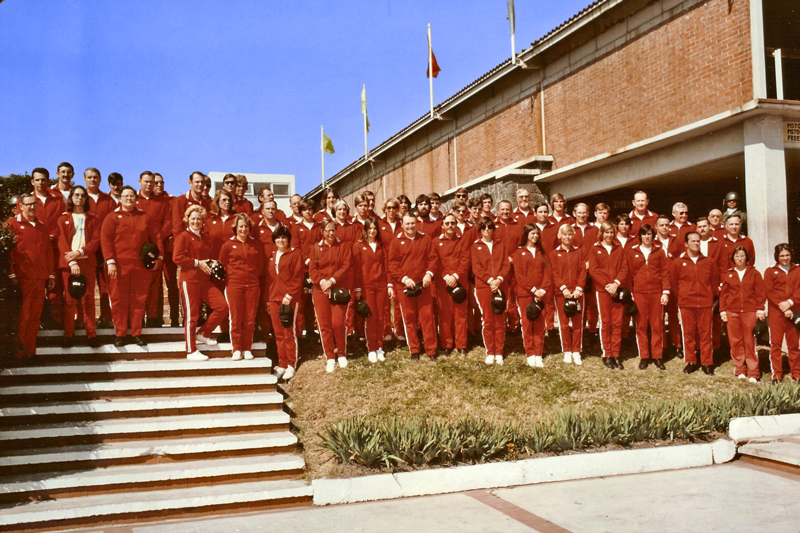 U.S. Shooting Team
Rifle Members
Ray P. Carter, Edward F. Etzel, Jr., Rod Fitz-Randolph, Jr., John R. Foster, Boyd D. Goldsby, Presley W. Kendall, David Kimes, Tim O'Daly (Junior), Tim Rennie (Junior), David Ross, III, John Rost (Junior), Matthew Stark (Junior), Lones W. Wigger, Jr., Webster Wright, Jr.
Womens Rifle Members
Linda Baily, Karen Monez, Gloria Parmentier, Sue Ann Sandusky
Pistol Members
Terrence Anderson, Michael Bonafede, Kenneth Buster, Jimmie Dorsey, Frank Goza, Bonnie Harmon, Melvin Makin, William W. McMillan, David Miller (Junior), Guil Nergard (Junior), Steven Reiter, Bobby Tiner, Jerry Wilder, Mark J. Willis (Junior), Darius Young
Womens Pistol Members
Sallie Carroll, Kimberly Dyer, Ruby Fox
Trap Members
Hugh Bowie, Michael Coleman (Junior), Donald Haldman, Gene Leoni, Jr. (Junior), Frank Little, James Poindexter, Gary Rainey (Junior)
Womens Trap Members
Loral I. Delaney, Audrey Grosch, Frances Strodtman
Running Target Members
John Anderson, Charles Davis, Donald Harmon, Michael L. Theimer, III
Skeet Members
Daniel Carlisle, Allan Clark (Junior), Dean Clark, Joseph Clemmons, Jack Funes, Alger Mullins, Jeffery D. Sizemore (Junior)
Ladies Skeet Members
Loral I. Delaney, Joan Elkins, Eva Funes, Ila Hill
Team Management & Support
Joseph Berry (Team Leader), William Pullum (Rifle Coach), Thomas Gillmore (Shotgun Coach), Jack Maple (Armorer)
AMU shooters dominate American Championship Matches
By Tommy G. Pool
Three new world records were established recently as members of the U.S. Army Marksmanship Unit (USAMU) competed in the Championship of Americas Shooting Matches held in Mexico City, November 7-12.
Sp4 Joseph Clemmons, USAMU, got on the record scoreboard first as he powdered 199 out of 200 clay discs in the International skeet event to notch the first new record for the U.S. Clemmons then teamed with SSgt. Al Mullins also of the USAMTU, Dan Carlisle, Houston, and Dean Clark, Garretsville, Ohio, to set a new world record by scoring 586 out of 600 to break the old mark set by the USSR at 579.
In rifle competition, recently promoted to LtCol. Lones Wigger added another title to his sagging list of championships as he won the gold medal and established the new world record during the Games by scoring 1,159 points out of 1200 in the 300 meter free rifle competition. Wigger's score broke the old record of 1157 set by Gary Anderson aslo of the United States, in the 1968 Olympics. The silver was won by Miguel Valdez of Cuba with a score of 1,148 points, while Lt.Cmdr. Webster Wright, USN, captured third place with a score of 1,144 points. The U.S. team of Wigger, Wright, SP5 David Kimes, USAR, Huntington Beach, Calif., and Maj. John Foster, USAR, Bozeman, Mont., scored a total of 4,566 points to win the gold medal over Cuba at 4,458 points.
In pistol competition, SP5 Kimberly Dyer, USAMU, dominated the Ladies pistol events as she won back to back gold medals. She scored 369 points in the Air Pistol event to defeat teammate Sallie Carroll, Bloomington, Ind., by six points and then won by two points in the Center Fire competition to defeat Sp5 Ruby Fox, an Army Reservist from Park, Ariz., with a score of 574 points to 572 Fox.
Sp5 Karen Monez, USAMU, narrowly defeated Marisel Sanchez of Cuba by one point (376 to 375) in Air Rifle competition to capture the gold medal, while Gloria Parmentier of Alexandria, Va., finished in third place with 366 points.
A total of 17 countries from North, Central and South American were on hand for the matches with the United States garnering the lions share in the total medal count with 16 gold, 7 silver and 4 bronze for a total of 27, 14 ahead of Cuba with 13, followed by Brazil and Canada with nine each.
The Bayonet, Fort Benning, November 18, 1977
Shooters Find Fame In Mexico
American shooters are used to laboring throughout their competitive careers in relative obscurity, their feats of marksmanship little noticed by an indifferent press.
So it was welcome change for the 69-member U.S. team to find itself lionized by Mexican journalists at the II Confederation of the Americas Championships in Mexico City, Nov. 6-12.
The norteamericanos were treated as celebrities: their pictures were taken constantly and colorful, grandiloquent monikers were bestowed on them by the occasionally-sensational local press. Gloria Parmentier was "la famosa," Karen Monez was "la sensacion de los Estados Unidos," Sue Ann Sandusky was referred to as "la bella tiradora," while Lones Wigger, who was featured almost daily, was styled "el maximo favorito."
The American contingent lived up to its press clippings in every way, setting three new Open world records, a Ladies world record and an unofficial Junior world mark on the way to a total medal count of 29 gold, 20 silver, and six bronze, tops in a field of 299 competitors from 17 nations.
Pistol shooting opened the championship program, and the first event, free pistol, was the only match which saw the U.S. shut out of the individual medals. Colombia's Ruben Ariza took the gold medallion with his 556, followed by Brazilians Bertino Souza and Paulo Lamego at 550 and 549, respectively. The top American scorer was Darius Young, of Winterburn Alberta, who taillied 549 for fourth position. CWO2 Jimmie Dorsey USMC, of Stafford, Va., was fifth at 546, while Steve Reiter of South San Francisco, Calif., and Mel Makin of Aumsville, Oreg., rounded out the U.S. team in 12th and 14th places, at 534 and 532 respectively.
The Yankee free pistol shooters did come in with a team medal, however, taking the silver at 2159, behind Brazil's 2163 aggregate. Colombia was third at 2150.
New Orleans, La., contractor and V-8 juice addict Terry Anderson recorded one of the highest scores ever fired by an American in Int'l competition to capture the rapid-fire pistol gold medal. His 590 was good enough to nip William Graham of Canada, who scored 589, and Erin Galdo of Cuba, who finished at 588.
Anderson combined with Makin, 585; NRA Director Bill McMillan of Del Mar, Calif., 584; and Dorsey, 576, to win the team gold over Cuba, 2322 and Argentina, 2317.
Makin edged Dorsey in a shoot-off to capture the standard pistol honors with a 574. Jerry Wilder of Remington, Ind., and SFC Bonnie Harmon of the USAMU made it a U.S. sweep by taking third and fourth places with 569 and 567, respectively. Since Confederation rules prevent any one nation from winning all three awards, the bronze medal went to Keith Tennant of Jamaica at 564.
The team honors went to the U.S. at 2284, followed by Argentina, 2193, and Cuba, 2187.
Wilder won his second medal by capturing the center-fire event with a 588. Oscar Yuston of Argentina was second at 585, followed by S/Sgt. Michael Bonafede, USMC, of Stafford, Va., at 584. T/Sgt. Bobby Tiner, USAF, of Colorado Springs, Colo., was fourth with 583, while Frank Goza of Lookout Mt., Tenn., was seventh with 578.
The U.S. won another team gold with 2333, with Brazil and Colombia second and third at 2279 and 2277.
Excerpt from American Rifleman, Vol. 126, No. 1, January, 1978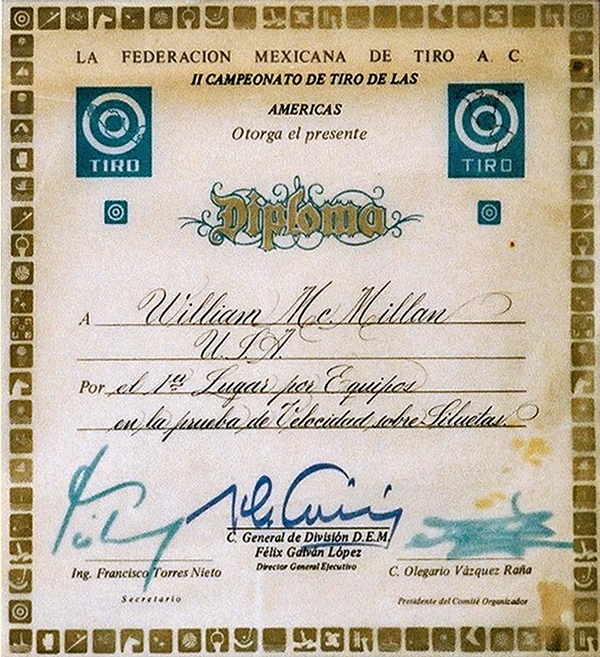 First place Team in Rapid Fire Silhouettes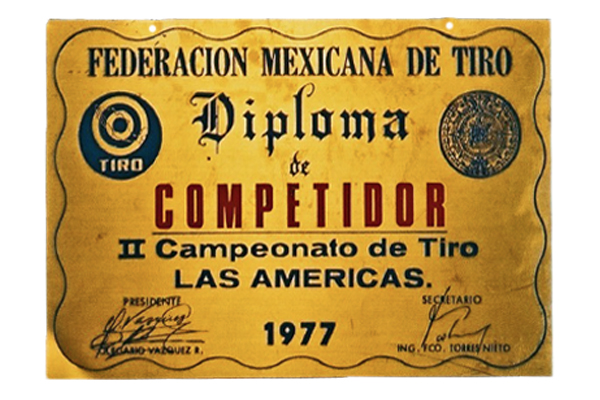 Metal Diploma Plaque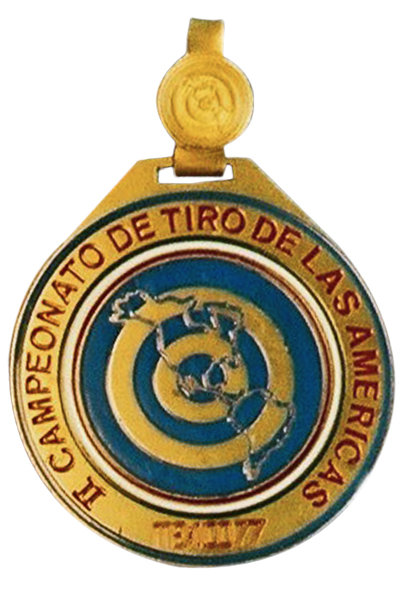 First Place Team 25 Meter Rapid Fire Medal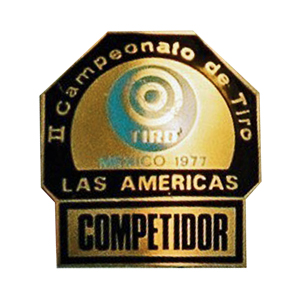 Competitors' Badge
Dad's Competitor Number
25 Meter Rapid-Fire Pistol
(Individual Scores)

| Rank | Name | Country | Total Points |
| --- | --- | --- | --- |
| 1 | Terrence Anderson | U.S.A. | 590 |
| 2 | William Graham | Canada | 589 |
| 3 | Erin Galdo | Cuba | 588 |
| 5 | Melvin Makin | U.S.A. | 585 |
| 8 | William McMillan | U.S.A. | 584 |
| 18 | Jimmie Dorsey | U.S.A. | 576 |
(Source: USA Shooting)
25 Meter Rapid-Fire Pistol
(Team Scores)

| Rank | Country | Total Points |
| --- | --- | --- |
| 1 | U.S.A. | 2335 |
| 2 | Cuba | 2322 |
| 3 | Argentina | 2317 |
(Source: USA Shooting)