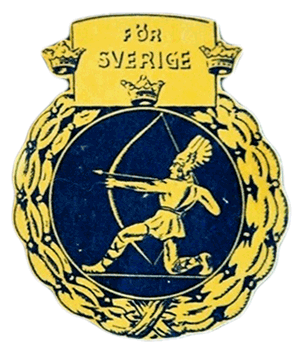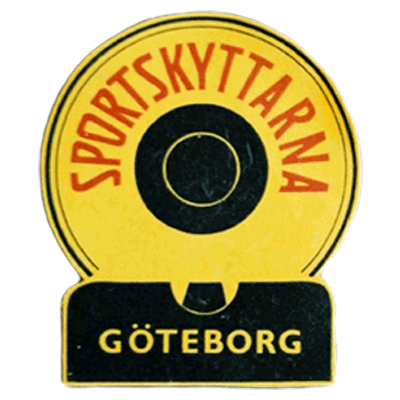 "Gentlemen, dear friends.
The Swedish federation of Sportshooting has commissioned the Sportshooting club of Gothenburg to arrange a competition between the selected teams of USA, Switzerland and Sweden in rapid fire and centre fire.
We are, actually, very glad to get the commission.
We hope that this visit will be a link in a chain of cooperation between our countries so that we for the future may find several opportunities to measure our forces at sportshooting in a spirit of comradeship and sypathatic appreciaiton.
We also hope that this competition will be exciting and interesting and a good preperation for the following passage of arms in Moscow. So hoping, I say: Heartily welcome, dear friends as well to our distinguished guests from USA and Switzerland as to our own Swedish sportsmen."
PROGRAM
For International Sweden-Switzerland-United States
in Gothenburg 26 - 27 July 1958
The Swiss team arrives at Gothenburg on 21 July at 09:30 and check in at the hotel Eggers. The Americans arrive on 22 July and accommodated in hotel Heden by the Association Secretary.
Event Management
Overall Director: Henrik Lange
Deputy Director: Rune Bredin
Appeals Judge: Henrik Lönnberg and representative for Switzerland and the United States.
Competition Director: Karl-Axel Wallén
Range Officer: Gunnar Arvidsson
Marker Manager: Gösta Åström
Target Controllers: Carl-Filip Ahlander and representative for Switzerland and the United States.
Competition Secretary: Holger Johansson
Attaché for Switzerland: Bror Haglund
Attaché for United States: Henrik Warfvinge
SHOOTING
Friday, July 25 at 1200 - 1400 Training, Free Pistol
Friday, July 25 at 1200 - 1500 Training, Rapid-Fire Pistol
Friday, July 25 at 1500 - 1700 Training, Center-Fire Pistol
Saturday, July 26 at 0900 - Opening Ceremony
Saturday, July 26 at 0930 - 1230 Free Pistol
Saturday, July 26 at 1400 - 1700 Rapid-Fire Pistol
Sunday, July 27 at 1000 - 1300 Center-Fire Pistol
Team notification takes place at the latest, 0900 morning of the competition.
The competition ends with an award ceremony and dinner on Sunday, July 27 at 1630
Participants
Switzerland
Leader: Rudolf Schuder
Shooters: Hans Albrecht, Traugott Gyere, Louis Hemauer, Eugen Jeger, Fritz Lehmann, Fred Mickel, Albert Späni, Edouard Subeik and Ernst Stoll.
Tourist: Fritz Marti
United States
Leaders: Walter Walsh, Benjamin C. Curtis and David Cartes
Shooters: Nelson H. Lincoln, Roy L. Sutherland, Offutt Pinion, David C. Miller, William B. Blankenship, Victor E. Maas, William W. McMillan, Aubrey E. Smith and Huelet L. Benner.
Sweden
Leader: Rune Bredin
Shooters: Torsten Ullman, Leif Larsson, Åke Lindblom, Gustav Preutz, Carl-Gustav Rask, Gunnar Schött, Bengt Terling, Erland Ullman, Jan Wallén, Stig Berntsson and Arne Grewin.
"U.S. - dominance resulted in 2 people in Göteborg to Moscow - World Cup"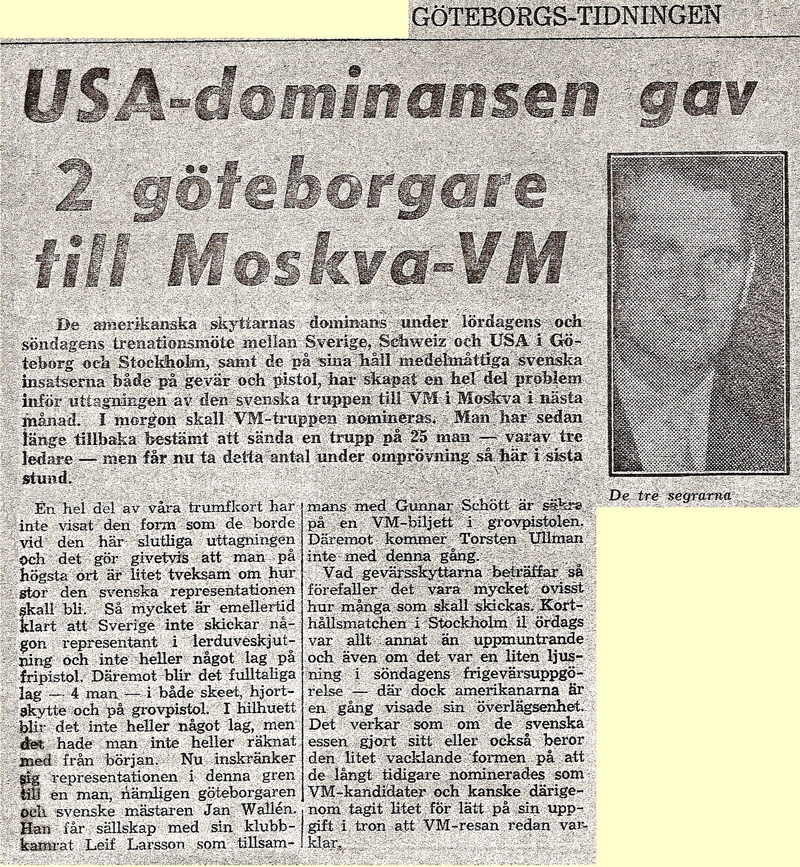 Göteborgs-Tidningen paper, Monday, July 28, 1958
"Sweden no chance against the U.S., but Switzerland dropped in pistol"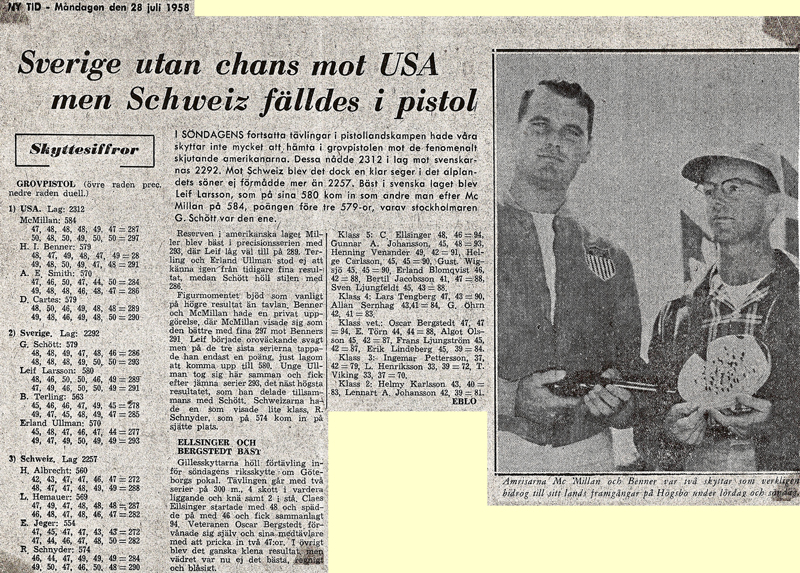 Unknown Swedish newspaper, Monday, July 28, 1958
McMillan Leads US Shooters To Sweden Victory
Capt. William W. McMillan of MTU led the United States Pistol squad to an overwhelming victory in the heavy caliber class of the International Pistol competition at Göteborg, Sweden, Sunday.
The Corps' "Mr. Pistol" scored 584 points to top the individual shooting as the American team won nine of 12 matches to finish with 2313 points.
Second in individual shooting, Leif Larsson's 579 led the Swedish team to the runner-up spot with a 2292 total.
Switzerland was third in the team scoring with 2257 points.
MCRD Chevron, Friday, August 1, 1958
Göteborg Club Bronze Plaque

"Klubbplakett"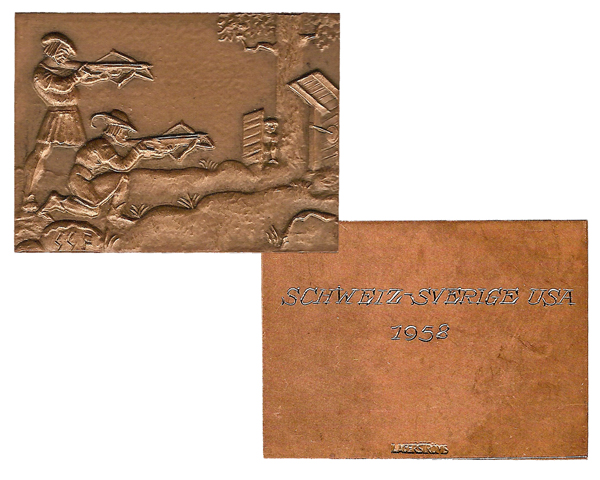 25 Meter Rapid-Fire Pistol
(Individual Scores)

| Rank | Name | Country | 1st Stage | 2nd Stage | Total Points |
| --- | --- | --- | --- | --- | --- |
| 1 | Huelet Benner | U.S.A. | 294 | 295 | 589 |
| 2 | William McMillan | U.S.A. | 296 | 291 | 587 |
| 3 | Jan Wallén | Sweden | 289 | 291 | 580 |
| 4 | Aubrey Smith | U.S.A. | 289 | 289 | 578 |
| 5 | David Miller | U.S.A. | 287 | 290 | 577 |
| 6 | Stig Berntsson | Sweden | 281 | 289 | 570 |
| 7 | Arne Grewin | Sweden | 282 | 286 | 568 |
| 8 | Gunnar Schött | Sweden | 279 | 284 | 563 |
(Source: Swedish Association of Sport Shooting Results)
25 Meter Rapid-Fire Pistol
(Team Scores)

| Rank | Country | Total Hits/Total Points |
| --- | --- | --- |
| 1 | U.S.A. | 2341 |
| 2 | Sweden | 2281 |
| - | Switzerland | Did not particiapte in this event |
(Source: Swedish Association of Sport Shooting Results)
U.S.A. Team
Rank
Name
1st Stage
2nd Stage
Total Points
1
Huelet Benner
294
295
589
2
William McMillan
296
291
587
3
Aubrey Smith
289
289
578
4
David Miller
287
290
577
Team Total:
3412
(Source: Swedish Association of Sport Shooting Results)
Sweden Team
Rank
Name
1st Stage
2nd Stage
Total Points
1
Jan Wallén
289
291
580
2
Stig Berntsson
281
289
570
3
Arne Grewin
282
286
568
4
Gunnar Schött
279
284
563
Team Total:
2281
(Source: Swedish Association of Sport Shooting Results)

Switzerland Team
Rank
Name
1st Stage
2nd Stage
Total Points
1
-
-
-
-
2
-
-
-
-
3
-
-
-
-
4
-
-
-
-
Team Total:
Did Not Participate
(Source: Swedish Association of Sport Shooting Results)

25 Meter Center-Fire Pistol
(Individual Scores)

| Rank | Name | Country | 1st Stage | 2nd Stage | Total Points |
| --- | --- | --- | --- | --- | --- |
| 1 | William McMillan | U.S.A. | 287 | 297 | 584 |
| 2 | Leif Larsson | Sweden | 289 | 291 | 580 |
| 3 | Gunnar Schött | Sweden | 286 | 293 | 579 |
| 4 | Huelet Benner | U.S.A. | 288 | 291 | 579 |
| 5 | David Cartes | U.S.A. | 289 | 290 | 579 |
| 6 | Rudolf Schnyder | Switzerland | 284 | 290 | 574 |
| 7 | Erland Ullman | Sweden | 277 | 293 | 570 |
| 8 | Aubrey Smith | U.S.A. | 284 | 286 | 570 |
| 9 | Louis Hemauer | Switzerland | 287 | 282 | 569 |
| 10 | Bengt Terling | Sweden | 278 | 285 | 563 |
| 11 | Hans Albrecht | Switzerland | 272 | 288 | 560 |
| 12 | Eugen Jeger | Switzerland | 272 | 282 | 554 |
(Source: Swedish Association of Sport Shooting Results)
25 Meter Center-Fire Pistol
(Team Scores)

| Rank | Country | Total Points |
| --- | --- | --- |
| 1 | U.S.A. | 2312 |
| 2 | Sweden | 2292 |
| 3 | Switzerland | 2257 |
(Source: Swedish Association of Sport Shooting Results)
U.S.A. Team
Rank
Name
1st Stage
2nd Stage
Total Points
1
William McMillan
287
297
584
2
Huelet Benner
288
291
579
3
Aubrey Smith
284
286
570
4
David Cartes
289
290
579
Team Total:
2312
(Source: Swedish Association of Sport Shooting Results)
Sweden Team
Rank
Name
1st Stage
2nd Stage
Total Points
1
Gunnar Schött
286
293
579
2
Leif Larsson
289
291
580
3
Bengt Terling
278
285
563
4
Erland Ullman
277
293
570
Team Total:
2292
(Source: Swedish Association of Sport Shooting Results)
Switzerland Team
Rank
Name
1st Stage
2nd Stage
Total Points
1
Hans Albrecht
272
288
560
2
Louis Hemauer
287
282
569
3
Eugen Jeger
272
282
554
4
Rudolf Schnyder
284
290
574
Team Total:
2257
(Source: Swedish Association of Sport Shooting Results)
50 Meter Free Pistol
(Individual Scores)

| Rank | Name | Country | Stages | Total Points |
| --- | --- | --- | --- | --- |
| 1 | David Miller | USA | 92,94,91,94,89,90 | 550 |
| 2 | Roy Sutherland | USA | 95,91,96,86,90,91 | 549 |
| 3 | Albert Späni | Switzerland | 91,90,89,93,93,91 | 547 |
| 4 | Fritz Lehman | Switzerland | 87,90,90,91,91,96 | 546 |
| 5 | Ernst Stoll | Swtizerland | 91,90,93,92,90,90 | 546 |
| 6 | Torsten Ullman | Sweden | 92,88,90,92,92,91 | 545 |
| 7 | Carl-Gustav Rask | Sweden | 88,92,90,90,90,92 | 542 |
| 8 | Louis Hemauer | Switzerland | 92,89,95,90,84,91 | 541 |
| 9 | Leif Larsson | Sweden | 88,84,91,93,94,89 | 539 |
| 10 | Åke Lindblom | Sweden | 88,93,88,90,88,91 | 538 |
| 11 | Fred Mickel | Switzerland | 89,82,91,96,92,87 | 537 |
| 12 | Nelson Lincoln | USA | 90,91,93,90,87,86 | 537 |
| 13 | Gustav Preutz | Sweden | 87,86,89,90,88,91 | 531 |
| 14 | Offutt Pinion | USA | 83,87,86,96,87,90 | 529 |
| 15 | Victor Maass | USA | 91,85,88,86,88,88 | 526 |
(Source: Swedish Association of Sport Shooting Results)
50 Meter Free Pistol
(Team Scores)

| Rank | Country | Total Points |
| --- | --- | --- |
| 1 | Switzerland | 2717 |
| 2 | Sweden | 2695 |
| 3 | United States | 2691 |
(Source: Swedish Association of Sport Shooting Results)
Switzerland Team
Rank
Name
Stages
Total Points
1
Albert Späni
91,90,89,93,93,91
547
2
Fritz Lehman
87,91,90,91,91,96
546
3
Ernst Stoll
91,90,93,92,90,90
546
4
Louis Hemauer
92,89,95,90,84,91
541
5
Fred Mickel
89,82,91,96,92,87
537
Team Total:
2717
(Source: Swedish Association of Sport Shooting Results)
Sweden Team
Rank
Name
Stages
Total Points
1
Torsten Ullman
92,88,90,92,92,91
545
2
Carl-Gustav Rask
88,92,90,90,90,92
542
3
Leif Larsson
88,84,91,93,94,89
539
4
Åke Lindblom
88,93,88,90,88,91
538
5
Gustav Preutz
87,86,89,90,88,91
531
Team Total:
2695
(Source: Swedish Association of Sport Shooting Results)
USA Team
Rank
Name
Stages
Total Points
1
David Miller
92,94,91,94,89,90
550
2
Roy Sutherland
95,91,96,86,90,91
549
3
Nelson Lincoln
90,91,93,90,87,86
537
4
Offutt Pinion
83,87,86,96,87,90
529
5
Victor Maass
91,85,88,86,88,88
526
Team Total:
2691
(Source: Swedish Association of Sport Shooting Results)