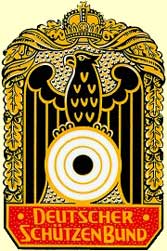 Old Deutscher Schützen Bund (The German Shooting Federation) emblem
Information
This International Match hosted by the German Shooting Federation known as Deutscher Schützenbund at Wiesbaden, is one of two events that were held in July of 1958 and prior to the World Shooting Championships in Moscow.
The event included Free Pistol Olympic Rapid Fire Pistol, English Match Small-Bore Rifle, Three Position Small-Bore Rifle (Prone Kneeling & Standing) and Service Pistol.
The participating nations were Germany, Austria, Venezuela and the United States.
Teams of Four Nations In Small-Arms Events
WIESBADEN, Germany (S&S) - The U.S. International Shooting Squad had won two of three team matches and were holding a comfortable lead in the final event Sunday afternoon as the four-nation rifle and pistol competitions neared a close at the German Shooting Club here.
Earlier, members of the U.S. team had gained two individual high scores in competitions with teams from Germany, Austria and Venezuela before embarking on a tour that would take them to Moscow for the 37th World's Shooting Championships.
The American group, representing the Nation's crack shots in both rifle and pistol, is led be Lt. Gen. Floyd L. Parks, U.S. Army retired, executive director of the National Rifle Assn., and Col. Perry D. Swindler, U.S. Army retired, team coach.
Arrived Wednesday
They arrived at Wiesbaden Wednesday and were welcomed by Gorg von Opel, president of the German Shooting Assn., and Ernst Zimmerman, the association's secretary general.
Among the marksmen are two former world champions, Marine Capt. William W. McMillan, of San Diego, Calif., and Army MSgt. Huelet L. Benner, pistol instructor at West Point.
In the three-day competitions here, the U.S. team won the rapid-fire pistol match on the international silhouette target with a score of 2,291. Venezuela placed second with 2,249, and Germany third with 2,216. The Americans garnered 2,711 points to place first through fifth in the slow-fire pistol, firing 60 shots at 50 meters on the international target. SFC Nelson H. Lincoln, of Flagstaff, Ariz., was high individual scorer with 546 points.
Small Bore Rifles
In the English Match, featuring small bore rifles, 30 shots at 50 meters and 30 at 100 meters; the German team outshot all competition for a first place score of 2,317. Following in order were the U.S., with 2,313, Austria and Venezuela.
Lt. Daniel B. Puckel, of Marion, Ind., drew individual high honors in the English Match by posting a score of 584, outranking Germany's A. Sigl, who also shot 584.
The American team will depart Wiesbaden Tuesday for Sweden, where they will meet Scandinavian national teams in rifle competitions Saturday and Sunday at Stockholm and pistol events at Göeteborg.
From Sweden they will fly to Zurich, Switzerland, for a week of matches there from July 30 to Aug. 5, and later to Helsinki, Finland, for further practice competition.
Swindler said the group would board a train in Helsinki for Moscow, arriving in the Russian capital Aug. 13. They plan to leave Moscow Aug. 26, he said.
Other members of the team are: Marine Lt. Col. Walter Walsh, of Arlington, Va., head coach; MSgt. Roy L. Sutherland, Columbus, Ga.; CWO Offcutt Pinion, El Sobrante, Calif.; Lt. David Miller, Denver, Colo.; SFC William B. Blankenship, Richlands, Va.; CWO Victor E. Maas, Columbus, Ga.; SFC Aubrey E. Smith, Monroe, La.; Joe A. Deckert, Demming, N.M.; Lt. Richard D. Wentworth, Escanaba, Mich.; James F. Davis, Falls Church, Va.; Harry A. Lucker, of El Paso, Texas.
Lt. Verle F. Wright, Ft. Wayne, Ind.; Lt. James S. Carter, Pasadena, Calif.; Lt. John C. Herr, Shippensburgh, Pa.; Lt. James A. Eberwine, Akron, Ohio; Gordon T. Taras, Pebble Beach, Calif.; SSgt Emmett D. Duncan, El Cerrito, Calif.; Cpl William M. Rabenstein, Martinez, Calif.; Sp2 Justus J. Allen, Atlantic City, N.J.; Lt. Frank F. Briggs, Forest Hills, N.Y.
Coaches: Maj. Benjamin C. Curtis, and Lt. David Cartes, of Columbus, Ga.; Capt. Irving D. Lubotsky; Maj. Paul H. Schulz, Canton, Ohio; Capt. Joseph Riggs, Waynesburg, Pa., and MSgt. John Beach, of Parkersburg, W.Va.
Stars & Strips, July 21, 1958
McMillan Ties World Record; US Triumphs
Captain William W. McMillan, Jr. equaled a world record as he led the United States pistol team to a rapid fire victory over three other countries late last month at Wiesbaden, Germany.
The rapid fire pistol triumph was one of four US rifle and pistol team victories in five events against teams from Germany, Austria and Venezuela.
The Germany matches were a preliminary to the World Rifle and Pistol championship being held in Moscow.
Capt. McMillan scored a record 587 as the US team won the rapid fire pistol event with 2291 points. Venezuela was second with 2247, and Germany third with 2216.
The US team also posted victories in the 50-meter slow fire pistol event (capturing the first six places), the full bore pistol match and the 50-meter rifle match. Germany annexed the 50- and 100-meter rifle match, edging the American team, 2317-2313.
Six Marines - three shooters, two coaches and on armorer - are members of the US team.
Among the competitors, 2ndLt. Frank F. Briggs, and SSgt. Emmett D. Duncan are on the 300-meter rifle team. Capt. McMillan is a member of the pistol team.
Lieutenant Colonel Walter R. Walsh coaches the team. Two other Marine members are Capt. Joseph E. Riggs, an assistant coach, and SSgt. Albert W. Hauser, an assistant armorer.
TSgt. J. E. Hill was also named to the 300-meter rifle team but had to withdraw because of an emergency leave due to illness in the family.
MCRD Chevron, Friday, August 22, 1958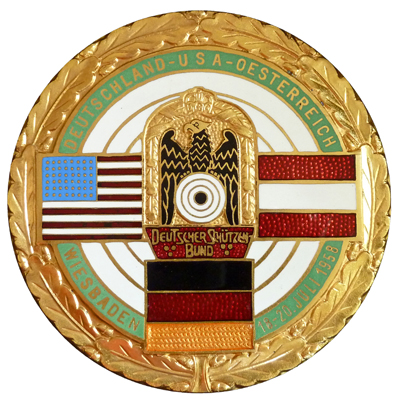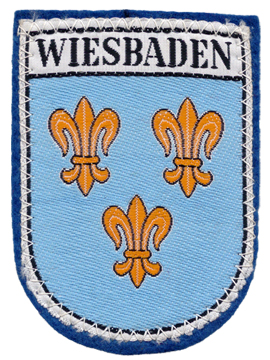 Gold Award Medallion and Wiesbaden souvenir patch
Olympic Rapid Fire Pistol
(Individual Scores)

| Rank | Name | Country | Hits | Total Points |
| --- | --- | --- | --- | --- |
| 1 | Wm W. McMillan, Jr. | U.S.A. | 60 | 581 |
| 2 | Huelet L. Benner | U.S.A. | 60 | 580 |
| 3 | David Cartes | U.S.A. | 60 | 577 |
| 4 | Crasus | Venezuela | 60 | 568 |
| 5 | Monteverde | Venezuela | 60 | 567 |
| 6 | David Miller | U.S.A. | 60 | 566 |
| 7 | Schlegelmilch | Germany | 60 | 566 |
| 8 | Chalbaud | Venezuela | 60 | 557 |
| 9 | Gollwitzer | Germany | 60 | 552 |
| 10 | Möller | Germany | 60 | 549 |
| 11 | Kraußer | Germany | 60 | 541 |
| 12 | William B. Blankenship, Jr. | U.S.A. | 59 | 572 |
| 13 | Aubrey E. Smith | U.S.A. | 59 | 564 |
| 14 | Walther | Germany | 59 | 549 |
| 15 | Espinal | Venezuela | 59 | 528 |
| 16 | Barreto | Venezuela | 58 | 555 |
(Source: German Shooting Federation Results)
Olympic Rapid Fire Pistol
(Team Scores)

| Rank | Country | Total Hits/Total Points |
| --- | --- | --- |
| 1 | U.S.A. | 239/2291 |
| 2 | Venezuela | 238/2247 |
| 3 | Germany | 239/2216 |
(Source: German Shooting Federation Results)
Service Fire Pistol
(Individual Scores)

| Rank | Name | Country | Total Points |
| --- | --- | --- | --- |
| 1 | Wm W. McMillan, Jr. | U.S.A. | 586 |
| 2 | Huelet L. Benner | U.S.A. | 584 |
| 3 | Aubrey E. Smith | U.S.A. | 572 |
| 4 | Espinal | Venezuela | 568 |
| 5 | David Miller | U.S.A. | 568 |
| 6 | Benjamin C. Curtis | U.S.A. | 565 |
| 7 | Crassus | Venezuela | 564 |
| 8 | David Cartes | U.S.A. | 562 |
| 9 | Lehle | Germany | 561 |
| 10 | Monteverde | Venezuela | 553 |
| 11 | Lorenz | Germany | 546 |
| 12 | Bernal | Venezuela | 545 |
| 13 | Schlegelmilch | Germany | 545 |
| 14 | Hueter | Germany | 540 |
| 15 | Chalbaud | Venezuela | 538 |
| 16 | Möller | Germany | 538 |
| 17 | Frankenhauser | Germany | 478 |
(Source: German Shooting Federation Results)
Service Fire Pistol
(Team Scores)

| Rank | Country | Total Points |
| --- | --- | --- |
| 1 | U.S.A. | 2304 |
| 2 | Venezuela | 2230 |
| 3 | Germany | 2190 |
(Source: German Shooting Federation Results)