Held at the San Diego Police Range
November 30 to December 1, 1957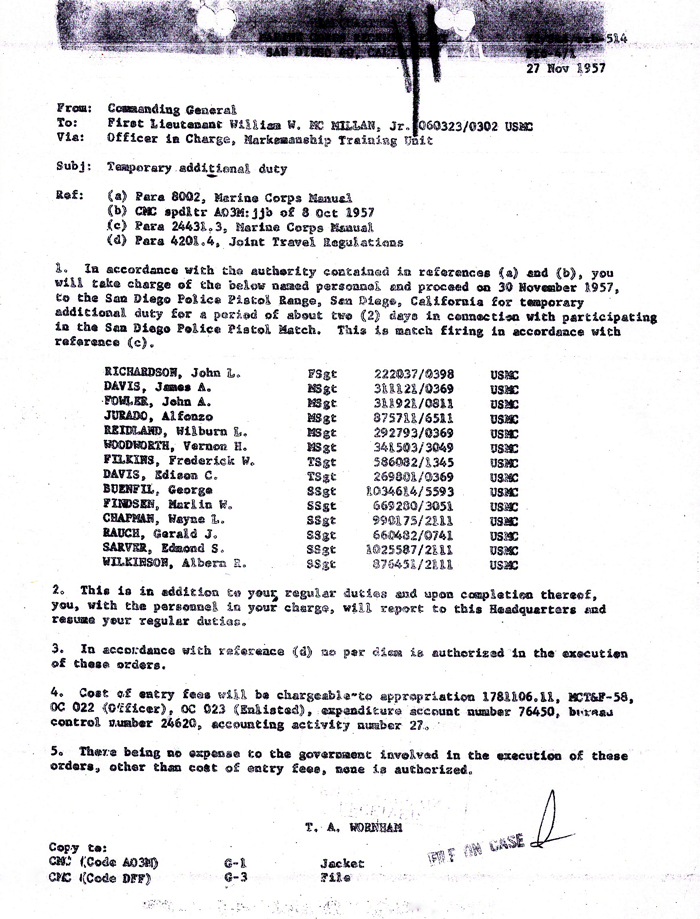 McMillan Breaks Service Open, Center Fire Record
Excellent firing weather favored the monthly San Diego Police Pistol Match held last weekend at the downtown Police Range.
1stLt. W. W. McMillan, MTU, topped his own open and service record score for the center fire timed fire match with a "possible" of 200, with 17 X's, one "X" above his former record.
DeFino Tops 2600
TM1 G. P. DeFino of the Navy's Marksmanship Unit broke over the 2600 mark for the first time to gain fourth place in grand aggregate scoring with a total 2616. DeFino becomes the third Navy man in history to shoot into the "2600 Club."
MSgt. F. W. Filkins tied the open and service record held by McMillan in .45 rapid fire scores with a 199, including 11 X's.
All team matches in the two-day shoot were captured by the MTU Blue Team shooters who fired a 1171, 1154, and 1141 in .22, .38, and .45 caliber pistol matches.
Members of the team included McMillan and MSgts. A. Jurado, J. A. Fowler, and Filkins.
McMillan First
McMillan led grand aggregate scores for the match with 2622, while Filkins placed second with 2618.
Navy Marksman DeFino fired 890 for .22 aggregate honors. McMillan and SSgt. A. R. Wilkinson were second and third with 885, 883.
Individual Scores
DeFino and McMillan topped the .22 slow fire match with 195, 192 and then went on to lead shooters over the National Match Course with respective scores of 297, 294.
DeFino fired 193 to win .45 slow fire match honors. Filkins topped shooters in the National Match with 293, and placed second in timed fire competition with 198.
150 In Shoot
Approximately 150 Marine, Navy, Police, Border Patrol, and civilian marksman competed in the weekend shoot. Twenty teams were entered in competition.
A "possible" of 200 put Sgt. Wilkinson in second position, .22 timed fire competition, while McMillan and Filkins were first and second with "possibles" of 200 in the .22 rapid fire shoot.
A 191 placed McMillan in second spot in the center fire slow fire match, but he led shooters in the National Match shoot with a 294.
SSgt. E. S. Sarver captured .38 rapid fire honors with 197.
MCRD Chevron, Friday, December 6, 1957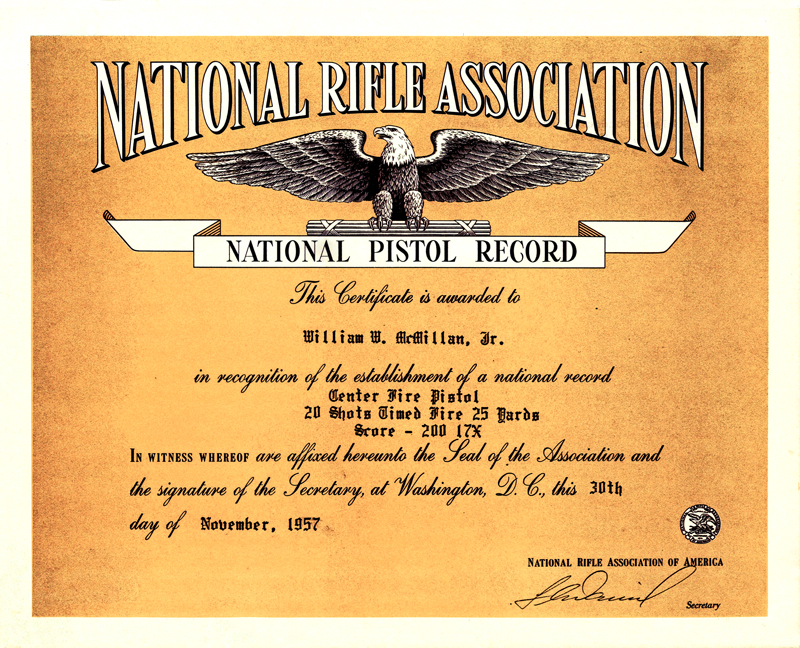 Grand Aggregate
Rank
Name
Service Branch/Agency
.22 Caliber
Center-Fire
.45 Caliber
Total
1
Wm McMillan, Jr.
U.S. Marine Corps
Camp Matthews, Ca.
885
882
855
2622
2
Frederick W. Filkins
U.S. Marine Corps
Camp Matthews, Ca.
-
-
876
2618
3
-
-
-
-
-
-
4
Gasper P. DeFino
U.S. Navy
Camp Matthews, Ca.
890
-
-
2616
(Source: MCRD Chevron)
.45 Caliber Team Championship
Rank
Service Branch/Agency
Score
1
U.S. Marine Corps 'MTU Blue'


W. W. McMillan, Jr., A. Jurado, J. A. Fowler and F. W. Filkins

1141
(Source: MCRD Chevron)
.38 Caliber Team Championship
Rank
Service Branch/Agency
Score
1
U.S. Marine Corps 'MTU Blue'


W. W. McMillan, Jr., A. Jurado, J. A. Fowler and F. W. Filkins

1154
(Source: MCRD Chevron)
.22 Caliber Team Championship
Rank
Service Branch/Agency
Score
1
U.S. Marine Corps 'MTU Blue'


W. W. McMillan, Jr., A. Jurado, J. A. Fowler and F. W. Filkins

1171
(Source: MCRD Chevron)
.45 Caliber Championship
Rank
Name
Service Branch/Agency
Total
1
Frederick W. Filkins
U.S. Marine Corps
Camp Matthews, Ca.
876
2
-
-
-
3
-
-
-
(Source: MCRD Chevron)
.45 Caliber Slow Fire Match
Rank
Name
Service Branch/Agency
Score
1
Gasper P. DeFino
U.S. Navy
Camp Matthews, Ca.
193
(Source: MCRD Chevron)
.45 Caliber Timed Fire Match
Rank
Name
Service Branch/Agency
Score
2
Frederick W. Filkins
U.S. Marine Corps
Camp Matthews, Ca.
198
(Source: MCRD Chevron)
.45 Caliber Rapid Fire Match
Rank
Name
Service Branch/Agency
Score
1
Frederick W. Filkins
U.S. Marine Corps
Camp Matthews, Ca.
199-11X
(Source: MCRD Chevron)
.45 Caliber National Match Course
Rank
Name
Service Branch/Agency
Score
1
Frederick W. Filkins
U.S. Marine Corps
Camp Matthews, Ca.
293
(Source: MCRD Chevron)
.38 Caliber Championship
Rank
Name
Service Branch/Agency
Total
1
Wm W. McMillan, Jr.
U.S. Marine Corps
Camp Matthews, Ca.
882
2
-
-
-
3
-
-
-
(Source: MCRD Chevron)
.38 Caliber Slow Fire Match
Rank
Name
Service Branch/Agency
Score
2
Wm W. McMillan, Jr.
U.S. Marine Corps
Camp Matthews, Ca.
191
(Source: MCRD Chevron)
.38 Caliber Timed Fire Match
Rank
Name
Service Branch/Agency
Score
1
Wm W. McMillan, Jr.
U.S. Marine Corps
Camp Matthews, Ca.
200-17X
(Source: MCRD Chevron)
.38 Caliber Rapid Fire Match
Rank
Name
Service Branch/Agency
Score
1
Edmond S. Sarver
U.S. Marine Corps
Camp Matthews, Ca.
197
(Source: MCRD Chevron)
.38 Caliber National Match Course
Rank
Name
Service Branch/Agency
Score
1
William W. McMillan, Jr.
U.S. Marine Corps
Camp Matthews, Ca.
294
(Source: MCRD Chevron)
.22 Caliber Championship
Rank
Name
Service Branch/Agency
Total
1
Gasper P. DeFino
U.S. Navy
Camp Matthews, Ca.
890
2
Wm W. McMillan, Jr.
U.S. Marine Corps
Camp Matthews, Ca.
885
3
Albert R. Wilkinson
U.S. Marine Corps
MCRD San Diego, Ca.
883
(Source: MCRD Chevron)
.22 Caliber Slow Fire Match
Rank
Name
Service Branch/Agency
Score
1
Gasper P. DeFino
U.S. Navy
Camp Matthews, Ca.
195
2
Wm W. McMillan, Jr.
U.S. Marine Corps
Camp Matthews, Ca.
192
(Source: MCRD Chevron)
.22 Caliber Timed Fire Match
Rank
Name
Service Branch/Agency
Score
2
Albert R. Wilkinson
U.S. Marine Corps
MCRD San Diego, Ca.
200
(Source: MCRD Chevron)
.22 Caliber Rapid Fire Match
Rank
Name
Service Branch/Agency
Score
1
Wm W. McMillan, Jr.
U.S. Marine Corps
Camp Matthews, Ca.
200
2
Frederick W. Filkins
U.S. Marine Corps
Camp Matthews, Ca.
200
(Source: MCRD Chevron)
.22 Caliber National Match Course
Rank
Name
Service Branch/Agency
Score
1
Gasper P. DeFino
U.S. Navy
Camp Matthews, Ca.
297
2
Wm W. McMillan, Jr.
U.S. Marine Corps
Camp Matthews, Ca.
294
(Source: MCRD Chevron)