Held at the San Diego Police Range
May 4 and 5, 1957
McMillan, MTU Rifleman Set More Records
Marine marksman 1stLt. William w. McMillan, Jr., topped his grand aggregate pistol record in the Southland Police Pistol Matches held at the Police Range at San Diego, May 4.
Another record was fired over the weekend by the MTU Blue Team in the California State Rifle Championship Matches, May 3-5.
Lt. McMillan's new national record of 2648x2700 shatters the old mark by three points.
The world record holder registered an 888x900, .22 aggregate; a .38 center fire aggregate of 880x900; and an 880x900 in the .45 aggregate.
Aided by CWO T. R. Carpenters' "possible" of 250 with 25 V's, MTU Blue team members Capt. Lemoin Cox, and TSgtst. "V" "D" Mitchell and W. J. Dynes set a new NRA rifle mark of 990x1000 with 111 V's, using the bold, M-70 rifle.
The former record, held by a Marine Corps team, was 986 with 108 V's.
In the same matches the MTU Red Team won service rifle honors with a 984x1000 with 103 V's.
Continuing the record-breaking run, SSgt. A. W. Hauser broke a national 300-yard rapid fire match record with the M-70 rifle. Sgt. Houser fired a "possible" of 100 with 18 V's.
TSgt. J. E. Hill, who recently broke a national record, set a new California State Match record in service rifle competition with a score of 496x500 with 55 V's.
In the Southland meet Lt. McMillan won the NRA Building Fund Match with a score of 1768, firing the .22 and .38 caliber pistols.
The MTU Blue team placed first in the .22 and .38 pistol competition with an 1156 in the first match and an 1132 in the second, center fire, match.
Approximately 170 competitors, Marine Corps, other Armed Services, Police, Border Patrol, and civilian personnel participated in the Southland Matches.
MCRD Chevron, Friday, May 10, 1957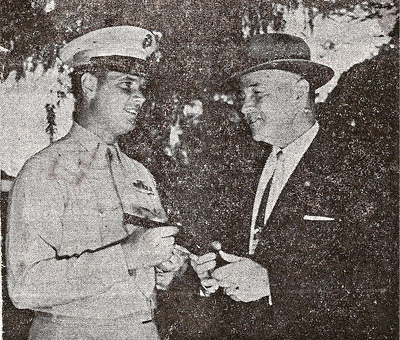 BREAKS OWN RECORD - 1stLt. W. W. McMillan receives a .45 caliber target pistol from LtGen. Floyd Parks, USA, Ret'd, Director of the National Rifle Association. The award was made in recognition of a national aggregate pistol record Lt. McMillan set recently. The presentation was made May 4. That same day Lt. McMillan broke his own record by three points in the Southland Pistol Matches.
MCRD Chevron, Friday, May 17, 1957
SPORTS SCUTTLEBUTT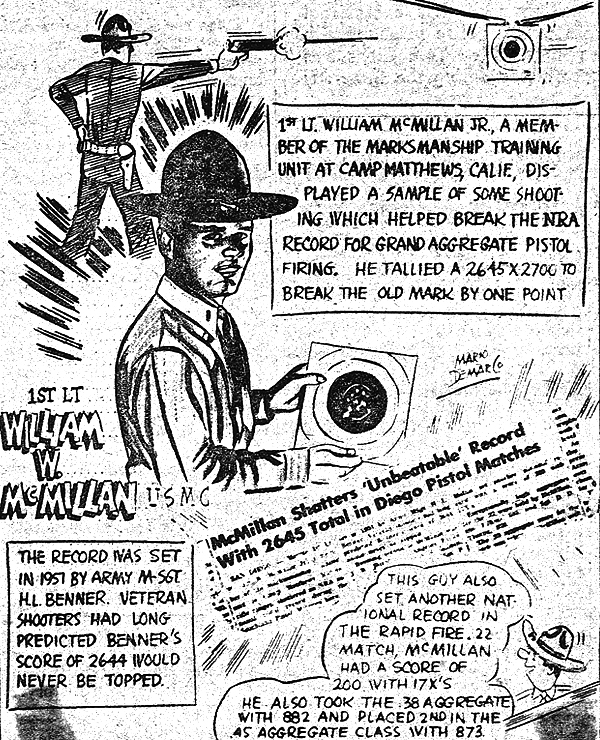 Artwork by Mario DeMarco
McMillan Breaks Pistol Record Again
SAN DIEGO - Sharpshooting Marines continued to smash national rifle and pistol records in two different West Coast competitions.
First Lt. William W. McMillan, who only last month topped an individual pistol record considered unbeatable, added three more points to his previous score to up the all-time record to 2648x2700. He registered the mark during the Southland Police Pistol Matches here.
Meanwhile, the Marine Marksmanship Training Unit Blue team from Camp Matthews swept aside a rifle team record held previously by another Corps team to set a new NRA rifle team mark of 990x1000. The old score was 986.
The MTU team, representing the Marine Corps in the California State Rifle Championships Matches at Camp Pendleton, was composed of Capt. Lemoin Cox, CWO T. R. Carpenter, and TSgts. W. J. Dynes and V. D. Mitchell.
Carpenter led the aggregation with a 250x250 with 25 Vs. The Blue fired NRA M-70 rifles.
IN THE SAME matches, the MTU Red team won the service rifle competition, firing M-1 rifles, with a 984x1000.
McMillan first shattered the pistol aggregate record last month with a 2645x2700, topping by one point a record set in 1951 by Army MSgt. H. L. Benner. "Old-Timers" had said the Benner record would stand indefinitely.
To muster his record, the Marine marksman registered 888x900 in the .22 aggregate, 880x900 in the center-fire aggregate with the .38 and 880x900 aggregate with the .45 pistol.
Navy Times, May 18, 1957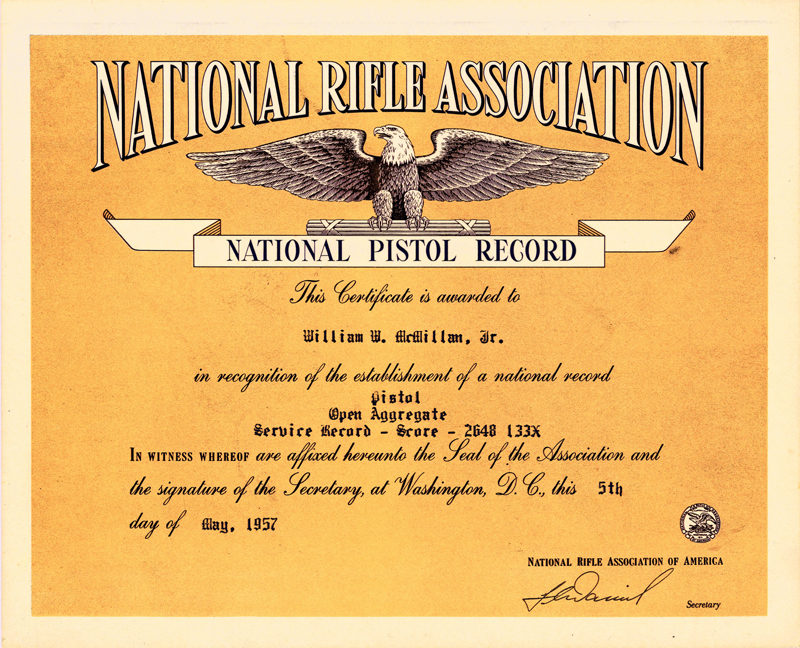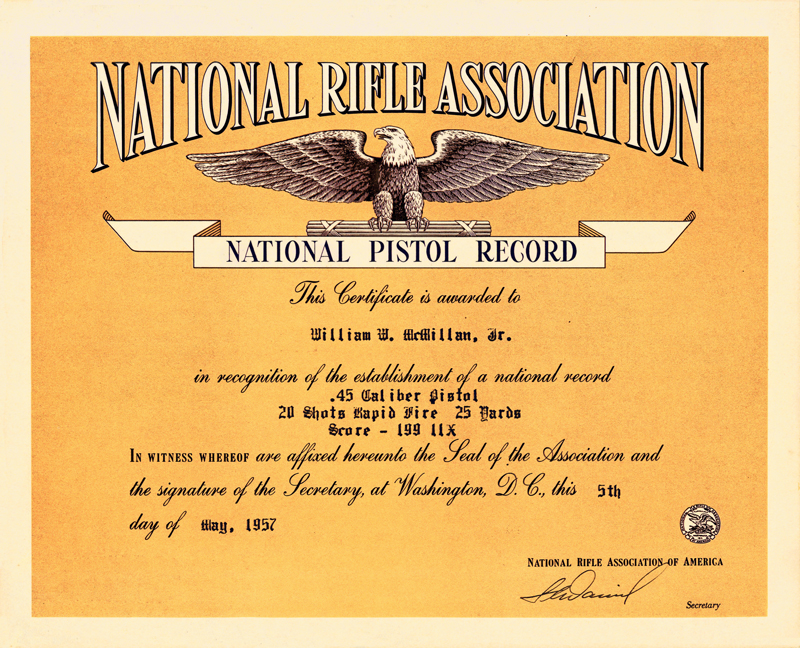 Grand Aggregate
Rank
Name
Service Branch/Agency
.22 Caliber
Center-Fire
.45 Caliber
Total
1
Wm W. McMillan, Jr.
U.S. Marine Corps
Camp Matthews, Ca.
888
880
880
2648
2
-
-
-
-
-
-
3
-
-
-
-
-
-
4
-
-
-
-
-
-
(Source: MCRD Chevron)
NRA Building Match Fund
Rank
Name
Service Branch/Agency
Total
1
Wm W. McMillan, Jr.
U.S. Marine Corps
Camp Matthews, Ca.
1768
2
-
-
-
3
-
-
-
(Source: MCRD Chevron)
.45 Caliber Team Championship

| Rank | Service Branch/Agency | Score |
| --- | --- | --- |
| 1 | - | - |
| 2 | - | - |
| 3 | - | - |
(Source: )
.38 Caliber Team Championship

| Rank | Service Branch/Agency | Score |
| --- | --- | --- |
| 1 | U.S. Marine Corps 'Blue' Team | 1132 |
| 2 | - | - |
| 3 | - | - |
(Source: MCRD Chevron)
.22 Caliber Team Championship

| Rank | Service Branch/Agency | Score |
| --- | --- | --- |
| 1 | U.S. Marine Corps 'Blue' Team | 1156 |
| 2 | - | - |
| 3 | - | - |
(Source: MCRD Chevron)
.45 Caliber Championship
Rank
Name
Service Branch/Agency
Total
1
Wm W. McMillan, Jr.
U.S. Marine Corps
Camp Matthews, Ca.
880
2
-
-
-
3
-
-
-
(Source: MCRD Chevron)
.45 Caliber Slow Fire Match

| Rank | Name | Service Branch/Agency | Score |
| --- | --- | --- | --- |
| 1 | - | - | - |
(Source: )
.45 Caliber Timed Fire Match

| Rank | Name | Service Branch/Agency | Score |
| --- | --- | --- | --- |
| 1 | - | - | - |
(Source: )
.45 Caliber Rapid Fire Match
Rank
Name
Service Branch/Agency
Score
1
Wm W. McMillan, Jr.
U.S. Marine Corps
Camp Matthews, Ca.
199-11X
(Source: National Pistol Record Certificate)
.45 Caliber National Match Course

| Rank | Name | Service Branch/Agency | Score |
| --- | --- | --- | --- |
| 1 | - | - | - |
(Source: )
.38 Caliber Championship
Rank
Name
Service Branch/Agency
Total
1
Wm W. McMillan, Jr.
U.S. Marine Corps
Camp Matthews, Ca.
880
2
-
-
-
3
-
-
-
(Source: MCRD Chevron)
.38 Caliber Slow Fire Match

| Rank | Name | Service Branch/Agency | Score |
| --- | --- | --- | --- |
| 1 | - | - | - |
(Source: )
.38 Caliber Timed Fire Match

| Rank | Name | Service Branch/Agency | Score |
| --- | --- | --- | --- |
| 1 | - | - | - |
(Source: )
.38 Caliber Rapid Fire Match

| Rank | Name | Service Branch/Agency | Score |
| --- | --- | --- | --- |
| 1 | - | - | - |
(Source: )
.38 Caliber National Match Course

| Rank | Name | Service Branch/Agency | Score |
| --- | --- | --- | --- |
| 1 | - | - | - |
(Source: )
.22 Caliber Championship
Rank
Name
Service Branch/Agency
Total
1
Wm W. McMillan, Jr.
U.S. Marine Corps
Camp Matthews, Ca.
888
2
3
(Source: MCRD Chevron)
.22 Caliber Slow Fire Match

| Rank | Name | Service Branch/Agency | Score |
| --- | --- | --- | --- |
| 1 | - | - | - |
(Source: )
.22 Caliber Timed Fire Match

| Rank | Name | Service Branch/Agency | Score |
| --- | --- | --- | --- |
| 1 | - | - | - |
(Source: )
.22 Caliber Rapid Fire Match

| Rank | Name | Service Branch/Agency | Score |
| --- | --- | --- | --- |
| 1 | - | - | - |
(Source: )
.22 Caliber National Match Course

| Rank | Name | Service Branch/Agency | Score |
| --- | --- | --- | --- |
| 1 | - | - | - |
(Source: )