Held at the San Diego Police Range
June 1 and 2, 1957
Time-Fire Record Broken Sunday By Lt. McMillan
First Lieutenant William W. McMillan, Camp Matthews marksman, broke the national record in the center fire, timed fire match and captured first place in the grand aggregate pistol scoring at the Southland Pistol Tournament at the San Diego Police Range, June 1-2.
TSgt. D. Faulkner and Pfc. A. Dapp, two visiting marksmen who are firing in the Marine Corps Matches this week, captured top spots while firing in the West Coast Gun Club Free Rifle Matches in Santee, Calif., June 2.
Lieutenant McMillan fired a 200x200 for the center fire, timed fire event, shattering the national record. He also won all other aggregate pistol scores.
Aside from breaking the national record, Lt. McMillan fired a 886x900 with the .22, and 874x900 in the center fire event and an 865x900 with the .45 to grab the grand aggregate scoring honors with a total 2625x2700.
He also won the center fire national match course with a 295x300.
Another MTU pistoleer, TSgt. F. W. Filkins, took second place in the grand aggregate pistol, scoring a 2596x2700.
At Santee, Faulkner and Dapp copped two events with the M-1.
Faulkner took first place in the Match 2 (sitting and kneeling) with a 100x-00, posting 7 X's.
Dapp fired a 292x300 in the Match 4 event with 13 X's.
MCRD Chevron, Friday, June 7, 1957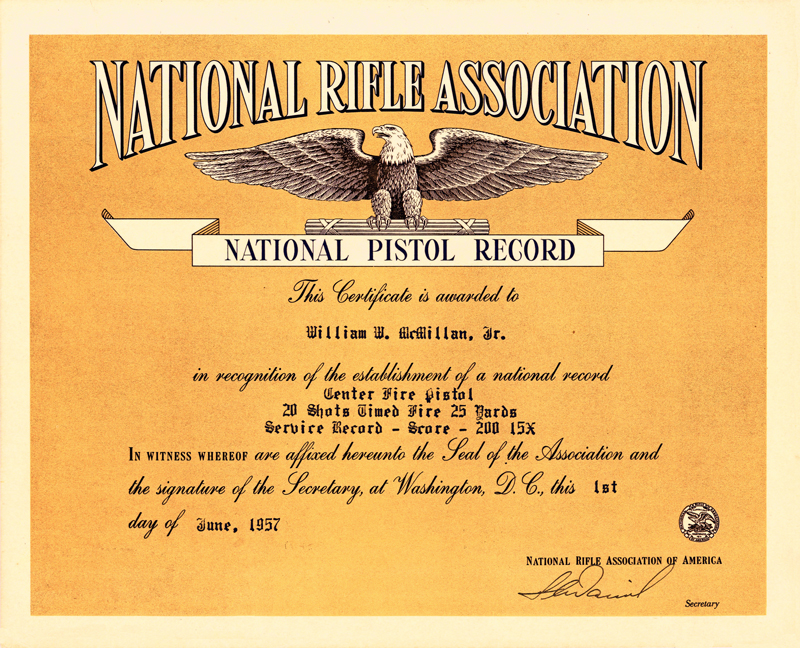 Grand Aggregate
Rank
Name
Service Branch/Agency
.22 Caliber
Center-Fire
.45 Caliber
Total
1
Wm W. McMillan, Jr.
U.S. Marine Corps
Camp Matthews, Ca.
886
874
865
2625
2
Frederick W. Filkins
U.S. Marine Corps
Camp Matthews, Ca.
-
-
-
2596
3
-
-
-
-
-
-
(Source: MCRD Chevron)
.45 Caliber Team Championship

| Rank | Service Branch/Agency | Score |
| --- | --- | --- |
| 1 | - | - |
| 2 | - | - |
| 3 | - | - |
(Source: )
.38 Caliber Team Championship

| Rank | Service Branch/Agency | Score |
| --- | --- | --- |
| 1 | - | - |
| 2 | - | - |
| 3 | - | - |
(Source: )
.22 Caliber Team Championship

| Rank | Service Branch/Agency | Score |
| --- | --- | --- |
| 1 | - | - |
| 2 | - | - |
| 3 | - | - |
(Source: )
.45 Caliber Championship
Rank
Name
Service Branch/Agency
Total
1
Wm W. McMillan, Jr.
U.S. Marine Corps
Camp Matthews, Ca.
865
2
-
-
-
3
-
-
-
(Source: MCRD Chevron)
.45 Caliber Slow Fire Match

| Rank | Name | Service Branch/Agency | Score |
| --- | --- | --- | --- |
| 1 | - | - | - |
(Source: )
.45 Caliber Timed Fire Match

| Rank | Name | Service Branch/Agency | Score |
| --- | --- | --- | --- |
| 1 | - | - | - |
(Source: )
.45 Caliber Rapid Fire Match

| Rank | Name | Service Branch/Agency | Score |
| --- | --- | --- | --- |
| 1 | - | - | - |
(Source: )
.45 Caliber National Match Course

| Rank | Name | Service Branch/Agency | Score |
| --- | --- | --- | --- |
| 1 | - | - | - |
(Source: )
.38 Caliber Championship
Rank
Name
Service Branch/Agency
Total
1
Wm W. McMillan, Jr.
U.S. Marine Corps
Camp Matthews, Ca.
874
2
-
-
-
3
-
-
-
(Source: MCRD Chevron)
.38 Caliber Slow Fire Match

| Rank | Name | Service Branch/Agency | Score |
| --- | --- | --- | --- |
| 1 | - | - | - |
(Source: )
.38 Caliber Timed Fire Match
Rank
Name
Service Branch/Agency
Score
1
Wm W. McMillan, Jr.
U.S. Marine Corps
Camp Matthews, Ca.
200-15X
(Source: MCRD Chevron)
.38 Caliber Rapid Fire Match

| Rank | Name | Service Branch/Agency | Score |
| --- | --- | --- | --- |
| 1 | - | - | - |
(Source: )
.38 Caliber National Match Course
Rank
Name
Service Branch/Agency
Score
1
Wm W. McMillan, Jr.
U.S. Marine Corps
Camp Matthews, Ca.
295
(Source: MCRD Chevron)
.22 Caliber Championship
Rank
Name
Service Branch/Agency
Total
1
Wm W. McMillan, Jr.
U.S. Marine Corps
Camp Matthews, Ca.
886
2
-
-
-
3
-
-
-
(Source: MCRD Chevron)
.22 Caliber Slow Fire Match

| Rank | Name | Service Branch/Agency | Score |
| --- | --- | --- | --- |
| 1 | - | - | - |
(Source: )
.22 Caliber Timed Fire Match

| Rank | Name | Service Branch/Agency | Score |
| --- | --- | --- | --- |
| 1 | - | - | - |
(Source: )
.22 Caliber Rapid Fire Match

| Rank | Name | Service Branch/Agency | Score |
| --- | --- | --- | --- |
| 1 | - | - | - |
(Source: )
.22 Caliber National Match Course

| Rank | Name | Service Branch/Agency | Score |
| --- | --- | --- | --- |
| 1 | - | - | - |
(Source: )