Held at the San Diego Police Range
November 1 and 2, 1957
McMillan, Filkins Of MTU Set Three New World Pistol Records
By Cp. Bill Whitman
Three world pistol records were shattered over the weekend as Marine shooters, led by TSgt. F. W. Filkins and 1stLt. W. W. McMillan, swept a field of approximately 200 competitors in the monthly Police Pistol Match held at the San Diego Police Range.
Winner of the match grand aggregate was Sgt. Filkins who went over the 2600 mark for the eighth time in his shooting career to score 2618.
The Marines went on to capture numerous other awards at the match.
Another Record
Lt. McMillan fired 299x300 with the .38 caliber pistol over the National Match course to beat another world's record by one point. Al Hemming, of the Detroit Police force previously held the title with a record score of 298, prior to WWII.
A center fire aggregate of 890x900 produced another record breaking score for the match. Lt. McMillan's score topped by five points the record set by Army MSgt. H. L. Benner a few years ago.
In .45 caliber timed fire competition Sgt. Filkins picked up the third world's record over the weekend with a "possible" and 16 X's. The score was 2 X's better than the former record.
Third Record
In the same match SSgt. A. R. Wilkinson also broke the record, but placed lower than Sgt. Filkins, with a "possible" and 15 X's. Lt. McMillan took third place honors with a "possible" 12 X's.
In team match firing, MTU shooters won .38 competition with 1153.
In .22 caliber competition, TM2 DeFino won over the National Match course with 297x300. A "possible" of 200 placed Lt. McMillan on top in timed fire competition. MSgt. J. A. Fowler won the service .22 aggregate with 879x900.
Sgt. Filkins was second in center fire National Match Course firing with 294x300. Lt. McMillan won .38 caliber rapid fire competition with a "possible" of 200.
.45 Wins
In .45 caliber firing over the National Match Course, Lt. McMillan, SSgt. Ed. Sarver, and Sgt. Filkins, were first, second, and third, with scores of 294, 291, and 291 respectively.
Sgt. Filkins won the .45 aggregate with 870x900, while Lt. McMillan took second honors with 867.
Depot pistol team shooters fired an 1161x1200 to win the .22 caliber National Match Course.
The winning team was composed of Capt. G. B. McPherson, and MSgts. R. E. Bauman, J. C. Palmer and J. A. Lindsey.
Expert Class competitor Capt. E. D. Anderson took second in .22 and .45 caliber slow fire shooting while in the same class MSgt. O. C. McBride fired a second over the National Match course.
Stanonik First
TSgt. F. C. Stanonik, expert, took a first in the .22 aggregate, seconds in the .22 National Match, .22 rapid fire, and center fire timed fire.
Sharpshooter competitor SSgt. D. G. Barker fired for first place honors in the .22 aggregate, center fire timed fire and aggregate, the .45 National Match and timed fire competition and also the match grand aggregate.
Sgt. Barker also took seconds in .22 caliber timed fire, National Match, and aggregate shooting the .38 rapid fire, and the .45 slow fire match.
MCRD Chevron, Friday, November 8, 1957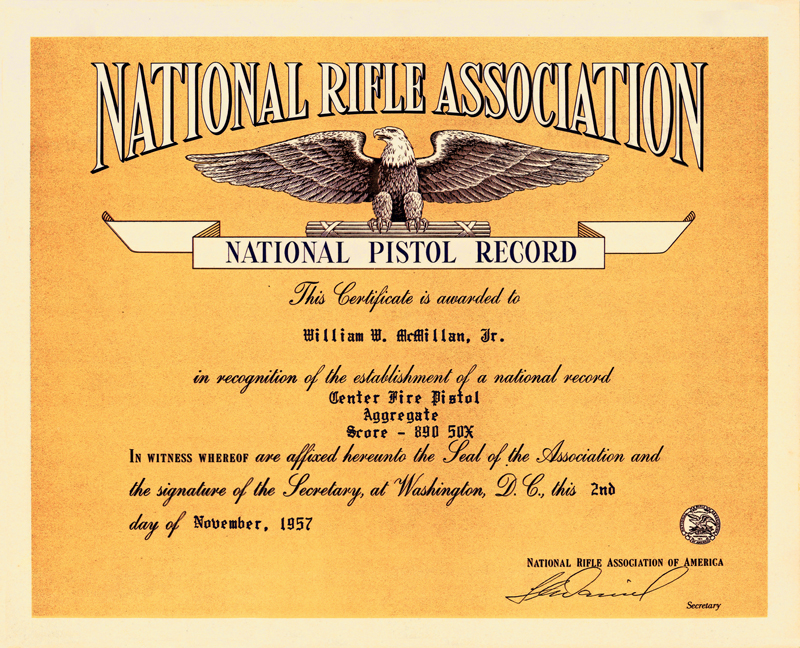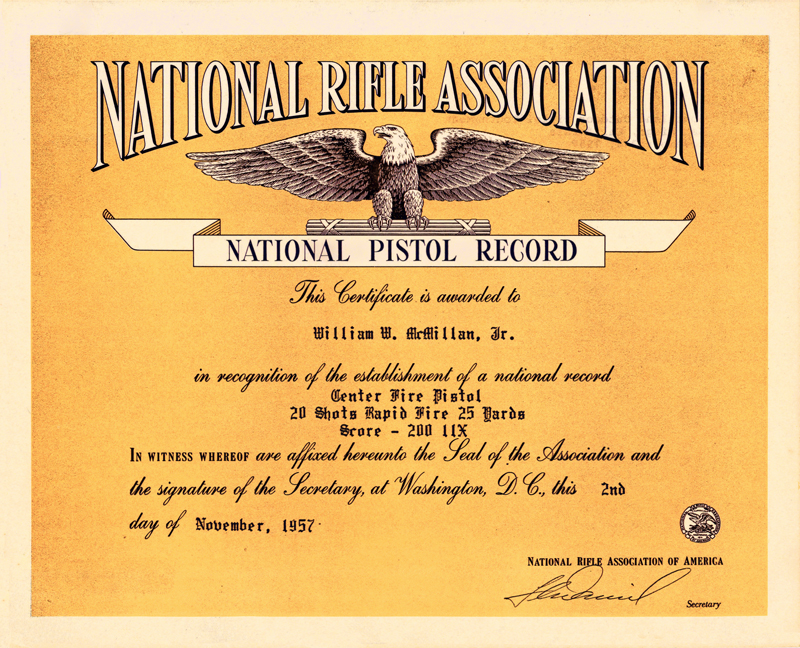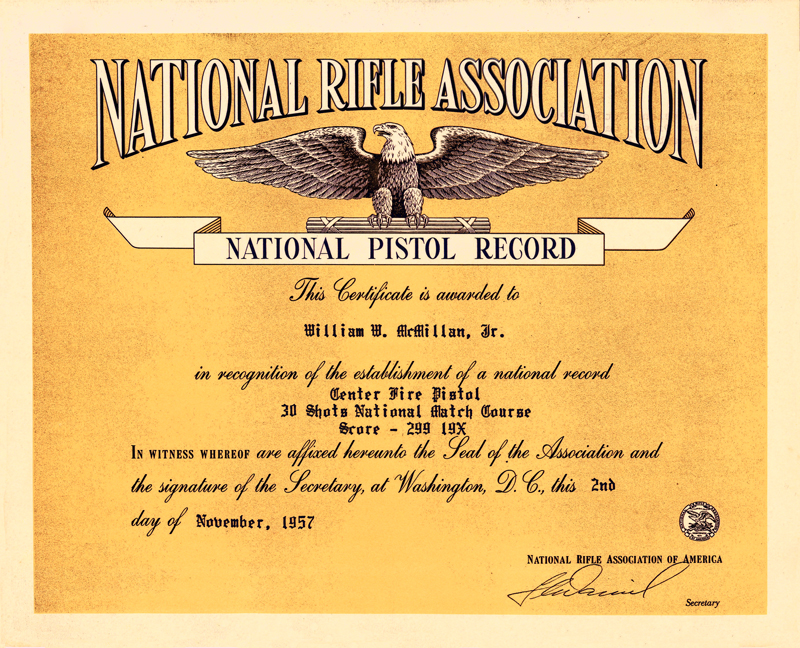 Grand Aggregate
Rank
Name
Service Branch/Agency
.22 Caliber
Center-Fire
.45 Caliber
Total
1
Frederick W. Filkins
U.S. Marine Corps
Camp Matthews, Ca.
-
-
870
2618
2
-
-
-
-
-
-
3
-
-
-
-
-
-
1st
Sharpshooter
Donald G. Barker
U.S. Marine Corps
MCRD San Diego, Ca.
-
-
-
-
(Source: MCRD Chevron)
.45 Caliber Team Championship
Rank
Service Branch/Agency
Score
1
-


-

-
2
-
-
3
-
-
(Source: )
.38 Caliber Team Championship
Rank
Service Branch/Agency
Score
1
U.S. Marine Corps 'MTU'


-

1153
2
-
-
3
-
-
(Source: MCRD Chevron)
.22 Caliber Team Championship
Rank
Service Branch/Agency
Score
1
U.S. Marine Corps 'MTU'


G. B. McPherson, R. E. Bauman, J. C. Palmer & J. A. Lindsey

1161
2
-
-
3
-
-
(Source: MCRD Chevron)
.45 Caliber Championship
Rank
Name
Service Branch/Agency
Total
1
Frederick W. Filkins
U.S. Marine Corps
Camp Matthews, Ca.
870
2
Wm W. McMillan, Jr.
U.S. Marine Corps
Camp Matthews, Ca.
867
3
-
-
-
(Source: MCRD Chevron)
.45 Caliber Slow Fire Match
Rank
Name
Service Branch/Agency
Score
2nd
Expert
Eugene D. Anderson
U.S. Marine Corps
MCRD San Diego, Ca.
-
2nd
Sharpshooter
Donald G. Barker
U.S. Marine Corps
MCRD San Diego, Ca.
-
(Source: MCRD Chevron)
.45 Caliber Timed Fire Match
Rank
Name
Service Branch/Agency
Score
1
Frederick W. Fikins
U.S. Marine Corps
Camp Matthews, Ca.
200-16X
2
Albert R. Wilkinson
U.S. Marine Corps
MCRD San Diego, Ca.
200-15X
3
Wm W. McMillan, Jr.
U.S. Marine Corps
Camp Matthews, Ca.
200-12X
1st
Sharpshooter
Donald G. Barker
U.S. Marine Corps
MCRD San Diego, Ca.
-
(Source: MCRD Chevron)
.45 Caliber Rapid Fire Match

| Rank | Name | Service Branch/Agency | Score |
| --- | --- | --- | --- |
| 1 | - | - | - |
(Source: )
.45 Caliber National Match Course
Rank
Name
Service Branch/Agency
Score
1
Wm W. McMillan, Jr.
U.S. Marine Corps
Camp Matthews, Ca.
294
2
Edmond S. Sarver
U.S. Marine Corps
Camp Matthews, Ca.
291
3
Frederick W. Filkins
U.S. Marine Corps
Camp Matthews, Ca.
291
1st
Sharpshooter
Donald G. Barker
U.S. Marine Corps
MCRD San Diego, Ca.
-
(Source: MCRD Chevron)
.38 Caliber Championship
Rank
Name
Service Branch/Agency
Total
1
Wm W. McMillan, Jr.
U.S. Marine Corps
Camp Matthews, Ca.
890
2
-
-
-
3
-
-
-
1st
Sharpshooter
Donald G. Barker
U.S. Marine Corps
MCRD San Diego, Ca.
-
(Source: MCRD Chevron)
.38 Caliber Slow Fire Match

| Rank | Name | Service Branch/Agency | Score |
| --- | --- | --- | --- |
| 1 | - | - | - |
(Source: )
.38 Caliber Timed Fire Match
Rank
Name
Service Branch/Agency
Score
1
-
-
-
2
-
-
-
3
-
-
-
2nd
Expert
Frank C. Stanonik
U.S. Marine Corps
MCRD San Diego, Ca.
-
1st
Sharpshooter
Donald G. Barker
U.S. Marine Corps
MCRD San Diego, Ca.
-
(Source: MCRD Chevron)
.38 Caliber Rapid Fire Match
Rank
Name
Service Branch/Agency
Score
1
Wm W. McMillan, Jr.
U.S. Marine Corps
Camp Matthews, Ca.
200
2nd
Sharpshooter
Donald G. Barker
U.S. Marine Corps
MCRD San Diego, Ca.
-
(Source: MCRD Chevron)
.38 Caliber National Match Course
Rank
Name
Service Branch/Agency
Score
1
Wm W. McMillan, Jr.
U.S. Marine Corps
Camp Matthews, Ca.
299
(Source: MCRD Chevron)
.22 Caliber Championship
Rank
Name
Service Branch/Agency
Total
1
John A. Fowler
U.S. Marine Corps
Camp Matthews, Ca.
879
2
-
-
-
3
-
-
-
1st
Expert
Frank C. Stanonik
U.S. Marine Corps
MCRD San Diego, Ca.
-
1st
Sharpshooter
Donald G. Barker
U. S. Marine Corps
MCRD San Diego, Ca.
-
(Source: MCRD Chevron)
.22 Caliber Slow Fire Match
Rank
Name
Service Branch/Agency
Score
1
-
-
-
2nd
Expert
Eugene D. Anderson
U.S. Marine Corps
MCRD San Diego, Ca.
-
(Source: MCRD Chevron)
.22 Caliber Timed Fire Match
Rank
Name
Service Branch/Agency
Score
1
Wm W. McMillan, Jr.
U.S. Marine Corps
Camp Matthews, Ca.
-
2nd
Sharpshooter
Donald G. Barker
U.S. Marine Corps
MCRD San Diego, Ca.
-
(Source: MCRD Chevron)
.22 Caliber Rapid Fire Match
Rank
Name
Service Branch/Agency
Score
1
-
-
-
2
-
-
-
3
-
-
-
2nd
Expert
Frank C. Stanonik
U.S. Marine Corps
MCRD San Diego, Ca.
-
(Source: MCRD Chevron)
.22 Caliber National Match Course
Rank
Name
Service Branch/Agency
Score
1
Gasper P. DeFino
U.S. Navy
Camp Matthews, Ca.
297
2
Frederick W. Filkins
U.S. Marine Corps
Camp Matthews, Ca.
294
3
-
-
-
2nd
Expert
Frank C. Stanonik
U.S. Marine Corps
MCRD San Diego, Ca.
-
1st
Sharpshooter
Donald G. Barker
U.S. Marine Corps
MCRD San Diego, Ca.
-
(Source: MCRD Chevron)