1970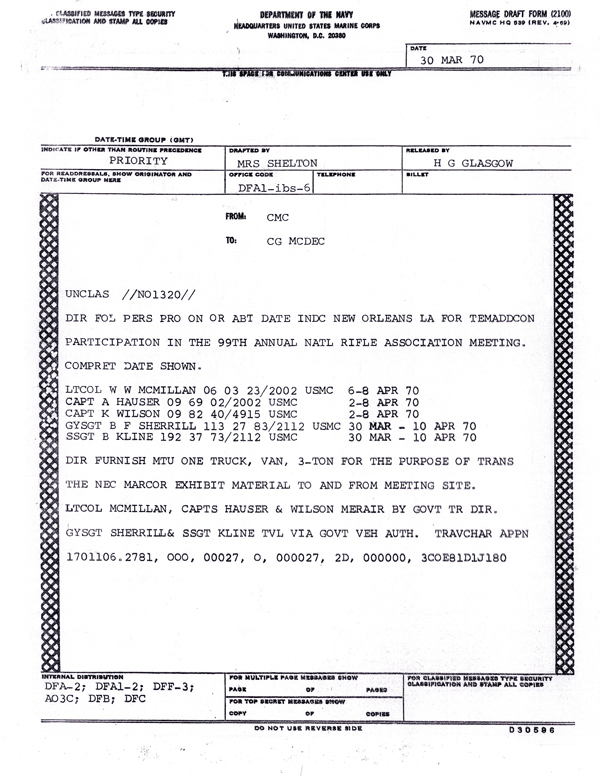 1959
Four Shooting Champs To Attend Convention
Four members of Marksmanship Training Unit will represent the Marine Corps at the National Rifle Association Convention in Washington D. C., starting March 19. All are individual rifle or pistol championships.
Three of the shooters left this week for the National Midwinter Pistol Championship which will be held in Tampa, Fla., next weekend.
Following the matches, Capt. W. W. McMillan, World Center Fire Champion, ActGySgt. Michael Pietroforte, '58 National Individual Rifle Champion and Act SSgt. Frank O. Wright, '58 National Individual Pistol Champion will report to HQMC in connection with the convention.
ActGySgt. V. D. Mitchell, '58 National Individual Service Rifle Champion, is scheduled to leave MTU before March 18 to join the other top marksmen in Washington.
The remaining Marine shooters competing in the Tampa matches, 1st Sgt. R. O. Jones, ActSSgt. E. S. Sarver and ActSSgt. Anthony Mucci will remain on the East Coast to hold marksmanship seminars and a coaching school at MCRD, Parris Island, S.C.
Plans call for MTU-men to report later to Camp Lejeune, N.C., to assist in the schooling of marksmen competiting in the Eastern Division Rifle and Pistol Matches.
MCRD Chevron, Friday, March 6, 1959