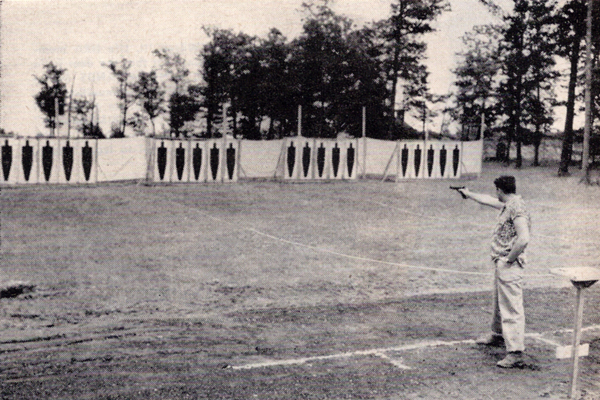 If the United States is to make a strong bid in international shooting, more ranges, such as this one S/Sgt. W. W. McMillan, USMC, is firing on, are necessary and more tournaments must include events of this type in match programs.
The United States will enter a team in the 1954 International Shooting Union World Championships that are scheduled to be fired in Venezuela in December 1954. Present plans call for the selection of this team through preliminary tryouts to be fired at each regional tournament next year and final tryouts to be held at the 1954 National Rifle and Pistol Championships.
There's a lot of work to be done before selection of the 1954 International team to represent the United States in the World Championships Matches. Many shooters who are only casually acquainted with the Olympic and World Championships courses of fire will want to practice for many hours and to in numerous matches before entering next year's International team tryouts to test their holdin' and squeezin' against the finest shooters in the U.S.
This year, for the first time, every regional rifle and pistol tournament schedule includes an international-type match. Matches over the international courses of fire will be fired in the National Rifle and Pistol Championships (Camp Perry, Ohio August 20 to September 7) this year, just as they have been fired in the National Matches for the past two years.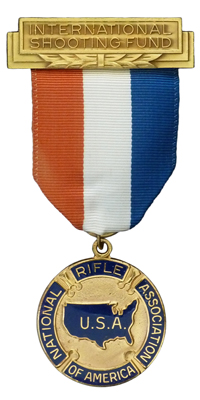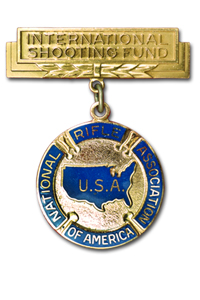 The International Shooting Fund, established in 1952 and administered by the NRA, enables the NRA to meet the expense of sending U.S. rifle and pistol teams to compete in International Shooting matches without curtailing current activities of the Association. Intended to be a revolving fund solely for the support of U.S. teams in International competition, the Fund contained sufficient money last year to defray the expenses of the U.S. International and Olympic teams to Oslo, Norway and Helsinki, Finland for both the International Shooting Union's World Championships and the Olympic Games. This money was obtained by contributions from individuals and organizations who believe the U.S. should be represented in such shooting events, and from entry fees from matches included in tournament programs by sponsoring clubs for the purpose of raising money for the Fund.
NRA is again asking its members to contribute to the International Shooting Fund. NRA asks affiliated clubs and organizations to include on or more matches in each tournament they sponsor, the entry fees for which will be turned over to the International Shooting Fund. Such matches may be a special International Fund Aggregate; or a fired match, over an international type course of fire if possible; or both.
The chance to shoot international type courses of fire occurs increasingly often today. Match shooters over the nation are daily showing more interest in the type of rifle and pistol competition that is fired in international shooting events. More and more clubs are including in their tournament schedules a match of the kind fired in International Shooting Union World Championships. These events are fired at either metric ranges or at the nearest standard yard ranges on metric targets reduced for use at those ranges. The liberalization of smallbore rifle rules on positions and equipment in recent years has been another cause of increased interest in international-type matches.
Increased opportunities must be provided for U.S. shooters to compete in matches fired over courses similar to those shot in international competition if we hope to enter a well-trained, top notch team to represent the U.S. in the International Shooting Union's World Championships in 1954.
A minimum of $20,000 will be needed to send our 1954 U.S. International Team to Venezuela. Donations received at NRA Headquarters from individual members or from clubs earmarked for the "International Shooting Fund," will be deposited in a special reserve account, and will be used for no other purpose. It is not too early to contribute to this fund - now.
American Rifleman, Vol. 101, No. 4, April 1953