Taking San Juan by Storm
American shooters dominated the ranges at the "wet and wild"
VIIIth Pan Am Games
By Robert W. Hunnicutt
Two months of unending tropical downpours preceded the opening of Puerto Rico's VIII Pan American Games, held July 1 - 15. The deluge caused a little landslide on the Caguas Rifle and Pistol Club's 50 m range, almost burying the target boxes.
But that 'slide was nothing compared to the avalanche of medals won by the U.S. shooting team, which raked in a total of 33 gold, 10 silver and a bronze - a substantial portion of the United States' tally won in all 24 Pan Am sports.
U.S. shooters overcame arduous conditions and competition from steadily-improving Canadian and Latin teams to maintain U.S. domination, setting a new world record and tying another in the process.
The medal sweep was led, as so many have been before, by Lones Wigger. The nonpareil rifleman from Ft. Benning, Ga., won every gold medal he could have won - two individual and two team gold - and tied the world English Match record.
Caguas, a small city 35 miles southwest of San Juan, seems a strange setting for such heroics. The ranges were carved into the side of one Puerto Rico's steep, lushly verdant hillsides, and reached by a narrow, twisting road which sometimes was blocked by a herd of goats or flock of chickens. The atmosphere was at once squalid and vividly picturesque.
The bowl shape of the 50 m range was enough to give the most experienced wind doper nightmares. Air entered through a gap in the right-hand wall and swirled around the boxed-in range in a lazy cyclone.
Wigger, posted by the right wall, opened the match with a nine and then followed it with 59 consecutive 10s for an easy win and a one-seventh share of the world mark.
"Being next to the wall was no big help," Wigger said, "but I had two range flags where I could see them easily, and that helped. I found in practice that you just ignore the flag out by the targets and watch the close one. A lot of these guys just get hopelessly confused watching the flags blow in two different directions."
Wigger's 599 gave him a comfortable margin over silver medalist Adelso Pena of Cuba, who carded a 594. Canada's Alfons Mayer, the 1967 Pan Am champion, was the bronze medalist with 592, Creedmooring Boyd Goldsby of Little Rock, Ark. Dennis Ghiselli, a Marine from Quantico, Va., finished sixth in his first appearance as a U.S. team member with 591, while Ernest Vande Zande, like Wigger a member of the U.S. Army Marksmanship Unit at Ft. Benning, was seventh with 591.
In the team standings, the U.S. quartet had a 23-point edge over Cuba, 2373 to 2350. Brazil took the team bronze at 2345.
A U.S. shooter has won small bore free rifle in every Pan American Games. Wigger, in his fourth Pan Am appearance, upheld the tradition, firing an 1162 from the center of the line to quell all talk about his close-to-the-wall assignment in English Match. Rod Fitz-Randolph, smoothly making the transition from teen-aged phenom to established contender, took the silver. The 20-year-old Palm Bay, Fla., marksman fired 1154.
Pan American Organization rules prevent any one nation from winning all three individual medals in any event, and Ed Etzel of Morgantown, W. Va., was a victim as his 1148 score was passed over and the bronze medallion went to Guy Lorian of Canada. Tom Whitaker of Belmont, Calif., plagued by gun problems and a position at the left end of the line, struggled to an 1108 finish.
The team tallies were: USA, 4572; Canada, 4531; Cuba, 4502.
Canada's Lorian took to the awards stand again as he led the Maple Leaf shooters in air rifle with a gold medal winning 384. Vande Zande took the silver at 379, edging Kurt Mitchell of Canada. Etzel was fourth with a 379 of his own, while Michael Gross of Menomonee Falls, Wis., like Vande Zande a Murray State University alumnus, was sixth a t 376. Wanda Jewell, the reigning world ladies air rifle champ, had her problems with the breezy Caguas 10 m range and wound up 10th with a 373 mark.
The U.S. squad shaded Cuba for the team gold with a 1507 aggregate to 1494 for Fidel's foursome. Argentina was third at 1478.
The American juggernaut rolled on at the shotgun fields of the Club Metropolitano de Tiro, located just across the street from the Pan American Village, home for the thousands of Pan Am competitors. American shotgunners used to the bucolic settings of most U.S. trap and skeet clubs would blanch at the urban environment cheerfully borne by hardy Puerto Rican scattergunners. The club is on the shore of San Juan Bay, and the targets are broken over water. Because of the strong, steady breezes blowing off the water, the spieth traps had to be set to throw skeet targets almost 80 m during the rare lulls to get the required 65 m distance against the wind. The gusts often blew the clay discs well inside the center stake, making shots from stations 1 and 8 a far more sporting proposition.
The conditions didn't bother John Satterwhite, however. The 1976 Olympian from Redmond, Wash., and his Ljutic BiGun came back from a two-year layoff to post a 196 score for the gold. USAMU's Matt Dryke, who Satterwhite helped get started in shooting, was second with a 194 tally. Argentina's Firmo Roberti further established himself as the world's leading shoot-off artist by winning his third one-on-one in three years for the bronze at 189. Recent high school graduate Jeff Sizemore of Corpus Christi, Tex., was 11th with 181, while world record-holder Bill Clemmons of Ft. Benning found himself totally confused by the Caribbean breezes and wound up 13th at 178.
In team action, the U.S. foursome overcame a first-day lead by a surprising Chilean squad for the gold at 566. Chile nipped Cuba, 548 to 547.
In clay pigeon, Americans were even more dominant, taking four of the top five places. Bob Green, a school psychologist from Clinton, Utah, set a new automatic trap world record of 191 on his way to the gold medal. Charvin Dixon, a 1976 Olympian from Harlan, Iowa, and Earnest Neel of Ft. Benning were tied for second at 189, and, in a shoot-off that went two rounds in a blinding rainstorm; Dixon took the silver 49 to 47. The bronzed was passed down to George Leary of Canada, who tallied a 187. Walter Zobell of Jackson, Mont., rounded out the U.S. foursome in fifth position with his 186 score.
Don Nygord, a civilian gunsmith from La Crescenta, Calif., is fast becoming a force to be reckoned with in International pistol shooting circles, and he showed why in Puerto Rico, using a Feinwerkbau Model 65 to pile up 385 for the air pistol gold medal. Don Hamilton of Kingston, Mass., a longtime mainstay of U.S. pistol teams, took the silver with 380, shading hometown favorite Rafael Garden of Puerto Rico on a tie-breaker. Charles McCowan of Ft. Benning was sixth with his 377, while Erich Buljung, also of Ft. Benning, was eighth at 376.
The "Star-Spangled Banner" played again in the team awards as the U.S. four piled up 1518 to Brazil's 1488.
Since the retirement of Hershel Anderson, "malaise" has best described the situation of U.S. teams in free pistol shooting. Free pistol was the only event in which the U.S. shut out at the II Confederation of the Americas Championships in 1977, and the pattern held in Puerto Rico. Walter Bauza of Argentina won the first of his nation's two gold medals with 555. Luis Baquero of Cuba took the silver with 547, followed by Tom Guinn of Canada, also at 547.
McCowan, national champion in both free pistol and center-fire, was forced by a new rule to choose one of the two events. To his sorrow, he picked free pistol and finished 13th at 534. Buljung was 18th with 527, while Hamilton was 21st at 525. Jan Brundin of Quakertown, Pa., shooting on the same firing point which had bedeviled Whitaker, eked out a 506 for 30th position.
In a tightly-fought team match, Canada emerged on top with 2138, followed by Cuba at 2134. The host Puerto Ricans snagged another bronze with 2127. The U.S. team was sixth at 2092.
The rapid-fire pistol event saw a major upset as the Cuban squad took both individual and team gold's. Seventeen-year-old Juan Hernandez, using an old-style Russian Hydurov, established a new Pan Am record of 590 in taking individual honors. John McNally, a Gulfport, Miss., college student who plans to join the Marine Corps in November, grabbed the silver with 588, followed by Bernardo Tobar of Colombia at 587. Prematch favorites Terry Anderson of New Orleans, La., and Bill McMillan of San Diego, Calif., were fourth and fifth at 586.
American Rifleman, Vol. 127, No. 9, September 1979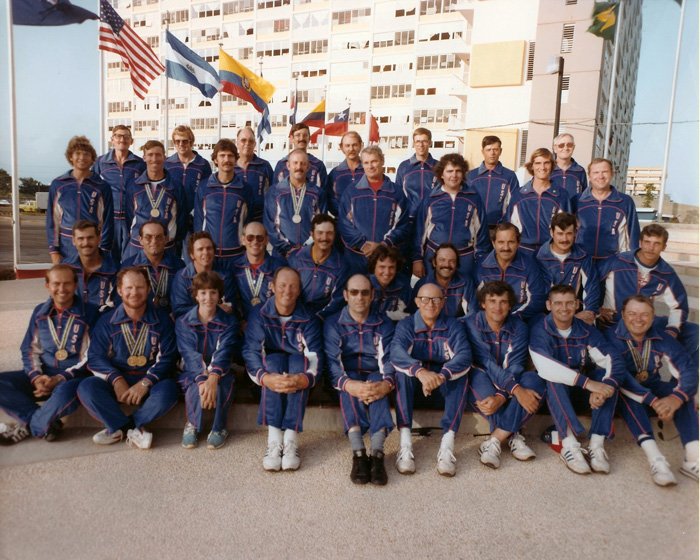 U.S. Shooting Team
Rifle Members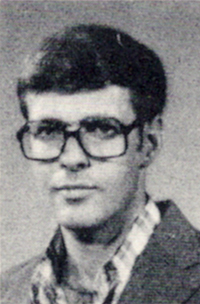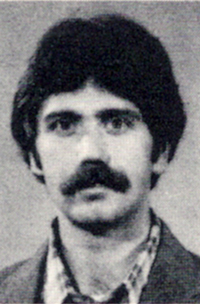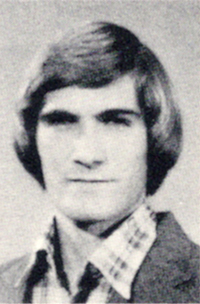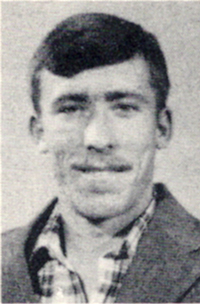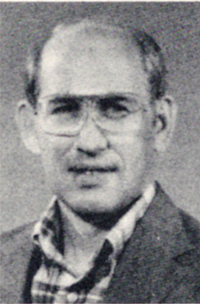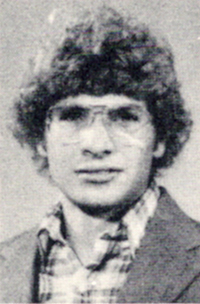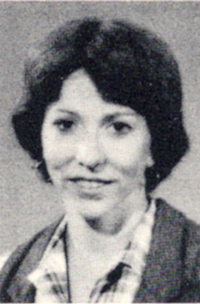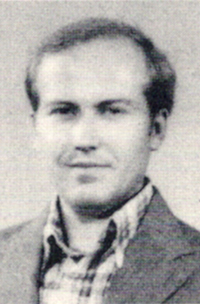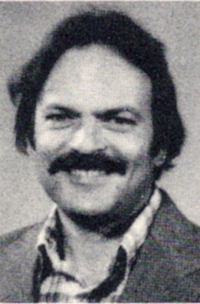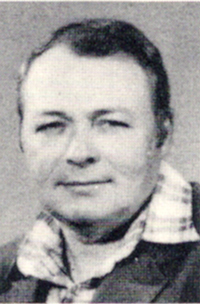 David I. Cramer, Edward F. Etzel, Roderick M. Fitz-Randolph, Jr., Dennis E. Ghiselli, Boyd D. Goldsby, Michael W. Gross, Wanda Rae Jewell, David W. Kimes, Ernest John Vande Zande, Thomas J. Whitaker and Lones Wigger, Jr.
Pistol Members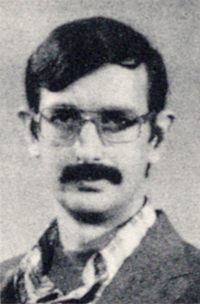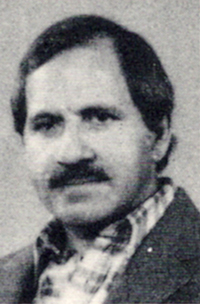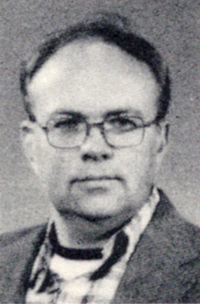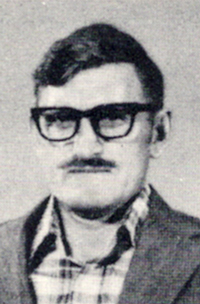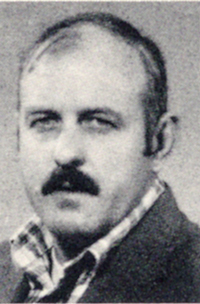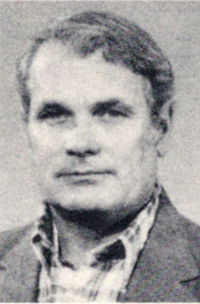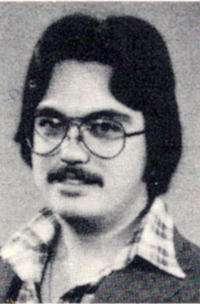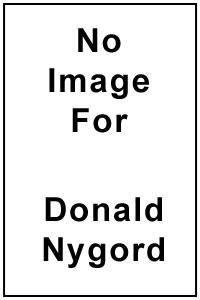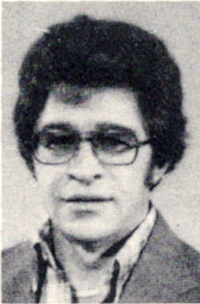 Terence M. Anderson, Samuel A. Baiocco, Jan R. Brundin, Erich Buljung, Donald L. Hamilton, Charles E. McCowan, William W. McMillan, John T. McNally, Donald C. Nygord, Jerry L. Wilder and Darius R. Young
Shotgun Members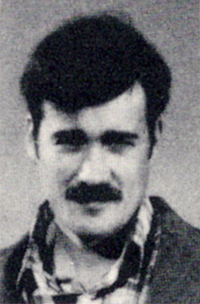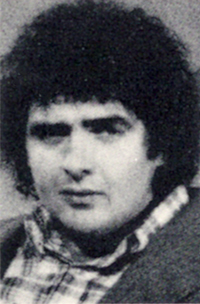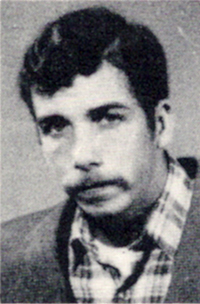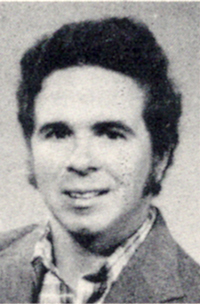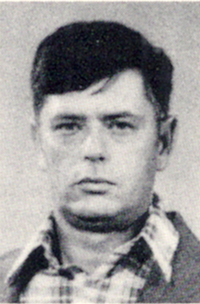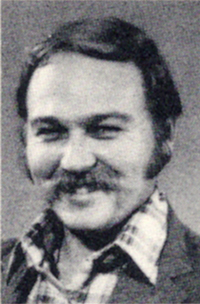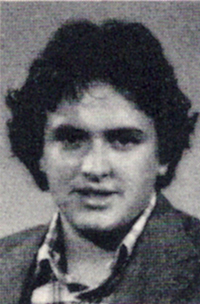 Joseph W. Clemmons, Charvin H. Dixon, Matthew A. Dryke, Robert P. Green, Ernest W. Neel, John C. Satterwhite, Jeffery D. Sizemore and Walter W. Zobell, Jr.
Team Management & Support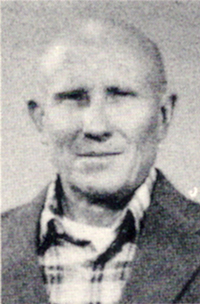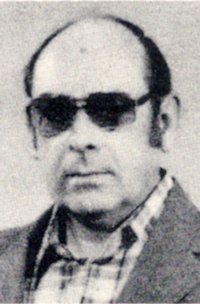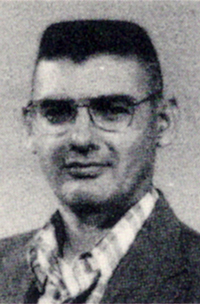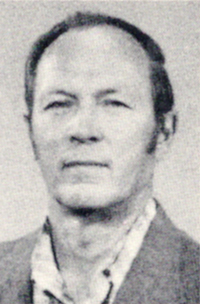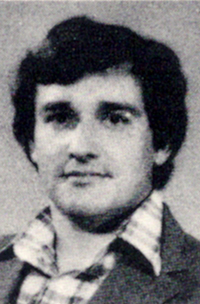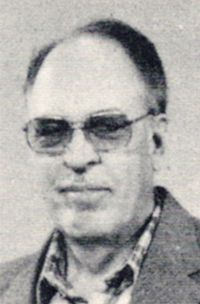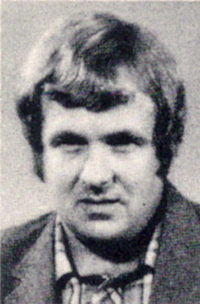 Joseph B. Berry (Team Manager), Homer Grogan Pearson (Assistant Manager), David I. Boyd (Coach, Rifle Team), Elmer W. Hilden (Coach, Pistol Team), Harry L. Skalsky (Coach), William T. Atkinson (Gunsmith) and James B. Sizemore (Gunsmith)
U.S. shooting team picked at Phoenix
PHOENIX, Ariz. (AP) - The final eight members of the United States shooting team that will be competing in the upcoming Pan American Games were chosen Sunday as the 19th U.S. International Rifle and Pistol Championships ended.
Terry Anderson, a contractor from New Orleans, La., fired a tournament-high 593 to capture the rapid-fire pistol championship. Anderson came from 22nd place to take the national crown and first position on the rapid-fire squad with a total score of 1,763.
William McMillan of Del Mar, Calif., was second with a 1,763 score of his own; Darius Young of Winteburn, Alberta, was next at 1,762; while the final team spot went to John McNally of Gulfport, Miss., with a 1,760 total.
Lones Wigger of Fort Benning, Ga., a two-time Olympic gold medalist, won his second national championship within a week taking the Smallbore free rifle title. Wigger, who earlier won the English match national championship, won the title with a score of 3,458. Rod Fitz-Randolph, Palm Bay, Fla., was second as well as high junior with his 3,442, while Ed Etzel of Morgantown, W. Va., captured third with 3,433. Tom Whitaker, Montebello, Calif., will round out the squad after firing 3,429.
Nearly 500 marksmen took part in the two-week competition sponsored by the National Rifle Association.
Unknown newspaper, June 21, 1979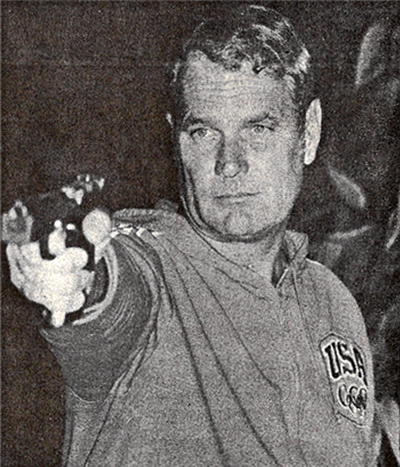 Sharpshooter aims for the top
Bill McMillan will be trying for his 7th Olympic Games - a record
By GARY GREENBERG
Even though Howard Cosell probably doesn't know who he is, Bill McMillan is a superstar of the sporting world.
This morning, McMillan departed for Colorado Springs, which is the first leg to this summer's Pan American Games in San Juan. Appearing in the Pan American Games for the fifth time, the 50-year-old Del Mar resident will be trying to repeat the rapid fire pistol performance that won him a gold medal in Winnipeg in 1967.
But McMillan's international experiences haven't been limited to Pan American Games. He has participated in six Olympics and six World Cups. He won the Gold Medal in the 1960 Olympics in Rome, and took gold in the Caracas (1954) and Moscow (1958) World Cups. And if he makes the 1980 national squad he'll be the first athlete ever to appear in seven Olympics.
"Shooting competition takes a back seat to the more glorified sports." McMillan said. "The press looks for heroes to glamorize and they don't consider shooting to be much of a spectator sport. So you'll never see my face on a box of Wheaties."
"Shooting teams might not make headlines, but more countries are represented in shooting competition than any sport other than track and field and boxing."
McMillan specializes in rapid fire, which seems to be one of the toughest events to master. From a distance of 25 meters, the marksmen shoot at silhouette targets with varying time allowances. They make two passes at five targets in eight seconds, then two passes within six seconds, and two more within four seconds. Then they repeat the procedure. The maximum score is 600 points, and the Olympic record is 596. McMillan's highest total to date is 594, which was a national record until recently.
"When you shoot at five targets in four seconds, McMillan explained, "you end up having about .3 of a second to aim and shoot at each."
McMillan got interested in pistolry in the Marine Corps in 1949. By 1952, he was good enough to make both the Olympic and World Cup teams.
"The golden years for shooters are between 30 and 40 years of ages." the ex-Marine said, "and it usually takes about 8-10 years to develop into world class status. I developed a lot faster and seem to be lasting a bit longer."
When McMillan wasn't traveling all over the world to compete, he spent his time as lieutenant colonel in the Marine Corps. He served at Camp Pendleton and lived in Carlsbad before he retired four years ago and moved down to Del Mar.
"I enjoyed every day I spent in the Corps." he said, "but I don't miss it now that I'm out."
McMillan is a firearms instructor, teaching, among other groups, the officers of the sheriff's department in Vista. He's dedicated to the sport, and wants to see it flourish in the U.S.
"I'd like to introduce shooting to high school students," McMillan said. "Besides being one of the safest sports in the world, it teaches discipline and how to handle emotions. You also don't have to be a big, strong jack to do it.
McMillan was in high school, during World War II, and said it wasn't hard to pick up odd jobs in the Pennsylvania steel mills and railroad yards. He also played semi-professional football, which left him a mouthful of dentures and two bum knees.
Shooting doesn't seem like it would demand a primely conditioned body, but McMillan said that a study proved that the shooters were in the best overall physical shape of any Olympic participants.
"The biggest changes I've noticed in 25 years of international competition are the equipment and the emphasis put on sports medicine. In this latter aspect, the iron curtain countries are way ahead of us."
"But for me, shooting is neither a science nor profession. It is a hobby; I'm not even interested in collecting guns, I just get a kick out of competing."
The Journal, June 1979
25 Meter Rapid-Fire Pistol
Individual Scores

| Rank | Name | Country | Total Points |
| --- | --- | --- | --- |
| 1 | Juan Hernández | Cuba | 590 |
| 2 | John McNally | U.S.A. | 588 |
| 3 | Bernardo Tobar | Colombia | 587 |
| 4 | Terrence Anderson | U.S.A. | 586 |
| 5 | William W. McMillan | U.S.A. | 586 |
| 6 | Rafael Rodriguez | Cuba | 586 |
| 30 | Darius Young | USA | 571 |
(Source: 1980 U.S. Olympic Book)
25 Meter Rapid-Fire Pistol
Team Scores

| Rank | Country | Total Points |
| --- | --- | --- |
| 1 | Cuba | 2339 |
| 2 | U.S.A. | 2331 |
| 3 | Colombia | 2315 |
| 4 | Mexico | 2308 |
| 5 | Brazil | 2305 |
| 6 | Argentina | 2301 |
(Source: 1980 U.S. Olympic Book)
Cuba Team
Rank
Name
1st Course
2nd Course
Total Points
1
G. Ryes Bello
-
-
-
2
E. Acuna
-
-
-
3
Juan Hernandez
-
-
-
4
Rafael Rodriguez
-
-
-
Team Total:
2339
(Source: 1980 U.S. Olympic Book)
United States Team
Rank
Name
1st Course
2nd Course
Total Points
1
William W. McMillan
-
-
-
2
John McNally
-
-
-
3
Terrance Anderson
-
-
-
4
Darious Young
-
-
-
Team Total:
2331
(Source: 1980 U.S. Olympic Book)
Colombia Team
Rank
Name
1st Course
2nd Course
Total Points
1
-
-
-
-
2
-
-
-
-
3
-
-
-
-
4
-
-
-
-
Team Total:
2315
(Source: 1980 U.S. Olympic Book)
Mexico Team
Rank
Name
1st Course
2nd Course
Total Points
1
-
-
-
-
2
-
-
-
-
3
-
-
-
-
4
-
-
-
-
Team Total:
2308
(Source: 1980 U.S. Olympic Book)
Brazil Team
Rank
Name
1st Course
2nd Course
Total Points
1
-
-
-
-
2
-
-
-
-
3
-
-
-
-
4
-
-
-
-
Team Total:
2305
(Source: 1980 U.S. Olympic Book)
Argentina Team
Rank
Name
1st Course
2nd Course
Total Points
1
-
-
-
-
2
-
-
-
-
3
-
-
-
-
4
-
-
-
-
Team Total:
2301
(Source: 1980 U.S. Olympic Book)