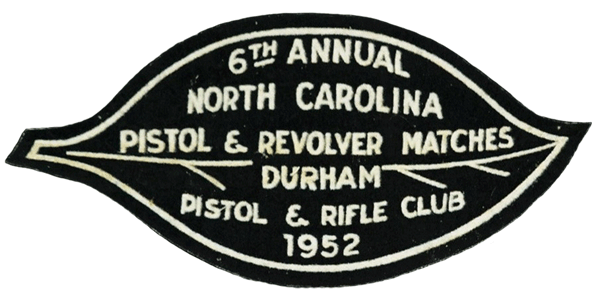 Held at the Durham Pistol & Rifle Club
Durham, North Carolina
May 1952
Marines, Navy Spark Meet
Make Clean Sweep In Shooting Meet
A task force of Marines and U.S. Navy super shooters from Quantico, Va., made a clean sweep of the Sixth Annual North Carolina Pistol and Revolver Championship matches held yesterday at the Durham Pistol and Rifle Club.
Firing between occasional showers, the record number of 84 shooters was paced by Staff Sgt. W. W. McMillan, who won the 45 caliber aggregate with 854 out of a possible 900, and Chief Petty Officer Leonard Rizzolla, who took the center fire aggregate with 871 out of 900.
The master shooters of the Navy and Marine teams from Quantico, several of whom are now trying out for the U. S. Olympic team, won all the top positions in the 45 caliber and center fire events.
The first annual Larkin S. Woods Memorial Match and the 22 caliber events were to start today at 8 a.m. with a large crowd of shooters expected from all over the South.
Yesterday's events drew nationally known gunmen from as far away as New Mexico, Michigan, San Francisco, San Diego and Atlanta. There were five Marine teams and two Navy teams as well as teams from Kinston, Camp Lejeune, Washington, D.C., Virginia Highway Patrol, North Carolina Highway Patrol and teams from the host Durham Club.
Unknown, May 1952
Hey, Lookit This, Sarge!
Navy Chief Offutt Pinion, captain of the Quantico U.S. Navy pistol team, center, beckons Staff Sgt. W. W. McMillan, left, to admire the outstanding shooting score of Capt. John M. Jagoda, right, of the Quantico Marines team. Jagoda, winner of the center fire timed fire match here yesterday during the North Carolina Pistol and Revolver championships, fired a perfect score of 200. Chief Pinion won the center fire slow fire event. McMillan, of the Quantico Marines, won the 45 aggregate.
Unknown, May 1952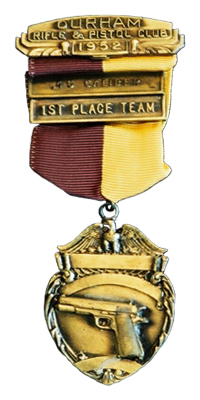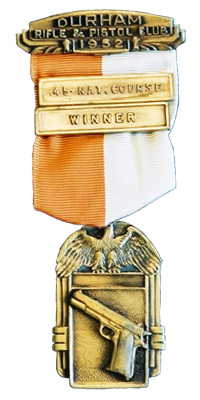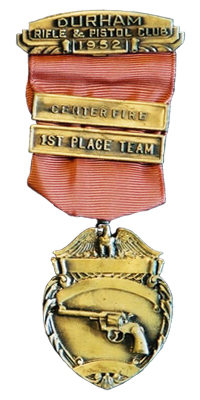 .45 Caliber 1st Place Team - .45 Caliber Nat. Course - .38 Caliber 1st Place Team
Grand Aggregate

| Rank | Name | Service Branch/Agency | .22 Caliber | Center-Fire | .45 Caliber | Total |
| --- | --- | --- | --- | --- | --- | --- |
| 1 | -. | - | - | - | - | - |
| 2 | - | - | - | - | - | - |
| 3 | - | - | - | - | - | - |
(Source: )
.45 Caliber Team Championship
Rank
Service Branch/Agency
Score
1
U.S. Marine Corps


W. McMillan, plus 3 other team members

-
(Source: )
.38 Caliber Team Championship
Rank
Service Branch/Agency
Score
1
U.S. Marine Corps


W. McMillan, plus 3 other team members

-
(Source: )
.22 Caliber Team Championship
Rank
Service Branch/Agency
Score
1
-


-

-
(Source:)
.45 Caliber Championship
Rank
Name
Service Branch/Agency
Total
1st
Master
Wm W. McMillan, Jr.
U.S. Marine Corps
Quantico, Va.
854
2nd
Master
Offutt Pinion
U.S. Navy
Quantico, Va.
851
3rd
Master
John Jagoda
U.S. Marine Corps
Quantico, Va.
849
1st Expert
Ronald Schier
U.S. Marine Corps
Quantico, Va.
829
2nd
Expert
Joseph Taylor
U.S. Marine Corps
828
3rd
Expert
Jewell Palmer
U.S. Marine Corps
Camp Lejeune, N.C.
824
1st
Sharpshooter
M. H. Kent
Civilian
Richmond, Va.
788
2nd
Sharpshooter
John Laws
North Carolina Highway Patrol
777
3rd
Sharpshooter
J. Ed King
Civilian
Durham, N.C.
776
1st
Marksman
Julius King
U.S. Marine Corps
790
2nd
Marksman
T. S. Peele
-
764
3rd
Marskman
Lloyd Mount
U.S. Marine Corps
Camp Lejeune, N.C.
753
(Source: Navy Times)
.45 Caliber Slow Fire Match

| Rank | Name | Service Branch/Agency | Score |
| --- | --- | --- | --- |
| 1 | - | - | - |
(Source: )
.45 Caliber Timed Fire Match

| Rank | Name | Service Branch/Agency | Score |
| --- | --- | --- | --- |
| 1 | - | - | - |
(Source: )
.45 Caliber Rapid Fire Match

| Rank | Name | Service Branch/Agency | Score |
| --- | --- | --- | --- |
| 1 | - | - | - |
(Source: )
.45 Caliber National Match Course

| Rank | Name | Service Branch/Agency | Score |
| --- | --- | --- | --- |
| 1 | Wm W. McMillan, Jr. | U.S. Marine Corps | - |
(Source: )
.38 Caliber Championship
Rank
Name
Service Branch/Agency
Total
1st
Master
Leonard Rizzolla
U.S. Navy
Quantico, Va.
871
2nd
Master
Offutt Pinion
U.S. Navy
868
3rd
Master
John Forman
U.S. Navy
863
1st
Expert
John Fowler
U.S. Marine Corps
Quantico, Va.
862
2nd
Expert
Jewell Palmer
U.S. Marine Corps
Camp Lejeune, N.C.
859
3rd
Expert
A. L. Schneig
Civilian
Isle of Palms, S.C.
850
1st
Sharpshooter
T. S. Peele
-
825
2nd
Sharpshooter (tied)
W. W. Blythe
-
819
3rd
Sharpshooter (tied)
Robert Barde
U.S. Marine Corps
819
1st
Marksman
J. B. Hewell
North Carolina Highway Patrol
838
2nd
Marksman
A. A. LeGrande
-
822
3rd
Marksman
H. M. Potter
-
791
(Source: Navy Times?)
.38 Caliber Slow Fire Match

| Rank | Name | Service Branch/Agency | Score |
| --- | --- | --- | --- |
| 1 | Offutt Pinion | U.S. Navy | - |
(Source: )
.38 Caliber Timed Fire Match

| Rank | Name | Service Branch/Agency | Score |
| --- | --- | --- | --- |
| 1 | John Jagoda | U.S. Marine Corps | 200 |
(Source: )
.38 Caliber Rapid Fire Match

| Rank | Name | Service Branch/Agency | Score |
| --- | --- | --- | --- |
| 1 | - | - | - |
(Source: )
.38 Caliber National Match Course

| Rank | Name | Service Branch/Agency | Score |
| --- | --- | --- | --- |
| 1 | - | - | - |
(Source: )
.22 Caliber Championship

| Rank | Name | Service Branch/Agency | Total |
| --- | --- | --- | --- |
| 1 | - | - | - |
| 2 | - | - | - |
| 3 | - | - | - |
(Source: )
.22 Caliber Slow Fire Match

| Rank | Name | Service Branch/Agency | Score |
| --- | --- | --- | --- |
| 1 | - | - | - |
(Source: )
.22 Caliber Timed Fire Match

| Rank | Name | Service Branch/Agency | Score |
| --- | --- | --- | --- |
| 1 | - | - | - |
(Source: )
.22 Rapid Fire Match

| Rank | Name | Service Branch/Agency | Score |
| --- | --- | --- | --- |
| 1 | - | - | - |
(Source: )
.22 Caliber National Match Course

| Rank | Name | Service Branch/Agency | Score |
| --- | --- | --- | --- |
| 1 | - | - | - |
(Source: )