Sponsored by Durham Pistol & Rifle Club
October 25 through 28, 1953
Durham, N.C., Pistol Meet Won By Island Shooters
The Paris Island pistol team walked away from the Durham, N. C. Rifle and Pistol Club winter matches with the team trophy during the recent meet.
Captained by 2d Lt. William W. McMillan, the team took first place in the team matches in addition to numerous individual honors.
The team is composed of MSgts. John Fowler and Floyd Hafer, TSgt. Jesse Davenport and Sgt. Elbert Hauser, along with Lt. McMillan, all of Weapons Training Battalion.
McMillan Wins
Individual honors were captured by Lt. McMillan, the Olympic shooter, who had an aggregate score of 869x900. He also placed first in the time fire match with 197x200, the rapid fire match with another 197x200 and the National Match Course with 293x300.
MSgt. Fowler came in second in the aggregate score behind Lt. McMillan with 857x900. In the slow fire match, Fowler took second place with 183x200.
The final tabulations found the Parris Island team with the winning aggregate score of 1127x1200.
The Army team of Ft. Bragg, N. C., took second place in the team standings with the North Carolina State Highway Patrol placing third. The Marines from Cherry Point rounded out the top four teams.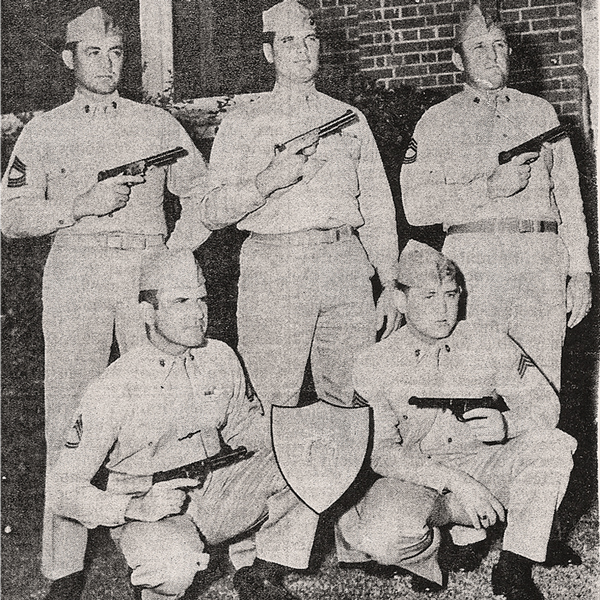 Members of the Parris Island Pistol Team display the trophy won at a match in Durham, N. C. They are kneeling, TSgt. Jesse Davenport, left, and Sgt. Elbert Hauser, and standing, left to right, MSgt. John Fowler, 2d Lt. William W. McMillan, team captain, and MSgt. Floyd Hafer.
Photo by Cpl. Railey
The Parris Island BOOT, Friday, November 6, 1953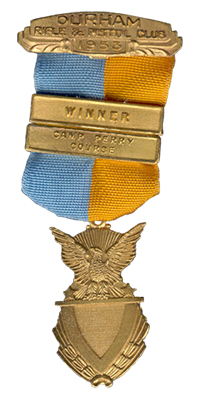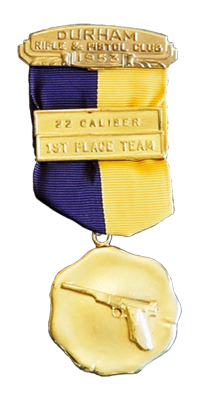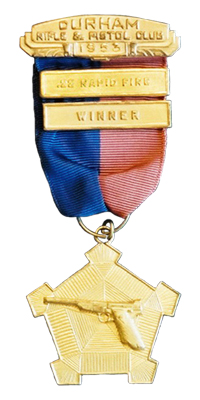 Camp Perry Course - .22 Caliber 1st Place Team - .22 Caliber Rapid Fire
Grand Aggregate

| Rank | Name | Service Branch/Agency | .22 Caliber | Center-Fire | .45 Caliber | Total |
| --- | --- | --- | --- | --- | --- | --- |
| 1 | - | - | - | - | - | - |
| 2 | - | - | - | - | - | - |
| 3 | - | - | - | - | - | - |
(Source: )
.45 Caliber Team Championship
Rank
Service Branch/Agency
Score
1
-


-

-
(Source: )
.38 Caliber Team Championship
Rank
Service Branch/Agency
Score
1
-


-

-
(Source: )
.22 Caliber Team Championship
Rank
Service Branch/Agency
Score
1
U.S. Marine Corps


W. McMillan, J. Fowler, F. Hafer and E. Hauser

-
(Source:)
.45 Caliber Championship

| Rank | Name | Service Branch/Agency | Total |
| --- | --- | --- | --- |
| 1 | - | - | - |
| 2 | - | - | - |
| 3 | - | - | - |
(Source: )
.45 Caliber Slow Fire Match

| Rank | Name | Service Branch/Agency | Score |
| --- | --- | --- | --- |
| 1 | - | - | - |
(Source: )
.45 Caliber Timed Fire Match

| Rank | Name | Service Branch/Agency | Score |
| --- | --- | --- | --- |
| 1 | - | - | - |
(Source: )
.45 Caliber Rapid Fire Match

| Rank | Name | Service Branch/Agency | Score |
| --- | --- | --- | --- |
| 1 | - | - | - |
(Source: )
.45 Caliber National Match Course

| Rank | Name | Service Branch/Agency | Score |
| --- | --- | --- | --- |
| 1 | - | - | - |
(Source: )
.38 Caliber Championship

| Rank | Name | Service Branch/Agency | Total |
| --- | --- | --- | --- |
| 1 | - | - | - |
| 2 | - | - | - |
| 3 | - | - | - |
(Source: )
.38 Caliber Slow Fire Match

| Rank | Name | Service Branch/Agency | Score |
| --- | --- | --- | --- |
| 1 | - | - | - |
(Source: )
.38 Caliber Timed Fire Match

| Rank | Name | Service Branch/Agency | Score |
| --- | --- | --- | --- |
| 1 | - | - | - |
(Source: )
.38 Caliber Rapid Fire Match

| Rank | Name | Service Branch/Agency | Score |
| --- | --- | --- | --- |
| 1 | - | - | - |
(Source: )
.38 Caliber National Match Course

| Rank | Name | Service Branch/Agency | Score |
| --- | --- | --- | --- |
| 1 | - | - | - |
(Source: )
.22 Caliber Championship

| Rank | Name | Service Branch/Agency | Total |
| --- | --- | --- | --- |
| 1 | - | - | - |
| 2 | - | - | - |
| 3 | - | - | - |
(Source: )
.22 Caliber Slow Fire Match

| Rank | Name | Service Branch/Agency | Score |
| --- | --- | --- | --- |
| 1 | - | - | - |
(Source: )
.22 Caliber Timed Fire Match

| Rank | Name | Service Branch/Agency | Score |
| --- | --- | --- | --- |
| 1 | - | - | - |
(Source: )
.22 Caliber Rapid Fire Match
Rank
Name
Service Branch/Agency
Score
1
Wm W. McMillan, Jr.
U.S. Marine Corps
Parris Island, S.C.
-
(Source: )
.22 Caliber National Match Course

| Rank | Name | Service Branch/Agency | Score |
| --- | --- | --- | --- |
| 1 | - | - | - |
(Source: )