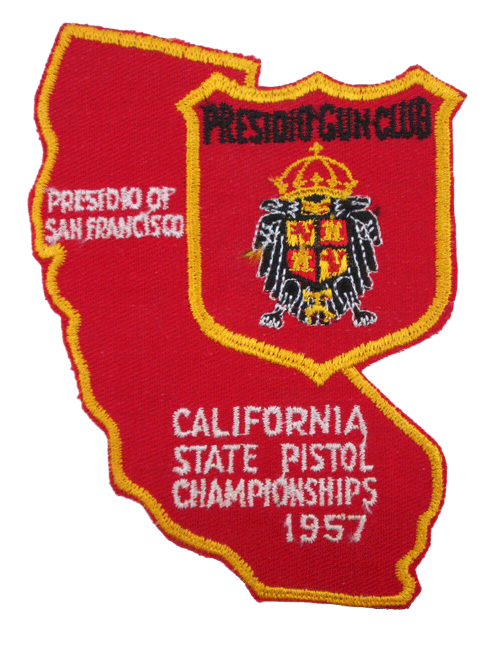 Held at Presidio of San Francisco, California
from September 25 to 29, 1957
Pinion, McMillan Top State Pistol Shooters
State shooters at the California Pistol Championship Matches held over the weekend in San Francisco were led by 1stLt. William W. McMillan, Jr., of the Corps' Pistol Team, and CWO Offutt Pinion, a member of the Navy Team stationed at Camp Matthews.
Lt. McMillan fired a grand aggregate score of 2620 to top the field of competitors, while CWO Pinion emerged in second spot with a 2605.
Breaking 2600 for the first time in his shooting career, Mr. Pinion joined the slim ranks of the nation's top pistol shooters who have attained this mark.
The Marine Pistol Team, composed of Lt. McMillan, MSgts., R. O. Jones, and A. Jurado, and Sgt. F. W. Filkins, won the .45 and .22 caliber matches with scores of 1129 and 1167, respectively, and placed second in the .38 caliber shoot.
For the first time in 39 years San Francisco's weather-perfect September record was marred by rain, but despite the downpour Lt. McMillan copped the .22 caliber grand aggregate with 886x900, the .38 caliber grand aggregate with 877x900 and the .38 timed and rapid fire matches with scores of 199-197x200, respectively.
Mr. McMillan placed first in the .22 caliber slow fire competition with 193x200 and finished first in the rapid fire .22 match with a "possible" of 200. As an indication of the stiff competition encountered, Sgt. Jurado, while only one point behind with a score of 199x200, was in fifth position.
In .45 caliber competition, Sgt. Jurado placed second in the slow fire match, while Lt. McMillan was fourth over the National Match Course. Rapid fire fire statisitics with the .45 found the Lieutenant in third spot and a score of 857x900 placed him second in aggregate firing.
Sgt. Jurado was fourth in .45 caliber aggregate firing with a 854x900.
Sgt. Jones and Lt. McMillan were second and third over the .38 caliber National Match Course with scores of 292 each.
Sgt. Jones copped third place in .38 aggregate firing with an 867x900.
Yesterday the Corps' Rifle Team commenced practicing for the Mojave Desert Match at Barstow to be held over the weekend of Oct. 12.
MCRD Chevron, Friday, October 4, 1957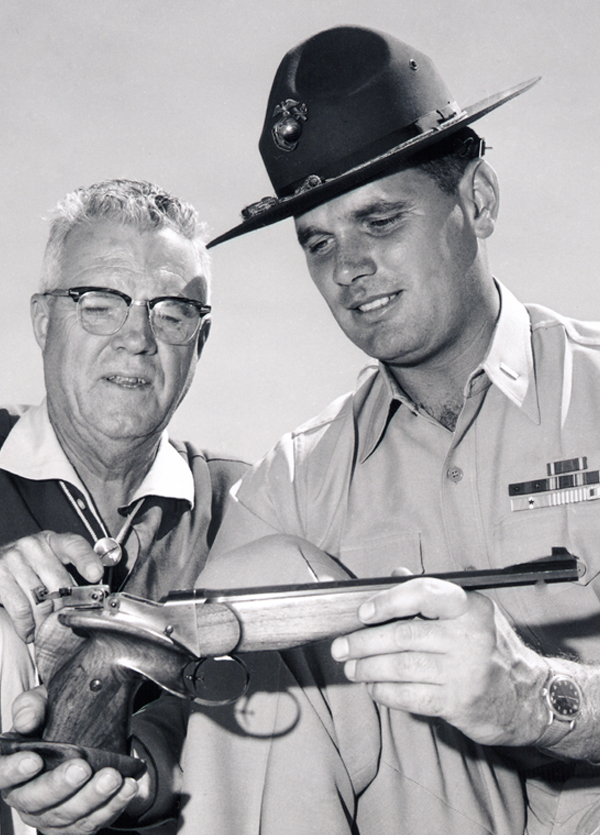 Lt. William W. McMillan of Camp Matthews shows George A. Simpson the shootin' iron with which he placed second yesterday in slow fire event of California State International championships. McMillan recently set a national pistol record. Simpson is the president of California Rifle and Pistol Association. Ft. Benning shooters won three events yesterday.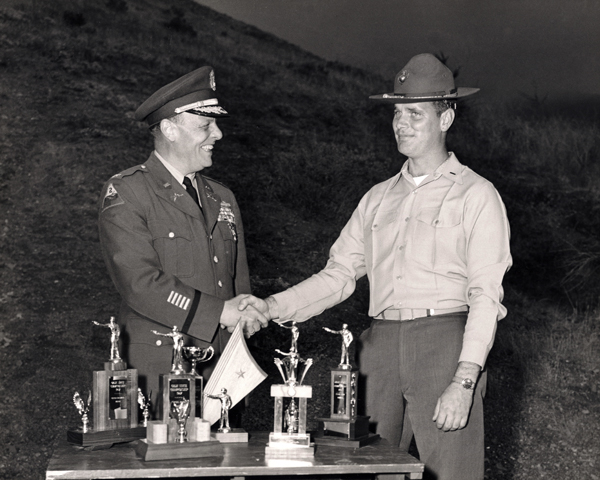 Colonel Charles C. Rau, Post Commander Presidio of San Francisco, Calif. congratulates 1st Lt. William McMillan, USMC, San Diego, who took first place in individual with a possible 2620 out of 2700 in the California State Pistol matches fired at Fort Barry, Calif.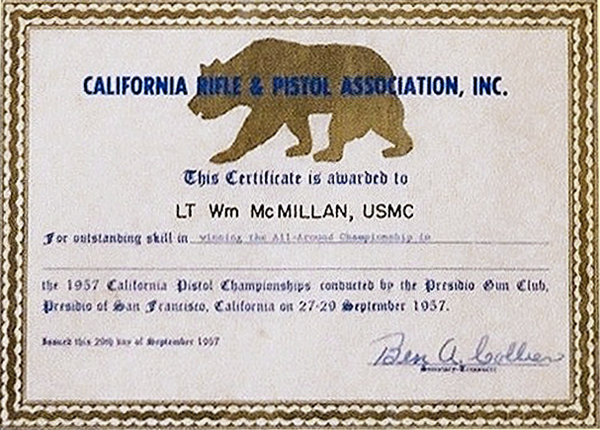 "Four outstanding skill in winning the All-Around Champsionship in the 1957 California Pistol Championships conducted by the Presidio Gun Club, Presidio of San Francisco, California on 27-29 September 1957."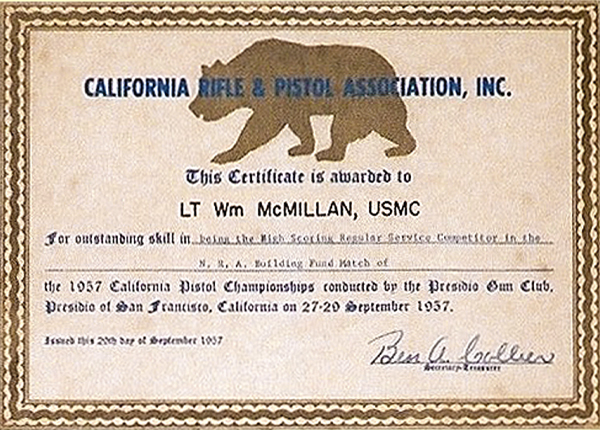 "Four outstanding skill in being the High Scoring Regular Service Competiton in the N.R.A. Building Fund Match of the1957 California Pistol Championships conducted by the Presidio Gun Club, Presidio of San Francisco, California on 27-29 September 1957."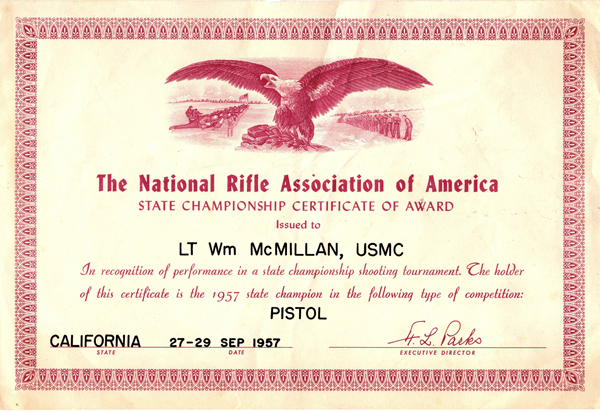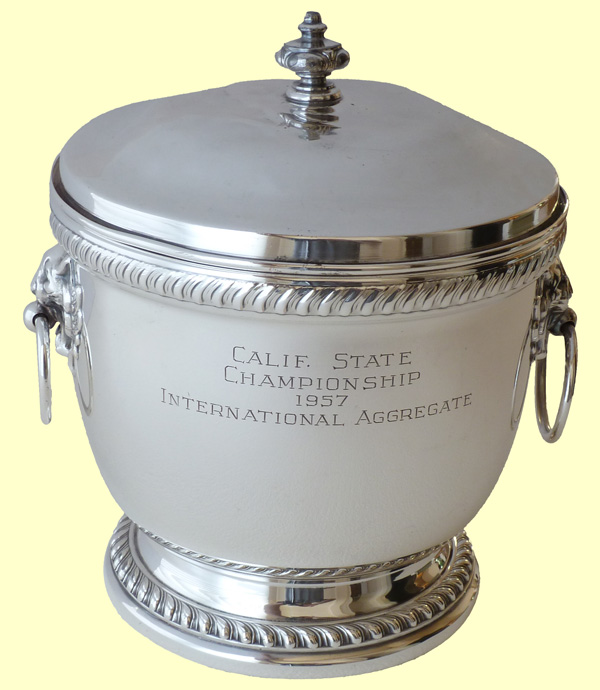 E.P.C. Poole Silver Company Ice Bucket #3700
Grand Aggregate

| Rank | Name | Service Branch/Agency | .22 Caliber | Center-Fire | .45 Caliber | Grand Aggregate Total |
| --- | --- | --- | --- | --- | --- | --- |
| 1 | William W. McMillan, Jr. | U.S. Marine Corps | 886 | 877 | 857 | 2620 |
| 2 | Offutt Pinion | U.S. Navy | - | - | 861 | 2605 |
| - | Elmer W. Hilden | U.S. Border Patrol | - | - | - | 2603 |
| - | Charles E. Boomhower | - | - | - | - | 2571 |
| - | Buck Fisher | - | - | - | - | 2568 |
| - | Earl R. Weaver | Los Angeles Police Dept. | - | - | - | 2564 |
| - | S. G. Webber | Chula Vista Police Dept. | - | - | - | 2562 |
| - | John W. Hurst | Los Angeles Police Dept. | - | - | - | 2553 |
| - | Milton G. Klipfel | Lodi Police Dept. | - | - | - | 2552 |
| - | L. Chapman | Temple City Police Dept. | - | - | - | 2552 |
| - | F. Robert 'Bob' Chow | - | - | - | - | 2552 |
| - | Donald E. Lovelace | - | - | - | - | 2546 |
| - | S. J. Horvath | - | - | - | - | 2541 |
| - | Fuzzy Farrant | - | - | - | - | 2540 |
(Source: The Firing Line Roster of Champions)
.45 Caliber Championship

| Rank | Name | Service Branch/Agency | Score |
| --- | --- | --- | --- |
| 1 | Offutt Pinion | U.S. Navy | 861 |
| 2 | Wm W. McMillan, Jr. | U.S. Marine Corps | 857 |
| 4 | Alfonzo Jurado | U.S. Marine Corps | 854 |
(Source: Los Angeles, May 4, 1959 & The Firing Line Roster of Champions)
.45 Caliber Slow Fire Match

| Rank | Name | Service Branch/Agency | Score |
| --- | --- | --- | --- |
| 1 | Offutt Pinion | U.S. Navy | 190 |
| 2 | Alfonzo Jurado | U.S. Marine Corps | - |
(Source: Los Angeles, May 4, 1959 & The Firing Line Roster of Champions)
.45 Caliber Timed Fire Match

| Rank | Name | Service Branch/Agency | Score |
| --- | --- | --- | --- |
| 1 | James A. Moore | - | 199 |
(Source: The Firling Line Roster of Champions)
.45 Caliber Rapid Fire Match

| Rank | Name | Service Branch/Agency | Score |
| --- | --- | --- | --- |
| 1 | John W. Hurst | Los Angeles Police Department | 197 |
| 2 | Wm W. McMillan, Jr. | U.S. Marine Corps | - |
(Source: Los Angeles, May 4, 1959 & The Firing Line Roster of Champions)
.45 Caliber National Match Course

| Rank | Name | Service Branch/Agency | Score |
| --- | --- | --- | --- |
| 1 | Charles Young | - | 290 |
| 4 | Wm W. McMillan, Jr. | U.S. Marine Corps | - |
(Source: Los Angeles, May 4, 1959 & The Firing Line Roster of Champions)
.45 Caliber Team Championship
Rank
Service Branch/Agency
Score
1
U.S. Marine Corps MTU


W. W. McMillan, Jr., R. O. Jones, A. Jurado & F. W. Filkins

1129
(Source: The Firing Line Roster of Champions)
.38 Caliber Championship

| Rank | Name | Service Branch/Agency | Score |
| --- | --- | --- | --- |
| 1 | Wm W. McMillan, Jr. | U.S. Marine Corps | 877 |
| 3 | Robert O. Jones | U.S. Marine Corps | 867 |
(Source: The Firing Line Roster of Champions)
.38 Caliber Slow Fire Match

| Rank | Name | Service Branch/Agency | Score |
| --- | --- | --- | --- |
| 1 | Nelson Lincoln | U.S. Army | 194 |
(Source: The Firing Line Roster of Champions)
.38 Caliber Timed Fire Match

| Rank | Name | Service Branch/Agency | Score |
| --- | --- | --- | --- |
| 1 | Wm W. McMillan, Jr. | U.S. Marine Corps | 199 |
(Source: The Firing Line Roster of Champions)
.38 Caliber Rapid Fire Match

| Rank | Name | Service Branch/Agency | Score |
| --- | --- | --- | --- |
| 1 | Wm W. McMillan, Jr. | U. S. Marine Corps | 197 |
(Source: The Firing Line Roster of Champions)
.38 Caliber National Match Course

| Rank | Name | Service Branch/Agency | Score |
| --- | --- | --- | --- |
| 1 | Elmer W. Hilden | U.S. Border Patrol | 292 |
| 2 | Robert O. Jones | U.S. Marine Corps | 292 |
| 3 | Wm W. McMillan, Jr. | U.S. Marine Corps | 292 |
(Source: The Firing Line Roster of Champions)
.38 Caliber Team Championship
Rank
Service Branch/Agency
Score
1
Presidio Gun Club


J. Wade, N. Lincoln, A. Ogden & A. Soza

1157
2
U.S. Marine Corps


W. W. McMillan, Jr., R. O. Jones, A. Jurado & F. W. Filkins

-
(Source: The Firing Line Roster of Champions)
.22 Caliber Championship

| Rank | Name | Service Branch/Agency | Score |
| --- | --- | --- | --- |
| 1 | Wm W. McMillan, Jr. | U.S. Marine Corps | 886 |
(Source: The Firing Line Roster of Champions)
.22 Caliber Slow Fire Match


| Rank | Name | Service Branch/Agency | Score |
| --- | --- | --- | --- |
| 1 | Wm W. McMillan, Jr. | U.S. Marine Corps | 193 |
(Source: The Firing Line Roster of Champions)
.22 Caliber Timed Fire Match

| Rank | Name | Service Branch/Agency | Score |
| --- | --- | --- | --- |
| 1 | Elmer W. Hilden | U.S. Border Patrol | 200 |
(Source: The Firing Line Roster of Champions)
.22 Caliber Rapid Fire Match

| Rank | Name | Service Branch/Agency | Score |
| --- | --- | --- | --- |
| 1 | Wm W. McMillan, Jr. | U.S. Marine Corps | 200 |
| 5 | Alfonzo Jurado | U.S. Marine Corps | 199 |
(Source: The Firing Line Roster of Champions)
.22 Caliber National Match Course

| Rank | Name | Service Branch/Agency | Score |
| --- | --- | --- | --- |
| 1 | Buck Fisher | - | 296 |
(Source: The Firing Line Roster of Champions)
.22 Caliber Team Championship
Rank
Service Branch/Agency
Score
1
U.S. Marine Corps MTU


W. W. McMillan, Jr., R. O. Jones, A. Jurado & F. W. Filkins

1167
(Source: Los Angeles, May 4, 1959)