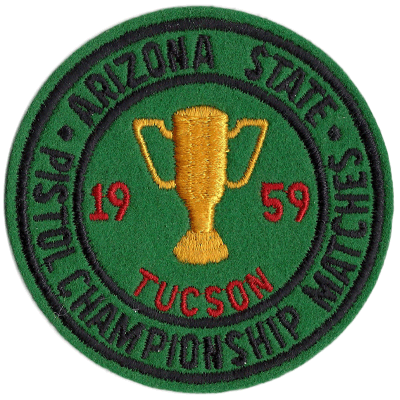 Held at the Pima Club Range
Tucson, Arizona
November 7 to 8, 1959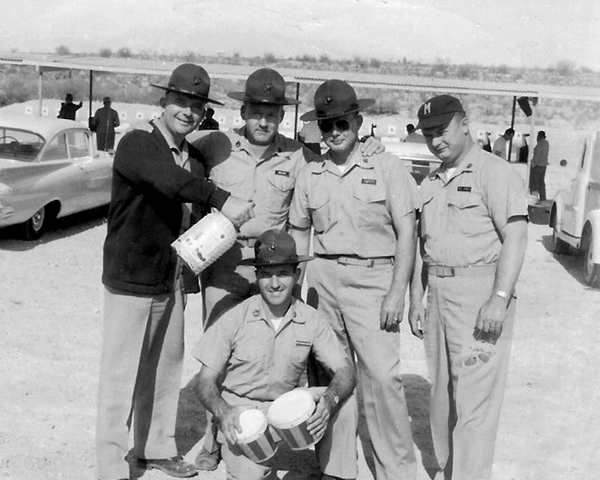 Standing (l to r): SSgt Frank O. Wright, SSgt Unknown, SSgt Edmond S. Sarver
1st Sgt Robert O. Jones and kneeling is TSgt Michael Pietroforte
State Shoot Set Here
One of the highlights of the Arizona competitive shooting year, the 22nd annual State Pistol Championships, will be held at the Pima Pistol Club range No. 7-8.
The matches will start at 8 a.m. each of the two weekend dates at the PPC range, on Anklam Road west of St. Mary's Hospital.
A total of 21 matches are scheduled, three of them of them aggregates and the last three on Nov. 8 for four-man teams. Entry is open to any National Rifle Assn. member, but participants must also be members of the State Pistol Assn. of Arizona. Membership in the association is included in the $3 individual registration fee, according to Carl Castleman, secretary of the host Pima Pistol Club. Individual match entry fees are $1 a match, and team entries are $4.
THE MATCHES will be operated under NRA rules, and entries will be on the NRA classification system.
Match shooting will be grouped basically into .22, center-fire and .45 calibers, and there will be a team match in each caliber bracket. There will be a special match from which entry fees will go to the NRA fund to pay for the association's new national headquarter in Washington. Individual fired match class awards will be divided into two categories - service, for police and armed forces - and civilian. Medals will be awarded for each match in Master, Expert, Sharpshooter and Marksman classes. The grand champion aggregate shooter will receive a trophy.
The Tucson Daily Citizen, October 10, 1959
Marines Make Off With Pistol Honors
The Marine Corps made off with practically every pistol-shooting title, including both top individual trophies and all three team events, in the Arizona State Pistol Championships ending last night at the Pima Pistol Club range.
Two Marine officers, line Capt. William W. McMillan, one of the U.S.' top two or three handgunners and possibly No. 1 now, and the Corps' air-arm Major Leslie W. Bays, took home the individual trophies.
McMillan won the Grand Championships Aggregate trophy, Bays the Resident Championship Aggregate. McMillan is stationed at San Diego, Bays was registered as a Yuma resident.
THE MARINES' Blue team won the .22 and .45 cal. team crowns, while the Corps' Green team on the center-fire team title.
Retired Colonel Warren H. Higgins, Tucsonan competing as a civilian, took home most of the civilian match medals. The shooting was split into "service" (military and police) and civilian categories in all classifications.
There were more than 100 individual entries, about double the number for the last few years' state pistol matches.
Excerpt from the Tucson Daily Citizen, November 9, 1959
Desert Sportsman
THE MARINE CORPS PISTOL-SHOOTING gang that collected so many trophies and medals at the state pistol matches here last weekend included not only Capt. Bill McMillan, probably the nation's best competitive pistolmen, but also a guy who is up-and-coming and may overtake McMillan - Major Les Bays, ex-Wichita, Kan., whom the writer knew in Corpus Christi some years ago. It was Bays, then a captain and a Marine flier, who introduced this writer to some of the intricacies of competitive pistolry.
Bays qualified as an Arizona resident (and thus won the Valley Bank resident championship aggregate trophy) because he is now based in Yuma. We knew him when he was just starting to shoot competitively, after a combat trick in Korea, and he started using a pair of single-action Colt hog legs - hardly weapons for precise target work. He began to beat everything else around with those guns, then got a battery of target weapons and really started to work.
The fact that he can compete on even terms with guys like McMillan, and beat him maybe 30 per cent of the time now, is commentary enough on how far he has come since them.
Bays, incidentally, is also entered in the All-Navy competition for aircraft weapons accuracy, which means he can handle anything from the 22 handgun up to rockets and the like with a pretty sharp degree of accuracy.
Excerpt from the Tucson Daily Citizen, November 10, 1959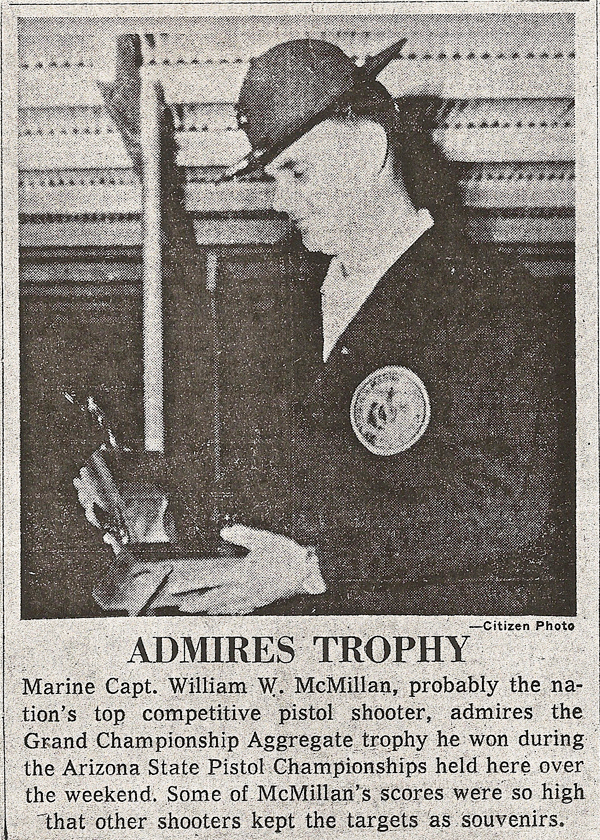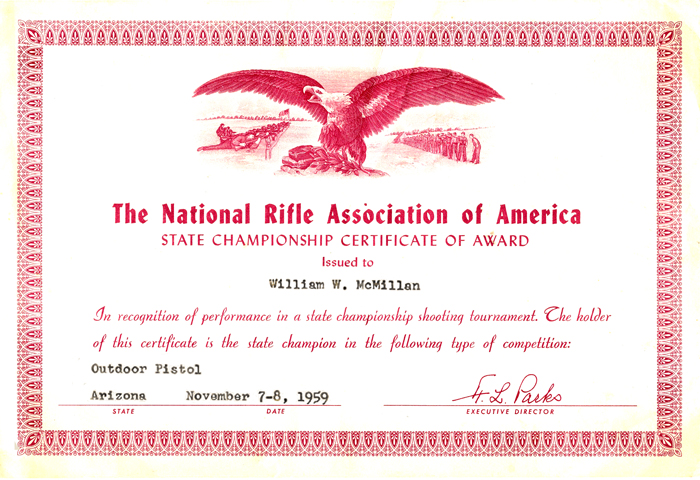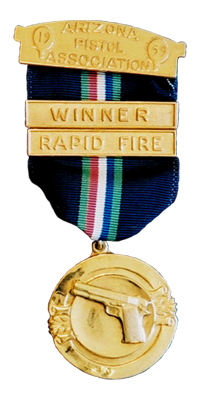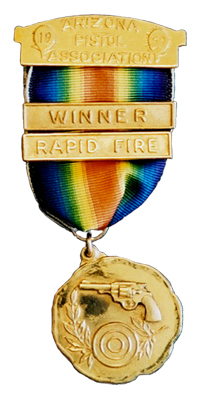 .45 Caliber Rapid Fire and .38 Caliber Rapid Fire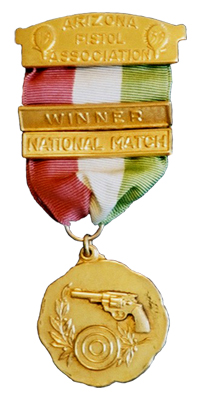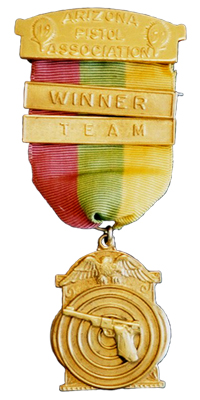 .38 Caliber National Match and .22 Caliber Team
.45 Caliber Team Championship - Match 21
Rank
Service Branch/Agency
Score
2
U.S. Marine Corps 'Blue'


-

1152-38X
(Source: The Tucson Daily Citizen, November 9, 1959)
.38 Caliber Team Championship - Match 20
Rank
Service Branch/Agency
Score
2
U.S. Marine Corps 'Green'


-

1141-44X
(Source: The Tucson Daily Citizen, November, 9, 1959)
.22 Caliber Team Championship - Match 19
Rank
Service Branch/Agency
Score
1
U.S. Marine Corps 'Blue'


-

1162-47X
(Source: The Tucson Daily Citizen, November 9, 1959)
Aggregate (Resident Championship) - Match 18
Rank
Name
Service Branch/Agency
.22 Caliber
Center-Fire
.45 Caliber
Total
1st
Resident
Leslie W. Bays
Yuma, Ariz.
-
-
-
2543-72X
2nd
Resident
Thomas Mataya
Tucson, Ariz.
-
-
-
2495-58X
3rd
Resident
Warren H. Higgins
Tucson, Ariz.
-
-
-
2500-47X
(Source: The Tucson Daily Citizen, November 9, 1959)
Aggregate (Grand Championship) - Match 17
Rank
Name
Service Branch/Agency
.22 Caliber
Center-Fire
.45 Caliber
Total
1
Wm McMillan, Jr.
U.S. Marine Corps
Camp Matthews, Ca.
873-33X
873-39X
879-45X
2625-117X
2
Larry L. Hausman
U.S. Marine Corps
Camp Matthews, Ca.
858-28X
854-33X
865-33X
2577-94X
3
Robert O. Jones
U.S. Marine Corps
Camp Matthews, Ca.
-
-
-
2570-102X
(Source: The Tucson Daily Citizen, November 9, 1959)
NRA Building Fund - Match 16
Rank
Name
Service Branch/Agency
Score
1
Wm W. McMillan, Jr.
U.S. Marine Corps
Camp Matthews, Ca.
195-3X
2
Martin Findsen
U.S. Marine Corps
Camp Matthews, Ca.
192-6X
3
Paul S. Bloxom
U.S. Army
191-4X
(Source: The Tucson Daily Citizen, November 9, 1959)
.45 Caliber Championship - Match 15
Rank
Name
Service Branch/Agency
Total
1
Wm W. McMillan, Jr.
U.S. Marine Corps
Camp Matthews, Ca.
873-45X
2
William E. Eubank
U.S. Marine Corps
Camp Matthews, Ca.
869-30X
3
Edmond S. Sarver
U.S. Marine Corps
Camp Matthews, Ca.
865-44X
(Source: The Tucson Daily Citizen, November 9, 1959)
.45 Caliber Rapid Fire - Match 14
Rank
Name
Service Branch/Agency
Score
1
Wm W. McMillan, Jr.
U.S. Marine Corps
Camp Matthews, Ca.
198-13X
2
Harry L. Roy
-
198-10X
3
Frank O. Wright
U.S. Marine Corps
Camp Matthews, Ca.
197-9X
(Source: The Tucson Daily Citizen, November 9, 1959)
.45 Caliber Timed Fire - Match 13
Rank
Name
Service Branch/Agency
Score
1
Wm W. McMillan, Jr.
U.S. Marine Corps
Camp Matthews, Ca.
199-13X
2
Frank O. Wright
U.S. Marine Corps
Camp Matthews, Ca.
199-10X
3
Edmond S. Sarver
U.S. Marine Corps
Camp Matthews, Ca.
198-15X
(Source: The Tucson Daily Citizen, November 9, 1959)
.45 Caliber National Match Course - Match 12
Rank
Name
Service Branch/Agency
Score
1
Larry L. Hausman
U.S. Marine Corps
Camp Matthews, Ca.
295-13X
2
Wm W. McMillan, Jr.
U.S. Marine Corps
Camp Matthews, Ca.
295-12X
3
William E. Eubank
U.S. Marine Corps
Camp Matthews, Ca.
292-10X
(Source: The Tucson Daily Citizen, November 9, 1959)
.45 Caliber Slow Fire - Match 11
Rank
Name
Service Branch/Agency
Score
1
Leslie W. Bays
U.S. Marine Corps
Camp Matthews, Ca.
191-5X
2
Wm W. McMillan, Jr.
U.S. Marine Corps
Camp Matthews, Ca.
187-3X
3 (Tied)
Artthur A. LeTourneau
U.S. Navy
184-4X
3 (Tied)
Edmond S. Sarver
U.S. Marine Corps
Camp Matthews, Ca.
184-4X
(Source: The Tucson Daily Citizen, November 9, 1959)
.38 Caliber Championship - Match 10
Rank
Name
Service Branch/Agency
Total
1
Wm W. McMillan, Jr.
U.S. Marine Corps
Camp Matthews, Ca.
873-39X
2
Anthony Mucci
U.S. Marine Corps
Camp Matthews, Ca.
861-32X
3
Larry L. Hausman
U.S. Marine Corps
Camp Matthews, Ca.
854-33X
(Source: The Tucson Daily Citizen, Nobember 9, 1959)
.38 Caliber Rapid Fire - Match 9
Rank
Name
Service Branch/Agency
Score
1
Wm W. McMillan, Jr.
U.S. Marine Corps
Camp Matthews, Ca.
199-11X
2
Curtis E. Caudill
U.S. Marine Corps
Camp Matthews, Ca.
196-5X
3
Leslie W. Bays
U.S. Marine Corps
Camp Matthews, Ca.
195-6X
(Source: The Tucson Daily Citizen, November 9, 1959)
.38 Caliber Timed Fire - Match 8
Rank
Name
Service Branch/Agency
Score
1
Michael Pietroforte
U.S. Marine Corps
Camp Matthews, Ca.
198-8X
2
Wm W. McMillan, Jr.
U.S. Marine Corps
Camp Matthews, Ca.
197-13X
3
Anthony Mucci
U.S. Marine Corps
Camp Matthews, Ca.
197-9X
(Source: The Tucson Daily Citizen, November 9, 1959)
.38 Caliber National Match Course - Match 7
Rank
Name
Service Branch/Agency
Score
1
Wm W. McMillan, Jr.
U.S. Marine Corps
Camp Matthews, Ca.
297-12X
2
Harry L. Roy
-
293-10X
3
Larry L. Hausman
U.S. Marine Corps
Camp Matthews, Ca.
287-10X
(Source: The Tucson Daily Citizen, November 9, 1959)
.38 Caliber Slow Fire - Match 6
Rank
Name
Service Branch/Agency
Score
1
Anthony Mucci
U.S. Marine Corps
Camp Matthews, Ca.
187-6X
2
Leslie M. Hunt
U.S. Marine Corps
Camp Matthews, Ca.
185-4X
3
Anthony Lerua, Jr.
-
184-4X
(Source: The Tucson Daily Citizen, November 9, 1959)
.22 Caliber Championship - Match 5
Rank
Name
Service Branch/Agency
Total
1
Robert O. Jones
U.S. Marine Corps
Camp Matthews, Ca.
875-41X
2
Wm W. McMillan, Jr.
U.S. Marine Corps
Camp Matthews, Ca.
873-33X
3
Larry L. Hausman
U.S. Marine Corps
Camp Matthews, Ca.
858-28X
(Source: The Tucson Daily Citizen, November 9, 1959)
.22 Caliber Rapid Fire - Match 4
Rank
Name
Service Branch/Agency
Score
1
Robert O. Jones
U.S. Marine Corps
Camp Matthews, Ca.
198-15X
2
Wm W. McMillan, Jr.
U.S. Marine Corps
Camp Matthews, Ca.
197-5X
3
William E. Eubank
U.S. Marine Corps
Camp Matthews, Ca.
196-6X
(Source: The Tucson Daily Citizen, Nobember 9, 1959)
.22 Caliber Timed Fire - Match 3
Rank
Name
Service Branch/Agency
Score
1
Harry L. Roy
-
199-10X
2
Wm W. McMillan, Jr.
U.S. Marine Corps
Camp Matthews, Ca.
198-11X
3
Larry S. Swafford
-
193-8X
(Source: The Tucson Daily Citizen, November 9, 1959)
.22 Caliber National Match Course - Match 2
Rank
Name
Service Branch/Agency
Score
1
John A. Paloski
-
295-11X
2
Robert O. Jones
U.S. Marine Corps
Camp Matthews, Ca.
293-13X
3
Charlie Collins
U.S. Army
279-10X
(Source: The Tucson Daily Citizen, November 9, 1959)
.22 Caliber Slow Fire - Match 1
Rank
Name
Service Branch/Agency
Score
1
Paul S. Bloxom
U.S. Army
190-1X
2
Wm W. McMillan, Jr.
U.S. Marine Corps
Camp Matthews, Ca.
184-4X
3
Fred O. Brown
-
180-1X
(Source: The Tucson Daily Citizen, November 9, 1959)