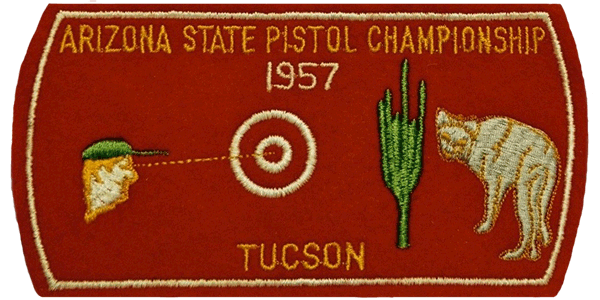 Held at the Pima Club Range
Tucson, Arizona
April 27 and 28, 1957
Top Shooter Highlight Pistol Meet
World record holder Bill McMillan was expected to be the featured attraction today and tomorrow as the Pima Pistol Club plays host to the 20th annual Arizona Pistol Championships.
In addition to McMillan, some 34 other master shooters - including some of the best marksmen in the nation - will be competing at the Pima Club range on West Anklam Road.
McMillan, a Marine Corps' lieutenant, set a new world's record only last month with a 2645x3000 round. He set another world mark in the national championships with the .45 by hitting 291x300.
In addition, he holds a national rapid fire record for the .22, and the Marine Corps' Lauchheimer record.
Among other entries are Fred Filkins, also of the Marine Corps, and Bill Joyner of the Border Patrol. Both, as well as McMillan, won titles in the Mid-Winter Championships at Miami, Fla.
Joyner, who won the .45 aggregate at Miami, will be joined by two Border Patrol teammates, Bill Toney Jr. and Presley O'Gren.
Among other Tucson entries in the tourney are Melton R. Rogers, George Irwin, Tony Lerua and T.Sgt. William H. Hino.
The Tucson Citizen, April 27, 1957
MTU Shooters In Tucson Meet
In competition at the Arizona State Pistol Championships held April 27-28 in Tucson, Marksmanship Training Unit Shooters, led by 1stLt. W. W. McMillan, Jr., more than held their own.
Lt. McMillan set a new service record over the center fire national match course with a score of 297 with 14 X's. He then copped the .22 aggregate with 880, the center fire aggregate with 878, placed second in the .45 aggregate with 863, and fired an 874 aggregate over the national match course.
The MTU Blue Team won the .22 team match with a score of 1165. The same team placed second in .38 and .45 team competition.
Over the .22 timed fire and the center fire timed fire, courses, Lt. McMillan scored a "possible" of 200.
The Chevron, Friday, May 3, 1957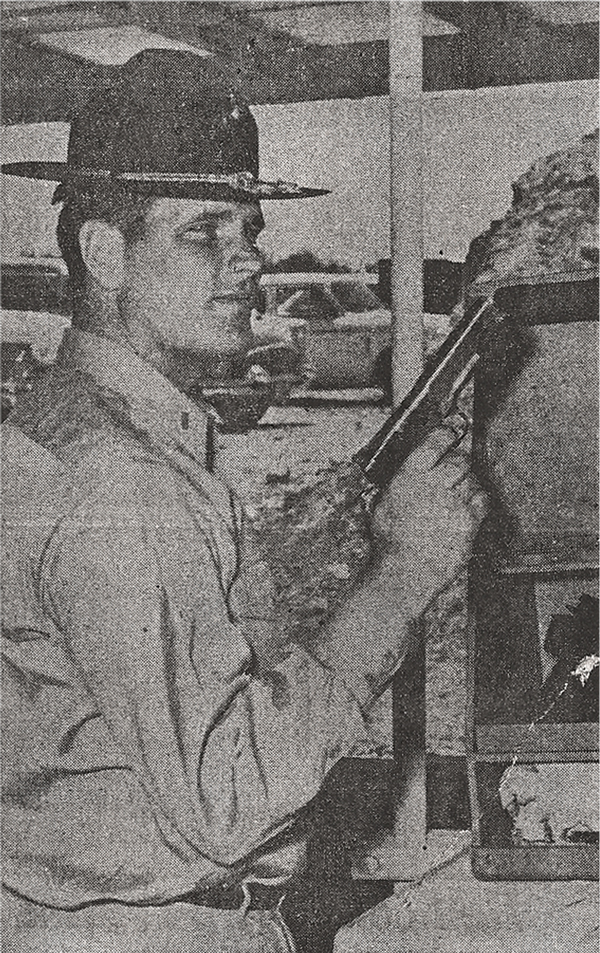 Pistol Champion
Marine Lt. William W. McMillan was the overall winner of the Arizona Pistol Championships held at the Pima Club range Friday and yesterday with a total score of 2621x2700. McMillan was a winner of seven individual matches.
3 Records Broken In Gun Shoot
McMillan Captures Pistol Championship
All three Pima Club range records were broken in this weekend's Arizona Pistol Championship action as Marine Lt. William W. McMillan broke two in winning the championship with a brilliant 2421x2700.
Runner-up in the shoot was Harry Aitken of the Border Patrol with a 2596x2700 card.
McMillan, world record holder of the 20 shots timed fire event, won that event with a perfect 200x200 card and shot a 297x300 in the .38 caliber event for his two record-breaking performances.
Photo By Sheaffer
The Arizona Daily Star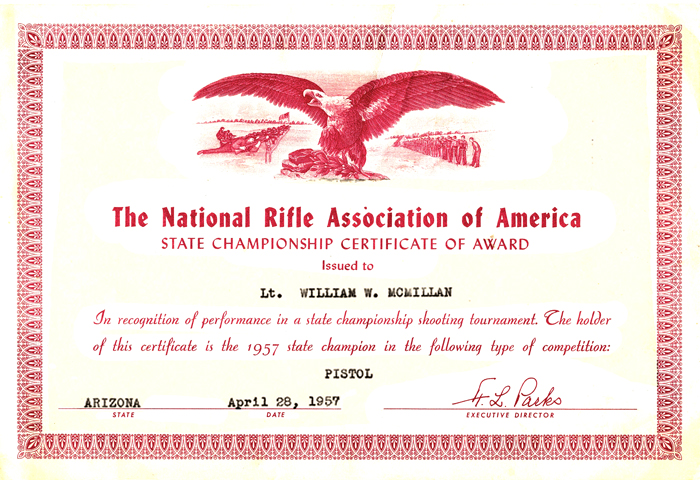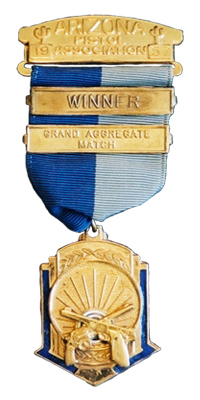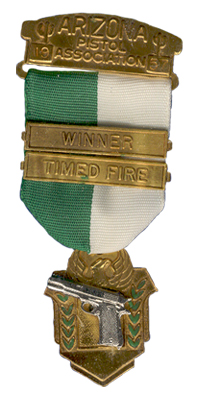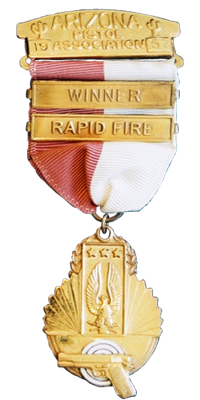 Grand Aggregate - .45 Caliber Timed Fire - .45 Caliber Rapid Fire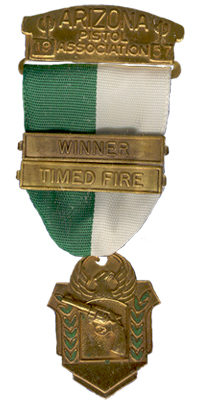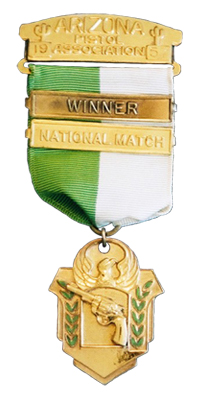 .38 Caliber Timed Fire - .38 Caliber National Match
Grand Aggregate
Rank
Name
Service Branch/Agency
.22 Caliber
Center-Fire
.45 Caliber
Total
1
Wm McMillan, Jr.
U.S. Marine Corps
Camp Matthews, Ca.
880
878
863
2621
2
Harry Aitken
U.S. Border Patrol
-
-
-
2596
3
-
-
-
-
-
-
(Source: The Arizona Daily Star, April 29, 1957)
.45 Caliber Team Championship
Rank
Service Branch/Agency
Score
2
U.S. Marine Corps MTU 'Blue'


-

-
(Source: )
.38 Caliber Team Championship
Rank
Service Branch/Agency
Score
2
U.S. Marine Corps MTU 'Blue'


-

-
(Source: )
.22 Caliber Team Championship
Rank
Service Branch/Agency
Score
1
U.S. Marine Corps MTU 'Blue'


-

1165
(Source:)
.45 Caliber Championship
Rank
Name
Service Branch/Agency
Total
1
Wm W. McMillan, Jr.
U.S. Marine Corps
Camp Matthews, Ca.
863
2
-
-
-
3
-
-
-
(Source: )
.45 Caliber Slow Fire Match

| Rank | Name | Service Branch/Agency | Score |
| --- | --- | --- | --- |
| 1 | - | - | - |
(Source: )
.45 Caliber Timed Fire Match
Rank
Name
Service Branch/Agency
Score
1
Wm W. McMillan, Jr.
U.S. Marine Corps
Camp Matthews, Ca.
-
(Source: )
.45 Caliber Rapid Fire Match
Rank
Name
Service Branch/Agency
Score
1
Wm W. McMillan, Jr.
U.S. Marine Corps
Camp Matthews, Ca.
-
(Source: )
.45 Caliber National Match Course

| Rank | Name | Service Branch/Agency | Score |
| --- | --- | --- | --- |
| 1 | - | - | - |
(Source: )
.38 Caliber Championship
Rank
Name
Service Branch/Agency
Total
1
Wm W. McMillan, Jr.
U.S. Marine Corps
Camp Matthews, Ca.
878
2
-
-
-
3
-
-
-
(Source: )
.38 Caliber Slow Fire Match

| Rank | Name | Service Branch/Agency | Score |
| --- | --- | --- | --- |
| 1 | - | - | - |
(Source: )
.38 Caliber Timed Fire Match
Rank
Name
Service Branch/Agency
Score
1
Wm W. McMillan, Jr.
U.S. Marine Corps
Camp Matthews, Ca.
200
(Source: )
.38 Caliber Rapid Fire Match
Rank
Name
Service Branch/Agency
Score
1
Wm W. McMillan, Jr.
U.S. Marine Corps
Camp Matthews, Ca.
-
(Source: )
.38 Caliber National Match Course

Rank
Name
Service Branch/Agency
Score
1
Wm W. McMillan, Jr.
U.S. Marine Corps
Camp Matthews, Ca.
297-14X
(Source: )
.22 Caliber Championship
Rank
Name
Service Branch/Agency
Total
1
Wm W. McMillan, Jr.
U.S. Marine Corps
Camp Matthews, Ca.
880
2
-
-
-
3
-
-
-
(Source: )
.22 Caliber Slow Fire Match

| Rank | Name | Service Branch/Agency | Score |
| --- | --- | --- | --- |
| 1 | - | - | - |
(Source: )
.22 Caliber Timed Fire Match
Rank
Name
Service Branch/Agency
Score
1
Wm W. McMillan, Jr.
U.S. Marine Corps
Camp Matthews, Ca.
200
(Source: )
.22 Caliber Rapid Fire Match

| Rank | Name | Service Branch/Agency | Score |
| --- | --- | --- | --- |
| 1 | - | - | - |
(Source: )
.22 Caliber National Match Course

| Rank | Name | Service Branch/Agency | Score |
| --- | --- | --- | --- |
| 1 | - | - | - |
(Source: )