Marine Corps Pistol Competition
WFTBn Camp Pendleton, California
Friday, November 8, 1991
Marines take shot at competition
Thirty-nine Marines tried their hand at pistol shooting during the first McMillan Pistol Competition held Nov. 8 at Weapons and Field Training Battalion, Edson Range. And when the firing ceased, top honors went to Sgt. D. Quick, range Company, "D" Range with an aggregate score of 507-7 while top honors in the team match went to the Headquarters Company team comprised of Marines from the S-1/S-3/S-4 offices with a combined aggregate score of 907-9.
The competition was broken down into three categories, slow fire, timed fire and rapid fire. Each Marine was required to fire using all three firing methods for a total of 30 rounds fired.
"The competition was only open to personnel from the battalion who have never been on the MCRD rifle/pistol team nor shot in division matches," said Capt. D. S. Rowe, team captain for the HqCo team. "The overall winners will be given an opportunity to compete for a place in the Depot Competition in Arms Program.
Competition standings are as follows:
Individual Pistol Match:
1st — Sgt. C. Quick — RangeCo, "D" Range
2nd — Sgt. J. A. Fung — HqCo, Meshall
3rd — GySgt. K. J. Tassin — RangeCo, PMI
Team Match:
1st — Headquarters Company, S-1/S-3/S-4
Capt. D. S. Rowe — Team Captain
GySgt. C. R. Tise — HqCo S-1
SSgt. R. P. Pollerana — HqCo S-3
SSgt. R. A. Santy — HqCo S-1
Cpl. R. C. Hazard — HqCo S-4
The competition was named in honor of retired Marine LtCol. William W. McMillan's contributions to the Marine Corps Marksmanship program. McMillan, a former commanding officer for the battalion from Oct 1967-Feb 1968 enlisted in the Corps in 1946, graduating out of MCRD Parris Island as an infantryman. His shooting career began as a post and station shooter for Marine Barracks, Brooklyn Naval Shipyard in 1949. Competed in his first Division matches he took 1st place gold with the pistol, and bronze in his first Marine Corps match that same year.
His accomplishments include:
1950 — Distinguished Pistol Badge
1952 — Competed in Olympic Games, Helsinki, Finland
1954-1955 — Member of U.S. Shooting team
1956 — Won the Prestigious Custer Pistol Trophy
1956 — Set a new record of 291 at Camp Perry, Ohio, home of the National Matches
1958 — 1st Place Centerfire Match Moscow World Shooting Championships
1959 — 2nd Place National Matches
1959 — Fired a record 1169 in the Marine Corps Matches
1960 — Gold Medal, Olympic Games, Rome, Italy
1962 — Competed in World Shooting Championships, Cairo, Egypt
1963-64 — Competed in Pan Am Games and Tokyo Olympics
1967 — 1st Place rapid fire event Pan Am Games
1972 — Competed in 5th Olympic Games, Munich, Germany
1974 — Retired after 27 years active duty
1976 — Competed in 6th Olympic Games, Montreal, Canada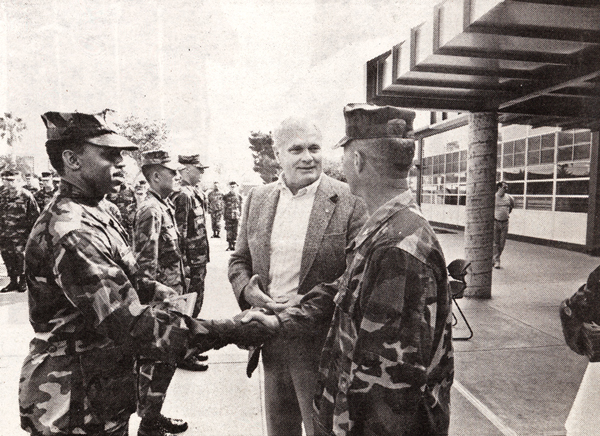 GySgt C. R. Tice is presented a plaque by Col. C. S. Fisher, WFTBn commanding officer, as LtCol. William W. McMillan looks on.
MCRD San Diego, Chevron, November, 1991