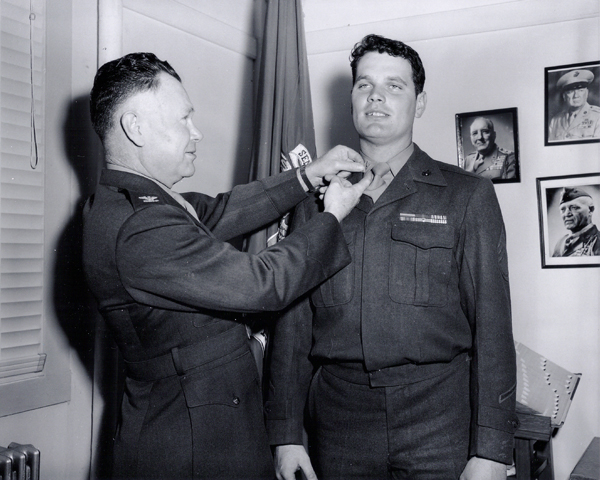 Colonel William F. Parks, commanding officer Marine Barracks, Treasure Island, gives the oath of office to former Marine Staff Sergeant William W. McMillan, Turtle Creek, Pa.
Local Marksman Is Commissioned
Marine Second Lieutenant William W. McMillan, Turtle Creek sharpshooter who competed in the 1952 Olympics in Finland, joined the ranks of new officers recently when he was commissioned at the Marine Barracks on Treasure Island in San Francisco Bay. He was formerly a Staff Sergeant.
The lieutenant, son of Mr. William W. McMillan, Sr., 1810 James street, Turtle Creek, is one of thirteen former Marine sergeants who received the gold bar of a second lieutenant at a brief but impressive ceremony held in the office of Colonel William F. Parks, Commanding Officer of the Marine Barracks.
Second Lt. McMillan, an enlisted man for over five years, returned from Korea by air a week ago. He served as an Anti-Tank Section Leader with the Seventh Regiment, First Marine Division for over three months, in Korea.
Now on leave, he will report to the Marine Corps Schools at Quantico, Va., for a twenty-week tour of duty under instruction. He holds the following awards: American Theater Medal [ * ], World War II Victory Medal, Korean Service Medal with one campaign star, the Marine Corps Good Conduct Medal and the United Nations Service Medal, not counting numerous trophies, medals and other awards for marksmanship - several won last summer at the Olympics as a member of the U.S. Pistol team.
* Dad wasn't awarded the American Theater Medal. He enlisted on July 8, 1946 and the last award date for this medal was March 2, 1946.
Unknown news article, March 1953