Held at Manassas, Virginia
July 24 and 25, 1971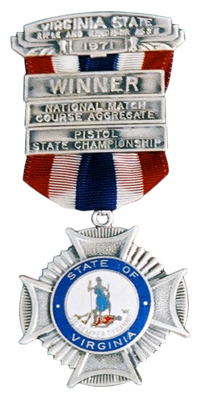 "Winner National Match Course Aggregate
Pistol State Championship"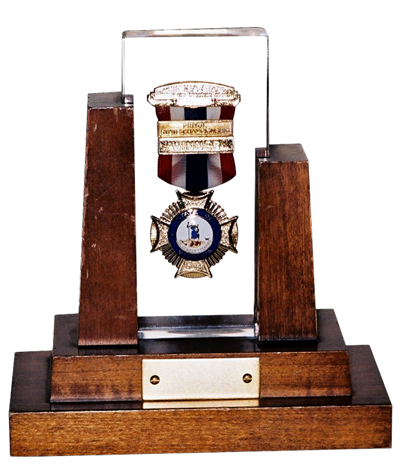 "Pistol State Championship Winner"
McMillan Captures State Title
Quantico's Commanding Officer of WTBn, LtCol William W. McMillan topped a field of over 100 of Virginia's best pistol shooters to claim the title Virginia State Pistol Champion last weekend at Manassas.
McMillan finished the competition with an overall score of 2633 out of a possible 2700 to win the Grand Aggregate.
The Marines made a clean sweep of the competition as McMillan also won the .45 Aggregate title with a score of 877-42X. GySgt. V. W. DeCosta took the .22 Aggregate title with a 883-43X and SSgt. L. E. Murrone won the Centerfire Aggregate competition with a score of 880-39X.
In the team competition, the Marine Corps Green team won the .22 match with an overall score of 1173 out of possible 1200. The Marine Corps Scarlet team won the Centerfire Competition with a score of 1155-43X and also took the .45 match with a 1158-16X.
Quantico Sentry, Friday, July 30, 1971
Grand Aggregate
"Virginia State"
Rank
Name
Service Branch/Agency
.22 Caliber
Center-Fire
.45 Caliber
Total
1
Wm W. McMillan
U.S. Marine Corps
Quantico, Va.
-
-
877-42X
2633-132X
2
-
-
-
-
-
-
3
-
-
-
-
-
-
(Source: Quantico Sentry)
.45 Caliber Team Championship

| Rank | Service Branch/Agency | Score |
| --- | --- | --- |
| 1 | U.S. Marine Corps 'Scarlet' | 1158-46X |
| 2 | - | - |
| 3 | - | - |
(Source: Quantico Sentry)
.38 Caliber Team Championship

| Rank | Service Branch/Agency | Score |
| --- | --- | --- |
| 1 | U.S. Marine Corps 'Scarlet' | 1155-43X |
| 2 | - | - |
| 3 | - | - |
(Source: Quantico Sentry)
.22 Caliber Team Championship

| Rank | Service Branch/Agency | Score |
| --- | --- | --- |
| 1 | U.S. Marine Corps 'Green' | 1173 |
| 2 | - | - |
| 3 | - | - |
(Source: Quantico Sentry)
.45 Caliber Championship
Rank
Name
Service Branch/Agency
Total
1
Wm W. McMillan
U.S. Marine Corps
Quantico, Va.
877-42X
2
-
-
-
3
-
-
-
(Source: Quantico Sentry)
.45 Caliber Slow Fire Match

| Rank | Name | Service Branch/Agency | Score |
| --- | --- | --- | --- |
| 1 | - | - | - |
(Source:)
.45 Caliber Timed Fire Match

| Rank | Name | Service Branch/Agency | Score |
| --- | --- | --- | --- |
| 1 | - | - | - |
(Source:)
.45 Caliber Rapid Fire Match

| Rank | Name | Service Branch/Agency | Score |
| --- | --- | --- | --- |
| 1 | - | - | - |
(Source:)
.45 Caliber National Match Course

| Rank | Name | Service Branch/Agency | Score |
| --- | --- | --- | --- |
| 1 | - | - | - |
(Source:)
.38 Caliber Championship

| Rank | Name | Service Branch/Agency | Total |
| --- | --- | --- | --- |
| 1 | L. E. Murrone | U.S. Marine Corps | 880-39X |
| 2 | - | - | - |
| 3 | - | - | - |
(Source: Quantico Sentry)
.38 Caliber Slow Fire Match

| Rank | Name | Service Branch/Agency | Score |
| --- | --- | --- | --- |
| 1 | - | - | - |
(Source:)
.38 Caliber Timed Fire Match

| Rank | Name | Service Branch/Agency | Score |
| --- | --- | --- | --- |
| 1 | - | - | - |
(Source:)
.38 Caliber Rapid Fire Match

| Rank | Name | Service Branch/Agency | Score |
| --- | --- | --- | --- |
| 1 | - | - | - |
(Source:)
.38 Caliber National Match Course

| Rank | Name | Service Branch/Agency | Score |
| --- | --- | --- | --- |
| 1 | - | - | - |
(Source)
.22 Caliber Championship

| Rank | Name | Service Branch/Agency | Total |
| --- | --- | --- | --- |
| 1 | V. W. DeCosta | U.S. Marine Corps | 883-43X |
| 2 | - | - | - |
| 3 | - | - | - |
(Source: Quantico Sentry)
.22 Caliber Slow Fire Match

| Rank | Name | Service Branch/Agency | Score |
| --- | --- | --- | --- |
| 1 | - | - | - |
(Source:)
.22 Caliber Timed Fire Match

| Rank | Name | Service Branch/Agency | Score |
| --- | --- | --- | --- |
| 1 | - | - | - |
(Source:)
.22 Caliber Rapid Fire Match

| Rank | Name | Service Branch/Agency | Score |
| --- | --- | --- | --- |
| 1 | - | - | - |
(Source:)
.22 Caliber National Match Course

| Rank | Name | Service Branch/Agency | Score |
| --- | --- | --- | --- |
| 1 | - | - | - |
(Source:)