Held at Quantico, Virginia
October 15 and 16, 1960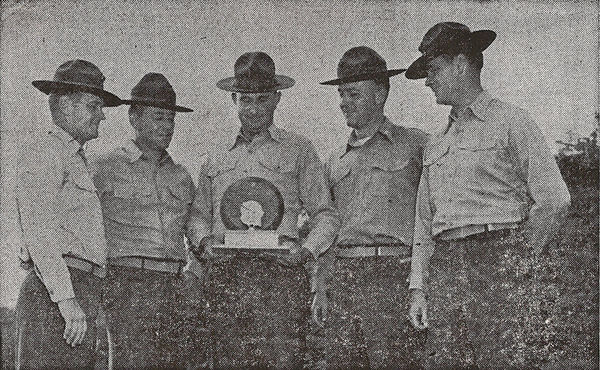 VICTORIOUS LEATHERNECKS - Major J. M. Jagoda, left, CO, RRDet, joins members of the MCS' .45 caliber pistol team in admiring the trophy which the four-man team won at the 1960 Virginia State Pistol Championships last weekend. The members of the team are, left to right, 1stSgt. John A. Fowler, MSgt. George H. Hurt, Capt. William K. Hayden and Capt. William W. McMillan. Captain McMillan dominated the match, winning the Grand Aggregate and the Governor's Trophy as well as being a member of the triumphant team.
McMillan Wins Again; Leads Team To Victory
Olympic Gold Medal winner Capt. William W. McMillan added further luster to his already illustrious reputation by dominating the 1960 Virginia State Pistol Championships held at the Quantico Rifle and Pistol Club Range Oct. 13-15-16.
The pressure-proof Marine won the Virginia State Grand Aggregate, the Governors Trophy and was a member of the victorious Marine .45 caliber pistol team.
In winning the Aggregate Championship, a compilation of fire with a .45 caliber pistol, any center fire pistol and .22 caliber pistol, Capt. McMillan racked up a 2622x2700 score with 108V's.
He won the .45 championship with a 875x900 score and scored another triumph in the .22 category with an 876x900 total. Teammate Capt. W. K. Hayden III upset the Gold Medal in the center fire competition, notching a 876x900 score to best Capt. McMillan's 871x900.
Captain Hayden gave a fine overall performance in the match, placing second in the aggregate total with 2608x2700 score.
The Governor's Trophy, competition for which is limited to Virginia State residents, was won by Capt. McMillan with a score of 878x900. This match was fired with .45, .22 and center fire pistols over the National Match Course.
The four-man Marine Team, led by the steel-nerved McMillan, swept to a victory in the .45 caliber pistol team match with an 1137x1200 43V score. Captain Hayden, 1stSgt John A. Fowler, ADB, SDT, and MSgt. George H. Hurt, RRDet, were members of the team.
Ft. Meade's "Red" team broke the Marines' domination of the match by scoring victorious in the .22 caliber and center fire pistol team competition's.
The soldiers compiled an 1158x1200 score in the .22 match and fired 1126x1200 in the center fire competition. The Marine Corps Schools team was second in both with scores of 1156x1200 and 1107x1200 in the two respective matches.
The Lloyd O. Williams trophy, awarded to the high Marine Expert in the Match fire, was won by GySgt. R. E. Hortie, EI Co., BaScol, who compiled a 2484x2700 mark.
Photo By Cpl. J. G. McCullough
Quantico Sentry, Friday, October 21, 1960
Virginia State Title Won By McMillan
The 1960 Virginia State Pistol Championship was fired at Quantico on Oct. 14-16, with a fine turnout of 163 competitors. Friday morning (Oct. 14) got off to a slow start due to a very heavy fog which made it impossible to fire the course as it was set up in the program, but with a few changes made, the math got under way on schedule.
The grand aggregate was won by Olympic gold medal winner Capt. William W. McMillan, Jr., USMC, of Quantico, with a 2622-108X. McMillan was pushed all the way by another Quantico shooter, Capt. W. K. Hayden, III, who turned in a 2608-108X to take first Master.
McMillan's guns were a Clark accurized heavy barrel Ruger with Elliason sights, a Colt .38 Special with Micro sights, and an accurized cal. 45 Government Model pistol.
Team match honors went to Ft. Meade's Red Team as they won 2 of 3 events (center-fire, 1126-32X, and 1158-31X in .22 caliber). Quantico won the .45 caliber match with an 1137-43X score.
NRA Tournament News, Vol. 11, No. 12, December 1960
Grand Aggregate
"Virginia State Governor's Trophy"
Rank
Name
Service Branch/Agency
.22 Caliber
Center-Fire
.45 Caliber
Total
1
Wm McMillan
U.S. Marine Corps
Quantico, Va.
876
871
875
2622-108X
1st
Master
Wm Hayden
U.S. Marine Corps
Quantico, Va.
-
876
-
2608-108X
2nd
Master
John Jagoda

U.S. Marine Corps
Quantico, Va.

-
-
-
2589-91X
1st
Expert Civilian
W. A. Fickett
Severn, Md.
-
-
-
2469-35X
1st
Sharpshooter Civilian
J. C. Holley
Arlington, Va.
-
-
-
2401-51X
1st
Marksman Civilian
Thomas
-
-
-
-
2149-32X
1st
Expert Police
C. N. Satterwhite
Silver Spring, Md.
-
-
-
2443-42X
1st
Marksman Police
E. J. Haugh
Silver Spring, Md.
-
-
-
2244-17X
1st
Expert Service
Dodson
U.S. Army
Fort Eustis, Va.
-
-
-
2549-68X
1st
Sharpshooter Service
A. A. Wynn
U.S. Army
Fort Lee, Va.
-
-
-
2495-65X
1st
Marksman Service
T. D. Arnold
U.S. Army
Fort Lee, Va.
-
-
-
2433-47X
1st
Unclassified
J. Williams
U.S. Army
Fort Belvoir, Va.
-
-
-
2268-27X
High Marine
Expert
R. E. Hortie
U.S. Marine Corps
Quantico, Ca.
-
-
-
2484
(Source: NRA Tournament News, Vol. 11, No. 12, December 1960)
.45 Caliber Team Championship
Rank
Service Branch/Agency
Score
1
U.S. Marine Corps Quantico


W. W. McMillan, Jr., W. K. Hayden, III, G. H. Hurt & J. A. Fowler

1137-43X
2
-
-
3
-
-
(Source:)
.38 Caliber Team Championship
Rank
Service Branch/Agency
Score
1
U.S. Army Fort Meade 'Red'
1126-32X
2
U.S. Marine Corps Quantico


W. W. McMillan, Jr., W. K. Hayden, III, G. H. Hurt & J. A. Fowler

1107
3
-
-
(Source:)
.22 Caliber Team Championship
Rank
Service Branch/Agency
Total
1
U.S. Army Fort Meade 'Red'
1158-31X
2
U.S. Marine Corps Quantico


W. W. McMillan, Jr., W. K. Hayden, III, G. H. Hurt & J. A. Fowler

1156
3
-
-
(Source:)
.45 Caliber Championship
Rank
Name
Service Branch/Agency
Total
1
Wm McMillan
U.S. Marine Corps
Quantico, Va.
875
2
-
-
-
3
-
-
-
(Source:)
.45 Caliber Slow Fire Match

| Rank | Name | Service Branch/Agency | Score |
| --- | --- | --- | --- |
| 1 | - | - | - |
(Source:)
.45 Caliber Timed Fire Match

| Rank | Name | Service Branch/Agency | Score |
| --- | --- | --- | --- |
| 1 | - | - | - |
(Source:)
.45 Caliber Rapid Fire Match

| Rank | Name | Service Branch/Agency | Score |
| --- | --- | --- | --- |
| 1 | - | - | - |
(Source:)
.45 Caliber National Match Course

| Rank | Name | Service Branch/Agency | Score |
| --- | --- | --- | --- |
| 1 | - | - | - |
(Source:)
.38 Caliber Championship
Rank
Name
Service Branch/Agency
Total
1
Wm Hayden
U.S. Marine Corps
Quantico, Va.
876
2
Wm McMillan
U.S. Marine Corps
Quantico, Va.
871
3
-
-
-
(Source:)
.38 Caliber Slow Fire Match

| Rank | Name | Service Branch/Agency | Score |
| --- | --- | --- | --- |
| 1 | - | - | - |
(Source:)
.38 Caliber Timed Fire Match

| Rank | Name | Service Branch/Agency | Score |
| --- | --- | --- | --- |
| 1 | - | - | - |
(Source:)
.38 Caliber Rapid Fire Match

| Rank | Name | Service Branch/Agency | Score |
| --- | --- | --- | --- |
| 1 | - | - | - |
(Source:)
.38 Caliber National Match Course

| Rank | Name | Service Branch/Agency | Score |
| --- | --- | --- | --- |
| 1 | - | - | - |
(Source)
.22 Caliber Championship

| Rank | Name | Service Branch/Agency | Total |
| --- | --- | --- | --- |
| 1 | - | - | - |
| 2 | - | - | - |
| 3 | - | - | - |
(Source:)
.22 Caliber Slow Fire Match

| Rank | Name | Service Branch/Agency | Score |
| --- | --- | --- | --- |
| 1 | - | - | - |
(Source:)
.22 Caliber Timed Fire Match

| Rank | Name | Service Branch/Agency | Score |
| --- | --- | --- | --- |
| 1 | - | - | - |
(Source:)
.22 Caliber Rapid Fire Match

| Rank | Name | Service Branch/Agency | Score |
| --- | --- | --- | --- |
| 1 | - | - | - |
(Source:)
.22 Caliber National Match Course

| Rank | Name | Service Branch/Agency | Score |
| --- | --- | --- | --- |
| 1 | - | - | - |
(Source:)