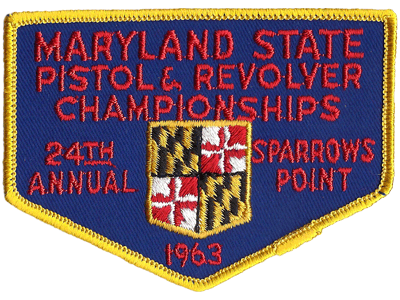 State Pistol Meet Starts
McMillan After 4th Title At Sparrows Point Today
Marine Capt. William McMillan will be out to make it four titles in the twenty-fourth annual Maryland State pistol championships beginning its three-day run today. But it won't be easy. Members of the opposition include enough 2,600x2,700 shooters to make this the highest-scoring meet in history
The 32-year-old international sharpshooter will be seeking his unprecedented triumph amidst a stampede of skillful candidates gunning for soldier Ralph Thompson's undefended crown. Some 648 military, police and civilian competitors will shoot the .22, .38 and .45 at the sponsoring Sparrows Point Police Department ranges.
Heugatter Among Threats
Six of McMillan's own all-Marine teammates, Larry Hausman, E. S. Saver, winner here in 1957; Robert O. Jones, William Eubank, Everett Retford and Mike Pietroforte, figure to provide some of his sternest threats along with U.S. Army Europe's Emil Heugatter, 1962 runner-up, and Coast Guard ace Charles Mason.
Other imposing challengers include James Kurtz, second in the 1961 nationals; Arthur Ogden, Edward Pentz and three ex-2d Army worthies, Laudencio Jaramillo, Robert Pruden and Ben Rabb, all of Army Europe; Anthony Mucci, Quantico Marines, and 2d Army's current kingpin, Charles Tipton.
Then there's Mrs. Gertrude Schlernitzauer, of Lowell Mich., last year's women's titlist; J. P. Keery, Jr., Montgomery county policeman; Bob Murphy, of Pittsburgh Police; A. G. Agonis, who won last spring's civilian sports; Washington police officer Roy Marshall and Col. Walter Walsh, United States senior king.
Twice Defeated Russians
McMillan, who went from novice to seventh in the 1952 Olympics before sailing off to Korea, was No. 1 in the Perry nationals in 1957 and conqueror of the Russians in 1958 and 1960, is the only deadeye able to nail more than one grand aggregate prize in the tourney's modern stretch - 1956 when he shot a record 2,627, 1958 and 1960.
Excerpt from the Baltimore Sun, June 21, 1963
Eubank Leader In Pistol Match
Marine William Eubank, 1962 Virginia State champion, squeezed ahead of his team-mate, William McMillan, three-time Maryland winner, 877x900-46 to 877-43, after .45 meet's opening round yesterday at Sparrows Point.
Excerpt from the Baltimore Sun, June 22, 1963
Marine Tops Pistol Field
Hausman Shoots 880 In Center fire In State Match
Veteran Marine pistol dead eye M.Sgt. Larry Hausman, United States Mayleigh Cup member, nailed center-fire aggregate spoils yesterday in the Maryland State pistol championship's second round, nosing out teammate Capt. William McMillan at Sparrows Point.
Aided by two first place medals in service competition, 1962 South Carolina kingpin Hausman squeezed off 880x900-30 in shade McMillan's 878-41 and third place Marine w. D. Booker's 877-42 as the tournament moved into its final day. The entire field fires the .22 weapon today.
Excerpt from the Baltimore Sun, June 23, 1963
McMillan Captures Fourth Maryland Pistol Crown
Marine Capt. William McMillan parlayed consistent scoring through the tournament's three rounds unexpected strength in the .22 caliber class yesterday and 122 shots into the dime-sized x-ring within the bulls-eye to capture his fourth Maryland State pistol championship at Sparrows Point.
Featuring a near grand slam by Quantico's star-spangled entries in his twenty-fourth annual carnival, McMillan's edge in x-ring tallies enabled him to nip teammate CWO William Eubank, 2638x2700-122 to 2638-115, in a side-by-side duel that went right down the final trigger squeeze.
No Bad Scores
"I didn't shoot a bad score or a hot one through the three days," McMillan, twice conqueror of the Russians in past international competition, enthused. "I guess it was unusuall not to win an aggregate and still come out on top. I was fairly consistent and I kind of played it careful not to get any bad scores."
"I Almost Blew It"
"Gunner (Eubank) and I were shooting within three targets of each other and we each knew the other's score. Now this may bother some, but we felt it was good for us. Pressure affects you sure, but if you don't have that keen tenseness then you could get too relaxed and get sloppy."
"I almost blew it. Eubank went clean and I dropped two (points) in slow fir. I picked it up again, however, rapid firing - that's always been my strong point - when I got hot or lucky. Hardly any shooter aims for x's. It's almost impossible. You just trust good sight alignment and trigger control."
Heugatter Wins Match
McMillan's total erased his own record 2,627 in 1960 and another teammate, Anthony Vitarbo, cracked 300x300-17 in sponsoring the Marines to .22 team spoils with a near national mark (1,187-54) after GI Emil Heugatter and civilian A. R. Agonis, of Allentown, finally broke through the Quantico monopoly.
Heugatter, of U.S. Army Europe, runner-up here last spring, won both .22 slow fire (195-4) and .22 timed (200-16) and Agonis led the field with his 200-15 rapid. All this time McMillan was inching ahead through his pinpoint shooting in rapid and timed where he put 26 chances into the decisive circle.
Marshall Retains Title
Agonis used his hot round to help retain his civilian trophy (2,565-81), Roy Marshall, Washington Metropolitan Police, made it three straight in police circles (2,567-76), Gertrude Schlernitzauer, of Lowell, Mich., shrugged off a poor start to put women's crowns back-to-work with a neat 555-17.
Excerpt from the Baltimore Sun, June 24, 1963
Grand Aggregate
Rank
Name
Service Branch/Agency
.22 Caliber
Center-Fire
.45 Caliber
Total
1
Wm W. McMillan, Jr.
U.S. Marine Corps
Quantico, Va.
883-38X
878-41X
877-43X
2638-122X
Service
Master
William E. Eubank
U.S. Marine Corps
-
-
877-46X
2638-115X
Service
Expert
Robert J. Gent
U.s. Marine Corps
-
-
-
2493-57X
Service
Sharpshooter
Hardgrove
U.S. Army
Fort Meade, Md.
874-33X
821-23X
810-16X
2505-72X
Service
Marksman
Marino
U.S. Army
Fort Lee, Va.

-
-
-
2486-60X
Police
Master
Roy D. Marshall
Washington, D. C.
Metropolitan Police
879-29X
-
-
2567-76X
Police
Expert
Gibson
District Heights, Md.
856-25X
833-11X
786-8X
2475-44X
Police
Sharpshooter
Upperco
Maryland State Police
858-27X
830-19X
816-8X
2504-54X
Police
Marksman
Mowen
Hagerstown, Md.
-
-
724-11X
2289-34X
Civilian
Master
A. G. Agonis
Allentown, Pa.
877-37X
-
-
2565-81X
Civilian
Expert
McIntyre
Baltimore, Md.
-
839-23X
-
2504-57X
Civilian
Sharpshooter
Querido
Baltimore, Md.
855-31X
842-22X
842-19X
2539-72X
Civilian
Marksman
Klusewitz
Baltimore, Md.
-
-
805-19X
2394-41X
(Source: The Baltimore Sun, June 24, 1963)
.45 Caliber Team Championship
Rank
Service Branch/Agency
Score
1
U.S. Marine Corps 'Red'
1164-46X
Service
Master
U.S. Marine Corps 'Gold'
1159-41X
Service
Expert
U.S. Army 82d Airborne 'Blue'
1090-17X
Service
Sharpshooter
U.S. Army Fort Meade 'Gold'
1087-24X
Service
Marksman
902 Intelligence
Washington, D. C.
716-2X
Police
Master
Pittsburgh, Pa.
1090-33X
Police
Expert
Suffolk County, New York
1051-21X
Police
Sharpshooter
Maryland State Police No. 1
1034-16X
Police
Marksman
Westinghouse
901-6X
Civilian
Master
Lorraine, Oh.
1099-32X
Civilian
Expert
Holmesburg, Pa.
1098-22X
Civilian
Sharpshooter
Garrison 'Gold'
1052-22X
Civilian
Marksman
Flyers, Olmstead, Pa.
927-9X
(Source: The Baltimore Sun, June 22, 1963)
.38 Caliber Team Championship
Rank
Service Branch/Agency
Score
1
U.S. Marine Corps 'Gold'
1157-47X
Service
Master
U.S. Marine Corps 'Red'
1152-49X
Service
Expert
Maryland National Guard
1106-26X
Service
Sharpshooter
U.S. Army 6970th Fort Meade 'Gold'
1098-16X
Service
Marksman
902 Intelligence
Washington, D. C.
NR
Police
Master
Pittsburgh, Pa.
1097-27X
Police
Expert
Maryland State Police 'Gold'
1028-18X
Police
Sharpshooter
Maryland State Police 'Blue'
1028-18X
Police
Marksman
Westinghouse
993-9X
Civilian
Master
Blue Mountain, Allentown, Pa.
1098-26X
Civilian
Expert
Westinghouse, Baltimore, Md.
1101-27X
Civilian
Sharpshooter
Square Circle, Stratford, N. J.
1053-19X
Civilian
Marksman
Westinghouse, Baltimore, Md. 'White'
1003-17X
(Source: The Baltimore Sun, June 23, 1963)
.22 Caliber Team Championship
Rank
Service Branch/Agency
Score
1
U.S. Marine Corps 'Red'
1187-54X
Service
Master
U.S. Marine Corps 'Gold'
1166-59X
Service
Expert
U.S. Army Fort Meade 'Red'
1152-30X
Service
Sharpshooter
U.S. Army 6970th 'Gold'
1096-23X
Service
Marksman
U.S. Army Aberdeen Proving Ground 'Blue'
1053-15X
Police
Master
Pittsburgh, Pa.
1132-25X
Police
Expert
Montgomery County, Md.
1119-23X
Police
Sharpshooter
Hagerstown, Md.
1077-20X
Police
Marksman
Westinghouse, Baltimore, Md.
1033-14X
Civilian
Master
Fairlawn
1141-34X
Civilian
Expert
Westinghouse, Baltimore, Md.
1129-34X
Civilian
Sharpshooter
Garrison, Baltimore Md. 'Gold'
1114-24X
Civilian
Marskman
Westinghouse, Baltimore, Md. 'Blue'
1101-20X
(Source: The Baltimore Sun, June 24, 1963)
.45 Caliber Championship
Rank
Name
Service Branch/Agency
Total
1
William E. Eubank
U.S. Marine Corps
877-46X
Service
Master
Wm W. McMillan, Jr.
U.S. Marine Corps
Quantico, Va.
877-43X
Service
Expert
Deanglis
U.S. Army
Fort Bragg, N.C.
843-24X
Service
Sharpshooter
Hardgrove
U.S. Army
Fort Meade, Md.
810-16X
Service
Marksman
Dickens
U.S. Army
Fort Meade, Md.
815-17X
Police
Master
Fazden
Pittsburgh, Pa.
840-25X
Police
Expert
Bergmann
Suffolk, N. Y.
812-18X
Police
Sharpshooter
Upperco
Maryland State Police
816-8X
Police
Marksman
Mowen
Hagerstown, Md.
724-11X
Civilian
Master
Neal
Lorranie, Oh.
855-23X
Civilian
Expert
Batascov
Baltimore, Md.
826-25X
Civilian
Sharpshooter
Querido
Baltimore, Md.
842-19X
Civilian
Marksman
Klusewitz
Baltimore, Md.
805-19X
(Source: The Baltimore Sun, June 22, 1963)
.45 Caliber Slow Fire Match
Rank
Name
Service Branch/Agency
Score
1
William K. Hayden, III
U.S. Marine Corps
193-3X
Service
Master
William E. Eubank
U.S. Marine Corps
192-8X
Service
Expert
Robert J. Gent
U.S. Marine Corps
182-3X
Service
Sharpshooter
Bouland
U.S. Marine Corps
175-4X
Service
Marksman
Oliver
U.S. Marine Corps
174-2X
Police
Master
Roy D. Marshall
Washington, D. C. Metropolitian
Police Department
176-1X
Police
Expert
Brauner
Sullolk, N. Y.
172-2X
Police
Sharpshooter
Upperco
Maryland State Police Department
180-1X
Police
Marksman
Mowen
Hagerstown, Md.
168-3X
Civilian
Master
MacAdam
Fairlawn, N. J.
181-3X
Civilian
Expert
Boyle
Drexel Hill, Pa.
181-6X
Civilian
Sharpshooter
Querido
Baltimore, Md.
183-2X
Civilian
Marksman
Klusewitz
Baltimore, Md.
174-3X
(Source: The Baltimore Sun, June 22, 1963)
.45 Caliber Timed Fire Match
Rank
Name
Service Branch/Agency
Score
1
Walter R. Walsh
U.S. Marine Corps
200-14X
Service
Master
Wm W. McMillan, Jr.
U.S. Marine Corps
Quantico, Va.
200-12X
Service
Expert
Deanglis
U.S. Army
Fort Bragg, N.C.
196-9X
Service
Sharpshooter
Holland
U.S. Army
Fort Meade, Md.
195-10X
Service
Marksman
Dickens
U.S. Army
Fort Meade, Md.
192-7X
Police
Master
Daniels
Suffolk, N. Y.
195-9X
Police
Expert
DeRiso
Suffolk, N. Y.
194-5X
Police
Sharpshooter
Barraud
Belmar, N. J.
190-6X
Police
Marksman
Jackson
-
182-2X
Civilian
Master
Solari
West Patterson, N. J.
196-7X
Civilian
Expert
Batascov
Baltimore, Md.
194-9X
Civilian
Sharpshooter
Ritschel
Trexeltown, Pa.
193-8X
Civilian
Marksman
Klusewitz
Baltimore, Md.
186-6X
(Source: The Baltimore Sun, June 22, 1963)
.45 Caliber Rapid Fire Match
Rank
Name
Service Branch/Agency
Score
1
Marlin W. Findson
U.S. Marine Corps
199-11X
Service
Master
Smith
U.S. Marine Corps
199-9X
Service
Expert
Robert J. Gent
U.S. Marine Corps
188-5X
Service
Sharpshooter
Bouland
U.S. Marine Corps
183-5X
Service
Marksman
Turner
U.S. Army
Fort Meade, Md.
183-4X
Police
Master
Simms
Baltimore County, Md.
193-6X
Police
Expert
Bergmann
Suffolk, N. Y.
192-7X
Police
Sharpshooter
Upperco
Maryland State Police Department
176
Police
Marksman
Dudley
Washington, D. C.
169-1X
Civilian
Master
Neal
Lorraine, Oh.
195-7X
Civilian
Expert
Weller
Princeton, N. J.
188-6X
Civilian
Sharpshooter
A. G. Angelos
Drexel Hill, Pa.
188-5X
Civilian
Marksman
Klusewitz
Baltimore, Md.
181-4X
(Source: The Baltimore Sun, June 22, 1963)
.45 Caliber National Match Course
Rank
Name
Service Branch/Agency
Score
1
Larry L. Hausman
U.S. Marine Corps
296-10X
Service
Master
Marlin W. Findson
U.S. Marine Corps
293-17X
Service
Expert
Deanglis
U.S. Army
Fort Bragg, N.C.
283-10X
Service
Sharpshooter
Hardgrove
U.S. Army
Fort Meade, Md.
274-5X
Service
Marksman
Jones
U.S. Army
Fort Meade, Md.
270-7X
Police
Master
Fadzen
Pittsburgh, Pa.
286-9X
Police
Expert
McFadden
Washington, D. C.
273
Police
Sharpshooter
Upperco
Maryland State Police
270-2X
Police
Marksman
Wheatley
Trenton, N. J.
251-2X
Civilian
Master
Neal
Lorrane, Oh.
280-14X
Civilian
Expert
Rowland
Philadelphia, Pa.
277-5X
Civilian
Sharpshooter
Querido
Baltimore, Md.
NR
Civilian
Marskman
Chackley
Richmond, Va.
266
(Source: The Baltimore Sun, June 22, 1963)
.38 Caliber Championship
Rank
Name
Service Branch/Agency
Total
1
Larry L. Hausman
U.S. Marine Corps
880-30X
Service
Master
Wm W. McMillan, Jr.
U.S. Marine Corps
Quantico, Va.
878-41X
Service
Expert
Schleht
U.S. Army XXI Corps
838-11X
Service
Sharpshooter
Bouland
U.S. Marine Corps
826-18X
Service
Marksman
Marino
U.S. Army
Fort Lee, Va.
847-25X
Police
Master
Daniels
Suffolk County, N. Y.
855-22X
Police
Expert
Gibson
District Heights, Md.
833-11X
Police
Sharpshooter
Upperco
Maryland State Police
830-19X
Police
Marksman
Sanka
Everett, Pa.
785-14X
Civilian
Master
Janosko
Delaware Pleasure Club
860-21X
Civilian
Expert
McIntyre
Baltimore, Md.
839-23X
Civilian
Sharpshooter
Querido
Baltimore, Md.
842-22X
Civilian
Marksman
Johnson
Bethesda, Md.
799-14X
(Source: The Baltimore Sun, June 23, 1963)
.38 Caliber Slow Fire Match
Rank
Name
Service Branch/Agency
Score
1
Oren D. Reid
U.S. Marine Corps
196-10X
Service
Master
Booker
U.S. Marine Corps
196-9X
Service
Expert
Kinsey
U.S. Army
Fort Monmouth, N. J.
183-4X
Service
Sharpshooter
Hardgrove
U.S. Army
Fort Meade, Md.
182-2X
Service
Marksman
Turner
U.S. Air Force
178-3X
Police
Master
Roy D. Marshall
Washington, D. C. Metropolitan
Police Department
186-6X
Police
Expert
Gibson
District Heights, Md.
NR
Police
Sharpshooter
Snyder
Maryland State Police
178-4X
Police
Marksman
Sanka
Everett, Pa.
175-5X
Civilian
Master
Goodhart
Reading, Pa.
194-7X
Civilian
Expert
Sawicki
Scraton, Pa.
184-3X
Civilian
Sharpshooter
Daley
Camden, N. J.
185-4X
Civilian
Marksman
Nicklaus
Shiremanstown, Pa.
173-3X
(Source: The Baltimore Sun, June 23, 1963)
.38 Caliber Timed Fire Match
Rank
Name
Service Branch/Agency
Score
1
Everett R. Retford
U.S. Marine Corps
200-10X
Service
Master
Larry L. Hausman
U.S. Marine Corps
200-9X
Service
Expert
Gregg
U.S. Army
Aberdeen Proving Ground
194-11X
Service
Sharpshooter
Pence
U.S. Air National Guard
Olmstead Field, Pa.
192-5X
Service
Marksman
Marino
U.S. Army
Fort Lee, Va.
192-8X
Police
Master
Daniels
Suffolk County, N. Y.
197-7X
Police
Expert
Mason
Federal Employees
193-8X
Police
Sharpshooter
Upperco
Maryland State Police
192-7X
Police
Marksman
Euvino
Suffolk County, N. Y.
184-3X
Civilian
Master
Tulk
Lorraine, Oh.
197-10X
Civilian
Expert
Tice
Carteret, N. J.
198-9X
Civilian
Sharpshooter
Querido
Baltimore, Md.
196-8X
Civilian
Marksman
Ondrovich
Hyattsville, Md.
192-6X
(Source: The Baltimore Sun, June 23, 1963)
.38 Rapid Fire Match
Rank
Name
Service Branch/Agency
Score
1
Wm W. McMillan, Jr.
U.S. Marine Corps
Quantico, Va.
199-11X
Service
Master
Larry L. Hausman
U.S. Marine Corps
199-8X
Service
Expert
Robert J. Gent
U.S. Marine Corps
193-4X
Service
Sharpshooter
Holland
U.S. Army
Fort Meade, Md.
190-4X
Service
Marksman
Marino
U.S. Army
Fort Lee, Va.
192-7X
Police
Master
Simms
Baltimore County, Md.
193-4X
Police
Expert
Gibson
District Heights, Md.
188-5X
Police
Sharpshooter
Upperso
Maryland State Police
187-2X
Police
Marksman
Van Scoy
Anne Arundel County, Md.
182-2X
Civilian
Master
Neal
Lorraine, Oh.
192-7X
Civilian
Expert
Batascov
Baltimore, Md.
190-6X
Civilian
Sharpshooter
Ritschel
Trexeltown, Pa.
190-6X
Civilian
Marksman
Krauth
Baltimore, Md.
180-5X
(Source: The Baltimore Sun, June 23, 1963)
.38 Caliber National Match Course
Rank
Name
Service Branch/Agency
Score
1
Edmond S. Sarver
U.S. Marine Corps
294-16X
Service
Master
Kurtz
U.S. Army Europe
293-10X
Service
Expert
Schlehr
U.S. Army XXI Corps
281-2X
Service
Sharpshooter
Bouland
U.S. Marine Corps
279-4X
Service
Marksman
Marino
U.S. Army
Fort Lee, Va.
290-8X
Police
Master
Fadzen
Pittsburgh, Pa.
285-43X
Police
Expert
Bergmann
Suffolk County, N. Y.
274-8X
Police
Sharpshooter
Upperco
Maryland State Police
273-8X
Police
Marksman
Mowen
Hagerstown, Md.
277-8X
Civilian
Master
Janosko
Delaware State Pleasure Club
-
Civilian
Expert
Robinson
Glen Burnie, Md.
-
Civilian
Sharpshooter
Querido
Baltimore, Md.
-
Civilian
Marksman
Johnson
Bethesda, Md.
-
(Source: The Baltimore Sun, June 23, 1963)
.22 Caliber Slow Fire Match
Rank
Name
Service Branch/Agency
Score
1
Emil Heugatter
U.S. Army Europe
195-4X
Service
Master
DeMasi
U.S. Army XXI Corps
194-9X
Service
Expert
Rice
U.S. Air Force
Bolling AFB, Washington, D.C.
188-4X
Service
Sharpshooter
Hardgrove
U.S. Army
Fort Meade, Md.
189-5X
Service
Marksman
Marino
U.S. Army
Fort Lee, Va.
177-4X
Police
Master
Kane
Canfield, Oh.
190-6X
Police
Expert
Gibson
District Heights, Md.
184-4X
Police
Sharpshooter
Diver
Montgomery County, Md.
176-2X
Police
Marksman
Sanka
Everett, Pa.
172-1
Civilian
Master
Teague
Morristown, N. J.
195-4X
Civilian
Expert
Radcliffe
Allentown, Pa.
187-5X
Civilian
Sharpshooter
Ritschel
Trexeltown, Pa.
186-4X
Civilian
Marksman
Niklaus
Shiremanstown, Pa.
180-2X
(Source: The Baltimore Sun, June 24, 1963)
.22 Caliber Timed Fire Match
Rank
Name
Service Branch/Agency
Score
1
Emil Heugatter
U.S. Army Europe
200-16X
Service
Master
Anthony Mucci
U.S. Marine Corps
200-13X
Service
Expert
Klinkert
U.S. Army
Fort Meade, Md.
200-10X
Service
Sharpshooter
Hardgrove
U.S. Army
Fort Meade, Md.
198-8X
Service
Marksman
Marino
U.S. Army
Fort Meade, Md.
194-7X
Police
Master
Morphy
Pittsburgh, Pa.
199-9X
Police
Expert
McFadden
Washington, D. C.
195-8X
Police
Sharpshooter
Upperco
Maryland State Police
195-6X
Police
Marksman
Sanka
Everett, Pa.
193-11X
Civilian
Master
A. G. Agonis
Allentown, Pa.
200-3X
Civilian
Expert
Lans
West Paterson, N. J.
196-11X
Civilian
Sharpshooter
Ritschel
Trexeltown, Pa.
197-8X
Civilian
Marksman
Stile
Harrisburg, Pa.
194-4X
(Source: The Baltimore Sun, June 24, 1963)
.22 Caliber Rapid Fire Match
Rank
Name
Service Branch/Agency
Score
1
A. G. Agonis
Allentown, Pa.
200-15X
Service
Master
Larry L. Hausman
U.S. Marine Corps
200-13X
Service
Expert
Klinkert
U.S. Army
Fort Meade, Md.
198-11X
Service
Sharpshooter
Pope
U.S. Army
Fort Bragg, N.C.
196-6X
Service
Marksman
Palian
U.S. Army
Fort. Holabird, Md.
196-8X
Police
Master
Roy D. Marshall
Washington, D. C. Metropolitan
Police Department
198-7X
Police
Expert
McFadden
Washington, D. C.
195-7X
Police
Sharpshooter
Upperco
Maryland State Police
196-9X
Police
Marksman
Sanka
Everett, Pa.
194-5X
Civilian
Master
Neal
Lorraine, Oh.
197-11X
Civilian
Expert
Durgin
Baltimore, Md.
198-10X
Civilian
Sharpshooter
Tone
Baltimore, Md.
194-7X
Civilian
Marksman
Fultz
Laurel, Md.
193-4X
(Source: The Baltimore Sun, June 24, 1963)
.22 Caliber National Match Course
Rank
Name
Service Branch/Agency
Score
1
Edmond S. Sarver
U.S. Marine Corps
297-15X
Service
Master
Arthur Ogden
U.S. Army Europe
296-15X
Service
Expert
Millradt
U.S. Coast Guard
289-8X
Service
Sharpshooter
Hardgrove
U.S. Army
Fort Meade, Md.
292-13X
Service
Marksman
Palian
U.S. Army
Fort Meade, Md.
285-12X
Police
Master
Roy D. Marshall
Washington, D. C. Metropolitan
Police Department
294-8X
Police
Expert
Gibson
District Heights, Md.
295-10X
Police
Sharpshooter
Upperso
Maryland State Police
292-10X
Police
Marksman
Sanka
Everett, Pa.
278-4X
Civilian
Master
A. G. Agonis
Allentown, Pa.
293-14X
Civilian
Expert
Sawicki
Scranton, Pa.
291-12X
Civilian
Sharpshooter
Querido
Baltimore, Md.
289-11X
Civilian
Marksman
Krauth
Baltimore, Md.
290-7X
(Source: The Baltimore Sun, June 24, 1963)