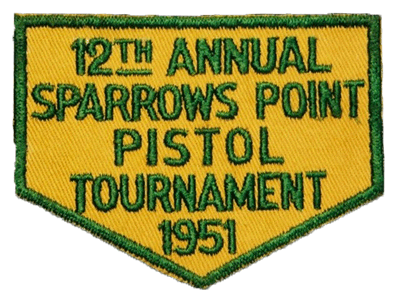 "SHOOTIN' AND STUFF LIKE THAT THERE"
I think we can be justly proud of this Match, and be thankful for a number of reasons. First, the attendance of all you wonderful people; Second, nothing was left to be desired as to the weather, which was near perfect. Hot? Yes, but good shooting weather, as shown by the scores; Third, the clean sportsmanship of all; Fourth, your compliments of the Range and our conduct of the Match gave us cause to be proud; lastly, we are proud to be connected with the Bethlehem Steel Company, this Company having made all this possible.
The "figgers," scattered around on the following pages, tells the story of how you did and no foolin'.
Plaques for prizes, 537 of them, 156 Large and 381 Small.
A number of you competed here for the first time. We hope you liked us well enough to return.
Our Camp Perry Possible Club continues to be ultra-exclusive or something. I thought surely we would get some members this year. Period.
From what we heard, we know liked "Bob" Markle's Chief Range "Officering." The perfect coordination between "Bob" and Ford Edwards, who operates the Targets, contributes in no small way to the smooth running of the Match.
George Kuch, N.R.A. Referee, officiated flawlessly, as usual. His unbiased, business-like way of handling his assignment, cannot be improved upon.
Chief Statistical Officer, Sgt. "Jerry" Huesman and his Staff deserve a lot of credit for a hard job well done. Results were posted unbelievably soon after the firing of the Matches.
All the Range Personnel, Parking Detail and the Commissary Detail are members of the Sparrows Point Police Department. They all did it well.
Now I want to say a word about you all, wonderfully cooperative competitors. I thank you all for being here.
We had a distinguished visitor that we are always proud to welcome; one who is and has for years been deeply interested in the Shooter. One who has aided and encouraged many individuals and groups to reach their objective in the Shooting Game. He is none other than Gen. Milton A. Recford, my friend and your friend.
A number of the Officials of the Bethlehem Steel Company looked in on the Match and showed a lot of interest.
"Buck" Fisher and Wife drove here from El Paso, Texas, and he did not go home empty handed. Look over the figures, and that .38 Cal. Timed Fire World's Record. In all modesty I want you to know you can now legally call me "Tex." "Buck" made me a Temporary Citizen of the great State of Texas, and I have a Certificate all signed, sealed and delivered to prove it.
The Marine Corps was well represented, and several Branches of the Army also. The Navy? Meet C.P.O. Leonard Rizzolla. He left his imprint on the Score Board. The Marine Corps Schools .45 Cal. Team score, 1150, a New World's Record. An Rizzolla's World's Record in the Center Fire National Match Course.
Dr. Sowers of Fairmont, West Virginia, one of our stand bys, did not fail us. Our staunch friend, Chief Graenicher of the Mesta Machine Company, Pittsburgh, was with us again. Deputy Inspector Paul B. Weston, New York City Police Dept., was here and we were very glad to welcome him. And, by the way, have you read his book, "Target Shooting Today?" Yes, "Mert" Golden, L. W. Benton and Mrs. Benton, Mr. and Mrs. Blanchard, Dr. Lever, "Walt" King of Canton, Ohio, were here and it is hard to tell when to stop naming folks. Here are a couple I nearly forgot. "Bill" Kendall has returned and we were all glad to have him here again. "Square Deal" Coyne also showed up. Both good friends to have. I will lend "Bill" my hat any time and give him a page out of my book.
The children were great, and gave that Sand Box a grand work-out.
"Commercial Row" did a good business, Lew Sanderson of Detroit, the Pistol Grip man; George Shockley, repairs and actions; Gen. and Mrs. Van Orden of Evaluators; Bill Henry and Assistants of Colts; Bill Donovan of Hi-Standard; Helwig of Western; Webb of Western, and the boys with the ammunition and shooters supplies. Morrison, photographer, was on hand.
The "Fish Fry" was a complete success and the Band gave out for dancing that was enjoyed by a lot of you.
There was a Scope and Stand left on the Range and it will be returned to the owner if he or she will give us a description of same.
As a last word I want to thank all the members of my Department who contributed their efforts towards making this Range and Match what it is. And to you, the competitors, I can only say, Thank you, Thank you, Thank you!
Marcus H. Miles,
Chief of Police,
Sparrows Point Police Dept.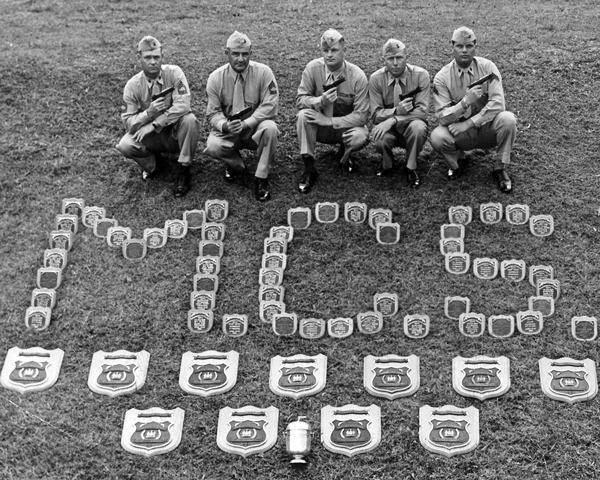 Members of the Marine Corps Schools Pistol Team line up behind the trophies they won at the Maryland Twelfth Annual Pistol Championship Match held at Sparrows Point, Maryland last week. They swept the team matches and took six firsts in the individuals. Seventy-two plaques and awards in all. The shooters are (left to right): Master Sgt. Thomas R. Mitchell, Master Sgt. Vito Perna, Capt. John M. Jagoda, CWO Mark W. Billing, Sgt. William McMillan and Master Sgt. Charles Plante who is not in the picture.
That Sparrows Point Pistol Club
There was some sparkling shooting at the Sparrows Point tournament this year. The Marine Corps Pistol Team of M/Sgt. T. R. Mitchell, Capt. J. M. Jagoda, CWO Mark Billing, and Sgt. W. W. McMillan, Jr., raised the 1140 point team record for the .45 caliber National Match Course to 1150. The record of 1140, set by the Detroit Police pistol team, stood unbroken for ten years. Buck Fisher, a newcomer to pistol competion from El Paso, Texas, scored 200 plus 10 for a new civilian center-fire, timed fire record. Chief L. M. Rizzola, USN, placed first in the aggregate with a score of 2596, Marine sergeant Mitchell was second with 2582, and Fisher was third with 2571.
Excerpt from the American Rifleman, Vol. 99, No. 8, August 1951
Record Smashed By MCS Pistols
A new national record was established by a MCS pistol team at Sparrows Point, Marylnad, last Friday when they captured seventy-two plaques out of a possible hundred during the 12th Annual Maryland Pistol Championship tourney.
The team was comprised of Capt. John M. Jagoda, CWO Mark W. Billing, Master Sgt. Thomas R. Mitchell and Master Sgt. Charles Plante.
They compiled a total score of 1150 points out of a possible 1200 to beat the record of 1140 points held by the Detroit Police Pistol Team.
Quantico Sentry, June 7, 1951
Grand Aggregate - Match 24
Rank
Name
Service Branch/Agency
.22 Caliber
Center-Fire
.45 Caliber
Total
1
Leonard M. Rizzola
U.S. Navy
878
872
846
2596
2
Thomas R. Mitchell
U.S. Marine Corps
Quantico, Va.
861
865
856
2582
3
Buck Fisher
El Paso, Tex.
856
866
849
2571
4
Mark W. Billing
U.S. Marine Corps
Quantico, Va.
855
854
861
2570
1st
Master
John M. Jagoda
U.S. Marine Corps
Quantico, Va.
877
830
846
2553
2nd
Master
Mert J. Golden
-
869
842
839
2550
3rd
Master
Charles Plante
U.S. Marine Corps
Quantico, Va.
856
853
841
2550
4th
Master
Wm McMillan, Jr.
U.S. Marine Corps
864
856
822
2542
1st
Expert
C. A. Remfrey
-
836
851
802
2489
2nd
Expert
Frank E. Papuga
-
866
840
780
2486
3rd
Expert
J. A. Goodhart
-
850
805
822
2477
4th
Expert
J. W. Mack, Jr.
-
847
821
807
2475
1st
Sharpshooter
A. Simonsen
-
844
849
755
2448
2nd
Sharpshooter
A. W. Plummer
-
820
805
780
2405
3rd
Sharpshooter
R. Ross
-
851
823
729
2403
4th
Sharpshooter
Robert L. McDonald
-
807
815
768
2390
1st
Marksman
G. C. Willey
-
785
752
713
2250
2nd
Marksman
N. S. Moore
-
785
752
691
2228
3rd
Marksman
J. J. Fielding
-
813
760
649
2222
4th
Marksman
F. L. Moody
-
765
734
703
2202
(Source: Sparrows Point Police Dept. Official Bulletin )
.22 Caliber Championship - Match 23
Rank
Name
Service Branch/Agency
Total
1
Leonard M. Rizzolla
U.S. Navy
878
2
John M. Jagoda
U.S. Marine Corps
Quantico, Va.
877
3
Mert J. Golden
-
869
4
Frank E. Papuga
-
866
1st
Master
Alvin H. Drehle
-
866
2nd
Master
Wm W. McMillan, Jr.
U.S. Marine Corps
Quantico, Va.
864
3rd
Master
Thomas R. Mitchell
U.S. Marine Corps
Quantico, Va.
861
1st
Expert
Warren J. Thompson
-
852
2nd
Expert
R. Ross
-
851
3rd
Expert
M. E. Hull
-
845
4th
Expert
H. Cancglin
-
845
1st
Sharpshooter
D. C. Binney
-
833
2nd
Sharpshooter
L. E. Towndrow
-
828
3rd
Sharpshooter
W. A. Chandler
-
821
4th
Sharpshooter
C. F. Whipp
-
818
1st
Marksman
J. J. Fielding
-
813
2nd
Marksman
F. G. Stoner
-
807
3rd
Marksman
R. E. Robbins
-
804
4th
Marksman
T. C. Reitz
-
791
(Source: Sparrows Point Police Dept. Official Bulletin)
.38 Caliber Championship - Match 22
Rank
Name
Service Branch/Agency
Total
1
Leonard M. Rizzolla
U.S. Navy
872
2
Buck Fisher
El Paso, Tex.
866
3
Thomas R. Mitchell
U.S. Marine Corps
Quantico, Va.
865
4
W. J. Simms
-
864
1st
Master
Roy D. Marshall
-
859
2nd
Master
Wm W. McMillan, Jr.
U.S. Marine Corps
Quantico, Va.
856
3rd
Master
Alvin H. Drehle
-
854
4th
Master
Mark W. Billing
U.S. Marine Corps
Quantico, Va.
854
1st
Expert
B. P. McKnew
-
853
2nd
Expert
C. A. Remfrey
-
851
3rd
Expert
A. Simonsen
-
849
4th
Expert
Frank E. Papuga
-
840
1st
Sharpshooter
R. Ross
-
823
2nd
Sharpshooter
J. B. Smith
-
822
3rd
Sharpshooter
E. R. France
-
819
4th
Sharpshooter
M. D. Emig
-
809
1st
Marksman
A. G. Law
-
800
2nd
Marksman
M. D. DuBois
-
797
3rd
Marksman
G. Lanier
-
793
4th
Marksman
R. W. May
-
790
(Source: Sparrows Point Police Dept. Official Bulletin)
.45 Caliber Championship - Match 21
Rank
Name
Service Branch/Agency
Total
1
Mark W. Billing
U.S. Marine Corps
Quantico, Va.
861
2
Thomas R. Mitchell
U.S. Marine Corps
Quantico, Va.
856
3
Buck Fisher
El Paso, Tex.
849
4
John M. Jagoda
U.S. Marine Corps
Quantico, Va.
846
1st
Master
Leonard M. Rizzolla
U.S. Navy
846
2nd
Master
Charles Plante
U.S. Marine Corps
Quantico, Va.
841
3rd
Master
Mert J. Golden
-
839
8th
Master
Wm W. McMillan, Jr.
U.S. Marine Corps
Quantico, Va.
822
1st
Expert
J. A. Goodhart
-
822
2nd
Expert
F. Lesicki
-
809
3rd
Expert
J. W. Mack, Jr.
-
807
4th
Expert
John H. Reese
-
804
1st
Sharpshooter
Wallace G. Angel
-
796
2nd
Sharpshooter
P. B. Weston
-
795
3rd
Sharpshooter
Frank E. Papuga
-
780
4th
Sharpshooter
Robert L. McDonald
-
768
1st
Marksman
A. W. Plummer
-
780
2nd
Marksman
Alfred E. Ryan
-
767
3rd
Marksman
H. A. Zeeh
-
762
4th
Marksman
A. Simonsen
-
755
(Source: Sparrows Point Police Dept. Official Bulletin)
Camp Perry Aggregate - Match 20
Rank
Name
Service Branch/Agency
Total
1
Thomas R. Mitchell
U.S. Marine Corps
Quantico, Va.
891
2
Buck Fisher
El Paso, Tex.
887
3
Charles Plante
U.S. Marine Corps
Quantico, Va.
880
4
Vito Perna
U.S. Marine Corps
Quantico, Va.
878
1st
Master
Leonard M. Rizzolla
U.S. Navy
877
2nd
Master
Wm W. McMillan, Jr.
U.S. Marine Corps
Quantico, Va.
877
3rd
Master
John M. Jagoda
U.S. Marine Corps
Quantico, Va.
876
1st
Expert
Frank E. Papuga
-
865
2nd
Expert
Patrick J. Scanlon
-
862
3rd
Expert
Charles F. Merz
-
859
4th
Expert
Wallace G. Angel
-
855
1st
Sharpshooter
A. Simonsen
-
869
2nd
Sharpshooter
R. Ross
-
843
3rd
Sharpshooter
A. W. Plummer
-
835
4th
Sharpshooter
Robert L. McDonald
-
834
1st
Marksman
J. J. Fielding
-
788
2nd
Marksman
N. S. Moore
-
786
3rd
Marksman
T. F. Cook
-
783
4th
Marksman
F. L. Moody
-
780
(Source: Sparrows Point Police Dept. Official Bulletin)
.22 Caliber Team Championship - Match 19
Rank
Service Branch/Agency
Score
1
U.S. Marine Corps Schools Pistol Team
C. Plante, J. M. Jagoda, W. W. McMillan, Jr. & T. R. Mitchell
1150
2
12th Precinct Pistol Club, No. 1


J. B. Layton, R. D. Marshall, A. V. Kissal & M. I. Bridges

1143
3
Reading Pistol Club, Inc.


M. J. Golden, R. E. Woodward, J. A. Goodhart & E. K. Pote

1139
1st
Master
U.S. Park Police
1124
2nd
Master
12th Precinct Pistol Club, No. 2
1122
1st
Expert
Baltimore County Police Department
1102
2nd
Expert
Baltimore City Police Department 'Red' Team
1093
3rd
Expert
White House Police, Washington, D.C.
1090
1st
Sharpshooter
Anacostia Air Station
1075
2nd
Sharpshooter
National Capital Revolver & Pistol Club, No. 2
1058
3rd
Sharpshooter
F. O. P., No. 71
1053
1st
Marksman
Fort Holabird Pistol & Revolver Club
1041
2nd
Marksman
U.S. Marine Corps (Henderson Hall)
1015
3rd
Marksman
Maryland State Police, No. 2
1012
(Source: Sparrows Point Police Dept. Official Bulletin)
.22 Caliber National Match Course - Match 18
Rank
Name
Service Branch/Agency
Score
1
Leonard M. Rizzolla
U.S. Navy
297
2
John M. Jagoda
U.S. Marine Corps
Quantico, Va.
295
3
L. H. Dierdorff
-
289
4
Alvin H. Drehle
-
288
1st
Master
C. W. Lipscomb
-
288
2nd
Master
Frank E. Papuga
-
287
3rd
Master
C. L. La Mar
-
287
11th
Master
Wm W. McMillan, Jr.
U.S. Marine Corps
Quantico, Va.
285
1st
Expert
R. Ross
-
285
2nd
Expert
M. E. Hull
-
283
3rd
Expert
Warren J. Thompson
-
283
4th
Expert
F. Lesicki
-
282
1st
Sharpshooter
J. B. Smith
-
280
2nd
Sharpshooter
D. C. Binney
-
277
3rd
Sharpshooter
L. E. Towndrow
-
276
4th
Sharpshooter
F. W. Ficken
-
275
1st
Marksman
F. Carman
-
276
2nd
Marksman
H. H. Potteiger
-
276
3rd
Marksman
F. G. Stoner
-
272
4th
Marksman
R. E. Robbins
-
271
(Source: Sparrows Point Police Dept. Official Bulletin)
.22 Caliber Rapid Fire - Match 17
Rank
Name
Service Branch/Agency
Score
1
Wm W. McMillan, Jr.
U.S. Marine Corps
Quantico, Va.
200
2
Mark W. Billing
U.S. Marine Corps
Quantico, Va.
198
3
Charles Plante
U.S. Marine Corps
Quantico, Va.
198
4
Leonard M. Rizzolla
U.S. Navy
197
1st
Master
John M. Jagoda
U.S. Marine Corps
Quantico, Va.
197
2nd
Master
Thomas R. Mitchell
U.S. Marine Corps
Quantico, Va.
197
3rd
Master
R. C. Manring
-
196
1st
Expert
B. Reese
-
195
2nd
Expert
J. Lloyd Lister
-
195
3rd
Expert
A. C. Gunsbury
-
195
4th
Expert
Warren J. Thompson
-
195
1st
Sharpshooter
H. C. Homes
-
191
2nd
Sharpshooter
R. J. Burke
-
189
3rd
Sharpshooter
Robert L. McDonald
-
189
4th
Sharpshooter
R. T. McDonald
-
188
1st
Marksman
T. C. Reitz
-
187
2nd
Marksman
R. T. Robbins
-
186
3rd
Marksman
H. T. Burke
-
184
4th
Marksman
J. Haggenmuller
-
183
(Source: Sparrows Point Police Dept. Official Bulletin)
.22 Caliber Timed Fire - Match 16
Rank
Name
Service Branch/Agency
Score
1
Wallace G. Angel
-
199
2
Leonard M. Rizzolla
U.S. Navy
199
3
Buck Fisher
El Paso, Tex.
198
4
Frank E. Papuga
-
198
1st
Master
Mert J. Golden
-
198
2nd
Master
F. F. Sowers
-
198
3rd
Master
Mark W. Billing
U.S. Marine Corps
Quantico, Va.
198
25th
Master
Wm W. McMillan, Jr.
U.S. Marine Corps
Quantico, Va.
194
1st
Expert
A. Simonsen
-
198
2nd
Expert
Chester L. Coons
-
197
3rd
Expert
H. Cancglin
-
196
4th
Expert
J. Quinn
-
194
1st
Sharpshooter
W. A. Chandler
-
194
2nd
Sharpshooter
R. T. Driscoll
-
192
3rd
Sharpshooter
L. E. Towndrow
-
192
4th
Sharpshooter
H. C. Holmes
-
192
1st
Marksman
T. M. Burton
-
192
2nd
Marksman
T. C. Reitz
-
189
3rd
Marksman
G. C. Willey
-
189
4th
Marksman
J. M. Beary
-
188
(Source: Sparrows Point Police Dept. Official Bulletin)
.22 Caliber Slow Fire - Match 15
Rank
Name
Service Branch/Agency
Score
1
Mert J. Golden
-
191
2
John M. Jagoda
U.S. Marine Corps
Quantico, Va.
188
3
Alvin H. Drehle
-
187
4
R. C. Manring
-
187
1st
Master
Bob Morphy
-
186
2nd
Master
Thomas R. Mitchell
U.S. Marine Corps
Quantico, Va.
186
3rd
Master
Frank E. Papuga
-
185
5th
Master
Wm W. McMillan, Jr.
U.S. Marine Corps
Quantico, Va.
185
1st
Expert
John A. Hendricksen
-
183
2nd
Expert
R. Ross
-
182
3rd
Expert
M. E. Hull
-
181
4th
Expert
J. E. Young
-
180
1st
Sharpshooter
D. C. Binney
-
182
2nd
Sharpshooter
L. E. Towndrow
-
176
3rd
Sharpshooter
Robert L. McDonald
-
174
4th
Sharpshooter
J. Asai
-
174
1st
Marksman
J. J. Fielding
-
181
2nd
Marksman
T. M. Burton
-
179
3rd
Marksman
H. D. Burke
-
175
4th
Marksman
A. C. Gidlewski
-
173
(Source: Sparrows Point Police Dept. Official Bulletin)
.22 Caliber Camp Perry Course - Match 14
Rank
Name
Service Branch/Agency
Score
1
Buck Fisher
El Paso, Tex.
299
2
L. H. Dierdorff
-
299
3
Frank E. Papuga
-
298
4
Thomas R. Mitchell
U.S. Marine Corps
Quantico, Va.
298
1st
Master
Robert J. Mansell
-
296
2nd
Master
Leonard M. Rizzolla
U.S. Navy
296
3rd
Master
W. J. Simms
-
296
21st
Master
Wm W. McMillan, Jr.
U.S. Marine Corps
Quantico, Va.
291
1st
Expert
B. O. Rhodes
-
294
2nd
Expert
M. Del Grosso
-
294
3rd
Expert
A. Simonsen
-
293
4th
Expert
T. V. Lawrence
-
293
1st
Sharpshooter
Robert L. McDonald
-
289
2nd
Sharpshooter
D. C. Binney
-
286
3rd
Sharpshooter
R. Boeshore
-
283
4th
Sharpshooter
R. R. Hastings
-
283
1st
Marksman
T. S. Wilson
-
284
2nd
Marksman
R. E. Robbins
-
283
3rd
Marksman
L. T. Williams
-
279
4th
Marksman
F. G. Stoner
-
279
(Source: Sparrows Point Police Dept. Official Bulletin)
.38 Caliber Team Championship - Match 12
Rank
Service Branch/Agency
Score
1
Marine Corps Schools Pistol Team


M. W. Billing, T. R. Mitchell, C. Plante & W. W. McMillan, Jr.

1142
2
12th Precinct Pistol Club No. 1


A. V. Kissal, M. I. Bridges, R. D. Marshall & R. C. Manring

1107
3
Pittsburgh Police Department


L. G. Epler, C. F. Merz, B. Morphy & P. J. Scanlon

1095
1st
Expert
U.S. Park Police
1093
2nd
Expert
White House Police
1091
3rd
Expert
Reading Pistol Club, Inc.
1087
1st
Sharpshooter
National Capital Revolver & Pistol Club, No. 1
1069
2nd
Sharpshooter
Monumental Rifle & Pistol Club
1060
3rd
Sharpshooter
Hunters & Anglers Association, Harrisburg, Pa.
1056
1st
Marksman
Fort Holabird Pistol & Revolver Club
1045
2nd
Marksman
Maryland State Police, No. 2
993
3rd
Marksman
Coast Guard League Rev. Club of Phila.
959
(Source: Sparrows Point Police Dept. Official Bulletin)
.38 Caliber National Match Course - Match 11
Rank
Name
Service Branch/Agency
Score
1
Leonard M. Rizzolla
U.S. Navy
296
2
Buck Fisher
El Paso, Tex.
289
3
Wm W. McMillan, Jr.
U.S. Marine Corps
Quantico, Va.
288
4
Thomas R. Mitchell
U.S. Marine Corps
Quantico, Va.
286
1st
Master
William S. Crawford
-
286
2nd
Master
Alvin H. Drehle
-
285
3rd
Master
Roy D. Marshall
-
284
1st
Expert
Frank E. Papuga
-
286
2nd
Expert
W. J. Simms
-
286
3rd
Expert
R. C. Manring
-
285
4th
Expert
B. P. McKnew
-
284
1st
Sharpshooter
E. R. France
-
282
2nd
Sharpshooter
J. B. Smith
-
280
3rd
Sharpshooter
M. D. Emig
-
274
4th
Sharpshooter
R. P. Elderkin
-
273
1st
Marksman
R. W. May
-
274
2nd
Marksman
C. R. Simons
-
268
3rd
Marksman
M. DuBois
-
265
4th
Marksman
A. G. Law
-
265
(Source: Sparrows Point Police Dept. Official Bulletin)
.38 Caliber Rapid Fire - Match 10
Rank
Name
Service Branch/Agency
Score
1
Buck Fisher
El Paso, Tex.
196
2
C. A. Remfrey
-
196
3
Roy D. Marshall
-
196
4
Thomas R. Mitchell
U.S. Marine Corps
Quantico, Va.
195
1st
Master
Alvin H. Drehle
-
194
2nd
Master
Mark W. Billing
U.S. Marine Corps
Quantico, Va.
193
3rd
Master
John M. Jagoda
U.S. Marine Corps
Quantico, Va.
192
7th
Master
Wm W. McMillan, Jr.
U.S. Marine Corps
Quantico, Va.
190
1st
Expert
W. J. Simms
-
195
2nd
Expert
J. Litz
-
192
3rd
Expert
F. F. Sowers
-
192
4th
Expert
A. V. Kissal
-
190
1st
Sharpshooter
W. C. Flora
-
187
2nd
Sharpshooter
H. L. Gill
-
185
3rd
Sharpshooter
R. Ross
-
185
4th
Sharpshooter
C. F. Whipp
-
184
1st
Marksman
A. G. Law
-
179
2nd
Marksman
I. S. Miller
-
177
3rd
Marksman
F. Hartman
-
177
4th
Marksman
C. A. Rosenberger
-
177
(Source: Sparrows Point Police Dept. Official Bulletin)
.38 Caliber Timed Fire - Match 9
Rank
Name
Service Branch/Agency
Score
1
Buck Fisher
El Paso, Tex.
200-10
2
Leonard M. Rizzolla
U.S. Navy
199
3
Wm W. McMillan, Jr.
U.S. Marine Corps
Quantico, Va.
198
4
Thomas R. Mitchell
U.S. Marine Corps
Quantico, Va.
198
1st
Master
Robert J. Mansell
-
198
2nd
Master
Alvin H. Drehle
-
197
3rd
Master
Charles Plante
U.S. Marine Corps
Quantico, Va.
197
1st
Expert
W. J. Simms
-
197
2nd
Expert
B. P. McKnew
-
196
3rd
Expert
C. J. Hunsicker
-
196
4th
Expert
C. A. Remfrey
-
196
1st
Sharpshooter
R. Ross
-
193
2nd
Sharpshooter
W. C. Flora
-
192
3rd
Sharpshooter
B. O. Rhodes
-
189
4th
Sharpshooter
F. Svec
-
189
1st
Marksman
M. DuBoise
-
190
2nd
Marksman
F. Hartman
-
189
3rd
Marksman
A. G. Law
-
188
4th
Marksman
T. M. Burton
-
186
(Source: Sparrows Point Police Dept. Official Bulletin)
.38 Caliber Slow Fire - Match 8
Rank
Name
Service Branch/Agency
Score
1
B. H. Davis
-
188
2
Leonard M. Rizzolla
U.S. Navy
187
3
Mark W. Billing
U.S. Marine Corps
Quantico, Va.
186
4
R. A. Dobart
-
186
1st
Master
Thomas R. Mitchell
U.S. Marine Corps
Quantico, Va.
186
2nd
Master
Charles Plante
U.S. Marine Corps
Quantico, Va.
184
3rd
Master
William S. Crawford
-
183
7th
Master
Wm W. McMillan, Jr.
U.S. Marine Corps
Quantico, Va.
180
1st
Expert
W. J. Simms
-
186
2nd
Expert
B. P. McKnew
-
185
3rd
Expert
J. Litz
-
184
4th
Expert
J. H. Barron
-
183
1st
Sharpshooter
H. F. Schultheis
-
181
2nd
Sharpshooter
R. Ross
-
176
3rd
Sharpshooter
J. B. Smith
-
174
4th
Sharpshooter
M. D. Emig
-
174
1st
Marksman
M. D. DuBoise
-
177
2nd
Marksman
J. J. Fielding
-
177
3rd
Marksman
R. W. May
-
173
4th
Marksman
J. D. Skenes
-
172
(Source: Sparrows Point Police Dept. Official Bulletin)
.38 Caliber Camp Perry Course - Match 7
Rank
Name
Service Branch/Agency
Score
1
G. Lyon
-
298
2
Leonard M. Rizzolla
U.S. Navy
297
3
Thomas R. Mitchell
U.S. Marine Corps
Quantico, Va.
297
4
M. I. Bridges
-
296
1st
Master
Buck Fisher
El Paso, Tex.
296
2nd
Master
Wm W. McMillan, Jr.
U.S. Marine Corps
Quantico, Va.
295
3rd
Master
Charles Plante
U.S. Marine Corps
Quantico, Va.
294
1st
Expert
B. P. McKnew
-
293
2nd
Expert
E. W. Ensor
-
292
3rd
Expert
A. Simonsen
-
292
4th
Expert
Patrick J. Scanlon
-
291
1st
Sharpshooter
R. Ross
-
288
2nd
Sharpshooter
M. Del Grosso
-
284
3rd
Sharpshooter
J. M. Brown
-
281
4th
Sharpshooter
W. C. Flora
-
280
1st
Marksman
F. G. Stoner
-
280
2nd
Marksman
A. G. Law
-
278
3rd
Marksman
I. K. Benton
-
277
4th
Marksman
M. S. Moore
-
277
(Source: Sparrows Point Police Dept. Official Bulletin)
.45 Caliber Team Championship - Match 6
Rank
Service Branch/Agency
Score
1
U.S. Marine Corps Schools Pistol Team


J. M. Jagoda, M. W. Billing, T. R. Mitchell & C. Plante

1150
2
Reading Pistol Club, Inc.


J. A. Goodhart, M. J. Golden, R. E. Woodward & E. K. Pote

1066
3
Pittsburgh Police Department


L. G. Epler, B. Morphy, Patrick J. Scanlon & J. H. Reese

1054
1st
Expert
Baltimore County Police Department
1017
1st
Sharpshooter
Anacostia Air Station
1031
2nd
Sharpshooter
U.S. Park Police
1017
3rd
Sharpshooter
National Captional Rifle & Pistol Club
1011
1st
Marksman
Fort Holabird Pistol & Revolver Club
1003
2nd
Marksman
Baltimore City Police 'Red' Team
996
3rd
Marksman
Baltimore City Police 'White' Team
943
(Source: Sparrows Point Police Dept. Official Bulletin)
.45 Caliber National Match Course - Match 5
Rank
Name
Service Branch/Agency
Score
1
Thomas R. Mitchell
U.S. Marine Corps
Quantico, Va.
293
2
Mark W. Billing
U.S. Marine Corps
Quantico, Va.
288
3
Buck Fisher
El Paso, Tex.
286
4
Leonard M. Rizzolla
U.S. Navy
286
1st
Master
Charles Plante
U.S. Marine Corps
Quantico, Va.
280
2nd
Master
Roy D. Marshall
-
279
3rd
Master
Mert J. Golden
-
278
11th
Master
Wm W. McMillan, Jr.
U.S. Marine Corps
Quantico, Va.
268
1st
Expert
F. Lesicki
-
279
2nd
Expert
Adrian T. Myers
-
273
3rd
Expert
C. A. Remfrey
-
272
4th
Expert
J. W. Mack, Jr.
-
272
1st
Sharpshooter
L. H. Dierdorff
-
267
2nd
Sharpshooter
Wallace G. Angel
-
264
3rd
Sharpshooter
Frank E. Papuga
-
263
4th
Sharpshooter
Peter J. Ellis
-
261
1st
Marksman
H. W. Hulseman
-
271
2nd
Marksman
A. W. Plummer
-
265
3rd
Marksman
Alfred E. Ryan
-
263
4th
Marksman
R. Wilhelm
-
259
(Source: Sparrows Point Police Dept. Official Bulletin)
.45 Caliber Rapid Fire - Match 4
Rank
Name
Service Branch/Agency
Score
1
John M. Jagoda
U.S. Marine Corps
Quantico, Va.
196
2
Mark W. Billing
U.S. Marine Corps
Quantico, Va.
195
3
Leonard M. Rizzolla
U.S. Navy
193
4
J. A. Goodhart
-
191
1st
Master
Vito Perna
U.S. Marine Corps
Quantico, Va.
191
2nd
Master
Roy D. Marshall
-
191
3rd
Master
Buck Fisher
El Paso, Tex.
190
7th
Master
Wm W. McMillan, Jr.
U.S. Marine Corps
Quantico, Va.
188
1st
Expert
Charles F. Merz
-
187
2nd
Expert
C. A. Remfrey
-
186
3rd
Expert
J. B. Morrissey
-
185
4th
Expert
J. Quinn
-
185
1st
Sharpshooter
P. B. Weston
-
189
2nd
Sharpshooter
Wallace G. Angel
-
185
3rd
Sharpshooter
E. L. Reed
-
181
4th
Sharpshooter
William S. Crawford
-
181
1st
Marksman
H. A. Zeeh
-
178
2nd
Marksman
A. W. Plummer
-
177
3rd
Marksman
Alfred E. Ryan
-
177
4th
Marksman
A. Simonsen
-
176
(Source: Sparrows Point Police Dept. Official Bulletin)
.45 Caliber Timed Fire - Match 3
Rank
Name
Service Branch/Agency
Score
1
Buck Fisher
El Paso, Tex.
199
2
Thomas R. Mitchell
U.S. Marine Corps
Quantico, Va.
196
3
Leonard M. Rizzolla
U.S. Navy
196
4
Mark W. Billing
U.S. Marine Corps
Quantico, Va.
195
1st
Master
Robert J. Mansell
-
195
2nd
Master
Charles Plante
U.S. Marine Corps
Quantico, Va.
194
3rd
Master
Wm W. McMillan, Jr.
U.S. Marine Corps
Quantico, Va.
193
1st
Expert
J. A. Goodhart
-
190
2nd
Expert
J. B. Morrissey
-
189
3rd
Expert
F. Bates
-
189
4th
Expert
J. Quinn
-
187
1st
Sharpshooter
Robert L. McDonald
-
192
2nd
Sharpshooter
Wallace G. Angel
-
189
3rd
Sharpshooter
L. H. Dierdorff
-
187
4th
Sharpshooter
E. L. Reed
-
183
1st
Marksman
Alfred E. Ryan
-
186
2nd
Marksman
R. Ross
-
185
3rd
Marksman
R. P. Elderkin
-
180
4th
Marksman
A. Simonsen
-
179
(Source: Sparrows Point Police Dept. Official Bulletin )
.45 Caliber Slow Fire - Match 2
Rank
Name
Service Branch/Agency
Score
1
John M. Jagoda
U.S. Marine Corps
Quantico, Va.
184
2
Charles Plante
U.S. Marine Corps
Quantico, Va.
183
3
Mark W. Billing
U.S. Marine Corps
Quantico, Va.
183
4
John F. Christoff
-
181
1st
Master
Mert J. Golden
-
180
2nd
Master
Thomas R. Mitchell
U.S. Marine Corps
Quantico, Va.
179
3rd
Master
Bob Morphy
-
179
9th
Master
Wm W. McMillan, Jr.
U.S. Marine Corps
Quantico, Va.
173
1st
Expert
J. W. Mack, Jr.
-
177
2nd
Expert
F. Lesicki
-
176
3rd
Expert
J. A. Goodhart
-
174
4th
Expert
Edgar K. Pote
-
170
1st
Sharpshooter
Frank E. Papuga
-
172
2nd
Sharpshooter
L. H. Dierdorff
-
171
3rd
Sharpshooter
Adrian T. Myers
-
170
4th
Sharpshooter
P. B. Weston
-
167
1st
Marksman
M. Del Grosse
-
170
2nd
Marksman
H. W. Hulseman
-
169
3rd
Marksman
A. W. Plummer
-
168
4th
Marksman
G. C. Willey
-
167
(Source: Sparrows Point Police Dept. Official Bulletin)
.45 Caliber Camp Perry Course - Match 1
Rank
Name
Service Branch/Agency
Score
1
Thomas R. Mitchell
U.S. Marine Corps
Quantico, Va.
296
2
Vito Perna
U.S. Marine Corps
Quantico, Va.
295
3
Mark W. Billing
U.S. Marine Corps
Quantico, Va.
293
4
Buck Fisher
El Paso, Tex.
292
1st
Master
Charles Plante
U.S. Marine Corps
Quantico, Va.
291
2nd
Master
Wm W. McMillan, Jr.
U.S. Marine Corps
Quantico, Va.
291
3rd
Master
John M. Jagoda
U.S. Marine Corps
Quantico, Va.
289
1st
Expert
Patrick J. Scanlon
-
283
2nd
Expert
Charles F. Merz
-
282
3rd
Expert
R. E. Woodward
-
280
4th
Expert
M. W. Hulseman
-
280
1st
Sharpshooter
Frank E. Papuga
-
277
2nd
Sharpshooter
Adrian T. Myers
-
276
3rd
Sharpshooter
P. B. Weston
-
276
4th
Sharpshooter
Wallace G. Angel
-
275
1st
Marksman
A. Simonsen
-
284
2nd
Marksman
H. W. Hulseman
-
277
3rd
Marksman
A. W. Plummer
-
276
4th
Marksman
H. A. Zeeh
-
269
(Source: Sparrows Point Police Dept. Official Bulletin)