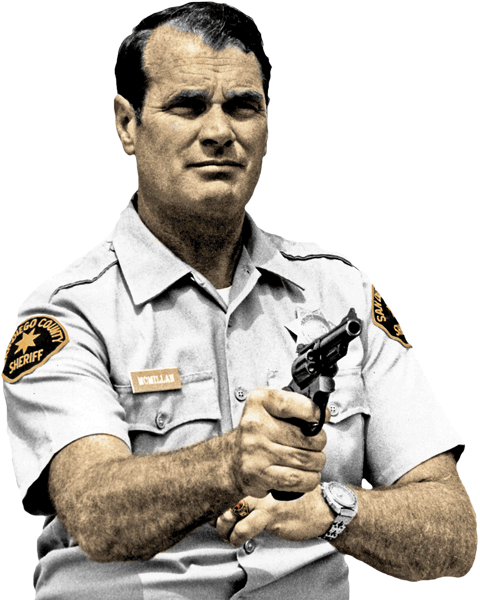 S.D.S.O. Combat Handgun Training Program
"Lieutenant Colonel William W. "Bill" McMillan, USMC (Ret.) retired after twenty eight years in the Marine Corps and became Weapons Training Coordinator with the SDSO in 1974.
Bill McMillan's training programs expanded on the base set by Eldon Carl. Academy training and qualification shooting were intensified and concentrated. McMillan's athletic background and belief in combat shooting fundamentals introduced increased stress on the shooters in training situations.
Shoot-out scenarios designed to duplicate real time incidents were set up. Shooters could be required to wait for irregular intervals before seeing targets, increasing the anticipation. Stage sets were created to duplicate conditions in hallway or building entry problems related to shooting. The new emphasis was on real time conditions in the shootout.
McMillan's Quantico experience brought in Hogan's Alley type FBI shooting. Rapid changes in target situations and 'Shoot - Don't Shoot' decision making all simulated real time combat situations faced by duty officers.
SWAT organization expanded during this time and McMillan trained the counter-sniper group. Tactical employments, target identification, range and load data were all stressed along with marksmanship for counter-snipers. Unpredictable time intervals were emphasized requiring the counter-sniper to make quick rapid decision as well as to wait for prolonged periods of time before engaging a target. Weapons selections and system evaluation became part of "A" Range procedures.
During the later 1970's, honorary James D. Mason, a forensic ballistic expert, gun writer, and inventor, became a departmental consultant for small arms and ballistics. Working closely with Bill McMillan on a number of key programs and investigations, Mason made many contributions that advanced the SO and kept it abreast of the times.
Systematic examinations and testing for body armor was done to select the best suited to departmental needs. This included evaluation of nearly a dozen commercial types of armor that were available at the time. Testing and evaluation involved actual firing on sample vests to determine the protection levels of these garments.
Requests came in for a short barrel 12-gauge riot gun for use in department radio cars. A complete research program was done to determine the feasibility and effectiveness of barrel shortening for the models 860 and 1100 riot guns. Velocity changes and muzzle blast decibel levels were checked instrumentally from 26 inches down to 11 inches. A complete modificaiton, specification and implementation program was designed and executed in about two months time. Specific 12-gauge ammunition was tested and selected for anti-personnel and barricade situations.
All available commercial speedloaders and variable techniques for using them were investigated and tested. Equipment selections were made bringing about standardization for the department. This same type of program was run for service holsters and side arms before recommendations were made for standard issues. This resulted in department adoption of front-opening holsters in the model .66 S&W revolver. Ammunition for the .357 service revolver was tested to be compatible with department policy intergrading the handgun with the use of body armor. All this mainline programs and other less significant research projects were documented and excepted by the department.
Bill McMillan's personal shooting record is formidable; it is one of the most extensive patterns of championship performance worldwide.
He is a former California State Rifle Champion and five time All Marine Corps Rifle and Pistol Champion. In 1957 he was National Match Pistol Champion with a 3 gun aggregate record of 2652/2700. No one has duplicated this score with a 3 gun requirements. Rules now do not require use of the revolver in the center fire event.
McMillan competed in 6 Olympic Games, winning the Gold Medal in International Rapid Fire in 1960. He competed in 6 World Championships, winning Gold Medals in pistol in 1954 and 1958. He competed in 5 Pan-American Games taking a Pistol Championship in 1967.
Bill McMillan originated the "5 o'clock hold", a natural canted pistol hold used by many match shooters, especially for rapid fire acquisition.
In terms of accomplishments alone, Bill McMillan is one of the world top all around shooting masters and the greatest American match target pistol shooter."
by James D. Mason, San Diego Sheriff's Office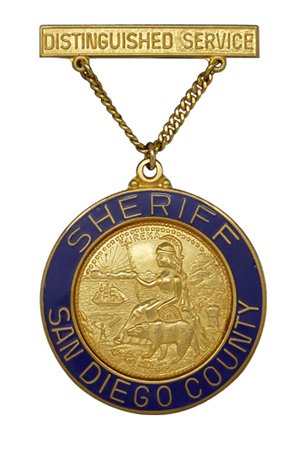 Distinguished Service Medal