Firing range miscue almost kills deputy
By David Hasemyer
TRIBUNE Staff Writer
A routine firearms drill for sheriff's deputies nearly ended in death yesterday when an officer - an Olympic gold medalist in target shooting - was accidentally shot twice at the Camp Elliott training facility.
Special deputy William McMillan, 51, range master and weapons training coordinator at the range, was in stable condition in Sharp Memorial Hospital after more than four hours of emergency surgery for severe chest wounds.
McMillan was shot while operating targets at the facility when a deputy, whom the department refused to identify, fired at a target which was not in position to be shot at, a sheriff's spokesman said.
He said the deputy was involved in a "shoot, no-shoot" drill, which requires split-second decisions on whether to fire.
"As he exited one of the training buildings, he was confronted by two legitimate targets," said sheriff's Lt. Jack Drown. "After he fired at the two targets, one on his left and one on the right, he saw a third target with peripheral vision."
"This target was attached to the rear of the building he had just exited and did indicate a 'shoot' situation."
But the target was not supposed to be shot at from outside the building, Drown said. It was designed to suddenly appear at a window as the deputy involved in the exercise walked through the building, he added.
The deputy, who is assigned to the department's civil division, turned and fired two shots from his service-issued .357-caliber Magnum pistol, Drown said.
The bullets passed through the target and the building, and struck McMillan, who was standing outside the building at a portable control center.
The slugs slammed into his upper right chest, shattering bones and nerves and severing an artery, a hospital spokesman said.
Drown said he didn't know if the officer who fired the shots had been through the course before, but said even though the officer wasn't a field deputy, he was still qualified with the weapon.
McMillan, a six-year veteran of the department, has been on the U.S. Olympic shooting team six times and won a gold medal at the 1960 Rome Olympics. He helped design the training facility at Camp Elliott.
Drown said the target controls are portable to allow the training officer to follow deputies around the course. He said the deputy who fired hadn't known where McMillan was.
"This has been hell of a hard way to learn a lesson, and I'm sure there might be some changes now," Drown said.
Evening Tribune, San Diego, Thursday, May 22, 1980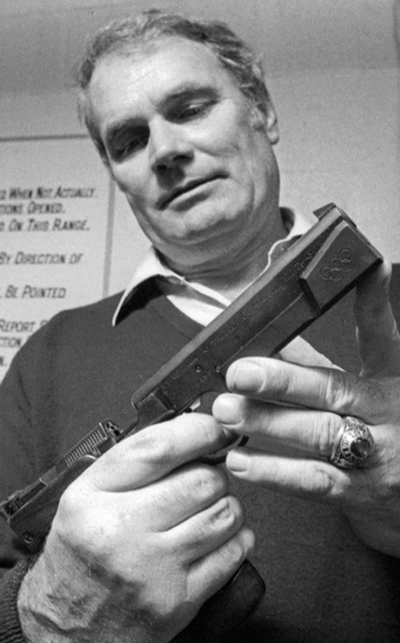 In a photo taken before his near-fatal shooting accident, William W. McMillan inspects his Olympic pistol. He participated in six Olympics games and won a gold medal in the 1960 Rome games.
DEPUTY RECOVERING, PROBE UNDER WAY
Ironic Shots Felled Rangemaster
By ClIFF SMITH
Staff Writer, The San Diego Union
Wild shots. Pistol champion William W. McMillan trained all of his adult life to avoid making wild shots. Ironically, two of them made him their target Wednesday.
As a result, McMillan was fighting back from near death yesterday in Sharp Hospital and Sheriff John Duffy's new, innovative weapons range on Kearney Mesa was closed, the safety of its procedures and Disneyland-type trappings under investigation.
Lt. Jack Drown, public affairs officer for Duffy, said a squad of homicide detectives had been assigned to probe the accident.
"We certainly will be looking at the setup at the range," Drown said. "There might be some changes."
As the investigation proceeded and officiers planned a reconstruction of the accident today, Drown pieced together a better account of how it happened:
On Wednesday a special "shoot, don't shoot" pistol range within the two-month-old Tactical Training Facility at Camp Elliott was being used by deputies.
The facility, built at a cost of $300,000, is commonly called Duffystown, partly because it includes a complete mock town, including a bank, various kinds of stores, a park, traffic signals, and other urban landmarks.
McMillan, a special deputy and the rangemaster, was at a panel of switches, controlling the sudden appearance of targets designed to surprise peace officers and test their snap judgement and shooting skill.
A few minutes earlier, the first deputy participating in the session had negotiated the course and one of the targets malfunctioned, failing to appear. McMillan stopped the exercise momentarily to make adjustments in the target apparatus.
Then, a second deputy, who works for in the Sheriff's Civil Division, started through the course.
First, he entered a mock store, where the malfunctioning target was supposed to appear at a window. The target apparatus failed again and the deputy continued on through the course as assigned.
The deputy, who the sheriff's office has refused to identify, then walked outdoors, through a door at the back of the building.
There, two more targets controlled by McMillan appeared, either simultaneously or in rapid succession. One of the targets was a "shoot" object, bearing an image such as that of a man pointing a rifle. The other was a "don't shoot" target, such as an image of a woman holding a baby. The targets were widely separated, one to the deputy's left, the other to the right.
The shooter correctly fired on the "shoot" target and withheld fire from the other target.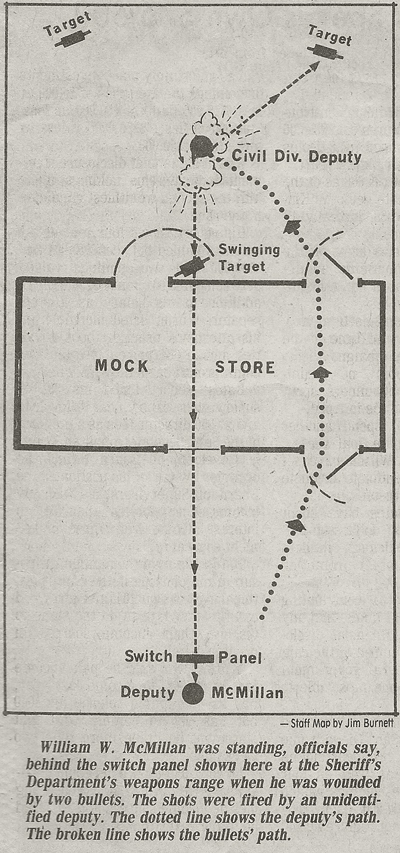 Wounded Deputy's Condition Improves
Then, the deputy sighted another target out of the corner of one eye, turned and fired on it at least twice. The target was fixed to the back of the store building from which he had just exited.
It was the same target McMillan had attempted to repair moments before.
Affixed to the end of a swinging arm, the target is designed to swing away from the back of the building and appear at the window to a shooter entering the "store" from the front door.
Even if the target mechanism had not malfunctioned, Drown noted, the target would have retracted from the window automatically and been in the same position it was when the accident occurred.
In any case, two of the deputy's Magnum .357 caliber bullets penetrated the target and the wall behind, passed through the "store" from back to front, crashed through a glass window and struck McMillan.
A hospital spokesman said the bullets hit McMillan in the upper right chest, shattering bones, nerves and severing an artery.
McMillan underwent more than four hours of surgery. On Wednesday night, following the surgery, his condition was described as critical. Yesterday, his condition was termed "improved and stable" and Drown said "right now it looks like he will survive."
The effect the shooting could have on McMillan's career as a pistol marksman in international competition was uncertain.
It could be both a personal and national tragedy for the sport because of McMillan's high standing.
He is unusual among rapid-fire pistol champions in that, at the age of 51, he still could entertain the notion of competiting in an unprecedented seventh Olympic Games - even if he had to wait until 1984. Most Olympic pistol shooters are under 35.
McMillan participated in the Olympics of 1952, 1960, 1964, 1968, 1972 and 1976. In the 1960 games at Rome he won a gold medal.
Earlier this year, before the Soviet invasion of Afghanistan and President Carter's call for a U.S. boycott of the coming games in Moscow, McMillan was preparing to again represent the United States.
He planned to compete in the U.S. Olympic trials this spring and calculated his chances as "good."
McMillan, a retired Marine Corps lieutenant colonel, was particularly eager for his seventh Olympics trial because he had established that no competitor in any event has participated in the games more than six times.
After Moscow, McMillan planned to hang up his Olympmic Pistol
Yet, as recently as January, he declared his conviction that he could go on even longer if he felt the inclination. He explained that his vision still was keen, his nerves and hand steady and his skill still apparently improving.
"I feel I could stay competitive into my later 50s," he said. "I've never reached my potential because I haven't competed regularly enough.
The San Diego Union, Thursday, May 22, 1980
Probe of firing range accident stalled
By PRESTON TUREGANO
TRIBUNE Staff Writer
Sheriff's Department investigators say that only William McMillan will be able to explain exactly what happened Wednesday when he was accidentally shot at the Camp Elliott Firing range.
"We will have to wait until he's recovered sufficiently from his wounds," a sheriff's spokesman said yesterday."
Investigators had hoped that a re-enactment of the accident conducted yesterday at the range would help them to determine how McMillan, who is the range master, was hit twice when a deputy shot at the wrong target.
The re-enactment, a walk-through with no shots fired, resulted in no new insights, the spokesman said.
Investigators said Thursday that the two .357-caliber Magnum bullets passed through the target and the wall of a building before hitting McMillan, who was operating retractable targets.
"Only he can tell us exactly what he was doing at the time the shots were fired," the spokesman said. "His account is key to this investigation."
McMillan, 51, a 1960 Olympic gold medalist in rapid fire, remained in stable condition last night at Sharp Memorial Hospital, with only his immediate family allowed to visit him.
He underwent four hours of surgery Wednesday to repair a severed artery and other chest injuries, the hospital reported.
McMillan told hospital officials yesterday that some feeling has returned to his right hand. Officials feared that his wounds and damage to nerves might result in loss of feeling in his hand.
Evening Tribune, San Diego, Friday, May 23, 1980
Wounded Officer Touted Range Safety
Sergeant Told Supervisors About Accident-Free Record
By JACK JONES
Times Staff Writer
Slightly more than a month ago, Sheriff's Sgt. William McMillan, 51, assured the Board of Supervisors that all San Diego County shooting ranges have good safety records.
McMillan, range master at the county's tactical training facility for law enforcement officers on old Camp Elliott in the Miramar area, was supporting the successful effort of the South Bay Rod and Gun Club to install a shooting range near rural homes at Dulzura.
He said there had never been an incident on any county range - civilian or police - in which bullets traveled outside buffer areas and injured persons or damaged property.
Ironically, McMillan lay Thursday in Sharp Memorial Hospital where he was in stable condition following a shooting accident on the county range he helped design and where he has been weapons training coordinator since 1974.
The former Marine lieutenant colonel and 1960 Olympics rapid-fire gold medal winner was shot twice in the chest by another deputy firing at a pop-up target with a .357 magnum pistol.
The Sheriff's Department declined to release the name of the officer who did the shooting, identifying him only as a deputy assigned to courtroom service.
"It was an accident," Lt. Jack Drown said. "The fellow who did it obviously feels very badly about it. We don't feel it (his name) is absolutely relevant."
Although the bullets did not travel outside the range's buffer area, they did go in a direction not intended when the shoot-or-no-shoot layout was designed.
Drown said McMillan was in front of a small, mock-up house operating the electronic controls for three pop-up targets meant to confront an officer wih instant-decision situations.
The unidentified deputy going through the course entered through the front door, but McMillan did not activate a "shoot" target that is mounted outside the house and can be swung into view at a rear window. (Possibly, Drown said, that target malfunctioned.)
The deputy then followed procedure and went out the back door to inspect the rear area. He was confronted there by two other targets in rapid succession - one to his left and one to his right.
As the second target arose, Drown said, the deputy saw the back-window target out of the corner of his eye. He whirled and fired twice.
The bullets apparently went through the window, through the house and through a plaster board front wall to strike McMillan.
It has not yet been decided whether to redesign the range, but in the meantime it is not being used because the man who ran it is in the hospital.
The Los Angeles Times, Friday, May 23, 1980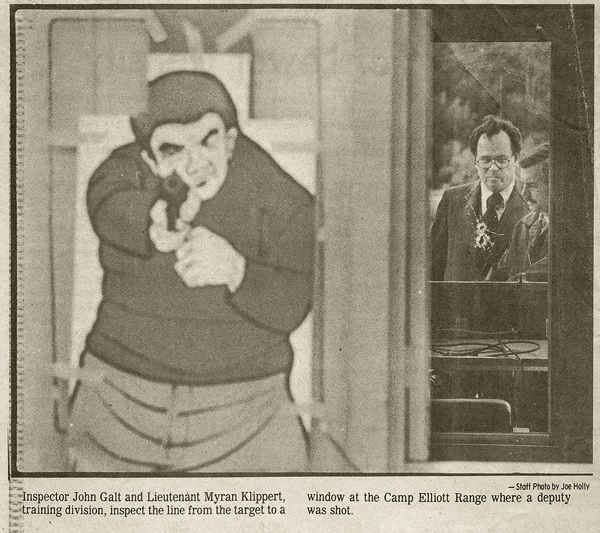 Sheriff Decides To Tighten Safety At Range
By CLIFF SMITH
Staff Writer, The San Diego Union
Procedures will be changed at an innovative firearms range here to prevent a repetition of the shooting accident that occurred there Wednesday, the Sheriff's Department announced yesterday.
"The fail-safe situation (required) that we . . . redo some procedures," Lt. Jack Drown, public affairs officer for the department, told a news conference at the Kearny Mesa range yesterday.
Drown said the deputy who accidentally fired two hollow-core .357 Magnum bullets into the chest of rangemaster William W. McMillan has not been disciplined.
Although an investigation into the incident has not been completed, Drown said, "I think it is not a situation where there would be disciplinary action against the deputy."
McMillan, 51, a retired Marine Corps lieutenant colonel working as a special deputy, remained in serious condition at Sharp Hospital but was expected to survive.
"He's still critical but improving Drown said. "His right arm is partially paralyzed at least temporarily. The wounds caused some nerve damage."
Drown said McMillan's blood pressure dropped "close to zero" after the shooting before paramedics arrived to administer first aid. A hospital spokesman said McMillan received nine pints of blood in surgery.
"Physicians are very pleased that he has gross movement in his right arm," the spokesman siad. "This is an excellent sign; however, we still are not sure whether damage to nerves will be permanent."
McMillan was a rapid-fire pistol shooting champion who won the gold medal for that event in the 1960 Olympics and who had been on the U.S. team at five other games. He was the favorite to win the rapid-fire competition at the next U.S. Pistol Championships in Phoenix June 9-11. He shoots with his right hand.
Drown said the deputy who shot McMillan was a 10-year department veteran with a good service record. He said it apparently was the first time the deputy had participated in the special firearms drill, in which participants are surprised by pop-up targets depicting armed suspects. But the man had passed regular pistol-firing courses four times a year.
"It is an understatement to say that he feels bad about this," Drown said. He said the man's identity was being withheld because releasing it would serve no purpose but to add to the emotional stress experienced by him and his family.
During the news conference, in which deputies reconstructed the accident, Drown acknowledged that anxiety on the part of the shooter may have been a factor.
"Everybody who goes through this (course) realizes that he is going to be under stress," Drown said. "Your adrenalin gets going. You want to do well. When there are surprise targets as in this particular drill, the anxiety builds even greater.
"Actually, the drills are designed to create some anxiety because we want the situations to be as close to real life as possible."
Drown also noted that one of the targets that was supposed to be flipped in front of the deputy during the exercise was never actuated, for unknown reasons.
However, that failure in target operation resulted in the deputy being able to see the target later. Seeing the target out of the corner of one eye, he wheeled and fired two bullets at it - in McMillan's direction.
The bullets penetrated a wood and plasterboard wall, a plywood shutter, a glass and screen-wire window and entered McMillan's upper right chest less than 3 inches apart. Holes in the building materials indicated the bullets spread considerably before striking McMillan.
The bullets fired in the exercise are standard ammunition for deputies. The hollow-core ammunition is used to minimize public danger because solid bullets are more penetrating and also tend to ricochet easier, Drown said.
The San Diego Union, Saturday, May 24, 1980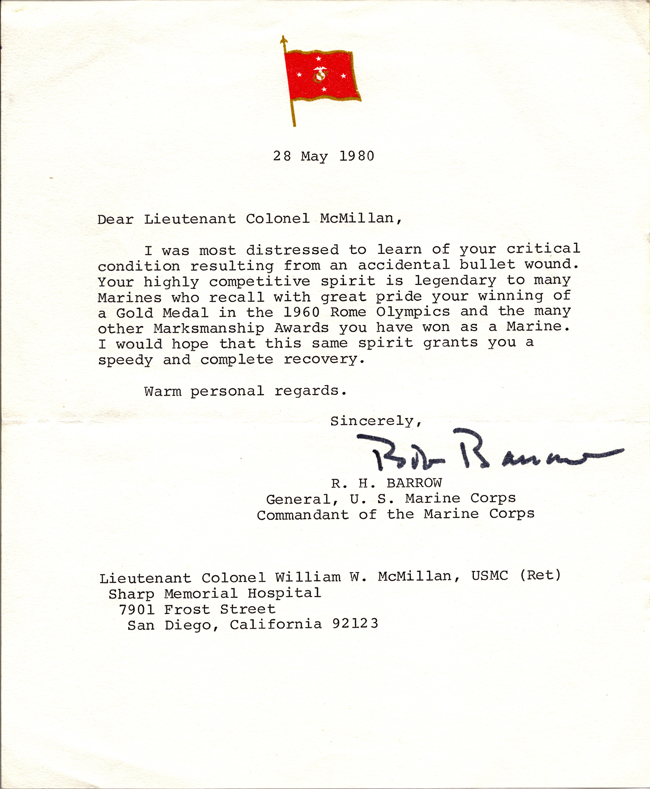 Wounded range officer out of intensive care
By DENNIS FOLEY
TRIBUNE Staff Writer
Sheriff's special deputy William McMillan, accidently hit by pistol fire during a shooting range exercise May 21, is out of Sharp Memorial Hospital's intensive-care unit.
McMillan, 51, shot twice in the upper right chest, has been in intensive care since he was rushed to the hospital three weeks ago.
The weapons training officer and former six-time Olympic pistol-team member has been moved to a private room and is seeing some visitors, said Sheriff's public affairs officer Lt. Jack Drown.
"He appears to be improving and his condition is good," Drown said. "We're encouraged by it." Drown said doctors are not sure if any permanent impairment will result.
McMillan underwent five hours of surgery after being struck by two slugs from a .357-caliber Magnum pistol by an unidentitied officer at the Tactical Training Facility in Kearny Mesa during a "shoot-no-shoot" exercise.
He had been operating the control panel, presenting targets in a mock setting which required the officers to make split-second decisions whether or not to fire their weapons.
The shots which hit McMillan were fired through a target which was not in position to be shot at, sheriff's investigators said. A report suggesting changes in the mock town set-up to prevent further incidents is due within two weeks, Drown said.
San Diego Blood Bank officals report more than 500 persons have donated blood either directly on behalf of McMillan or to the sheriff's account.
"People are still going, and the Blood Bank says the response has been awesome," Drown said. "It's very gratifying to see such a response."
Donors have included police, firefighters, and dozens of Marines. McMillan is a retired Marine.
He was considering a bid for an unprecendented seventh Olympic team this year.
Evening Tribune, Wednesday, June 11, 1980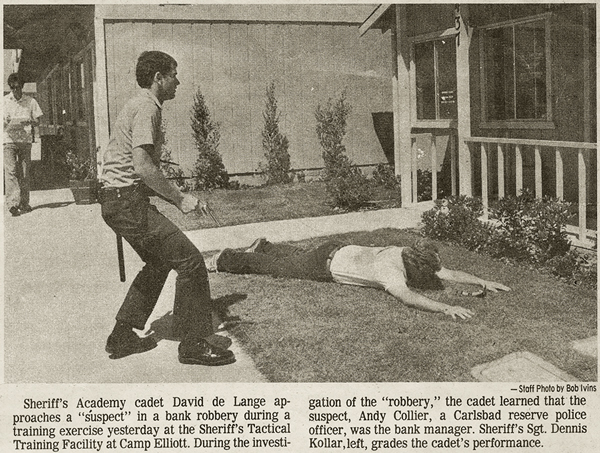 RANGE MASTER'S WILL TO LIVE CREDITED
Gun Accident Victim Gaining
By RICHARD T. RUANE
Staff Writer, The San Diego Union
Bill McMillan, the range master at the county's tactical training facility who was critically injured during a shooting exercise last month, is demonstrating one of his tenents - the will to live.
"During his firearms training classes, Bill stressed the importance of the will to live to students in the event they were shot in the field," said Elwin Helzer, a close friend who is serving as weapons training coordinator at the Camp Elliott range.
From his hospital bed in Sharp Memorial Hospital, McMillan said yesterday, he was "in good spirits and am OK."
Sheriff's Lt. Jack Drown said the range master, who was shot twice in the upper chest by slugs from a .357-caliber magnum pistol on May 21, survived only because of his excellent physical condition and his tenacious will to live.
His wife, Mary, who visited the range yesterday for the first time since the accident, said, "I'm amazed that he is still alive and survived the shooting. I had been unaware that the distance between Bill and the point from where the shots were fired was so close."
She said a bullet in the upper chest was removed last week and the other had lodged in McMillan's liver and the slug may or may not be removed later.
"He faces a long recuperation period, but he's a remarkable man. Few, if any, could have survived that type of accident," she said.
At the time of the accident, McMillan was operating a control panel during a "shoot-no-shoot" practice session when a deputy from the civil department fired his service revolver from the rear of a building at a life-size target that malfunctioned.
Two hollow core slugs from the powerful magnum penetrated a plasterboard wall, a wood shutter, a glass window and a screen and struck the range master, who was about 15 feet from the deputy.
McMillan, a native of Turtle Creek, Pa., joined the Marines when he was 17, received a field commission during the Korean War and retired with the rank of lieutenant colonel after 27 years of service.
He has had 30 years' experience in the use of small arms, was a member of the U.S. Olympics pistol team six times and won a gold medal in rapid-fire competition in Rome in 1960.
As a special deputy, he served as an advisor to several Special Weapons and Tactics teams in the county and, as range master at the tactical training facility, instructed many law enforcement officers on the range and in the classroom sessions.
He was instrumental in the development of the tactical training facility, which was built at a cost of $330,000 with funds provided by the Honoray Deputy Sheriffs Association.
Drown said the Sheriff's Department has implemented new procedures since the McMillan accident to prevent a recurrence. Effective immediately, two shooting instructors, in addition to the control operator, will be present during shooting exercises. Also, a barrier will be placed on the rear doors of the buildings to prevent participants from leaving the structures.
In addition said Drown, one of the instructors will walk the course with participants and each of the instructors may halt all activity by sounding a whistle.
The San Diego Union, Saturday, June 21, 1980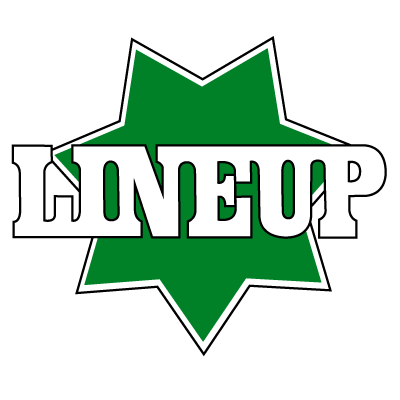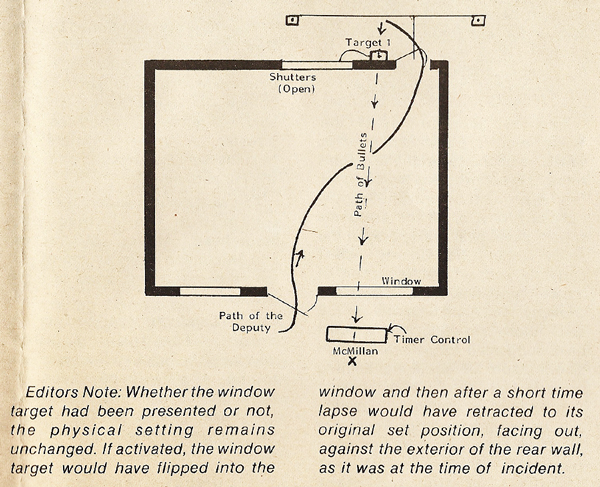 McMillan:
"Holding His Own"
On Wednesday, May 21, Special Deputy Bill McMillan was critically injured during a shooting exercise at the A-Range Training Facility. How the accident occurred is of vital interest and concern to all personnel in the Department. The following article was written in an attempt to ensure everyone connected with the Department has a factual account of the accident.
Civil Division deputies were scheduled to undergo firearms training at the recently opened Duffystown facility. The training excercise was to be conducted by Special Deputy Bill McMillan.
At approximately 11:30, two deputies from Civil arrived to help Deputy McMillan prepare for the exercise. Once preparation was complete, it was decided both civil deputies would "run through" the duel-a-tron portion of the exercise so they could assist McMillan later when other deputies arrived.
The deputies were advised that the training scenario involved an armed robbery which had just occured at the Bianchi store with two suspects having just exited through the rear of the building. Each deputy was to go through the "Shoot/Don't Shoot" course individually, firing two rounds when confronted with "shoot" situations.
The course was designed to present three decision situations. The first was to be a "shoot target" presented when the deputy entered the store. (See diagram target #1.)The shoot target affixed to the exterior of the rear wall, was designed to flip in to an open window in the rear wall. The second and third decision situations were targets located outside the rear of the store. One target was approximately 8 ft. to the right of the back door and displaying a shoot target. The other was approximately 10 ft. left of the door and was a "Don't Shoot" target. Both outside targets were about 9 ½ ft. from the rear wall of the store.
After the first deputy completed the course Deputy McMillan indicated target #1, the one designed to flip into the open window, had malfunctioned. McMillan worked on the system, and then the target operated as it was supposed to.
The second deputy was then put into the course. As he entered the building, he was not presented with the window target. The target either malfunctioned again or was not activated by McMillan.
The deputy went out the rear door and fired two rounds at the right target. He then turned towards his left and caught sight of the shoot target #1 positioned on the exterior rear wall. He completed his left turn and fired two rounds at that target. The bullets went through the rear wall, across the interior of the adjoining room and through a class window in the front wall, striking Deputy McMillan who was standing outside behind a control panel.
Immediately after the shooting, four Federal Protective Service officers came to McMillan's aid to administer first aid. Paramedics arrived and transported him to Sharp Hospital where he underwent four hours of emergency surgery. McMillan is listed in stable condition and, in Lee Sergent's words, is "holding his own."
"When I go in there I always hold his left hand," Lee Said. "Saturday he squeezed my hand so hard I thought he was going to break my fingers! He has total understanding of what you say and his progress is remarkable in itself."
Lt. Myron Klippert said, "Bill is still in intensive care but he's improving. Even without therapy, he has movement in his right hand."
During surgery, McMillan lost 11 pints of blood as a result of the two bullets wounds and complications resulting from a blood clotting disorder. According to the San Diego Blook Bank, McMillan, used 11 united (pints) of whole blood, 4 units of packaged red cells, 12 units of platelets and 24 units of cyroprecipitates which are used as a clotting factor.
A total of 527 people donated blood in response to the Blood Bank's urgent plea: 247 donated to the Deputy Sheriff's Association's account, 197 donated directly in McMillan's name and at least 83 donated from Camp Pendleton and MCRD. In addition, the El Cajon Fire Department is sponsoring a bloodmobile on June 10 from 10 a.m. to 3 p.m. at the Far West Savings and Loan. Another drive is being planned for June 18 from 1 p.m. to 6 p.m. at the El Cajon Elks Club. More information regarding blood donations is available from the San Diego Blood Bank at 296-6393.
"People are still coming in to donate blood to Bill," said Lynn Stedd, Blood Bank Coordinator. "We've never seen a response like this before to a blood drive for a single person. He must have a lot of friends out there."
He sure does. Our thoughts are with you, Bill.
San Diego Sheriff's Department Lineup, June 1980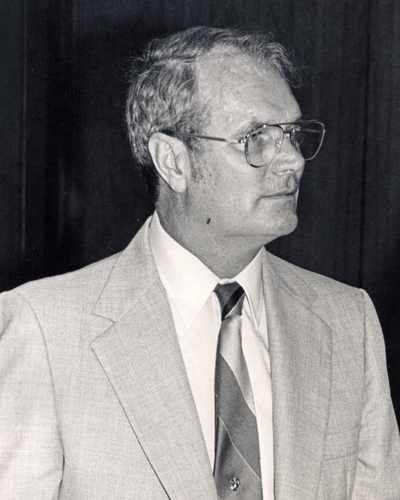 Special Deputy Sheriff Bill McMillan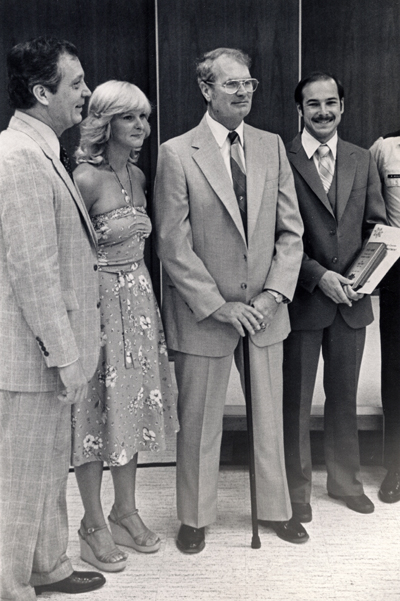 Bill McMillan smiles in response to the applause during presentation of Citizens Awards to Paramedics Ann Leonard and Richard Alcorta.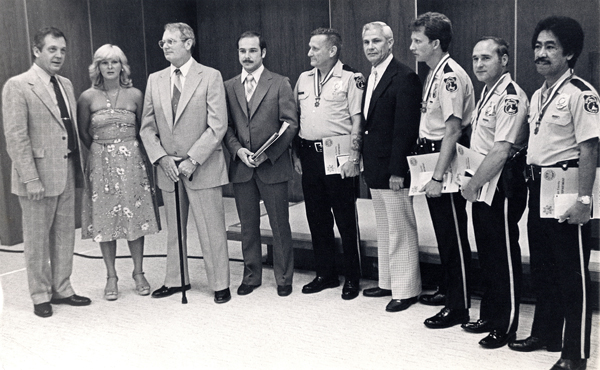 Sheriff John Duffy, Ann Leonard, Bill McMillan, Richard Alcorta, William Moxley, Mr. Charles T. Cobb, John Odam, Fred Farris and Renato Esmane.
McMillan Attends Award Ceremonies
In a surprise visit August 5, Bill McMillan joined the Sheriff in congratulating the four Federal Protective Services Officers and two Paramedics responsible for saving his life May 21.
With the help of Lee Sergeant and a $3.40 cane, Bill stood at the rear of the auditorium while the Sheriff presented Lifesaving Medals to Officers Renato Esmane, Fred Farris, William Moxley and John Odam and Citizens Awards to Paramedics Ann Leonard and Richard Alcorta.
It was the direct pressure applied by Officers Odam and Farris that effectively reduced Bill's blood loss and Officer Moxley's improvised cellophane bandage from a cigarette pack that protected Bill's lung from further damage. Officer Esmane assisted by stabilizing Bill and monitoring his pulse until the arrival of the Medevac unit.
Paramedics Ann Leonard and Richard Alcorta responded to the call at the A-Range within four minutes to find Bill with no measurable blood pressure and no discernible pulse. Working with the four officers, they initiated intravenous fluid replacement and transported Bill to Sharp Hospital where he arrived with a blood pressure reading of 130 over 80.
When introduced to Bill at the ceremonies, Paramedic Ann Leonard said, "You don't remember me, do you?" After Bill's negative reply, Ann said, "I know, you were very horizontal the last time I saw you."
Throughout the ordeal of emergency surgery and three months of rehabilitation, Bill hasn't lost his sense of humor or his desire to get back to work. The injuries he sustained can be likened to a stroke, affecting his right arm and leg and slowing his speech. Until just recently, Bill had no feeling in his mouth but now he can taste food and, with the help of speech therapy, "I'm learning to speak slowly and d-i-s-t-i-n-c-t-l-y." His double vision is being lessened by prescribed bifocals but "it still feels like everyone's driving 90 miles an hour."
Bill still has another two months of treatment left at Sharp Hospital Rehab Center where he has been receiving occupational, physical and speech therapy three times a week. After re-learning to walk in tennis shoes, Bill had a little trouble adjusting to the added inch of his dress shoes. "But I'm doing really good. It's like learning everything all over again."
San Diego Sheriff's Department Lineup August 1980
Bill McMillan: Four years later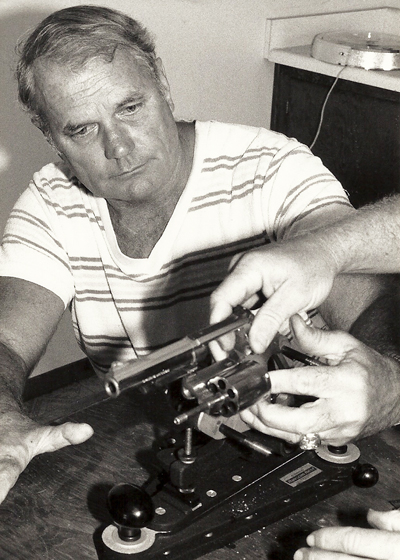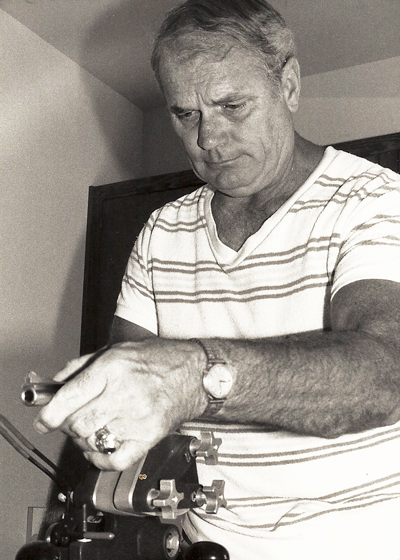 His keen interest in firearms training brings Bill McMillan back to work at the A-Range.
It's hard to believe that four years ago Special Deputy Bill McMillan lay near death, the victim of an accidental shooting at Camp Elliott.
On Wednesday, May 21, 1980, two deputies were assisting Bill with preparations for firearms training utilizing the duel-a-tron pop-up targets. Once preparation was complete, it was decided both civil deputies would "run through" the duel-a-tron portion of the exercise so they could assist McMillan later when other deputies arrived.
The first deputy completed the course, followed by the second deputy who went out the rear door of Duffystown Bianchi Leather Goods Store and fired two rounds at the right target. He then turned towards his left and caught sight of the shoot target positioned on the exterior rear wall which had not been activated. The deputy fired two rounds at that target, sending bullets through the rear wall, across the interior of the adjoining room and through a glass window, striking McMillan who was standing outside the building behind a control panel.
"I was conscious for about two minutes then I passed out. I woke up two weeks later in the hospital," Bill said last week at the A-Range.
"At first you can't believe something like this could happen to you. I guess with all my firearms training, I was somewhat prepared and now I feel thankful and lucky that there wasn't much more damage," said Bill.
That damage includes loss of balance, slurred speech and nystagmus, an eye condition causing flickering or bouncing of the eyes. According to Bill, most of his problems now are a result of the surgery instead of the actual shooting which sent two 125 gr. hollow point bullets in between his right chest and shoulder. During the four-hour surgery, Bill lost 11 pints of blood as a result of the two bullet wounds and complications from a blood clotting disorder.
Doctors removed one bullet five weeks after the incident. The second one was taken out a year later after which Bill's son said, "Well Dad, I guess now you're unleaded!"
His own self-imposed therapy consists of daily weight and lifecycle workouts at an Encinitas gym and regular Jacuzzi sessions to help improve his circulation. Even after ten days without his workouts, Bill notices a regression.
"It's frustrating for me because I know my limitations and I need the exercise to help improve my balance," he said. "It's hard on my wife though to have me walking like a drunk man and every day I do a crossword puzzle but I have to do it left-handed because I still can't make a fist with my right hand."
Even with his obvious physical limitations, Bill has managed to keep his hand in the shooting scene. He has been driving for three years, meeting with Range master Don Nix to test ammunition at the ballistics shed and, up until four months ago when Camp Elliott closed the rifle range, Bill worked with the Sheriff's SWAT team on sniper rifle shooting.
As in most tragedies, Bill's family has become his major support group. After a full career with the Marine Corps, he has time now to spend with sons Bill, 27, and Matthew, 20. Bill also picks up his 24-year-old retarded daughter Karen three days a week from a private school in Vista.
His impressive shooting record keeps Bill in the foreground as a consultant in firearms training. Nine months after the A-Range accident, he was honored by the Hall of Champions and officially inaugurated into the Hall of Fame. Bill received the honor in recognition of his remarkable career as a pistol shooter, which included competing on six U.S. Olympic teams and winning a gold medal for rapid fire at the 1960 Rome Olympics.
As a member of the National Rifleman's Association, Bill has met with members of the International Competition Committee to design a new $3 million range for the 1984 Los Angeles summer games. This month the committee will sponsor tryouts and Bill is looking forward to the trip.
"I'm glad the accident took place after my career was pretty much over," Bill said matter-of-factly. "It's a lot easier to accept now that my military career is over and after six years with the Sheriff's Department.
"Even though my first reaction was, 'That son-of-a-___________ is trying to kill me!' I hold no animosity toward the deputy who shot me. It's just one of those freak mishaps."
San Diego Sheriff's Department Lineup June 1984