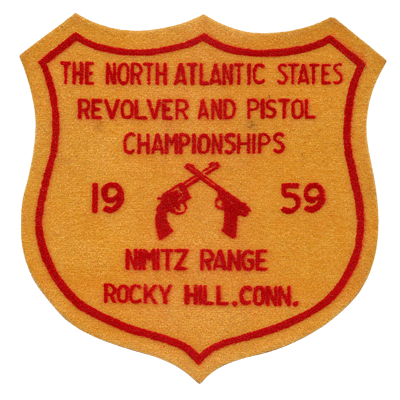 Held at the Nimitz Range
July 10 through 12, 1959
TOP SHOTS
The North Atlantic Revolver and Pistol championships held in Rocky Hill this weekend were old stuff to Capt. William W. McMillan, Marine Corps. He won the individual title with an aggregate total of 2,642 which set a new record for the Nimitz Range. The old record was 2,600. McMillan also came within beating the world record, 2,653. He holds this record also. BM1 Erwin Chase, Coast Guard, is second place winner with 2,608. And in the team championships, it was the Marines again. Team results were, .38 revolver, 1,163 and second, .22 pistol, 1,169. The first team included: Capt. R. F. Fisher, M/Sgt. John Creech, Gunnery Sgt. Michael Pietroforte, and S/Sgt. John Mucci. The second team included: Capt. McMillan, 1st Sgt. Robert Jones, S/Sgt. Edmond Sarver and St. Lawrence Hausman. About 40 men, representing teams from various armed services and civilian organizations competed.
The Hartford Courant, July 13, 1959
COMER
Pfc. Harry Leo Roy, Marine of Coventry, is the man to watch in furture national pistol and revolver championship matches, says the man who knows, Capt. William McMillan, winner of the North Atlantic States individual title Sunday at Rocky Hill. The Coventry man scored 2,569. His record is comendable because he's been firing for a little more than a year or since he joined the Marines in March, 1958. He already has 11 trophies. He is the son of Mr. and Mrs. Harry Roy, formerly of Manchester, and now of Coventry.
The Hartford Courant, July 13, 1959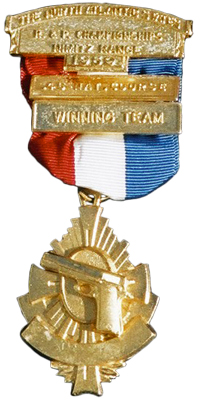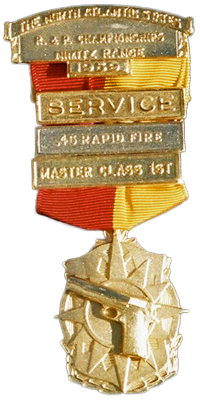 .45 National Course Winning Team and .45 Rapid Fire Service Master Class 1st
Grand Aggregate
Rank
Name
Service Branch/Agency
.22 Caliber
Center-Fire
.45 Caliber
Total
1
Wm W. McMillan, Jr.
U. S. Marine Corps
Camp Matthews, Ca.
-
-
-
2642
2
BM1 Erwin Chase
U.S. Coast Guard
-
-
-
2608
3
-
-
-
-
-
-
(Source: )
.45 Caliber Team Championship
Rank
Service Branch/Agency
Score
1
-


-

-
2
-
-
3
-
-
(Source: )
.38 Caliber Team Championship
Rank
Service Branch/Agency
Score
1
U.S. Marine Corps


R. Fisher, J.Creech, M. Pietroforte and J. Mucci

1163
2
-
-
3
-
-
(Source: )
.22 Caliber Team Championship
Rank
Service Branch/Agency
Total
1
U.S. Marine Corps


W. McMillan, R. Jones, E. Sarver and L. Hausman

1169
2
-
-
3
-
-
(Source: )
.45 Caliber Championship

| Rank | Name | Service Branch/Agency | Total |
| --- | --- | --- | --- |
| 1 | - | - | - |
| 2 | - | - | - |
| 3 | - | - | - |
(Source: )
.45 Caliber Slow Fire Match

| Rank | Name | Service Branch/Agency | Score |
| --- | --- | --- | --- |
| 1 | - | - | - |
(Source: )
.45 Caliber Timed Fire Match

| Rank | Name | Service Branch/Agency | Score |
| --- | --- | --- | --- |
| 1 | - | - | - |
(Source: )
.45 Caliber Rapid Fire Mach
Rank
Name
Service Branch/Agency
Score
1
-
-
-
1st
Master
Wm W. McMillan, Jr.
U.S. Marine Corps
Camp Matthews, Ca.
-
(Source: )
.38 Caliber Championship

| Rank | Name | Service Branch/Agency | Total |
| --- | --- | --- | --- |
| 1 | - | - | - |
| 2 | - | - | - |
| 3 | - | - | - |
(Source: )
.38 Caliber Slow Fire Match

| Rank | Name | Service Branch/Agency | Score |
| --- | --- | --- | --- |
| 1 | - | - | - |
(Source: )
.38 Caliber Timed Fire Match

| Rank | Name | Service Branch/Agency | Score |
| --- | --- | --- | --- |
| 1 | - | - | - |
(Source: )
.38 Caliber Rapid Fire Match

| Rank | Name | Service Branch/Agency | Score |
| --- | --- | --- | --- |
| 1 | - | - | - |
(Source: )
.22 Caliber Championship

| Rank | Name | Service Branch/Agency | Total |
| --- | --- | --- | --- |
| 1 | - | - | - |
| 2 | - | - | - |
| 3 | - | - | - |
(Source: )
.22 Caliber Slow Fire Match

| Rank | Name | Service Branch/Agency | Score |
| --- | --- | --- | --- |
| 1 | - | - | - |
(Source: )
.22 Caliber Timed Fire Match

| Rank | Name | Service Branch/Agency | Score |
| --- | --- | --- | --- |
| 1 | - | - | - |
(Source: )
.22 Caliber Rapid Fire Match

| Rank | Name | Service Branch/Agency | Score |
| --- | --- | --- | --- |
| 1 | - | - | - |
(Source: )