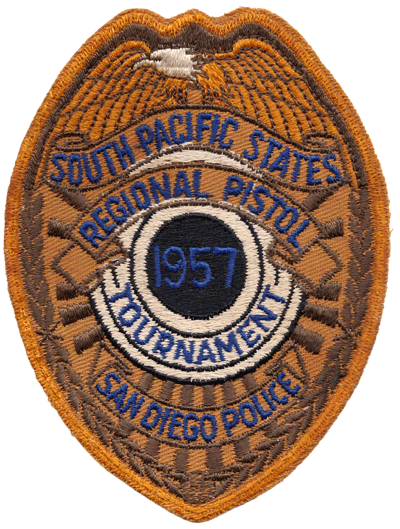 Held at San Diego Police Range
July 5 through 7, 1957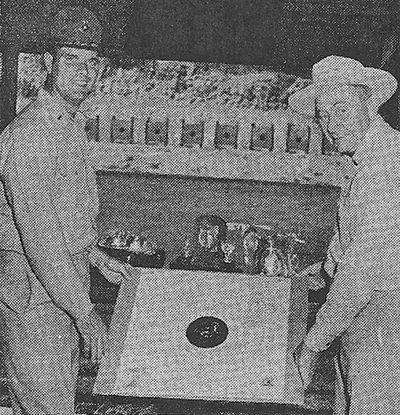 Lt. William W. McMillan, USMC (l.) and Maj. Dorn E. Arnold, USMC (Ret'd), check on of the several possibles McMillan fired in the July 5-7 South Pacific States Pistol Regional at San Diego. McMillan raised his own National 3-gun aggregate record to 2652-132X.
All-Navy Shooters Take Honors at Pacific Meet
Marine LT W. W. McMillan, member of the All-Navy Rifle and Pistol Team, set a new world record at the South Pacific States Regional Championship held last week at the San Diego Police Range. He won the Individual Championship by shooting an outstanding aggregate score of 2652x2700 with .22, .38, and .45 caliber pistols.
Other members of the All-Navy team who participated at this meet also placed highly. Merle Martin, ETC, took first place in the Expert class; N. J. Baker, was top man in the Sharpshooter class; and LT W. J. Laux took top honors in the Unclassified Division.
CDR R. C. Joerg, Officer-in-charge of the All-Navy Rifle and Pistol Team, stated that his stay here at Miramar has been a very pleasant one. He said the team will train here until sometime in August when they will depart for Camp Perry, Ohio, where they will shoot at the National Matches.
Unknown Newspaper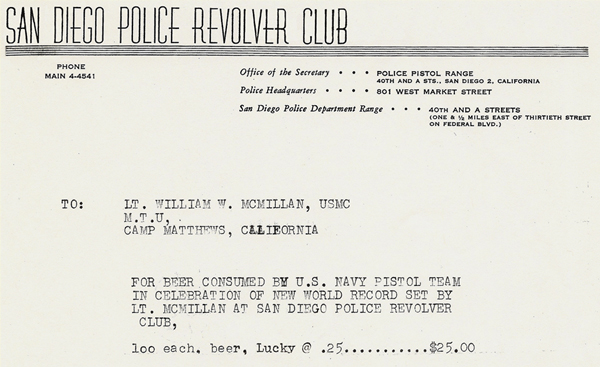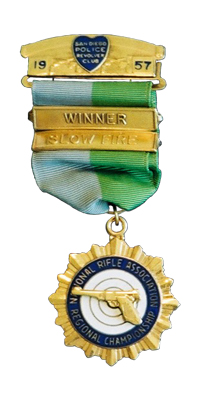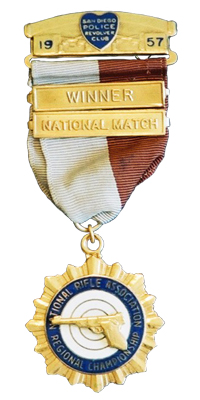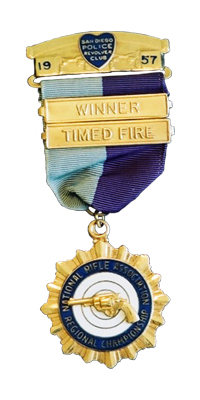 Winner Slow Fire .22 Cal. - Winner National Match .22 Cal. - Winner Timed Fire CF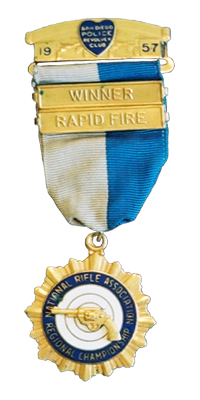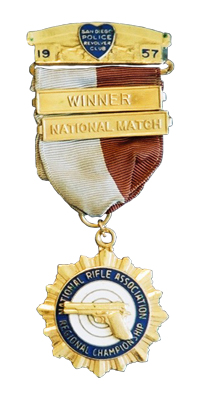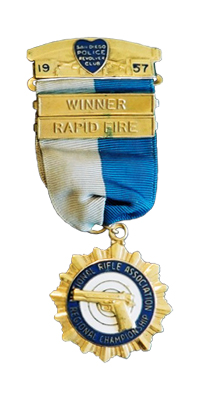 Winner Rapid Fire CF - Winner National Match .45 Cal. - Winner Rapid Fire .45 Cal.
McMillan Sets National Marks in Pistol Shoot
SAN DIEGO, July 7 - Marine Corps Lieut. W. W. McMillan completely dominated individual performances today in the South Pacific States Regional Pistol Championships at the police range here. And in so doing, the young officer stationed at Camp Matthews cracked three national records.
He fired a 2652 out of a possible 2700 in the national three-gun aggregate; scored 883x900 in the 45-caliber aggregate, and set a new mark of 296x300 in the 45-caliber national match course event.
The U.S. Border Patrol swept to victory in every team event.
Los Angeles Times, Monday, July 8, 1957
MARINE SETS PISTOL MARK
Marine Lt. W. W. McMillan of Camp Matthews yesterday was credited with a pistol shooting score of 2,652 of a possible 2,700, bettering the national record for the third time this year.
He made the score, which fellow marksmen said had been considered next to impossible, at a South Pacific States regional elimination here Sunday for national competition at Camp Perry, Ohio, in September.
McMillan twice previously this year had bettered the record of 2,644 set by Army Sgt. Huelet Benner of Fort Knox, Ky., in 1951. McMillan's previous scores were 2,645 and 2,648, the latter on May 4.
Elmer Hilden of Oceanside, a member of the U.S. Border Patrol, fired a 2,612.
A total of 231 sharpshooters from the western states competed in the match at the San Diego Police Pistol Range.
San Diego Union, Tuesday, July 9, 1957
McMillan Cracks Record Again; MTU, Top Army
Talent To Clash
For the third time in as many months, 1stLt. William W. McMillan, Jr., shattered a national regional championship pistol aggregate with a score of 2652x2700.
The Marine Corps Pistol Team shooter broke his own record for the second time in the South Pacific States Regional Pistol Championship Tournament held at the San Diego Police Pistol Range over the weekend.
In April Lt. McMillan topped, by one point, a record of 2644 held by Army MSgt. H. L. Benner. Pistol shooters who had predicted Benner's score could never be beaten, had just recovered from their surprise when the MTU dead-eye fired a 2648 a few weeks later to jump the record by three more points.
Two More Records
Evidently not satisfied with one new national record, Lt. McMillan broke two other national pistol record scores in firing over the weekend.
In Match 18, the Lieutenant fired an 883x900 for a new .45 caliber aggregate mark. A 296x300 in Match 14 set a new high for .45 caliber competition over the national match course.
Other firsts fired by the Marine Corps marksman included 196x200 with the .22, slow fire; an aggregate .22 score of 889x900; a "possible" of 200 in center fire, timed fire competition; a 198x200 in the center fire, rapid fire match; and a center fire aggregate of 880x900.
In the .45 rapid fire match, Lt. McMillan fired a 197x200. This was followed by an aggregate of 386x400 in the NRA Building Fund Match which included .22 and center fire competition.
In .22 timed fire competition, SSgt. D. W. Henry scored with all 20 rounds for a "possible" of 200.
The 240 competitors represented top pistol marksmen from the Marine Corps, as well as other Armed Forces, Police, Border Patrol, and civilian groups.
Bulletin
The results of the first day of firing in the Border States Regional Matches in El Paso showed that the Marine Corps Pistol Team's MSgt. J. A. Davis led competitors in .22 aggregate firing with 867x900.
Marine Corps Pistol Teams swept all three places in pistol team competition. The Gold, Blue, and Red teams fell into first, second and third places respectively. The Gold team led with an aggregate of 1150.
MCRD Chevron, Friday, July 12, 1957
Lt. McMillan Tops World Pistol Mark
SAN DIEGO - Marine 1st Lt. William W. McMillan continued his one-man assault on his own aggregate pistol record by firing a sizzling new 2652x2700 mark in the South Pacific States Regional Pistol Championships here.
McMillan broke the world aggregate record with the .22, .38 and .45 caliber pistols for the third time in four months. During his latest effort, he also set a new national aggregate record of 883x900 with the .45 over the rugged San Diego Police Range course.
The new McMillan standard marks the second time he has broken his own record. He scored his first major break-through April 7 when he topped Army Sgt. H. L. Benner's record of 2644 by one point. He raised his own ante May 4 over the same course with a 2648.
A Marine Distinguished Marksman in both pistol and rifle, McMillan is attached to the Marksmanship Training Unit at Camp Matthews.
He was a member of the Marine team which swept all five major shooting events at the 1956 National Matches at Camp Perry, O. He is now in training at camp Matthews with the Leatherneck group which is shooting for a repeat performance in the National Matches at Camp Perry this September.
Navy Times, July 20, 1957
Grand Aggregate
Rank
Name
Service Branch/Agency
.22 Caliber
Center-Fire
.45 Caliber
Total
1
Wm W. McMillan, Jr.
U.S. Marine Corps
Camp Matthews, Ca.
889
880
883
2652-132X
2
Elmer W. Hilden
U.S. Border Patrol
Oceanside, Ca.
873
874
866
2613
3
John W. Hurst
Los Angeles Police Department
-
-
-
2599
4
William Joyner
U.S. Border Patrol
-
-
-
2599
High
Expert
Merle C. Martin
U.S. Navy
-
-
-
-
High
Sharpshooter
N. J. Baker
U.S. Navy
-
-
-
-
High
Unclassified
William J. Laux
U.S. Navy
-
-
-
-
High
Civilian
Donald E. Lovelace
-
-
-
-
2587
High
Military
Wm W. McMillan, Jr.
U.S. Marine Corps
Camp Matthews, Ca.
-
-
-
2652
High
Police
Elmer W. Hilden
U.S. Border Patrol
Oceanside, Ca.
-
-
-
2613
High
Woman
Jo Carroll
-
-
-
-
-
High
Reserve
J. H. Block
-
-
-
-
-
(Source: Los Angeles Times, Monday, July 8, 1958)
.45 Caliber Team Championship
Rank
Service Branch/Agency
Score
1
U.S. Border Patrol


W. Joyner, P. O'Gren, H. E. Aitken and E. W. Hilden

1163
(Source: )
.38 Caliber Team Championship
Rank
Service Branch/Agency
Score
1
U.S. Border Patrol


W. Joyner, P. O'Gren, H. E. Aitken and E. W. Hilden

1154
(Source: )
.22 Caliber Team Championship
Rank
Service Branch/Agency
Score
1
U.S. Border Patrol


William Joyner, Presley O'Gren, Harry E. Aitken and Elmer W. Hilden

1165
(Source: )
NRA Building Fund Match
Rank
Name
Service Branch/Agency
Score
1
Wm W. McMillan, Jr.
U.S. Marine Corps
Camp Matthews, Ca.
386
2
-
-
-
3
-
-
-
(Source: MCRD Chevron)
.45 Caliber Championship
Rank
Name
Service Branch/Agency
Total
1
Wm W. McMillan, Jr.
U.S. Marine Corps
Camp Matthews, Ca.
883
2
Elmer W. Hilden
U.S. Border Patrol
Oceanside, Ca.
866
3
William Joyner
U.S. Border Patrol
865
(Source: MCRD Chevron)
.45 Caliber Slow Fire Match
Rank
Name
Service Branch/Agency
Score
1
John W. Hurst
Los Angeles
Police Department
194
(Source: )
.45 Caliber Timed Fire Match
Rank
Name
Service Branch/Agency
Score
1
John W. Hurst
Los Angeles
Police Department
199
(Source: )
.45 Caliber Rapid Fire Match
Rank
Name
Service Branch/Agency
Score
1
Wm W. McMillan, Jr.
U.S. Marine Corps
Camp Matthews, Ca.
197
(Source: MCRD Chevron)
.45 Caliber National Match Course
Rank
Name
Service Branch/Agency
Score
1
Wm W. McMillan, Jr.
U.S. Marine Corps
Camp Matthews, Ca.
296
(Source: MCRD Chevron)
.38 Caliber Championship
Rank
Name
Service Branch/Agency
Total
1
Wm W. McMillan, Jr.
U.S. Marine Corps
Camp Matthews, Ca.
880
2
Harry E. Aitken
U.S. Border Patrol
874
3
Elmer W. Hilden
U.S. Border Patrol
Oceanside, Ca.
874
(Source: MCRD Chevron)
.38 Caliber Slow Fire Match

| Rank | Name | Service Branch/Agency | Score |
| --- | --- | --- | --- |
| 1 | Harry E. Aitken | U.S. Border Patrol | 194 |
(Source: )
.38 Caliber Timed Fire Match
Rank
Name
Service Branch/Agency
Score
1
Wm W. McMillan, Jr.
U.S. Marine Corps
Camp Matthews, Ca.
200
(Source: MCRD Chevron)
.38 Caliber Rapid Fire Match
Rank
Name
Service Branch/Agency
Score
1
Wm W. McMillan, Jr.
U.S. Marine Corps
Camp Matthews, Ca.
198
(Source: MCRD Chevron)
.38 Caliber National Match Course
Rank
Name
Service Branch/Agency
Score
1
Elmer W. Hilden
U.S. Border Patrol
Oceanside, Ca.
293
(Source: )
.22 Caliber Championship
Rank
Name
Service Branch/Agency
Total
1
Wm W. McMillan, Jr.
U.S. Marine Corps
Camp Matthews, Ca.
889
2
Donald E. Lovelace
-
877
3
Milton G. Klipfel
Lodi, Ca.
876
(Source: MCRD Chevron)
.22 Caliber Slow Fire Match
Rank
Name
Service Branch/Agency
Score
1
Wm W. McMillan, Jr.
U.S. Marine Corps
Camp Matthews, Ca.
196
(Source: MCRD Chevron)
.22 Caliber Timed Fire Match
Rank
Name
Service Branch/Agency
Score
1
Donald W. Henry
U.S. Marine Corps
Camp Matthews, Ca.
200
(Source: MCRD Chevron)
.22 Caliber Rapid Fire Match

| Rank | Name | Service Branch/Agency | Score |
| --- | --- | --- | --- |
| 1 | S. G. Webber | - | 200 |
(Source: )
.22 Caliber National Match Course
Rank
Name
Service Branch/Agency
Score
1
Wm W. McMillan, Jr.
U.S. Marine Corps
Camp Matthews, Ca.
296
(Source: )