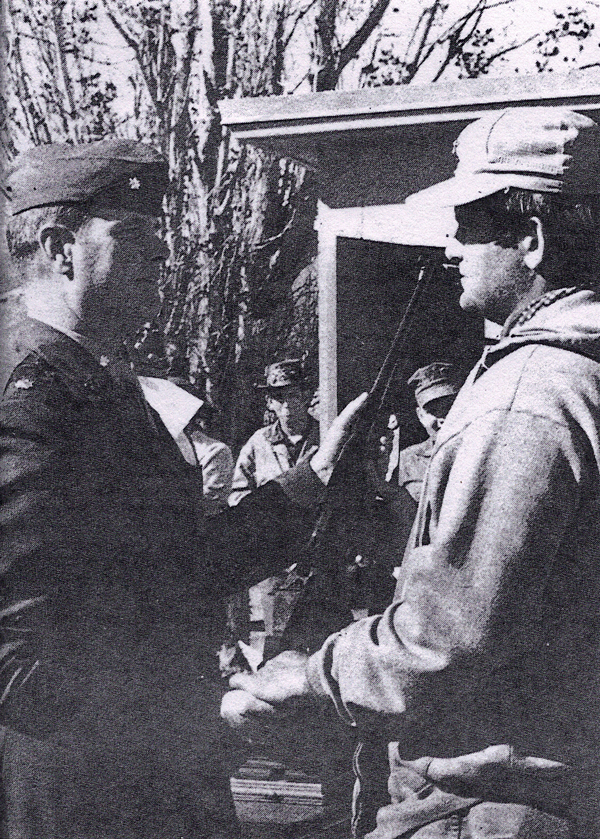 Receiving a 308 Remington as first prize, match winner Gerry Bayer gets a hand shake from LtCol. W. W. McMillan, Base range officer. (Photo by LCpl Jean Sellers)
304 shooters fire in two-day CamPen shooting match
A total of 304 shooters participated in the 9th Annual Camp Pendleton National Rifle Association (NRA) Open held here Dec. 1 - 2.
Over 20 teams gathered from around the US, including Hawaii, to shoot in the match.
Gerry Bayer, a member of the Hard Holders Rifle Club, clipped a cool 791-27x to win the two-day event.
Bayer was presented with a 308 Remington rifle and a specially designed buckle by LtCol. W. W. McMillan, base range officer, for winning the meet. Bayer has shot in the Pendleton Open since he first took up the sport in 1970, and has not missed a Pendleton match since.
Outstanding of the several clubs who attended the match was the Hard Holders of Southern California. Bringing two teams to the meet, the Holders brought in the two top team awards.
Hard Holders number one, consisting of R. Jensen, J. Harris, N. M. Meck and M. Tompkins, walked off with the first-place slot after shooting 1949-68x.
Holders number-two team, consisting of Eric St. John, Martin Hull, Douglas Faulkner and Bayer, combining for 1938-49x.
Third place was taken by the All-USMCR team. The team, consisting of Tom Edner, Ken Erdman, W. H. Smith and Richard Jeppesen, shot 1931-49x.
Individual winners came out of the seventh match, and once again the Hard Holders captured most of the honors. Besides Bayer, Jay Harris shot 786-33x to claim the First Master. P. J. Wright took 2nd Master, with 780-24x.
Darrel Hoenshell, of the LA Sheriff's Department, won First Expert with 749-11x.
LtCol. McMillan presented the specially-made buckles to the individual winners, and plaques were given to each member of the three top teams.
Range 103 was used for the contest this year, because of its convenience and excellent condition.
The weather handed the shooters during the weekend was half and half. On Saturday, rain and chilly winds turned the range area into a sea of cold mud. However, Sunday the weather cleared, and under clear blue skies, the shooters fired their final leg.
"The only time we cancel a match," said Capt. Richard Huering, Range XO, "is when the targets refuse to stay in the air because of the wind."
The firing course in this year's meet was shortened from 100 rounds fired, to 80. The deficit was brought on due to the large number of shooters on the line. He stated, "With 304 shooters, shooting 100 rounds apiece the last relays wouldn't fire their 1,000-yard string until dusk."
"The butt service over the weekend was excellent," said Capt. Heuring, "The success of the match was due in part to the men who ran the targets."
The butt pullers were all members of "A" Co., ITS.
Pendleton's range office intends to host the 10th Annual NRA Open next year.