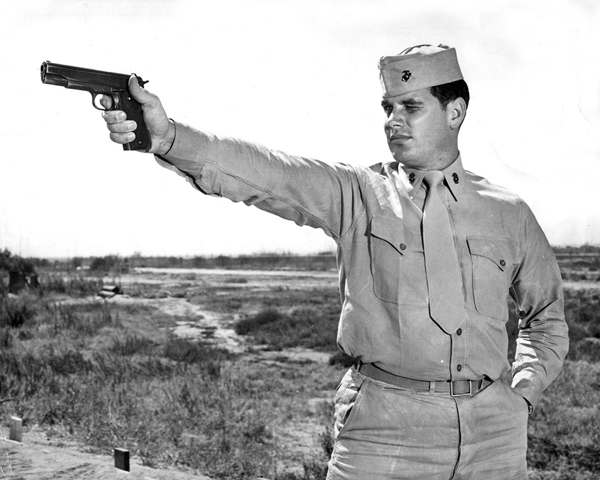 AIMING IN — Staff Sergeant William W. McMillan, outstanding Camp Pendleton marksman from Turtle Creek, Pennsylvania, aims in at the target in practice session. The husky pistol shooter recently returned from the east coast after participating in the National Pistol Championships at Jacksonville, Florida.
Pendleton's Distinguished Pistol Shooter Returns With Many Awards
One Marine who makes every shot count is Staff Sergeant William W. McMillan, outstanding Pendleton marksman from Turtle Creek, Pennsylvania.
He recently returned from the International World Marksman Championships in Norway and Olympic Games in Finland, bringing one individual world title back with him.
The distinguished pistol shot won the .22 calibre pistol Badge Match at the International World Championships at Oslo, Norway, last July, when he shot 591 out of a possible 600.
McMillan, who never handled a pistol or rifle before joining the Marine Corps in 1946, says, "When the Marines teach you marksmanship, you're taught!"
Marines Dominate
Bearing out his statement is the fact the teams representing United States in both the World and the Olympic championships were comprised of three-fourths Marine shooters. They made a clean sweep of the .22 calibre pistol rapid fire team match and the .38 calibre pistol center fire team match.
Actually Sgt. McMillan has only been actively competing in competitions for the past two years. Despite the brevity of his shooting experience he has scored an impressive record.
In addition to his individual and team feats at Oslo, he placed seventh in the Olympics at Helsinki, Finland, with 575 in the .22 calbre rapid fire competition, a scant four points behind the winner.
Recent Shoot
His most recent endeavor was at the National Pistol Matches at Jacksonville, Florida, last August. He won second place in the .45 calibre class and was a member of the Marine team which set a new world's record in the four-man team matches. The Marines out-distanced the former world mark out 1080 by scoring 1118 out of a possible 1200 points.
The sharpshooter attributes his dead aim to four things: A cool head, breath control, a steady hand and keen vision.
Discussing each of these points, he said, "I learned to keep a cool head the hard way. Once I was so excited I loaded five empty cartridges and lost a match. An interesting thing about breath control is that not one member of the U. S. team smoked. The steady hand and keen vision are what make a natural shot."
The Scout, September 19, 1952