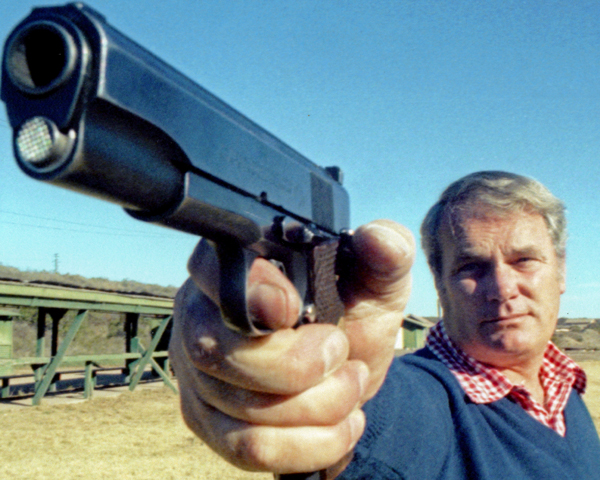 Bill McMillan, Olympic pistol shooter
IT'S 'LAST CHANCE' FOR SOME OF THEM
Several Area Athletes Oppose Olympics Boycott
By LINDA KOZUB
Staff Writer, The San Diego Union
Several local athletes who hope to be Moscow-bound this summer say they oppose the idea of a U.S. boycott of the summer Olympic Games and hope their message will be heard in Washington, D.C.
It's a message of irritation and disappointment, with just a hint of desperation.
While U.S. government officials issue warnings regarding Soviet intervention in Afghanistan, and threats of an American boycott cloud the summer games, athletes from San Diego depend on news reports to find out what is going on.
"No one is informing us of anything," says former Morse High School, Mesa College and San Diego State University standout Arnie Robinson, a 1976 gold medalist in the long jump who hopes for another first prize this year. "I'm against a boycott because I think it would be a wasted effort. I really think the President is trying to gain some attention because he wants to get elected again.
"We're not going to stop the Russians by boycotting the Olympics. I'm really disappointed in our government. If you would poll the veteran Olympic athletes, I bet 90 percent of them would agree with me. The whole thing is bull."
At age 31, Robinson figured the Moscow games would be the scene for his Olympic swan song. For the last four years, he says he has sacrificed heavily for the chance to compete for another gold medal.
"For one thing, I didn't get a steady job because it would have interfered with my practice," he said. "My family has done without a lot so that I could try for this. We haven't bought any furniture or gone into debt for anything. We don't have any money.
"If it weren't for my mother babysitting my little boy, we could never have afforded it.
"People use people for leverage, and that's exactly what our government is doing with us. They don't care about the amateur athletes. They seem to have no idea of the sacrifices we go through to represent our country in the Olympics."
Robinson objects to a statement from President Carter urging an American athletic boycott if the Russians refuse to remove Soviet troops from Afghanistan within a month.
"It's just like Vietnam," he said. "Our government is confusing the issue. We spent lives and money in Vietnam and we didn't get anything for it. Now the government is thinking of keeping us out of the Olympics. And once again, we'll have nothing to show for it."
Although in terms not quite so bitterly expressed, diver Greg Louganis, a Valhalla High School graduate, silver medalist in Montreal and a potential gold medal winner, said in an interview from Miami University that he opposes the boycott idea — more for the older competitors than for himself.
"If the United States does make this kind of stand, it won't affect me as much as it will a lot of other athletes," Louganis said. "I'm going to be 20 years old, and I plan on diving until I'm 24. So I have another Olympics ahead of me.
"I don't have all my eggs in one basket."
While he is in training, three hours during school and holidays and four hours a day in the summer, Louganis said he does not think about the political circumstances of the games.
"I've competed against the Russians before, and they're very nice people," he said. "We didn't talk politics, we respected each other's athletic abilities."
Louganis says he has his college scholarship and academic pursuits to keep him occupied should he be denied a chance at the games.
"I'll be better off than a lot of athletes," he said. "But I still don't want the boycott. I've been kind of dreaming about these summer games since 1976."
Louganis also hints that he has had run-ins with the news media.
"The said a lot of things about me in 1976 that hurt me," he said. "So I don't really think so much about being a patriot. I'm competing for myself."
James King, formerly of San Diego State and a contender in the 400-meter hurdles, has competed for the past three years on the European tour to prepare for the 1980 games.
Like Robinson, 30-year-old King has postponed a professional career to devote more time to his athletic endeavors. Rather than seeking a position in restaurant manaegment, Kind said he decided to work as a cook to leave more time for practice.
"This is it for me," he said. "There would be no way I could compete in 1984, so it's now or never for me to go after a medal. I failed in 1976, which was a big disappointment for me, and I was going to quit because it was so frustrating.
"But I decided to try one more time."
King has had a battle with tendonitis, but still has worked out about three hours each day after work.
He feels that since the U.S. government does not financially support the amateur athletes should not be bound by political ultimatums.
"I'm still planning on going to the trails," King said. "Even if the President makes a decision today, he might change his mind tomorrow. And we still have some time.
"But I think it would be a good idea to have the games in a neutral country each time. Then we wouldn't have this problem again.
As for a present-day solution, King suggested moving the summer games to Montreal of Mexico City, saying: "The setup is still good there."
Pistol shooter Bill McMillan didn't take seriously, at first, the boycott possibility. He was busy practicing and scheming to establish an Olympic record.
At the age of 50, McMillan has been planning to participate in his seventh Olympic competition. He already has earned one gold medal. He has been gearing up for many months for the shooting trials next June in Phoenix.
"I think my chances would be pretty good of getting on the team because we're very limited in this country in the number of pistol shooters who can compete in the international phase," he said. "I have mixed feelings about the Olympic situation. I'm very much a patriot. But I don't think boycotting the games is the answer. I don't think we're going to aggravate the Russians by doing that.
"And at this late date, I don't see how any country can get prepared to host the games if the government wanted them moved."
McMillan, weapons coordinator for the county Sheriff's Department, feels a boycott is no way to send a message to the Russians.
"The thing that disturbs me is that the first thing the government grabbed for was the athletes," he said.
"There are many other means we could use. But it seems like they thrust the athletes out in front of the foe. I don't think that was fair."
Meanwhile, world-class hurdler Deby LaPlante, now running for San Diego State, is in a quandary.
Recently she was quoted as saying, "As an American, I'm definitely for pulling out."
But lately, LaPlante has softened that position:
"Now, I'm getting more and more upset the more I think about it," she said. "What did we (athletes) spend four years of our life preparing for, anyway?
"I didn't take this boycott thing too seriously at first. But now, I really think it's going to happen."
LaPlante said she was not planning on competing another four years, so a U.S. boycott of the Olympics would be a serious disappointment for her.
Presently, she is concentrating on getting in shape for local competition. In fact, her husband, Fred LaPlante, women's track coach at San Diego State, said last week he was planning to cut off press interviews.
"They keep asking Deby the same questions over and over," he said, adding that recent leg surgery has made her competitive status uncertain.
"Right now Deby's concerned about whether she can run at all, let alone the Olympics."
Still Deby LaPlante says she would support a "free Olympics" — competition among free nations — as an alternative, should the boycott be ordered by the U.S. officials.