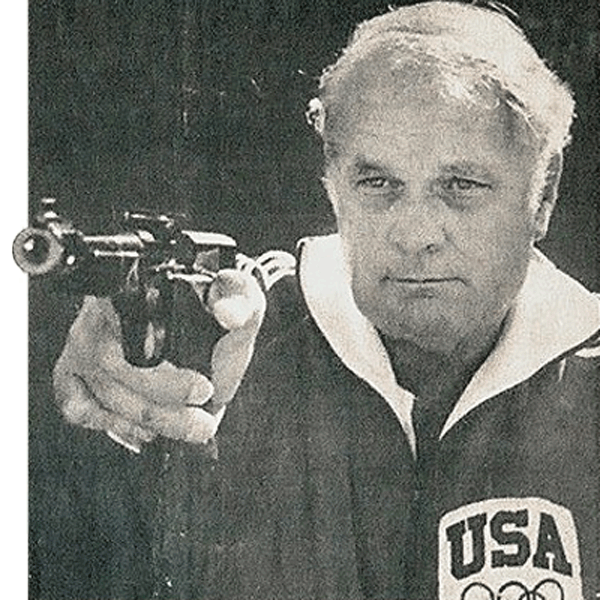 Photo by M. J. Johnson For The Times
William McMillan is last American to win Olympic medal in pistol shooting, taking gold in 1960.
Medal in 1960 a Golden Remembrance
McMillan Remains Last U.S. Winner in Pistol Shooting
By DON PATTERSON
ENCINITAS — William McMillan doesn't remember the exact date he won his gold medal in rapid-fire pistol shooting at the 1960 Olympics in Rome.

But May 21, 1980 sticks in his mind.
McMillan, a retired Marine Corps lieutenant colonel who participated in six Olympic Games and was the last American to win a medal in the pistol shooting competition, was shot twice that day at Camp Elliott, which is next to the Miramar Naval Air Station.
McMillan was the weapons training coordinator for the San Diego County Sheriff's Department, a job he had held for six years after retiring from a 27-year career in the Marines. A shooting instructor trainee got confused during a practice session and shot in the wrong direction. Two 125-grain hollow-point bullets from a .357 Magnum penetrated a wall and a glass window and struck McMillan in the upper right side of his chest.
"It didn't hurt much," he said. "There was a slight burning."
He told someone he thought he'd better sit down. After a minute, he lost consciousness. When he arrived at Sharp Memorial Hospital, he said, his pulse and blood pressure were just slightly above zero.
"He had a tremendous amount of bleeding," said Dr. Charles Clark, a longtime friend and McMillan's personal physician at the time. "There was a considerable period of time between the time he was injured and (the time he arrived at) the hospital. So he bled profusely. Consequently, there was some brain damage."
McMillan was unconscious for two weeks. When he finally woke up, he was weak, had lost the use of his right hand-the one he shoots with-and had slurred speech. He stayed in the hospital six more weeks after regaining consciousness.
McMillan's life has changed drastically since the accident. He had to retire from his job. He and his wife of 31 years, Mary, were divorced in 1985. He isn't able to shoot anymore. At 59, he lives in a condominium in Encinitas with his youngest son, Matt, 24.
William McMillan was 17 when he left his hometown of Turtle Creek, Pa., in 1946 to join the Marines.
McMillan was in the Marines for three years before he began shooting pistols at the Brooklyn Navy Yard in New York.
"I did well with it right from the start," he said.
In 1952, McMillan represented the United States in the Olympics at Helsinki. McMillan finished seventh in the rapid-fire competition. The gold medal was won by Hungary's Karoly Takacs, shooting with his left hand. Takacs had also won the gold in 1948-shooting right-handed. In between, McMillan found out afterward, Takacs' right hand had been blown off by a grenade.
"I was flabbergasted," McMillan said. "I just couldn't believe it. That's quite a feat, to say the least.".
It was eight years before McMillan competed in the Olympics again. Gun trouble prevented him from qualifying in 1956. In 1960, though the pistol shooting competition was during the last week of the Olympics, McMillan spent six weeks in Rome. He did the usual sightseeing and watched most of the events, his favorite being track and field.
McMillan reviewed the course in his head the night before the competition but had no trouble sleeping. The next day was sunny and warm.
After breakfast, McMillan walked to the shooting range, a little more than two miles from the three-story athlete dormitories. There were four pistol shooters on the U.S. team.
"But by today's standards," McMillan said, "none of us were very good."
Grace and calm under pressure was McMillan's ace in the hole. For example, in the 1960 Olympics in Rome, he was tied for first-place in rapid-fire pistol with two shooters, a Finn and a Soviet, after two rounds of action, forcing a shoot-off.
With two hours to wait before the shoot-off, McMillan employed a tactic Gold Medal-winner Bob Mathias used between decathlon events. "I went and laid down under a tree and went to sleep," McMillan said.
He shot at about 8:30 a.m. in a borrowed USA sweat suit-pistol shooters didn't receive them. He finished around 9:30. His score of 587 left him in a three-way tie with Pentti Linnosvuo from Finland and Aleksandr Zabelin from Russia. The shootoff was scheduled for noon.
McMillan went to rest during the break. He was told later that Zabelin kept looking over at him. McMillan figures Zabelin was wondering how he could be so relaxed. McMillan had no reason to be nervous.
"I knew the worst I could do was third," he said.
McMillan shot first. His score of 147 out of 150 earned him the gold easily. Linnosvuo scored 139, Zabelin 135.
When the results were announced, a U.S. official from the National Rifle Assn. ran over to congratulate McMillan, who greeted him with a bear hug.
"There's no feeling like it," McMillan recalls. "All kinds of thoughts go through your head. You just know it's a big deal."
For McMillan, it would never again be as big. He competed in four more Olympics-1964, '68, '72 and '76-but never won another medal. And nothing quite equaled the feeling of winning the gold in Rome.
Despite hardships he has endured because of the accident, McMillan defends the right to bear arms..
"I'm a strong believer in guns," he said. "When people say gun control that is not what they mean. They mean confiscation, pure and simple. You need protection. And even though you may never use the gun, it's nice to have one around. It makes you feel a little more confident. And safe."
But only, as he knows from experience, if it is in the hands of someone who knows how to use it.
"I think anyone who has a gun should get training for it," he said. "A gun in an untrained hand can be lethal. But in a free society, that's the chance you take."
McMillan never downplays the dangers of guns. He was always extremely careful with them, and, as an instructor, emphasized safety. For that reason, it was hard for Matt to believe when he was told his father had been injured in a gun accident.
"When the sheriff came to the house and said `Your dad's been shot.' I said, `Oh, it can't be anything big.' I just knew it couldn't be that serious because of how careful he is."
But it couldn't have been much more serious. The bullet tore nerves in the shoulder area controlling hand-eye coordination. Though he has made improvement since the accident and works out daily at the North County Athletic Club in Encinitas, his speech remains slurred, he hasn't regained full use of his right hand and he has some difficulty walking.
Before the accident, McMillan did a lot of lobbying to get improved training facilities for pistol shooters.
"Bill was in the group of rebellious athletes that said `Something has got to be done,' " Clark said. "He did a great deal to enhance the training of pistol shooters."
McMillan isn't involved much anymore, but he keeps busy visiting his family. His oldest son, Billy, 32, lives in Linda Vista. His daughter Karen, 29, lives in Del Mar.
"When it first happens, you go through all sorts of denial or anger," he said. "I think in the long run you get philosophical and say `That's the way things are.' "
And that attitude has earned him great respect from his friends.
"This guy is a hell of a man to put up with what he's got," Clark said. "He certainly sustained a terrible injury and has made the very best of it."
His awards are testimony to how he made the best of his life before the accident. The Olympic gold medal, which sits on top of his roll-top desk, brings back very special memories.
"I look at it sometimes," McMillan said, "and I think `That day, I was the best.' "