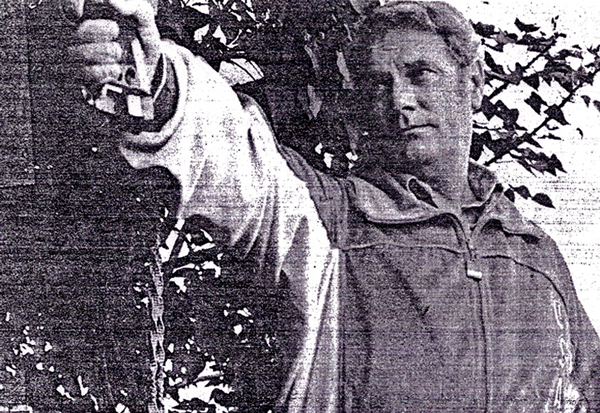 RAPID-FIRE pistol shooting champion Bill McMillan lines up a shot.
Staff Photo by Paul Farhi
Bill McMillan: A Big Shot Who Is Always On Target
By PAUL FARHI
Staff Writer
DEL MAR — Bill McMillan arrived at his chosen sport by the good graces of luck, pluck and happenstance. The rest is Olympic history.
Knocking around the Brooklyn Navy Yard rifle range one afternoon in 1949, McMillan, an intense, well-spoken San Diego county deputy sheriff, was spotted blowing out the centers of targets. So he was shipped off to a special range training school at Fort Benning, Ga., and now, 30 years later, he is still literally doing things with a bang.
McMillan, 50, is the grand dragon of pistol shooting, a figure so luminous among his contemporaries as to be almost without peer in conventional sport. He has been shooting competitively since that day in 1949, and in between two combat tours with the Marines in Korea and Vietnam, McMillan has won medals of every metal in Olympic, World and Pan American Games competition. For the past 25 years at least, he has been variously acknowledge as the best marksman in America.
And Bill McMillan has one more wish to fulfill before his grip is loosened for good: he wants to become the only athlete ever to compete in seven Olympic Games. McMillan has made six of seven American Olympic teams since 1952, winning a gold medal at Rome in 1960.
The U.S. trials for the Moscow Games next June may be his last chance. Though his vision is 20-10 at distances, McMillan says his eyes are beginning to fail him behind the barrel of a gun. "It's the refraction of the light from the sight to the target that's giving me trouble," he says, "I can see the target and I can see the sight just fine. But I can't line up both very well anymore."
McMillan is able to succeed because he specializes in the rapid fire pistol, having given up other forms of shooting five years ago. He fondles his .22 caliber pistol — an expense of roughly $800 — and describes the event as a combination of relax and ready, steady aim.
In raid fire, competitors stand at a 45-degree angle and shoot a silhouette targets from a distance of 25 meters. Targets are exposed in rounds for periods of eight, six and four seconds. McMillan estimates that in the four-second round, the time used to see the target and aim a shot leaves about .3 seconds to actually squeeze the trigger.
As such, there isn't time to line each shot with exactitude. Instead, McMillan relies on the practiced intuition of knowing precisely where his gun is pointed. "You need good hand and eye coordination," he points out. "There's a certain amount of strength involved, too; women have never done very well at this. You also must have good reflexes. And above all, you must learn to concentrate."
The ability to stand completely without movement with a 2.2-pound, orthopedically-gripped pistol in had is the most difficult and doggedly pursued marksman's technique. Olympic shooters have been known to chase that mastery of the muscles to lengths, some refusing to eat 12 hours before competition lest their digestive juices kick up a distraction. Proper decorum of spectators at major tournaments is dedicated silence. Some shooters, anxious that their pulse beats might inhibit them, undergo physical training to keep their pulses low.
McMillan? He merely idles out to the sheriff's range at Camp Elliot three or four weeks before a major competition for his practices. Though he is a firearms instructor — and an occasional SWAT squad advisor — his work is only remotely related to his sport and he says," Otherwise, I don't practice."
Even so, he has managed to maintain his eminence in the U.S. despite the challenge of at least two younger Americans. His international competition is far more intense thanks to high interest in sport shooing in the Communist bloc nations.
But let it not be said that McMillan, the old man of the sport, still can't shake 'em down. Last month in San Juan, Puerto Rico he finished fourth in the Pan American Games, four points short of repeating his 1967 gold medal-winning performance.
In the meantime, McMillan is a willing spokesman for his sport, a man who professes the merits of shooting while bemoaning the lack of training facilities and competitive opportunities and the "negative" American attitudes in both the public and the media — that keep things the way they are.
"Shooting is the safest sport there is," he says. "There are never any pulled muscles or torn up knees. We are too supervised, too cautious to have an accident."
Still, he recognizes American apprehension. "The gap between our pistol people and the rest of the world will continue to widen," be believes. "In this country, we shoot maybe two major tournaments a year. Three is exciting. In Europe they're shooting a minimum of 20 and 30 is normal. That's a tough cookie to break."
The Blade Tribune, August 6, 1979