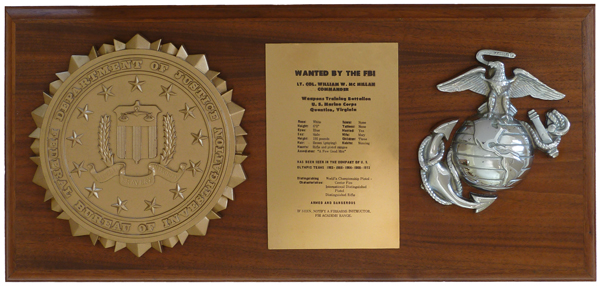 WANTED BY THE FBI
LT. COL. WILLIAM W. MC MILLAN
COMMANDER
Weapons Training Battalion
U.S. Marine Corps
Quantico, Virginia
| | | | |
| --- | --- | --- | --- |
| Race: | White | Scars: | None |
| Height: | 6'0" | Tattos: | None |
| Eyes: | Blue | Married: | Yes |
| Sex: | Male | Wife: | Mary |
| Weight: | 195 pounds | Children: | Three |
| Hair: | Brown (graying) | Habits: | Winning |
| Haunts: | Rifle and pistol ranges | | |
| Associations: | "A Few Good Men" | | |
HAS BEEN SEEN IN THE COMPANY OF U. S.
OLYMPIC TEAMS 1952 - 1960 - 1964 - 1968 - 1972
Distinguishing Characteristics:
World's Championship Pistol - Center Fire
International Distinguished Pistol
Distinguished Rifle
ARMED AND DANGEROUS
IF SEEN, NOTIFY A FIREARMS INSTRUCTOR,
FBI ACADEMY RANGE.
"Presented by the Officers and Men of
Weapons Training Battalion Quantico VA
15 April 1935 to 26 February 1971"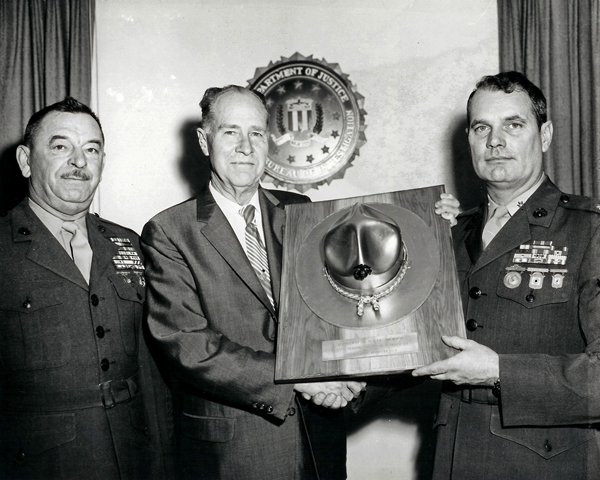 SgtMaj Walter Slezak, Special Agent Henry Sloan and LtCol William W. McMillan
FBI Agent Ends 40 Year Law Enforcement Career
By LCpl. Ron Taylor
"I hate to see you buckle on that gun because you're beginning a career that will take all you can give it and there are but few rewards."
This was part of a conversation that took place in 1930 between Capt. Tom Hickman of the Texas Rangers and his young nephew, Henry Sloan, a "rookie" with the Texas Highway Patrol.
That "not-so-rewarding" career included the distinction of having been in on the capture of one time public enemies number one and two, being named an Honorary Admiral in the Texas Navy and the culmination of friendships that will last a lifetime.
Henry Sloan's 40 year career in law enforcement ended Feb. 23 upon retirement after having the distinction of serving as Special Agent in Charge of the FBI Academy for more than 16 years.
Mr. William M. Mooney was named as the new Special Agent in Charge of the Academy.
Sloan came to the FBI April 15, 1935 with more than five years as a highway patrolman.
For the ex-highway patrolman it was a quick rise through the ranks. After spending a total of only five years in "resident agent" status, he came to Quantico as an instructor in the use of firearms. Two years later in 1942 he was placed in charge of the firearms training program at the academy.
Then, in 1954, he was reassigned to the position that he has competently filled for the last 16 years, that of Special Agent in Charge of the FBI Academy.
On his last day at the academy, Mr. Sloan received numerous calls from old friends and acquaintances. One call in particular meant a lot to him. It was from a retired Marine colonel in Texas wishing him good luck.
"Since coming to Quantico, I have met and liked many Marines. There has always been a good relationship between the academy and the base and many of our agents have come from the Marine Corps," he stated.
Cooperation between the Marines and the FBI has its roots back in the 1930s. During the widespread lawlessness that took place in the early part of the decade, local police departments began to realize their comparative inability to cope with organized crime.
On June 19, 1934, the FBI was changed from a purely investigative organization and given the power to make arrests.
The Quantico Marine Base extended to the bureau use of its firing ranges and later invited them to set up training facilities on base. In 1940, the FBI Academy building was completed.
In the 30 years that have followed there has been close cooperation between the Marines and the FBI.
Mr. Sloan and men like him have played an enormous part in making this possible. According to Mr. Sloan, LtGen. C. B. Cates, CG, MCS in 1954, asked why he never had to call one of Mr. Sloan's agents on the carpet. Sloan replied, "We keep them so busy they don't have time to get into trouble."
The robust special agent has seen many changes in the FBI over the years and seems to have only the years and seems to have only one regret: that he would not see the completion of the new academy being built just off the J. Edgar Hoover Highway.
First item on the agenda after his retirement will be a trip to Texas and visit in his hometown of Whitesboro. After that he has no definite plans except to travel.
He owns a log cabin at a North Carolina lake where he intends to spend most of his summers but will still keep his residence in Arlington, Va.
Mr. Sloan and his wife, the former Minnie Meyer, have a son, Charles H., and a daughter, Mrs. Letty Mallory.
Quantico Sentry, February 26, 1971
1970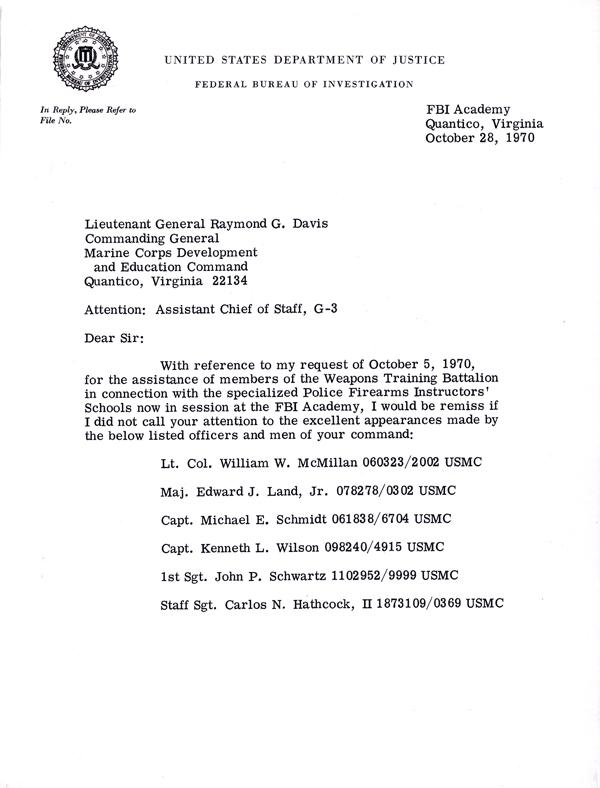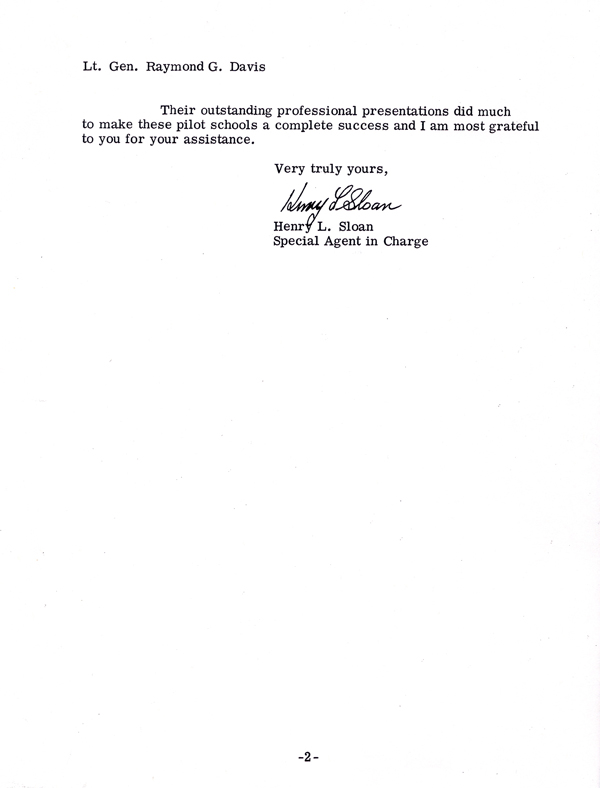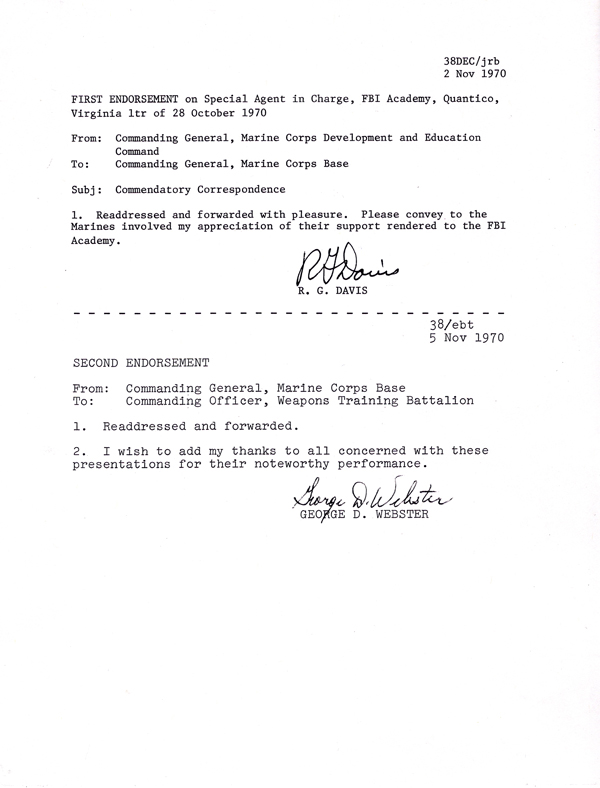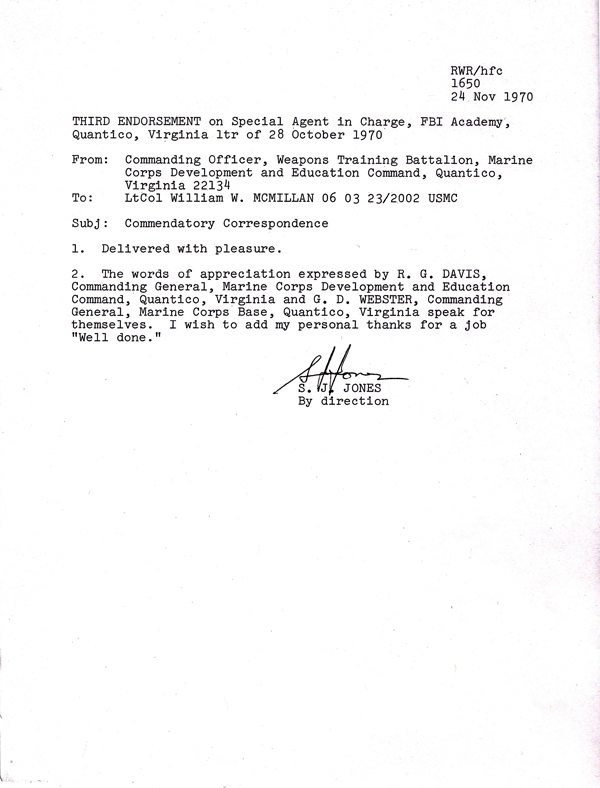 1957