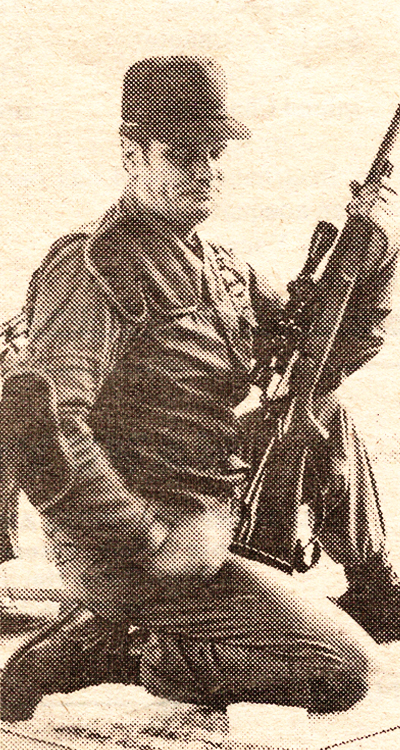 SAN DIEGO DEPUTY SHERIFF
Bill McMillan setting his concentration in preparation to fire his .308 Remington in the Counter-Sniper Rifle Match. McMillan emerged from the SWAT competition as the top overall shooter.
SWAT Teams Compete At Vandenberg
by Roger Bleile
Santa Barbara S.O.
S.W.A.T. Teams Compete at Vandenberg
SANTA MARIA
On July 12, S.W.A.T. teams from California and Nevada arrived at Vandenberg A.F.B. near Santa Maria, California sponsored by the Santa Barbara County Deputy Sheriff's Association.
It was the first event of its kind in the U.S.A.
Each team consisted of four officers who were each required to fire four weapons over a course of fire. Executive Officer and innovater of the competition, Roger Bleile, devised the course of fire to encompass the four basis S.W.A.T. firearms: pistol, countersniper rifle, assault rifle and shotgun. The shooters comppeted simultaneously as individuals and team members in five categories. One category for each weapon plus a Grand Aggregate.
The Grand Aggregate team trophy went to the officers of the Huntington Beach Police Department. Team Captain Val Birkett with officers Pat Gildea, Chuck Poe and Dennis Martin took the trophy with a score of 5805x77 of a possible 7200 points.
Deputy Bill McMillan of the San Diego Sheriff's Department was the top overall individual with a score of 1662x48 of a possible 1800 points. McMillan received gold medals in the Grand Aggregate, Pistol, Countersniper Rifle and Assault Rifle categories as well as a presentation Model 29 Smith and Wesson revolver for his overall skill.
PORAC Newspaper, August 1975
Grand Aggregate (Individual)

| Rank | Name | Service Branch/Agency | Pistol | Countersniper Rifle | Assault Rifle | Shotgun | Grand Aggregate Total |
| --- | --- | --- | --- | --- | --- | --- | --- |
| 1 | Bill McMillan | San Diego Sheriff | 567x21 | 268x9 | 565x16 | 262x2 | 1662x48 |
| 2 | Steve Franks | Las Vegas M.P.D. | - | - | 544x11 | - | 1555x28 |
| 3 | John Hoffman | San Bernardino Sheriff | - | - | - | - | 1528x29 |
(Source: PORAC Newspaper, August 1975)
Grand Aggregate (Team)

| Rank | Service Branch/Agency | Pistol | Countersniper Rifle | Assault Rifle | Shotgun | Grand Aggregate Total |
| --- | --- | --- | --- | --- | --- | --- |
| 1 | Huntington Beach Police | - | - | 2088x20 | - | 5805x77 |
| 2 | Ventura Police | 2190x68 | 821x12 | 2010x31 | - | 5771x104 |
| 3 | San Bernardino Sheriff | 2188x70 | - | - | - | 5708x105 |
(Source: PORAC Newspaper, August 1975)
Pistol (Individual)

| Rank | Name | Service Branch/Agency | Score |
| --- | --- | --- | --- |
| 1 | Bill McMillan | San Diego Sheriff | 567x21* |
| 2 | Monroe Simpson | Ventura Police | 567x21* |
| 3 | Cliff Cox | Ventura Police | 566x20 |
(Source: PORAC Newspaper, August 1975)
*Standing Determined by Tie Breaking Rule 12.5 (c)
Pistol (Team)

| Rank | Service Branch/Agency | Score |
| --- | --- | --- |
| 1 | Ventura Police | 2190x68 |
| 2 | San Bernardino Sheriff | 2188x70 |
| 3 | Santa Barbara Sheriff | 2148x46 |
(Source: PORAC Newspaper, August 1975)
Countersniper Rifle (Individual)

| Rank | Name | Service Branch/Agency | Score |
| --- | --- | --- | --- |
| 1 | Bill McMillan | San Diego Sheriff | 268x9 |
| 2 | John Campbell | San Bernardino Sheriff | 238x2 |
| 3 | Dave Heins | Ventura Police | 232x0 |
(Source: PORAC Newspaper, August 1975)
Countersniper Rifle (Team)

| Rank | Service Branch/Agency | Score |
| --- | --- | --- |
| 1 | Ventura Police | 821x2 |
| 2 | San Barbara Sheriff | 793x4 |
| 3 | San Diego Sheriff | 780x11 |
(Source: PORAC Newspaper, August 1975)
Assault Rifle (Individual)

| Rank | Name | Service Branch/Agency | Score |
| --- | --- | --- | --- |
| 1 | Bill McMillan | San Diego Sheriff | 565x16 |
| 2 | Steve Franks | Las Vegas M. P. D. | 544x11 |
| 3 | Val Birkett | Huntington Beach Police | 542x6 |
(Source: PORAC Newspaper, August 1975)
Assault Rifle (Team)

| Name | Service Branch/Agency | Score |
| --- | --- | --- |
| 1 | Huntington Beach Police | 2088x20 |
| 2 | Las Vegas Metro Police | 2064x23 |
| 3 | Ventura Police | 2010x31 |
(Source: PORAC Newspaper, August 1975)
Shotgun (Individual)

| Rank | Name | Service Branch/Agency | Score |
| --- | --- | --- | --- |
| 1 | Dan Olivier | Santa Monica Police | 270x0 |
| 2 | Joe Maes | San Diego Sheriff | 266x1 |
| 3 | Bill McMillan | San Diego Sheriff | 262x2 |
(Source: PORAC Newspaper, August 1975)
Shotgun (Team)

| Name | Service Branch/Agency | Score |
| --- | --- | --- |
| 1 | San Diego Sheriff | 970x4 |
| 2 | Las Vegas Metro Police | 942x5 |
| 3 | Santa Monica Police | 926x2 |
(Source: PORAC Newspaper, August 1975)