Held at the Weapons Training Battalion
Calvin A. Lloyd Range Facility
Quantico, Virginia
January 8 to 9, 1972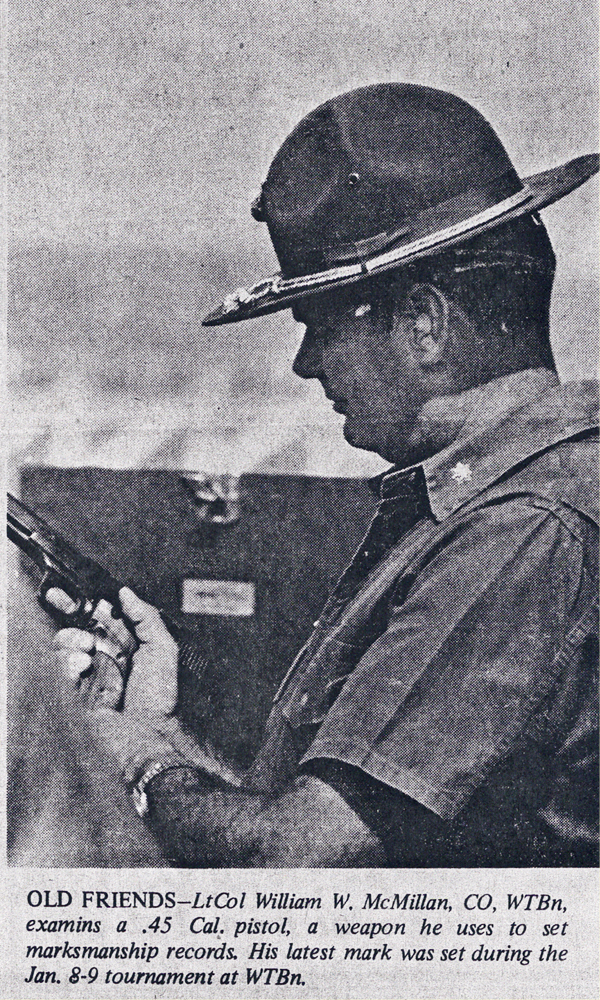 OLD FRIENDS — LtCol William W. McMillan, CO, WTBn, exams a .45 Cal. pistol, a weapon he uses to set marksmanship records. His latest mark was set during the Jan. 8-9 tournament at WTBn.
WTBn Holds First Tournament
McMillan, Higginson Top Shots
LtCol William w. McMillan and CWO2 Francis A. Higginson led 11 members of the Marine Corps Pistol Team to a clean sweep of Weapons Training Battalion's '72 inaugural, held Jan. 8-9.
The two record holders collectively rewrote the books in three of the tourney's events' Gunner Higginson broke his own National three gun aggregate record with a score of 2667-102X's; additional, he cracked the .45 Cal. aggregate mark by posting a score of 892-37X's. LtCol McMillan opened the new season by setting a new .45 Cal. National Match Course record with an overwhelming 299-11X score.
The Lone Star state's GySgt "Tex" Taggart reached the magic "2650" score as he posted a second place 2653-103X's.
Competitive shooters, like racing drivers who depend on their pit crews, are dependent upon their armorers. Special recognition is in order for GySgt Talmadge Parker and SSgt William Wiseman, the men who "build" the weapons that shoot record-breaking scores.
Quantico Sentry, January 21, 1972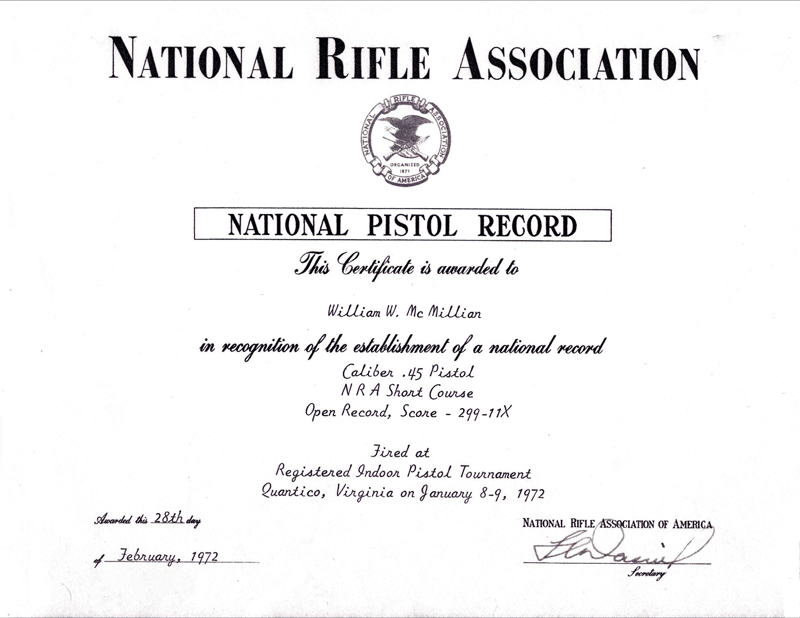 Grand Aggregate

| Rank | Name | Service Branch/Agency | .22 Caliber | Center-Fire | .45 Caliber | Total |
| --- | --- | --- | --- | --- | --- | --- |
| 1 | Francis A. Higginson | U.S. Marine Corps | - | - | 892-37X | 2667-102X |
| 2 | Billy R. Taggart | U.S. Marine Corps | - | - | - | 2653-103X |
| 3 | - | - | - | - | - | - |
(Source: Quantico Sentry)
.45 Caliber Team Championship

| Rank | Service Branch/Agency | Score |
| --- | --- | --- |
| 1 | - | - |
| 2 | - | - |
| 3 | - | - |
(Source: )
.38 Caliber Team Championship

| Rank | Service Branch/Agency | Score |
| --- | --- | --- |
| 1 | - | - |
| 2 | - | - |
| 3 | - | - |
(Source: )
.22 Caliber Team Championship

| Rank | Service Branch/Agency | Score |
| --- | --- | --- |
| 1 | - | - |
| 2 | - | - |
| 3 | - | - |
(Source: )
.45 Caliber Championship

| Rank | Name | Service Branch/Agency | Total |
| --- | --- | --- | --- |
| 1 | Francis A. Higginson | U.S. Marine Corps | 892-37X |
| 2 | - | - | - |
| 3 | - | - | - |
(Source: )
.45 Caliber Slow Fire Match

| Rank | Name | Service Branch/Agency | Score |
| --- | --- | --- | --- |
| 1 | - | - | - |
(Source: )
.45 Caliber Timed Fire Match

| Rank | Name | Service Branch/Agency | Score |
| --- | --- | --- | --- |
| 1 | - | - | - |
(Source: )
.45 Caliber Rapid Fire Match

| Rank | Name | Service Branch/Agency | Score |
| --- | --- | --- | --- |
| 1 | - | - | - |
(Source: )
.45 Caliber National Match Course (NRA Short Course)

| Rank | Name | Service Branch/Agency | Score |
| --- | --- | --- | --- |
| 1 | Wm W. McMillan | U.S. Marine Corps | 299-11X |
(Source: Quantico Sentry)
.38 Caliber Championship

| Rank | Name | Service Branch/Agency | Score |
| --- | --- | --- | --- |
| 1 | - | - | - |
| 2 | - | - | - |
| 3 | - | - | - |
(Source: )
.38 Caliber Slow Fire Match

| Rank | Name | Service Branch/Agency | Score |
| --- | --- | --- | --- |
| 1 | - | - | - |
(Source: )
.38 Caliber Timed Fire Match

| Rank | Name | Service Branch/Agency | Score |
| --- | --- | --- | --- |
| 1 | - | - | - |
(Source: )
.38 Caliber Rapid Fire Match

| Rank | Name | Service Branch/Agency | Score |
| --- | --- | --- | --- |
| 1 | - | - | - |
(Source: )
.38 Caliber National Match Course

| Rank | Name | Service Branch/Agency | Score |
| --- | --- | --- | --- |
| 1 | - | - | - |
(Source: )
.22 Caliber Championship

| Rank | Name | Service Branch/Agency | Total |
| --- | --- | --- | --- |
| 1 | - | - | - |
| 2 | - | - | - |
| 3 | - | - | - |
(Source: )
.22 Caliber Slow Fire Match

| Rank | Name | Service Branch/Agency | Score |
| --- | --- | --- | --- |
| 1 | - | - | - |
(Source: )
.22 Caliber Timed Fire Match

| Rank | Name | Service Branch/Agency | Score |
| --- | --- | --- | --- |
| 1 | - | - | - |
(Source: )
.22 Caliber Rapid Fire Match

| Rank | Name | Service Branch/Agency | Score |
| --- | --- | --- | --- |
| 1 | - | - | - |
(Source: )

.22 Caliber National Match Course

| Rank | Name | Service Branch/Agency | Score |
| --- | --- | --- | --- |
| 1 | - | - | - |
(Source: )