Held at Pensacola Rifle & Pistol Range
May 11 to 14, 1972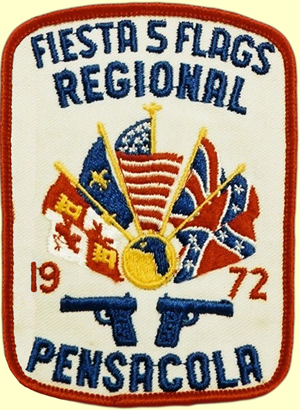 Army pistol team seeking high laurels in Pensacola matches
A U. S. Army Pistol team led by SFC Harland V. Rennolds, National 45 Caliber Pistol and Service Pistol Champion, is competing in the Annual Fiesta of Five Flags Pistol Championships at Pensacola, Fla., through this weekend.
Rennolds, winner of the April Fort Benning Monthly Open Pistol Tournament, is seeking further laurels in both the individual and team events.
Featuring one day of pistol competition and three days of the 2700 Aggregate National Three Gun matches with team events, the Fort Benning marksmen are listed as defending champions. SFC Hezekiah Clark of the unit won the championship in 1971 and SSgt. John Sicinski a companion shooter in 1970.
The Fiesta of Five Flags tournament attracts some of the best national pistol competition within the nation each year.
A two-range system is employed in the Florida matches which will be fired on the Pensacola Rifle and Pistol range at Cantonment, Fla. The dual range system, each range adjoining the other, provides greater shooting capacity, more efficient operation for competitors and tournament officials alike and should provide better scores with the improved flow of matches. A maximum of 250 competitors are permitted to enter the annual 24 match National tourney and three match International phase.
The U. S. Army "Blue" team which includes Rennolds, MSgt. Robert Whitacre, SFC Bonnie Harmon and SFC Roger Willis, all fired individual scores above the 2,640 mark when they won the last Fort Benning tournament. Clark won the 1971 Fiesta championship with a 2,652. The handgunners are from the U. S. Army Marksmanship Training Unit.
The Bayonet, Friday, May 12, 1972
In Fiesta Tourney
Marine Shooter Sets World Mark
By Tom Robinson
Journal Sports Writer
United States Marine Corps team, set a world record Thursday in the opening round of the Fiesta Pistol Championships at the Pensacola Rifle and Pistol Range at Cantonment.
Higginson led International Style Grand Aggregate with a total of 1719 after setting a mark in the .22 caliber International Standard Pistols with a 587 out of a possible 600 score.
The old record was 586 set by Hezekiah Clark, last year's Fiesta winner. Clark is not competing here this year.
William McMillan, also a member of the Marine team from Quantico, Va., captured top score in the Center Fire Aggregate with 593. Robert Whitacre, of Fort Benning, Ga., won the International Slow Fire with a 548 total.
Each event is broken down into four classes: Masters, Expert, Sharpshooter and Marksman.
Fiesta contestants who score a minimum of 579 in Center Fire events, Standards Pistols and 530 in Freestyle, can compete for the Olympic tryouts next month.
Friday's competition will feature the .22 caliber and .22 caliber team events starting at 8 a.m. which will be followed by a clinic of the All-Army squad with the public invited.
Whitacre was top man in the Masters Grand Aggregate with 1713 score followed by Bonnie Harmon of Fort Benning, Ga., with 1701.
John Kailer of the Army squad in Europe, scored 1669 to lead Expert shooters in the Grand Aggregate. Norberto Diaz of the Army Marksman Training Unit had a 1641 in the Sharpshooter class and teammate Jessie Battle led the Marksman at 1676.
Pensacola News Journal, Friday, May 12, 1972
Eglin Wins, Too
Pensacola Sharpshooters Triumph
By Tom Robinson
Journal Sports Writer
Host Pensacola Rifle and Pistol Club shot its way to first place as High Sharpshooters in the .22 caliber team events although the military teams expected, took the bulk of honors in the second day of the Fiesta Pistol Matches at the PR&C Range Friday.
The local team scored a 1117-40 to be one of two North-west Florida squads to notch victories. Eglin Air Force Base won the Post Camp and Station with 1147-38.
Meanwhile Roger Willis, with the Fort Benning unit, was top individual of the day with a hot 887-48 to capture the .22 caliber Aggregate. Willis also captured the .22 Caliber Rapid Fire match with 200-15.
Saturday's competition will consist of six Center Fire Matches starting at 8 a.m.
In other team events, Marine Scarlet swept the All-Service Open with an 1172-43 while the U.S. Army of Europe Black placed first in the Major Command with 1168-55. The First Army Blue team was second at 1159-47.
Tampa Police, with a score of 1144-34, took Police Division while Palmetto Gold won the Civilian class with a 1138-35 mark. Sherman Pitts was High Marksman for the Tampa unit with an 873-28 score and Peter Bataskov, of Miami, was High Civilian with 873-28.
Robert Whitacre of Fort Benning won the 2600 Master Service Aggregate with an 887-41 while John Firley, Coral Gables, was high scorer in the 2600 Police with an 868-38.
Jesse Battle of the Army Marksman Training Unit led the Master Service with an 870-30.
Pensacola News Journal, Saturday, May 13, 1972
Army Shooters on Target; Pensacola, Eglin Triumph
By Tom Robinson
News-Journal Sports Writer
The U.S. Army Marksman Training Unit Blue was the overall winner in Saturday's Center Fire Team Events, but again the Pensacola Rifle and Pistol Club and Eglin Air Force tasted success in team competition in the third day of the Fiesta Pistol Matches at the PR&P Range.
Eglin won the Post Camp and Station Center Fire event with an 1126-28 score as PR&P took First Sharpshooter at 1039-17. The Army Blue won overall with a 1168-40. The Marine Corps Scarlet was second at 1151-48.
Two Pensacola shooters picked up first place prizes in the Center Fire Aggregate. Bill Lawson captured First Marksman with an 805-14 and Edward Chilvers took the Expert Class with 839-20.
Chilvers also won the Expert Civilian in the Center Fire National Course and Lawson took two other Marksman Police victories.
The tournament closes Sunday with the .45 Caliber events starting at 8 a.m. more the 195 shooters are competing.
Roger Willis was overall Aggregate winner with an 882-41. Willis is a member of the Army Marksman Training Unit. Francis Higginson of the Marine Corps, who set a world record in Thursday's first round, captured 2600 Master Aggregate with an 881-40.
Herbert Kaim, Red Stone Arsenal, Ala., was first in the Regional Service Pistol Match with a 283-9. The top 10 percent shooters in the match earn points towards the Distinguished Pistol Shot. Of the 64 competing in the match, those getting points included Richard Behan from Dallas, who was second, followed by Oscar Gomez, Fort Bragg; Larry Smith, Atlanta; Daniel Wilson, Largo; Robert Bluff, Charlotte; and Louis Weile of Charleston.
In other events U.S. Army Europe placed first in the Major Command with an 1152-41 followed by the Sixth Army Gold with 1145-40.
In the Police Division, Florida Highway Patrol took top shooting honors with 1130-34 followed by Tampa and Tallahassee Police.
Palmetto Gold was first in the Civilian team event with 1138-33 followed by Palmetto Silver at 1084-22. Army of Pacific Blue won the First Expert at 1105-22.
Pensacola News Journal, Sunday, May 14, 1972
Army Blue Takes Fiesta Pistol Tournament
By Tom Robinson
Journal Sports Writer
While U.S. Army Blue took top honors in the Four Man Team Aggregate, Pensacola Rifle Club and Eglin Air Force Base fired their way to victories in Sunday's final round of the Fiesta Pistol Matches at the PR&P Range.
Eglin won Post Camp Station category for the four-day meet with a 3412-110 score. And PR&P, hosting the annual event, took Civilian First Sharpshooter at 3208-81.
But it was U.S. Army Blue, after the gunsmoke had settled, that won the overall team title with a 3504-142. The U.S. Marine Scarlet team followed at 3469-134.
Francis Higginson, the Marine's record-setting shooter for the tournament, was over-all individual winner with a 2646-121 mark. William McMillan was second at 2643-140. Higginson's impressive background of pistol competition includes gold medal in the Pan American games. And McMillan won the gold medal in the 1960 Olympics.
Frank King of the Sixth Army was the only shooter to earn qualifications for the Olympic tryouts as the result of this tournament. There were others, McMillan and Higginson included, who had previously qualified for the tryouts next month in Phoenix, Ariz.
McMillan was the overall individual winner in Sunday's competition of the .45 caliber matches with an aggregate of 884-45. Also in the final round, George Dornellas won the Master Service with a 856-24, Ed Chilvers Expert Civilian at 854-27 and Bill Lawson, Civilian Police Marksman with 775-13. All are Pensacola shooters.
Chilvers and Lawson are also Grand Aggregate winners for their respective classes with scores of 2554-65 and 2365-43.
In Sunday's team events the Army Blue also captured that with 1166-45.
Post Camp Station went to Eglin, 113-44 followed by Pensacola Naval Air Station at 1075-21.
Pensacola Rifle and Pistol Club took First Sharpshooter at 1052-24.
Other Sunday winners included in the 2600 Service with an 879-41 while Bob Johnson took 2600 Police Reserve at 872-36 and W. Sherman in Master Police at 857-29.
Master Civilian went to A. Cervone, 848-30, and Larry Smith captured the Sharpshooter Police Civilian at 818-19.
Special awards in the Grand Aggregate went to McMillan, W. Alvis, William Stone, Terry Woods, T. Pettit, G. Pearce and P. Bataskov.
Pensacola News Journal, Monday, May 15, 1972
Army marksmen win team laurels
U. S. Army handgunners banded together to win the team laurels in the Fiesta of Five Flags Pistol Tournament Sunday at Pensacola, Fla., but lost the individual championship.
SFC Roger Willis, a relative new shooter with the U. S. Army Marksmanship Training Unit, started off strong in the Three-Gun series when he took the 22 Caliber Pistol sub-aggregate with his commanding 889-48X and the Center Fire Pistol se-? the adjoining target which cost him 40 points which would have given him 2,651.
Coming through with the best individual aggregate, former National Champion Marine Warrant Officer Francis Higginson of Quantico, Virginia, posted a combined score of 2,464-131X, to take the Grand Championship. Top Army shooter, SFC Bonnie Harmon was down six points for third overall.
In the team competition, the U. S. Army "Blue" team led by Willis combined their talents for the first place honors with a winning aggregate of 3,504-142X. They won three of the four team events scheduled.
The Bayonet, Friday, May 19, 1972
SCORE SHEET
Marine CWO Francis Higginson didn't win a single individual match at the Fiesta of Five Flags Regional Pistol Tournament May 11-14 at Pensacola, Fla., but his consistency paid off. He led the pack of 195 shooters to take the title in the conventional 2700 shoot with 2646-131X, nosing out his commanding officer, Lt. Col. William McMillan, who took second with 2643-140X. Sherman Pitts of Tampa took the High Police spot with 2594-86X; Pete Bataskov of Hollywood was High Civilian with 2587-85X; High Reserve was Garland Pearce of Charleston, S.C., with 2557-82X; and S/Sgt. Barbara Hile of the AMTU at Ft. Benning was High Lady, shooting 2589-96X. The Army's USAMTU Blue took team honors with 3504-142X. Higginson also won the individual aggregate in the International Matches.
American Rifleman, Vol. 120, No. 7, July, 1972
Grand Aggregate (Individual)
Rank
Name
Service Branch/Agency
.22 Caliber
Center-Fire
.45 Caliber
Total
1
Francis A. Higginson
U.S. Marine Corps
886-32X
881-40X
879-41X
2646-113X
2
Wm W. McMillan
U.S. Marine Corps
-
-
884-45X
2643-140X
3
Bonnie Harmon
U.S. Army
Bonnie Harmon
-
-
-
2630
High Police
Sherman Pitts
-
-
-
-
2594-86X
High Civilian
Peter Bataskov
-
873-28X
-
-
2587-85X
High Reserve
Garland Pearce
-
-
-
-
2557-82X
High Lady
Barbara Hile
U.S. Army
-
-
-
2589-96X
(Source: )
Grand Aggregate (Team)
Rank
Service Branch/Agency
.22 Caliber
Center-Fire
.45 Caliber
Total
1
U.S. Army 'Blue'
H. Rennolds, B. Harmon, R. Whitacre & R. Willis
1159-47X
1168-40X
1166-45X
3504-142X
2
U.S. Marine Corps 'Scarlet'
1172-43X
1151-48X
1146-43X
3469-134X
1st
Civilian
Sharpshooter
Pensacola Rifle & Pistol Club
1117-40X
1039-17X
1052-24X
3208-81X
Post
Camp & Station
U.S. Air Force Eglin AFB
1147-38X
1126-28X
1139-44X
3412-110X
(Source: )
.45 Caliber Team Championship
Rank
Service Branch/Agency
Score
1
U.S. Army 'Blue'
H. Rennolds, B. Harmon, R. Whitacre & R. Willis
1166-45X
1st
Sharpshooter
Pensacola Rifle & Pistol Club
1052-24X
1st
Post Camp & Station
U.S. Air Force Eglin AFB
1138-44X
2nd
Post Camp & Station
U.S. Navy Pensacola NAS
1075-21X
(Source: )
.38 Caliber Team Championship
Rank
Service Branch/Agency
Score
1
U.S. Army 'Blue'
H. Rennolds, B. Harmon, R. Whitacre & R. Willis
1168-40X
2
U.S. Marine Corps 'Scarlet'
1151-48X
1st
Expert
U.S. Army Pacific 'Blue'
1105-22X
1st
Sharpshooter
Pensacola Rifle & Pistol Club
1039-17X
1st
Civilian
Palmetto 'Gold'
1138-33X
2nd
Civilian
Palmetto 'Silver'
1084-22X
1st
Police
Florida Highway Patrol
1130-34X
2nd
Police
Tampa, Fla.
Police Department
-
3rd
Police
Tallahassee, Fla.
Police Department
-
1st
Major Command
U.S. Army Europe 'Black'
1152-41X
2nd
Major Command
U.S. Army 6th 'Gold'
1145-40X
1st
Post Camp & Station
U.S. Air Force Eglin AFB
1126-28X
(Source: )
.22 Caliber Team Championship
Rank
Service Branch/Agency
Score
1
U.S. Marine Corps 'Scarlet'
1172-43X
1st
Sharpshooter
Pensacola Rifle & Pistol Club
1117-40X
1st
Civilian
Palmetto 'Gold'
1138-35X
1st
Police
Tampa Police
1144-34X
1st
Major Command
U.S. Army of Europe 'Black'
1168-55X
2nd
Major Command
U.S. Army 'Blue'
H. Rennolds, B. Harmon, R. Whitacre & R. Willis
1159-47X
Post
Camp & Station
U.S. Air Force Eglin AFB
1147-38X
(Source: )
.45 Caliber Championship
Rank
Name
Service Branch/Agency
Total
1
Wm W. McMillan
U.S. Marine Corps
Quantico, Va.
884-45X
1st
Master
George Dornellas
Pensacola, Florida
856-24X
1st
Civlilian Master
A. Cervone
-
848-30X
1st
Civlilian Expert
Edward Chilvers
Pensacola, Florida
854-27X
1st
Police Master
W. Sherman
-
857-29X
1st
Police Sharpshooter
Larry Smith
-
818-19X
1st
Police Marksman
Bill Lawson
Pensacola, Florida
775-13X
1st
Police Reserve
Bob Johnson
-
872-36X
1st
Service
Francis A. Higginson
U.S. Marine Corps
Quantico, Va.
879-41X
(Source: )
.45 Caliber Slow Fire Match

| Rank | Name | Service Branch/Agency | Score |
| --- | --- | --- | --- |
| 1 | - | - | - |
(Source: )
.45 Caliber Timed Fire Match

| Rank | Name | Service Branch/Agency | Score |
| --- | --- | --- | --- |
| 1 | - | - | - |
(Source: )
.45 Caliber Rapid Fire Match

| Rank | Name | Service Branch/Agency | Score |
| --- | --- | --- | --- |
| 1 | - | - | - |
(Source: )
.45 Caliber National Match Course

| Rank | Name | Service Branch/Agency | Score |
| --- | --- | --- | --- |
| 1 | - | - | - |
(Source: )
.38 Caliber Championship
Rank
Name
Service Branch/Agency
Total
1
Rober Willis
U.S. Army
Fort Benning, Ga.
882-41X
1st
Master
Francis A. Higginson
U.S. Marine Corps
Quantico, Va.
881-40X
1st
Civilian Expert
Edward Chilvers
Pensacola, Florida
839-20X
1st
Civilian Marksman
Bill Lawson
Pensacola, Florida
805-14X
(Source: )
.38 Caiber Slow Fire Match

| Rank | Name | Service Branch/Agency | Score |
| --- | --- | --- | --- |
| 1 | - | - | - |
(Source: )
.38 Caliber Timed Fire Match

| Rank | Name | Service Branch/Agency | Score |
| --- | --- | --- | --- |
| 1 | - | - | - |
(Source: )
.38 Caliber Rapid Fire Match

| Rank | Name | Service Branch/Agency | Score |
| --- | --- | --- | --- |
| 1 | - | - | - |
(Source: )
.38 Caliber National Match Course

| Rank | Name | Service Branch/Agency | Score |
| --- | --- | --- | --- |
| 1 | Edward Chilvers | Pensacola, Florida | - |
(Source: )
.22 Caliber Championship
Rank
Name
Service Branch/Agency
Total
1
Roger Willis
U.S. Army
Fort Benning, Ga.
889-48X
1st
Master
Robert Whitacre
U.S. Army
Fort Benning, Ga.
887-41X
1st
Marksman
Sherman Pitts
Tampa, Fla.
Police Department
873-28X
1st
Civilian
Peter Bataskov
Miami, Florida
873-28X
1st
Police
John Firley
Coral Gables, Fla.
Police Department
838-38X
1st
Master Service
Jesse Battle
U.S. Army
Fort Benning, Ga.
870-30X
(Source: )
.22 Caliber Slow Fire Match

| Rank | Name | Service Branch/Agency | Score |
| --- | --- | --- | --- |
| 1 | - | - | - |
(Source: )
.22 Caliber Timed Fire Match

| Rank | Name | Service Branch/Agency | Score |
| --- | --- | --- | --- |
| 1 | - | - | - |
(Source: )
.22 Caliber Rapid Fire Match
Rank
Name
Service Branch/Agency
Score
1
Roger Willis
U.S. Army
Fort Benning, Ga.
200-16X
(Source: )
.22 Caliber National Match Course

| Rank | Name | Service Branch/Agency | Score |
| --- | --- | --- | --- |
| 1 | - | - | - |
(Source: )
International Aggregate
Rank
Name
Service Branch/Agency
Score
1
Francis A. Higginson
U.S. Marine Corps
Quantico, Va.
1719
1st
Master
Robert Whitacre
U.S. Army
Fort Benning, Ga.

1713
2nd
Master
Bonnie Harmon
U.S. Army
Fort Benning, Ga.
1701
1st
Expert
John Kailer
U.S. Army
Fort Benning, Ga.
1669
1st
Sharpshooter
Norberto Diaz
U.S. Army
Fort Benning, Ga.
1641
1st
Marksman
Jessie Battle
U.S. Army
Fort Benning, Ga.
1676
(Source: )