Held at the Weapons Training Battalion
Calvin A. Lloyd Range Facility
Quantico, Virginia
February 6 and 7, 1971
McMillan Wins In Open Pistol Match
LtCol. William McMillan has shot his way into the winner's circle as he captured the Grand Aggregate title in last week's Quantico 2700 Open Pistol Tournament at WTBn.
An estimated 93 participants from all branches of the service including police personnel and civilians competed in the two day tournament.
McMillan won the overall top honors with a total score of 2633x87X which included breaking a national record in the .45 cal. Rapid Fire with a 200x11X. He also won the Center Fire National Match Course with a 296x9X total, the Center Fire Rapid with a 197x10X the Center Fire Aggregate with a total of 877x32X and the .45 Time Fire with a 200x12X.
First Master in the competition was Maj. M. R. Rose with a 2623x87X total. Rose also won the .22 cal. Match with a 194, the .2 cal. Rapid Fire with a 199x13X and the Center Fire Time Fire with a 200x10X.
MCDEC team member Sgt. E. L. Spencer won the First Expert title with a 2541 including First Expert wins in the .22 cal. Match, .22 cal. Rapid Fire, .45 aggregate, .45 Time Fire and the .45 Slow Fire Match.
Also from the MCDEC was Sgt. R. L. Jones who won First Sharpshooter honors with an overall total of 2449.
The Marine Corps Red team made a clean sweep in the team competition by winning the .22 cal. Match with an 1155, the Center Fire Match with an 1163 and the .45 cal. Match with an 1125. Team members were Sgt E. L. Spencer, Sgt. R. L. Jones, GySgt G. W. DiGuardi and SSgt. H. D. Carter.
The next pistol competition will be the Restricted Indoor Pistol Tournament which will be limited to reserves and National Guard.
Quantico Sentry, Friday, February 12, 1971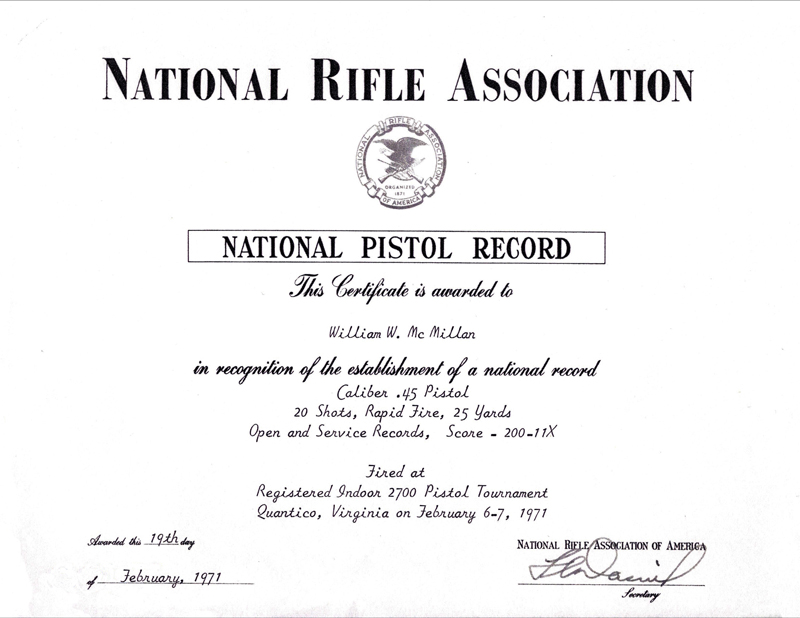 Grand Aggregate

| Rank | Name | Service Branch/Agency | .22 Caliber | Center-Fire | .45 Caliber | Total |
| --- | --- | --- | --- | --- | --- | --- |
| 1 | Wm W. McMillan | U.S. Marine Corps | - | 877-32X | - | 2636-101X |
| High Civilian | G. T. Sinclair | - | - | - | - | 2592-74X |
| 1st Service Master | Merle R. Rose | U.S. Marine Corps | - | - | - | 2623-87X |
| 1st Service Expert | E. L. Spencer | U.S. Marine Corps | - | - | - | 2541 |
| 1st Service Sharpshooter | Robert L. Jones | U.S. Marine Corps | - | - | - | 2449 |
(Source: Quantico Sentry, February 12, 1971 and American Rifleman, Vol. 119, No. 4, April 1971)
.45 Caliber Team Championship
Rank
Service Branch/Agency
Score
1
U.S. Marine Corps MCDEC 'Red'


G. W. DiGuardi, H. D. Carter, E. L. Spencer and R. L. Jones

1125
(Source: Quantico Sentry, February 12, 1971)
.38 Caliber Team Championship
Rank
Service Branch/Agency
Score
1
U.S. Marine Corps MCDEC 'Red'


G. W. DiGuardi, H. D. Carter, E. L. Spencer and R. L. Jones

1163
(Source: Quantico Sentry, February 12, 1971)
.22 Caliber Team Championship
Rank
Service Branch/Agency
Score
1
U.S. Marine Corps MCDEC 'Red'


G. W. DiGuardi, H. D. Carter, E. L. Spencer and R. L. Jones

1155
(Source: Quantico Sentry, February 12, 1971)
.45 Caliber Championship

| Rank | Name | Service Branch/Agency | Total |
| --- | --- | --- | --- |
| 1 | - | - | - |
| 1st Expert | E. L. Spencer | U.S. Marine Corps | - |
| 3 | - | - | - |
(Source: Quantico Sentry, February 12, 1971)
.45 Caliber Slow Fire Match

| Rank | Name | Service Branch/Agency | Score |
| --- | --- | --- | --- |
| 1st Expert | E. L. Spencer | U.S. Marine Corps | - |
(Source: Quantico Sentry, February 12, 1971)
.45 Caliber Timed Fire Match

| Rank | Name | Service Branch/Agency | Score |
| --- | --- | --- | --- |
| 1 | Wm W. McMillan | U.S. Marine Corps | 200-12X |
| 1st Expert | E. L. Spencer | U.S. Marine Corps | - |
(Source: Quantico Sentry, February 12, 1971)
.45 Caliber Rapid Fire Match

| Rank | Name | Service Branch/Agency | Score |
| --- | --- | --- | --- |
| 1 | Wm W. McMillan | U.S. Marine Corps | 200-11X |
(Source: Quantico Sentry, February 12, 1971)
.45 Caliber National Match Course

| Rank | Name | Service Branch/Agency | Score |
| --- | --- | --- | --- |
| 1 | - | - | - |
(Source: )
.38 Caliber Championship

| Rank | Name | Service Branch/Agency | Total |
| --- | --- | --- | --- |
| 1 | Wm W. McMillan | U.S. Marine Corps | 877-32X |
| 2 | - | - | - |
| 3 | - | - | - |
(Source: Quantico Sentry, February 12, 1971)
.38 Caliber Slow Fire Match

| Rank | Name | Service Branch/Agency | Score |
| --- | --- | --- | --- |
| 1 | - | - | - |
(Source: )
.38 Caliber Timed Fire Match

| Rank | Name | Service Branch/Agency | Score |
| --- | --- | --- | --- |
| 1 | Merle R. Rose | U.S. Marine Corps | 200-10X |
(Source: Quantico Sentry, February 12, 1971)
.38 Caliber Rapid Fire Match

| Rank | Name | Service Branch/Agency | Score |
| --- | --- | --- | --- |
| 1 | Wm W. McMillan | U.S. Marine Corps | 197-10X |
(Source: Quantico Sentry, February 12, 1971)
.38 Caliber National Match Course

| Rank | Name | Service Branch/Agency | Score |
| --- | --- | --- | --- |
| 1 | Wm W. McMillan | U.S. Marine Corps | 296-9X |
(Source: Quantico Sentry, February 12, 1971)
.22 Caliber Championship

| Rank | Name | Service Branch/Agency | Total |
| --- | --- | --- | --- |
| 1 | - | - | - |
| 2 | - | - | - |
| 3 | - | - | - |
(Source: )
.22 Caliber Slow Fire Match

| Rank | Name | Service Branch/Agency | Score |
| --- | --- | --- | --- |
| 1 | - | - | - |
(Source: )
.22 Caliber Timed Fire Match

| Rank | Name | Service Branch/Agency | Score |
| --- | --- | --- | --- |
| 1 | - | - | - |
(Source: )
.22 Caliber Rapid Fire Match

| Rank | Name | Service Branch/Agency | Score |
| --- | --- | --- | --- |
| 1 | Merle R. Rose | U.S. Marine Corps | 199-13X |
| 1st Expert | E. L. Spenser | U.S. Marine Corps | - |
(Source: Quantico Sentry)
.22 Caliber National Match Course

| Rank | Name | Service Branch/Agency | Score |
| --- | --- | --- | --- |
| 1 | - | - | - |
(Source: )