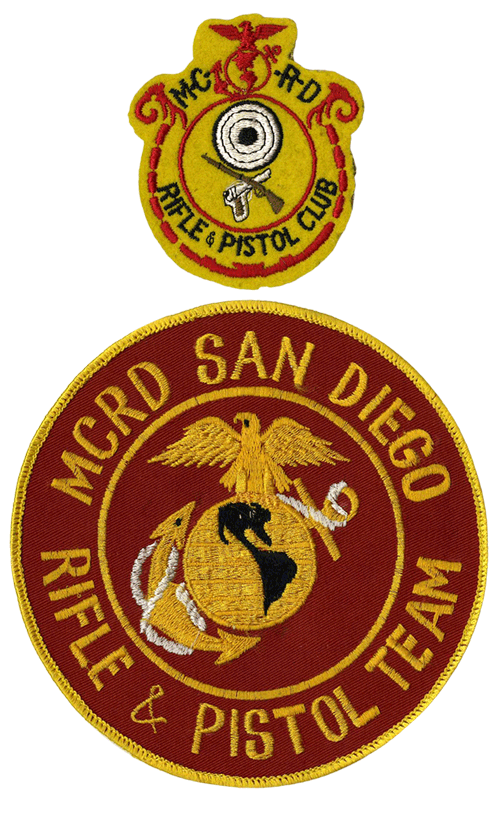 Held at the Phoenix Rod & Gun Club's Range in 1966
Rifle, Pistol Team Nabs 14 Victories In Ariz. Matches
MCRD's Rifle and Pistol Team fired their way to victories in 14 of 16 matches at the Phoenix Rod and Gun Club sponsored rifle and pistol matches held last week in Phoenix.
Maj. William W. McMillan, OIC of the Depot team, led the four man team by capturing the Grand Aggregate (overall) honors with a 2628-119X score.
The Depot team captured all three of the team matches. The .22 pistol team match was won by MCRD with a score of 1162-48X (out of a possible 1200). Center fire team competition was won with a score of 1147-45X (1200) and the .45 pistol team match was copied with a score of 1153-54X (1200).
HM1 T. L. Keigley, a past All-Navy shooter, is a new addition to the Depot team. Keigley, who returned from Vietnam where he earned a Bronze Star for heroism, gained first place honors in the .22 pistol slow fire and the .45 pistol rapid fire matches during the meet.
Depot team members finished one, two, three and four in the Grand Aggregate competition. Maj McMillan finished first, GySgt. C. F. McConnel finished second with a 2598-90X, Cpl. Michael F. Hardaway ended in third place with a 2592-104X and HM1 Keigley finished fourth with a 2592-92X to complete the Depot team's sweep of the other civilian and service competitors.
(Source: Unknown news article, 1966)
Grand Aggregate
Rank
Name
Service Branch/Agency
.22 Caliber
Center-Fire
.45 Caliber
Total
1
Wm W. McMillan, Jr.
U.S. Marine Corps
Camp Pendleton, Ca.
-
-
-
2628-119X
2
Charles F. McConnell
U.S. Marine Corps
Camp Pendleton, Ca.
-
-
-
2598-90X
3
Michael F. Hardaway
U.S. Marine Corps
Camp Pendleton, Ca.
-
-
-
2592-104X
4
Tommy L. Keigley
U.S. Navy
Camp Pendleton, Ca.
-
-
-
2592-92X
(Source: )
.45 Caliber Team Championship
Rank
Service Branch/Agency
Score
1
U.S. Marine Corps MCRD Rifle & Pistol Team


W. W. McMillan, C. F. McConnell, M. F. Hardaway and T. L. Keigley

1153-54X
(Source: )
.38 Caliber Team Championship
Rank
Service Branch/Agency
Score
1
U.S. Marine Corps MCRD Rifle & Pistol Team


W. W. McMillan, C. F. McConnell, M. F. Hardaway and T. L. Keigley

1147-45X
(Source: )
.22 Caliber Team Championship
Rank
Service Branch/Agency
Score
1
U.S. Marine Corps MCRD Rifle & Pistol Team


W. W. McMillan, C. F. McConnell, M. F. Hardaway and T. L. Keigley

1162-48X
(Source: )
.45 Caliber Championship

| Rank | Name | Service Branch/Agency | Total |
| --- | --- | --- | --- |
| 1 | - | - | - |
| 2 | - | - | - |
| 3 | - | - | - |
(Source: )
.45 Caliber Slow Fire Match

| Rank | Name | Service Branch/Agency | Score |
| --- | --- | --- | --- |
| 1 | - | - | - |
(Source: )
.45 Caliber Timed Fire Match

| Rank | Name | Service Branch/Agency | Score |
| --- | --- | --- | --- |
| 1 | - | - | - |
(Source: )
.45 Caliber Rapid Fire Match
Rank
Name
Service Branch/Agency
Score
1
Tommy L. Keigley
U.S. Navy
Camp Pendleton, Ca.
-
(Source: )
.45 Caliber National Match Course

| Rank | Name | Service Branch/Agency | Score |
| --- | --- | --- | --- |
| 1 | - | - | - |
(Source: )
.38 Caliber Championship

| Rank | Name | Service Branch/Agency | Total |
| --- | --- | --- | --- |
| 1 | - | - | - |
| 2 | - | - | - |
| 3 | - | - | - |
(Source: )
.38 Caliber Slow Fire Match

| Rank | Name | Service Branch/Agency | Score |
| --- | --- | --- | --- |
| 1 | - | - | - |
(Source: )
.38 Caliber Timed Fire Match

| Rank | Name | Service Branch/Agency | Score |
| --- | --- | --- | --- |
| 1 | - | - | - |
(Source: )
.38 Caliber Rapid Fire Match

| Rank | Name | Service Branch/Agency | Score |
| --- | --- | --- | --- |
| 1 | - | - | - |
(Source: )
.38 Caliber National Match Course

| Rank | Name | Service Branch/Agency | Score |
| --- | --- | --- | --- |
| 1 | - | - | - |
(Source: )
.22 Caliber Championship

| Rank | Name | Service Branch/Agency | Score |
| --- | --- | --- | --- |
| 1 | - | - | - |
| 2 | - | - | - |
| 3 | - | - | - |
(Source: )
.22 Caliber Slow Fire Match
Rank
Name
Service Branch/Agency
Score
1
Tommy L. Keigley
U.S. Navy
Camp Pendleton, Ca.
-
(Source: )
.22 Caliber Timed Fire Match

| Rank | Name | Service Branch/Agency | Score |
| --- | --- | --- | --- |
| 1 | - | - | - |
(Source: )
.22 Caliber Rapid Fire Match

| Rank | Name | Service Branch/Agency | Score |
| --- | --- | --- | --- |
| 1 | - | - | - |
(Source: )
.22 Caliber National Match Course

| Rank | Name | Service Branch/Agency | Score |
| --- | --- | --- | --- |
| 1 | - | - | - |
(Source: )