CamPen Open Rifle Meet To Be Held Here Dec 4-5
The largest rifle match on the West Coast - the Camp Pendleton Open High Power Rifle Tournament - will be held here Dec. 4-5 at Range 103.
The match originated here in 1954, but was moved to Camp Matthews the next year, where it was held until 1963. The match was not held in 1964 when Camp Matthews was closed down.
The Santa Margarita Gun Club, in conjunction with Marine Corps Base, will bring the meet back to Camp Pendleton this year according to CWO James W. Hill, executive officer of the match, more than 200 shooters from throughout the nation are expected to fire in this meet.
Entries have been made already from the 4th Army Marksmanship Unit, Ft. Sam Houston, Tex.; 5th Army, Ft. Riley, Kans.; 6th Army, Ft. Ord, Calif.; MCB, Twentynine Palms; Force Troops, Twentynine Palms; MCRD, San Diego; and MCB, Camp Pendleton.
Representing Camp Pendleton will be a four-man team composted of GySgt. Michael Pietroforte, GySgt. Orin Hinks, SSgt. E. W. Eveleth and SSgt. J. A. Anderson.
GySgt. Pietroforte was last year's individual winner in the Marine Corps Matches, and all of Camp Pendleton's representatives are distinguished shooters.
Among the entries made by individuals are Middleton Tompkins, past National High Power Bolt Rifle champion, and Navy GMC D. F. Morine, 1964 National Service Rifle Champion.
Also entered is the U.S. Navy team which recently set a new team record in the California State Team Matches.
Any registered member of the National Rifle Association (NRA) is eligible to participate. Registration fees are $1.50 per day and $1.50 per match, or a package fee of $15. Registration for team matches is $6 per team.
Rules for the tournament are controlled by the NRA, and all scores will be registered with the NRA. Any national record set will be counted on NRA records.
Trophies and merchandise will be awarded to winning shooters.
The Pendleton Scout, Wednesday, November 24, 1965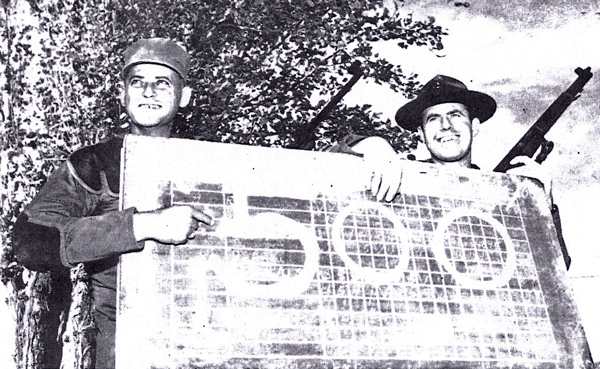 A PERFECT 500 - SSgt. W. B. Dobbie (left) and Capt. Kenneth J. Erdman, USMCR, point to the score they fired Dec. 4 - 5 in the Camp Pendleton Open High-Power Rifle Tournament. Both men fired the match without dropping a point, but Dobbie edged out Erdman for first place with extra "V's." (Photo by CPL. G. W. M. BRYAN)
Two Perfect Scores Pace Rifle Matches
Warm, clear, near perfect weather prevailed here Dec. 4 - 5 as approximately 200 rifle experts from throughout the nation met in the Camp Pendleton Open High-Power Rifle Matches.
Dinging his way to a second individual match win in 1965 was SSgt. W. B. Dobbie from Twentynine Palms, Calif. Earlier this year SSgt. Dobbie walked off with the top slot in the individual match at the Nationals at Camp Perry, Ohio.
On both days of the tourney here, SSgt. Dobbie fired a perfect score, drilling 50 bullets per day through the bulls-eye with 57 out of 100 finding the coveted "V." Two days - 100 shots - 100 bull's-eyes.
Capt. Kenneth J. Erdmann, Marine Air Reserve Training Command, Glenview, Ill., put 50 bullets through the bull's-eye on the first day of the tournament and squeezed off 50 more bull's-eyes on the second day to give him the second perfect score. The captain put 54 shots through the small "V" ring to wind up in second place, losing by three "V's."
A civilian team of M. H. Hull, R. K. Ilea, Mike Thompkins and J. A. Clerke compiled a team total of 994 points out of 1000, with 106 bullets hitting the "V" ring to take the team competition.
The Twentynine Palms Gold team placed second in the team competition close behind the civilian band of sharp-shooters. SSgt. L. T. Scoggins, SSgt. W. B. Dobbie, GySgt. B. L. Harshman and SSgt. E. C. Hansen made up the second place Marine team.
A Camp Pendleton team placed third in the "B" competition and was composed of GySgt. O. R. Hingst, SSgt. C. E. Anderson, SSgt. E. W. Eveleth and GySgt. Mike Pietroforte. The team compiled a score of 982 points out of 1000 with 72 shots finding the "V" ring.
Adding a feminine touch to the matches was the women's team from the Naval Training Center, San Diego. The women proved that shooting a rifle was not limited to men only when they broke the National Women's Open Match record.
The match, held this year on range 103, was formerly a yearly event fired on the targets of Camp Matthews. Last year the annual tournament drew a bye due to the closing of Camp Matthews.
The Santa Margarita Gun Club, sponsor and officiator of this year's competition, plans to continue the annual tournament here in future years.
Governed by National Rifle Association rules, shooters fire from the 200, 300 and 600 yard lines in the off-hand, sitting-rapid, prone-rapid and prone slow positions. Competitors fired twenty rounds off-hand, 10 round strings in each of the rapid fire positions, and 10 rounds at the 600.
The Pendleton Scout, Friday, December 10, 1965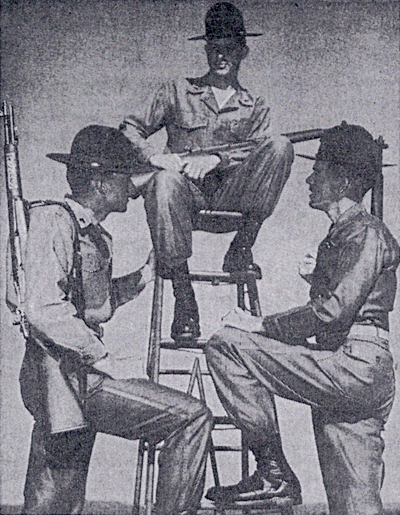 HE'S TOPS LCpl. Robert D. Shaver, Depot Rifle Team member, perches atop ladder to illustrate his standing in recent rifle matches. Never far behind are teammates Cpl. Jack L. Gracey (l) and LCpl. Lynn V. D. Chancey.
Rifle Team Shooters Tops In Shoot-Out
Five Depot Rifle Team members were involved in a shoot out last weekend with 165 civilians and military marksmen at a two-day Camp Pendleton Open Rifle Match at Chappo Flats.
When the smoke cleared Sunday afternoon, the locals emerged with more than their share of spoils.
The contest opened Saturday morning with Depot shooter Cpl. Jack L. Gracy drawing first blood in the individual 20-round, 200 meter slow fire off hand by downing all opponents with his winning 100-6Vs.
Backing up Gracey's mark in the same action was team captain Maj. William W. McMillan with 100-3Vs for third place. LCpl. Lynn V. Chancey's bid, a score of 99-6Vs, named him to eighth place among the top 10 in the first event.
In the following conflict, the 200 meter rapid sitting, Gracey struck 13Vs with a 100 point tally for second place standing. Teammate LCpl. Douglas M. Dehaas edged into ninth spot with his mark of 100-11Vs.
Saturday's subsequent competition netted Dehaas seventh place at the 300 meter prone with a score of 100-18Vs.
Fifth match encounters at the 600 meter prone found LCpl. Robert D. Shaver besting all competitors with his winning 100-16Vs.
In the same event, Chancey won fourth place with 100-13Vs and Gracey nipped tenth place with 100-13Vs.
Aggregate scores (combination of team/individual scores) fired Sunday favored Gracey for the overall number two position with a total of 498-55Vs. Shaver won fifth place with his 496-50Vs, and McMillan captured the ninth spot with his 496-40Vs.
Photo by Sgt. A. L. Cooper
MCRD Chevron, Friday, December 10, 1965
Aggregate

| Rank | Name | Service Branch/Agency | Total |
| --- | --- | --- | --- |
| 1 | - | - | - |
| 2 | Cpl. Jack L. Gracey | USMC Depot Rifle Team | 498-55V |
| 3 | - | - | - |
| 4 | - | - | - |
| 5 | LCpl. Robert D. Shaver | USMC Depot Rifle Team | 496-50V |
| 9 | Maj. Wm W. McMillan | USMC Depot Team (Captain) | 496-40V |
(Source: MCRD Chevron, Friday, December 10, 1965)
600 Meter Slow-Fire Prone

| Rank | Name | Service Branch/Agency | Score |
| --- | --- | --- | --- |
| 1 | LCpl. Robert D. Shaver | USMC Depot Rifle Team | 100-16V |
| 2 | - | - | - |
| 3 | - | - | - |
| 4 | LCpl. Lynn V. Chancey | USMC Depot Rifle Team | 100-13V |
| 10 | Cpl. Jack L. Gracey | USMC Depot Rifle Team | 100-13V |
(Source: MCRD Chevron, Friday, December 10, 1965)
300 Meter Rapid-Fire Prone

| Rank | Name | Service Branch/Agency | Score |
| --- | --- | --- | --- |
| 1 | - | - | - |
| 2 | - | - | - |
| 3 | - | - | - |
| 7 | LCpl. Douglas M. Dehaas | USMC Depot Rifle Team | 100-18V |
(Source: MCRD Chevron, Friday, December 10, 1965)
200 Meter Rapid-Fire Sitting

| Rank | Name | Service Branch/Agency | Score |
| --- | --- | --- | --- |
| 1 | - | - | - |
| 2 | Cpl. Jack L. Gracey | USMC Depot Rifle Team | 100-13V |
| 3 | - | - | - |
| 9 | LCpl. Douglas M. Dehaas | USMC Depot Rifle Team | 100-11V |
(Source: MCRD Chevron, Friday, December 10, 1965)
200 Meter Slow-Fire Off Hand (Standing)

| Rank | Name | Service Branch/Agency | Score |
| --- | --- | --- | --- |
| 1 | Cpl. Jack L. Gracey | USMC Depot Rifle Team | 100-6V |
| 2 | - | - | - |
| 3 | Maj. Wm W. McMillan | USMC Depot Team (Captain) | 100-3V |
| 8 | LCpl. Lynn V. Chancey | USMC Depot Rifle Team | 99-66V |
(Source: MCRD Chevron, Friday, December 10, 1965)