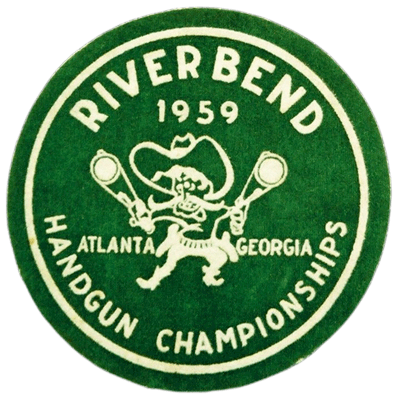 Held at River Bend Rod & Gun Club
Atlanta, Georgia
July 4 and 5, 1959
Stineman Hits 2642 In State Pistol Meet
Army M-Sgt. Richard Stineman, 26-year-old member of the Advanced Marksmanship Unit at Fort Benning, fired a sizzling 2642-123x grand aggregate score to win the 1959 Georgia State Pistol Championship at the River Bend Rod and Gun Club near Atlanta last Sunday.
In compiling his score, Stineman defeated some of the best pistol shooters in the country, including Marine Corps Capt. William McMillan, 1958 Olympic centerfire champion, and James clark, Shreveport, La., winner of last year's National Matches. McMillan scored 2641-129x for second place in the match standings.
In all, 17 shooters broke the "2600" mark during the Georgia State contest.
LT. COL. William A. Hancock, AMU Pistol Team officer in charge, reported that this is the highest number of individual shooters to score over 2600 points in any one match.
Hancock was fourth in the final count with a 2623-111x aggregate. Third place match honors went to Army Lt. David Cartes, AMU, with a 2628-118x total.
High civilian shooter was James Clark, with 2614-103x, Leonard Robinson, Columbus, scored 2541-74x for third high civilian standing.
The Army Pistol Team will participate in the 1959 South Eastern Atlantic Regional Pistol Championships at Tampa, Fla., over the coming weekend. This is the last open match scheduled before the team leaves to compete in the National Matches at Camp Perry, Ohio, in early August.
The Bayonet, Fort Benning, Ga., July 9, 1959
Local Pistol Team Derailed; Sets Sights For Comeback
The heavy hitting Marine Corps Pistol Team, charged up by successive overwhelming victories in the Maryland State Championships and the MCS Spring Annual Tournament, was derailed over the holiday weekend in the River Bend Championship Matches at Atlanta, Ga.
The Marines met the big Army Team head on and came out on the losing end in 15 individual matches while winning only two.
Capt. W. W. McMillan maintained the Marine reputation with the .45 pistol by winning the slow fire match with 194 and the aggregate with a score of 879.
In the four-man team matches, the Marines could not find the right combination as the U.S. Army Blue Team swept all three team matches with scores of 1179 in the .22 team match; 1166 in the center fire team match and 1155 in the .45 team match.
In the Grand Aggregate, Capt. McMillan lost to Cpl. R. Stineman, USA, by a single point, 2641 to 2642. Capt. McMillan, 13 points behind Cpl. Stineman as the .45 caliber matches began, came very close as he picked up 12 points with the .45 - firing 879 to Stineman's 867.
Excerpt from the Quantico Sentry, July 10, 1959
Grand Aggregate
Rank
Name
Service Branch/Agency
.22 Caliber
Center-Fire
.45 Caliber
Score
1
Richard M. Stineman
U.S. Army
Fort Benning, Ga.
-
-
867
2642-123X
2
Wm W. McMillan
U.S. Marine Corps
Camp Matthews, Ca.
-
-
879
2641-129X
3
David Cartes
U.S. Army
Fort Benning, Ga.
-
-
-
2628-118X
4
William A. Hancock
U.S. Army
Fort Benning, Ga.
-
-
-
2623-111X
High Civilian
James E. Clark
Shreveport, La.
-
-
-
2614-103X
3rd High Civilian
Leonard Robinson
Columbus, Ga.
-
-
-
2541-74X
(Source: American Rifleman, Vol. 107, No. 8, August 1959)
.45 Caliber Team Championship

| Rank | Service Branch/Agency | Score |
| --- | --- | --- |
| 1 | U.S. Army 'Blue' | 1155 |
| 2 | - | - |
| 3 | - | - |
(Source:)
.38 Caliber Team Championship

| Rank | Service Branch/Agency | Score |
| --- | --- | --- |
| 1 | U.S. Army 'Blue' | 1166 |
| 2 | - | - |
| 3 | - | - |
(Source:)
.22 Caliber Team Championship

| Rank | Service Branch/Agency | Score |
| --- | --- | --- |
| 1 | U.S. Army 'Blue' | 1179 |
| 2 | - | - |
| 3 | - | - |
(Source:)
.45 Caliber Championship
Rank
Name
Service Branch/Agency
Score
1
Wm W. McMillan, Jr.
U.S. Marine Corps
Camp Matthews, Ca.
879
2
-
-
-
3
-
-
-
(Source:)
.45 Caliber Slow Fire Match
Rank
Name
Service Branch/Agency
Score
1
Wm W. McMillan, Jr.
U.S. Marine Corps
Camp Matthews, Ca.
194
(Source:)
.45 Caliber Timed Fire Match

| Rank | Name | Service Branch/Agency | Score |
| --- | --- | --- | --- |
| 1 | - | - | - |
(Source:)
.45 Caliber Rapid Fire Match

| Rank | Name | Service Branch/Agency | Score |
| --- | --- | --- | --- |
| 1 | - | - | - |
(Source:)
.45 Caliber National Match Course

| Rank | Name | Service Branch/Agency | Score |
| --- | --- | --- | --- |
| 1 | - | - | - |
(Source:)
.38 Caliber Championship

| Rank | Name | Service Branch/Agency | Score |
| --- | --- | --- | --- |
| 1 | - | - | - |
| 2 | - | - | - |
| 3 | - | - | - |
(Source:)
.38 Caliber Slow Fire Match

| Rank | Name | Service Branch/Agency | Score |
| --- | --- | --- | --- |
| 1 | - | - | - |
(Source:)
.38 Caliber Timed Fire Match

| Rank | Name | Service Branch/Agency | Score |
| --- | --- | --- | --- |
| 1 | - | - | - |
(Source:)
.38 Caliber Rapid Fire Match

| Rank | Name | Service Branch/Agency | Score |
| --- | --- | --- | --- |
| 1 | - | - | - |
(Source:)
.38 Caliber National Match Course

| Rank | Name | Service Branch/Agency | Score |
| --- | --- | --- | --- |
| 1 | - | - | - |
(Source)
.22 Caliber Championship

| Rank | Name | Service Branch/Agency | Score |
| --- | --- | --- | --- |
| 1 | - | - | - |
| 2 | - | - | - |
| 3 | - | - | - |
(Source:)
.22 Caliber Slow Fire Match

| Rank | Name | Service Branch/Agency | Score |
| --- | --- | --- | --- |
| 1 | - | - | - |
(Source:)
.22 Caliber Timed Fire Match

| Rank | Name | Service Branch/Agency | Score |
| --- | --- | --- | --- |
| 1 | - | - | - |
(Source:)
.22 Caliber Rapid Fire Match

| Rank | Name | Service Branch/Agency | Score |
| --- | --- | --- | --- |
| 1 | - | - | - |
(Source:)
.22 Caliber National Match Course

| Rank | Name | Service Branch/Agency | Score |
| --- | --- | --- | --- |
| 1 | - | - | - |
(Source:)