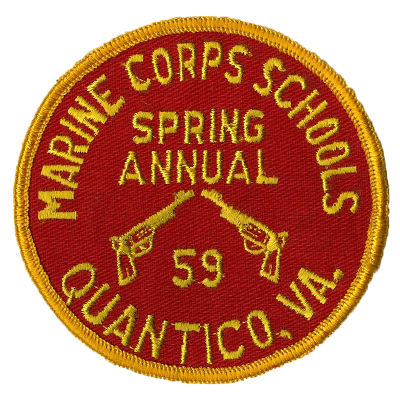 Held at the Calvin A. Lloyd Pistol Range
Quantico, Virginia
Sponsored by the Marine Corps Schools
June 27 and 28, 1959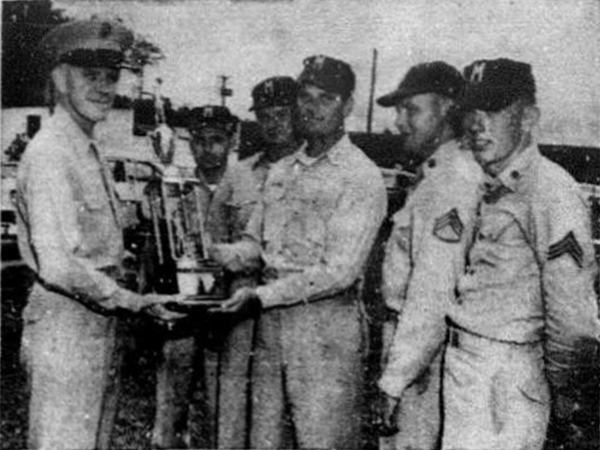 TOP GUNS — For sweeping all four team matches in last Sunday's Middle Atlantic Regional Pistol Tournament held at Calvin A. Lloyd Pistol Range, the Marine Blue Team, headed by Capt. W. W. McMillan, receives the winners' trophy from Col. Ormond R. Simpson, Chief of Staff, MCS. Marine shooters also copped 12 of the 17 individual matches. Flanking Capt. McMillan, from left to right, are ActGySgt. M. Pietroforte, 1stSgt. R. O. Jones, ActSSgt. E. S. Sarver and ActSgt. L. L. Hauser.
Photo by ActCpl. D. H. Chisman
Local Pistol Team Derailed; Sets Sights For Comeback
The MCS Rifle and Pistol Team saw plenty of action as they took their place on the firing line against top competitors in the MCS Spring Annual Pistol Matches held over the weekend of June 26. They completely swept the field by winning all individual and team matches.
Capt. W. W. McMillan matched the hot weekend weather with some hot pistol shooting. His 2644 aggregate score won the Grand Aggregate Championship by 45 points over the nearest competitor. This score is only eight points below his present record for the three gun aggregate.
Capt. McMillan shot his way to the number one spot in nine of the other sixteen individual matches. His 885 won the .45 caliber aggregate. He took the center fire aggregate with 884 and fired a 880 which was enough to win the NRA Building Fund Match.
Capt. C. O. Seal moved the Marine Team closer to a clean sweep by firing winning scores of 192 in the center fire slow fire match and 296 in the .22 caliber National Match Course.
ActSSgt. F. O. Wright won the Center Fire National Match Course by firing a 295.
In the .22 caliber matches, Marines wrapped up the clean sweep. ActSSgt. H. Dunn started off by firing 194 in the slow fire match. Act Sgts. L. L. Hausman and L. M. Hunt won the timed and rapid fire matches respectively with possible 200's. First Sergeant R. O. Jones' 879 won the best .22 aggregate score.
Marines followed the lead set in the individual matches by winning all three team matches. The Blue Team combination of Capt. McMillan, 1st Sgt. Jones, ActSSgt. Sarver and ActSgt. Hausman won the .22 match with 1171. Their 1149 also swept the .45 team match.
In the center fire team match, Capt. Caudill, ActMSgt. Creech, ActGySgt. Findsen, and ActGySgt. Pietroforte combined to fire the winning score of 1147.
Excerpt from the Quantico Sentry, July 10, 1959
Grand Aggregate

| Rank | Name | Service Branch/Agency | .22 Caliber | Center-Fire | .45 Caliber | Grand Aggregate Total |
| --- | --- | --- | --- | --- | --- | --- |
| 1 | Wm McMillan, Jr. | U.S. Marine Corps | 875 | 884 | 885 | 2644 |
| 2 | - | - | - | - | - | - |
| 3 | - | - | - | - | - | - |
(Source: Quantico Sentry)
.45 Caliber Team Championship
Rank
Service Branch/Agency
Total Points
1
U.S. Marine Corps 'Blue'


W. W. McMillan, Jr., R. O. Jones, E.S. Sarver and L. L. Hausman

1149
2
-
-
3
-
-
(Source: Quantico Sentry)
.38 Caliber Team Championship
Rank
Service Branch/Agency
Total Points
1
U.S. Marine Corps


C. E. Caudill, L. J. Creech, M. W. Findsen and M. Pietroforte

1147
2
-
-
3
-
-
(Source: Quantico Sentry)
.22 Caliber Team Championship
Rank
Service Branch/Agency
Total Points
1
U.S. Marine Corps 'Blue'


Wm W. McMillan, Jr., R. O. Jones, E. S. Sarver and L' L. Hausman

1171
2
-
-
3
-
-
(Source: Quantico Sentry)
.45 Caliber Championship

| Rank | Name | Service Branch/Agency | Total Points |
| --- | --- | --- | --- |
| 1 | Wm W. McMillan, Jr. | U.S. Marine Corps | 885 |
| 2 | - | - | - |
| 3 | - | - | - |
(Source: Quantico Sentry)
.45 Caliber Slow Fire Match

| Rank | Name | Service Branch/Agency | Score |
| --- | --- | --- | --- |
| 1 | - | - | - |
(Source: )
.45 Caliber Timed Fire Match

| Rank | Name | Service Branch/Agency | Score |
| --- | --- | --- | --- |
| 1 | - | - | - |
(Source: )
.45 Caliber Rapid Fire Match

| Rank | Name | Service Branch/Agency | Score |
| --- | --- | --- | --- |
| 1 | - | - | - |
(Source: )
.45 Caliber National Match Course

| Rank | Name | Service Branch/Agency | Score |
| --- | --- | --- | --- |
| 1 | - | - | - |
(Source: )
.38 Caliber Championship

| Rank | Name | Service Branch/Agency | Score |
| --- | --- | --- | --- |
| 1 | Wm W. McMillan, Jr. | U.S. Marine Corps | 884 |
| 2 | - | - | - |
| 3 | - | - | - |
(Source: Quantico Sentry)
.38 Caliber Slow Fire Match

| Rank | Name | Service Branch/Agency | Score |
| --- | --- | --- | --- |
| 1 | Cecil O. Seal | U.S. Marine Corps | 192 |
(Source: Quantico Sentry)
.38 Caliber Timed Fire Match

| Rank | Name | Service Branch/Agency | Score |
| --- | --- | --- | --- |
| 1 | - | - | - |
(Source: )
.38 Caliber Rapid Fire Match

| Rank | Name | Service Branch/Agency | Score |
| --- | --- | --- | --- |
| 1 | - | - | - |
(Source: Quantico Sentry)
.38 Caliber National Match Course

| Rank | Name | Service Branch/Agency | Score |
| --- | --- | --- | --- |
| 1 | Frank O. Wright | U.S. Marine Corps | 295 |
(Source: Quantico Sentry)
.22 Caliber Championship

| Rank | Name | Service Branch/Agency | Score |
| --- | --- | --- | --- |
| 1 | Robert O. Jones | U.S. Marine Corps | 879 |
| 2 | - | - | - |
| 3 | - | - | - |
| Unknown | Wm W. McMillan, Jr. | U.S. Marine Corps | 875 |
(Source: Quantico Sentry)
.22 Caliber Slow Fire Match

| Rank | Name | Service Branch/Agency | Score |
| --- | --- | --- | --- |
| 1 | Harvey Dunn | U.S. Marine Corps | 194 |
(Source: Quantico Sentry)
.22 Caliber Timed Fire Match

| Rank | Name | Service Branch/Agency | Score |
| --- | --- | --- | --- |
| 1 | Larry L. Hausman | U.S. Marine Corps | 200 |
(Source: Quantico Sentry)
.22 Caliber Rapid Fire Match

| Rank | Name | Service Branch/Agency | Score |
| --- | --- | --- | --- |
| 1 | Leslie M. Hunt | U.S. Marine Corps | 200 |
(Source: Quantico Sentry)
.22 Caliber National Match Course

| Rank | Name | Service Branch/Agency | Score |
| --- | --- | --- | --- |
| 1 | Cecil O. Seal | U.S. Marine Corps | 296 |
(Source: Quantico Sentry)
NRA Building Match Fund

| Rank | Name | Service Branch/Agency | Score |
| --- | --- | --- | --- |
| 1 | Wm W. McMillan, Jr. | U.S. Marine Corps | 800 |
(Source: Quantico Sentry)